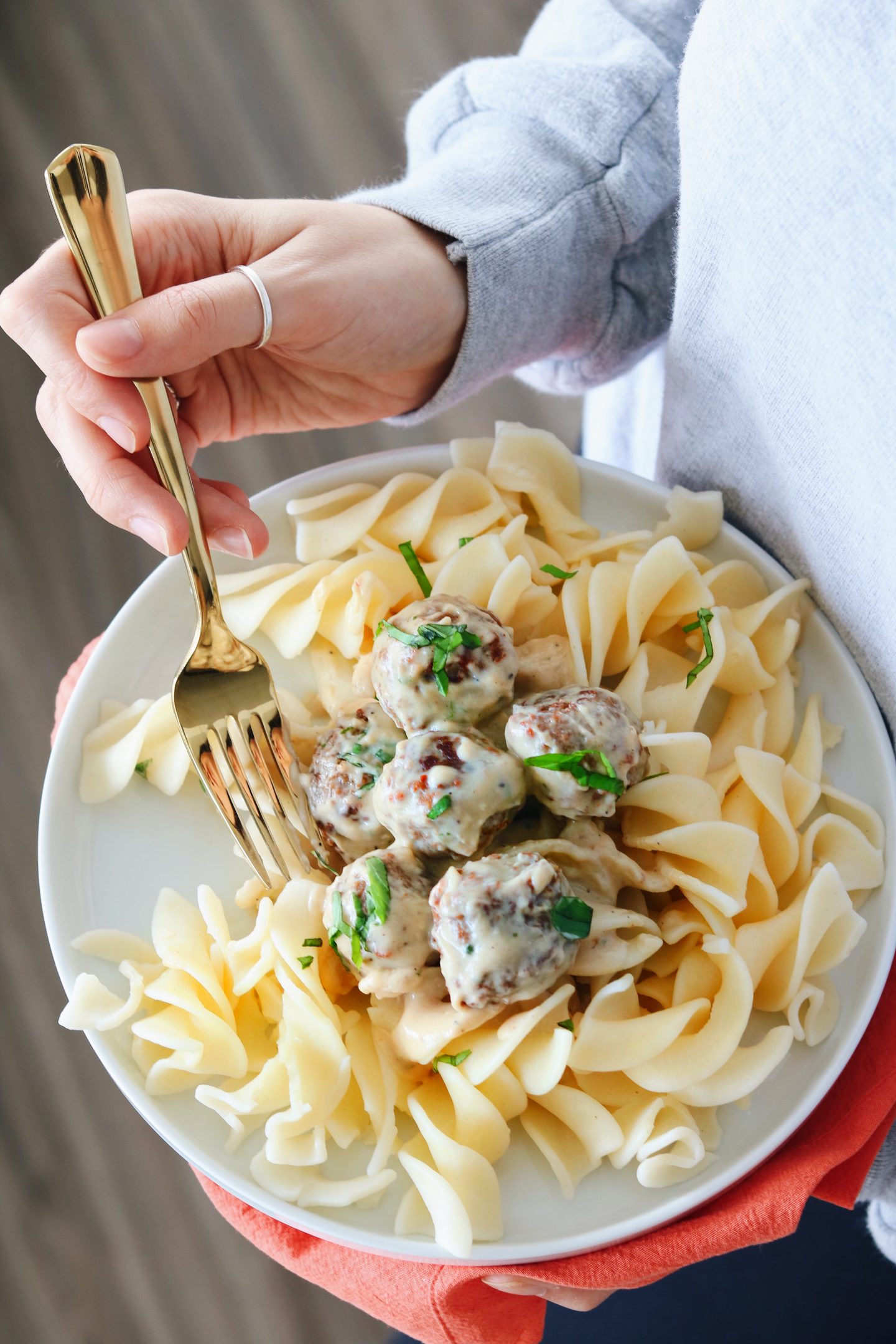 Ingredients:
1/2 cup cashew sour cream (recipe below)
1 1/2 cups vegan beef broth (recipe here)
1 tsp soy sauce
1 tsp brown sugar black pepper to taste
10 meatballs, I used Yves brand (good homemade recipe here)
pasta or rice to serve OR, mashed potatoes & cranberry jam for the traditional way- as my beautiful Scandinavian subscribers told me 🙂
Cashew Sour Cream:
1 cup cashews (soaked for 30 mins in hot water)
1/2 cup water
2 tsp apple cider vinegar
1 tbsp lemon juice
1/8 tsp salt
Start by making the cashew sour cream. Add all the ingredients to a blender and blend until completely smooth. To a frying pan, add your meatballs and a drizzle of oil to brown them. If you are making homemade meatballs, follow the cooking instructions in that recipe, then add them to the pan and brown them for a few minutes. They only need about 5 minutes on medium heat to get brown and add some flavour to the pan. Remove the meatballs, set them aside, and immediately add 1/2 cup of the cashew sour cream to the pan, then slowly whisk in the broth. You want to whisk it in slowly so it remains a smooth mixture. Add the sugar, soy sauce and pepper and simmer on medium-low heat for about 10 minutes, stirring consistently so it does not burn to the pan. It should thicken nicely. Then, add the meatballs back in, stir until they are coated, and serve however you like. I served mine over pasta, but next time I am going to serve with mashed potatoes and cranberry jam!