This squash, sage and pecan pasta is made with HOMEMADE spaghetti. I know right?! Who even makes their own pasta?? Well, I do. And you can too.
In this post I am using the awesome Philips fully automated Viva pasta maker.
I'm going to be honest, at first I procrastinated taking the pasta maker out of the box and testing it out because I was afraid it would be complicated and time-consuming (not to mention worrying about making pasta without eggs, since I am vegan!). When I finally decided it was the day to learn how to make pasta, I was actually shocked to find how easy it was. And SO tasty! I am now obsessed with making my own fresh pasta because it's so fun and satisfying to watch it squeeze out of the machine.
This recipe was inspired by fall flavours like squash and pecans, but I also wanted to keep it simple so the flavour of the fresh pasta would come through too! How great would it be to serve fresh, homemade pasta for Thanksgiving dinner? I can't wait to share this meal with my family and friends!
First, measure out your ingredients according to the basic "Durum Pasta – No Eggs" recipe in the book (it comes with TONS of recipes that come with the machine, so you can always choose the pasta that appeals to you most! I chose this one for simplicity). You need 150g Semolina flour (I use Bob's Red Mill brand, 50 g all-purpose flour, and 65 mL water. Then, add the flour to the machine. Close the lid, turn it on and then pour the water into the opening in the top.
After that you are pretty much done! The machine will knead the dough, then squeeze it through the holes. All you need to do now is use the cutting tool to cut the pasta to the length you want.
Now you are ready to proceed with the recipe below! SO easy!
Print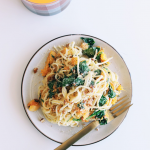 Vegan Fall Pasta (Homemade, No Eggs!)
---
Author:

Yield:

2 servings
Description
A simple fall-inspired pasta to warm you from the inside out.
---
2 cups

cubed squash (I used frozen, you can use fresh too)

2 tbsp

canola oil
salt & pepper to taste

200g

fresh pasta (see above for instructions)

2 tbsp

olive oil, divided

1/2

onion, finely chopped

2

cloves garlic, minced

2 tbsp

fresh sage, finely chopped
handful of spinach

1/4 cup

chopped pecans
dairy-free parmesan cheese, to taste
---
Instructions
Preheat oven to 425 F.
In a bowl, combine squash, canola oil, salt and pepper. Place on a parchment-lined baking tray in a single layer. Bake 25 minutes (or more, if using fresh squash, not frozen) until tender, flipping halfway through.
When squash is almost done, boil pasta for 5-6 minutes. Drain and set aside.
Meanwhile, in a frying pan on medium heat, add olive oil, garlic and onion. Cook 3-4 minutes, until onion is translucent.
Add sage and cooked squash and stir to combine. Add pasta and another drizzle of olive oil if pasta seems too sticky. Add spinach and pecans and toss to combine. Cook another minute until spinach is wilted.
Serve with a sprinkle of vegan parmesan cheese, if using.
Check out the pasta maker here: