These vegan zucchini brownies are inspired by the zucchini brownies at Copper Branch. They're dense, fudgy, decadent, and topped with an amazing dark chocolate ganache. These are one of my new favorite recipes for sure!
Why You'll Love This Recipe
You can't taste the zucchini! If you're looking for a sneaky way to get more veggies in your diet, what could be better than baking fudgy zucchini brownies? The zucchini shreds melt right into the batter and are completely undetectable.
Just 9 simple ingredients. Making delicious vegan brownies doesn't have to be complicated. The brownies and chocolate ganache frosting can be made with just 9 simple ingredients!
A favorite summer dessert. Every zucchini season I look forward to baking these fudge brownies. If you're looking for a new way to use up your garden zucchini, skip the zucchini bread and try these vegan zucchini brownies.
Key Ingredients and Substitutions
Flour – For the best gooey brownies, I recommend using all-purpose flour. It's simple, accessible, and will yield the best texture and consistency.
Cocoa powder – It's important to use an unsweetened cocoa powder like dutch processed cocoa powder or cacao powder. If you use a cocoa that has added sugar, this will overly sweeten the dessert.
Sugar – White sugar is ideal, but another granulated sugar such as light brown sugar or coconut sugar is the next best option. Avoid using liquid sweeteners such as pure maple syrup because the added liquid will make the batter too wet.
Zucchini – You'll need a full 3/4 cup of finely shredded zucchini. I wanted to make sure the zucchini blended into the brownie batter so I shredded my zucchini on the finest setting using my mandolin. You can also do this using a handheld grater, box grater, or a food processor – just shred the zucchini as finely as possible.
Oil – I recommend using a neutral baking oil, but you can also use coconut oil if you don't mind the flavor of coconut. Melted vegan butter may work, but I have not tested it!
How to Make Vegan Zucchini Brownies
Whisk the dry ingredients together. In a large mixing bow, whisk the flour, cocoa powder, baking powder, and salt until well combined together.
Combine the wet ingredients. In a separate, medium-sized mixing bowl, add the granulated sugar, finely shredded zucchini, oil, and vanilla extract. Stir to combine.
Pour the wet ingredients into the dry. Using a baking spatula, fold the dry ingredients into the wet ingredients until a very thick, almost dry batter forms. Eventually, I like to use my hands to make sure it's fully combined and all the dry flour is absorbed into the brownie batter.
Transfer into the greased baking dish. Press the zucchini brownies into a baking dish until evenly pressed into the dish.
Bake. Bake the brownies for 30 minutes, then remove from the oven and allow them to cool completely directly in the baking dish.
Prepare the ganache. While the brownies bake, make the chocolate frosting. In a small pot over medium heat, combine the coconut milk and vegan chocolate chips until melted and smooth. Remove from the heat and let cool while the brownies finish baking.
Spread the ganache on top. Pour half of the ganache overtop of the vegan zucchini brownies and spread it into a smooth, thin layer. Add additional ganache as needed or desired, then reserve the rest for drizzling over vegan ice cream!
Refrigerate. Place the frosted brownies in the fridge and let set for about an hour, then slice and enjoy. This will help set the ganache and make the brownies more sliceable!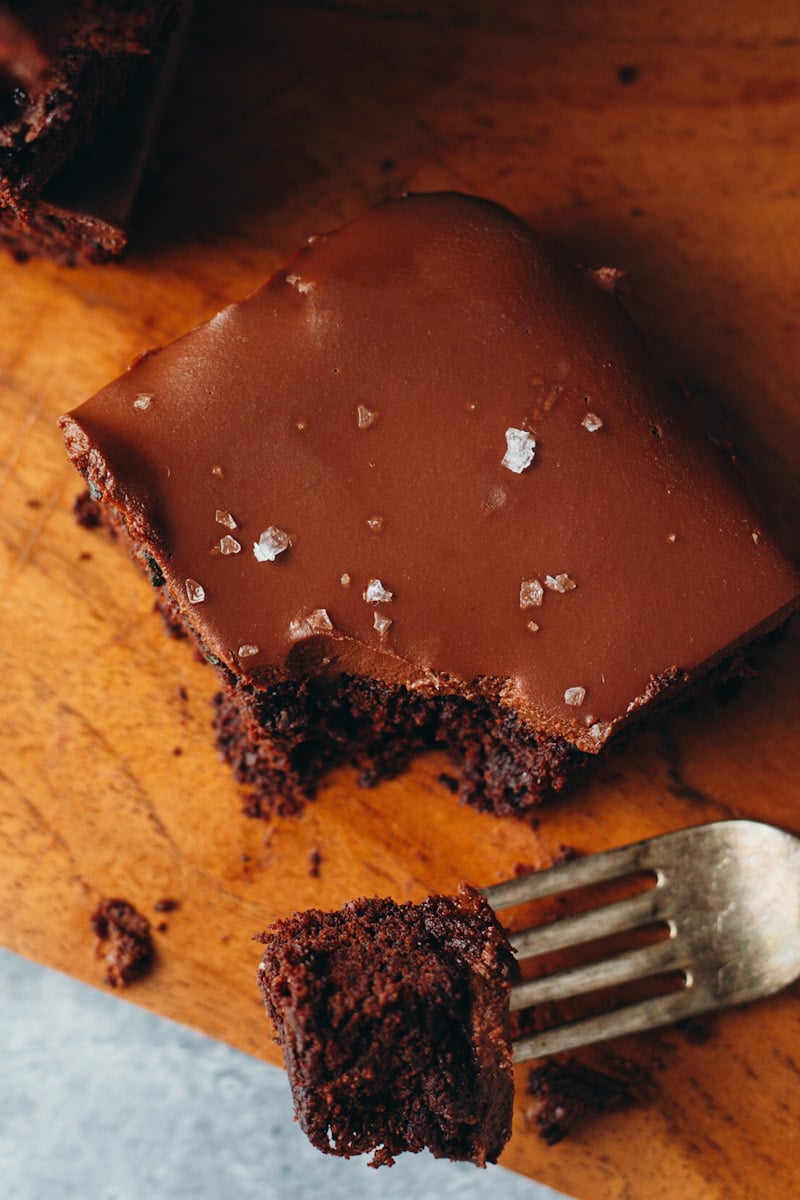 Ideas for Serving
These vegan zucchini brownies are great for the summer months when you've got lots of zucchini to use up! They're best served as a sweet afternoon treat or late night dessert with a tall glass of your favorite creamy plant-milk. Or, if you'd like to make it even sweeter, serve with a scoop of your favorite vegan ice cream and a drizzle of the reserved chocolate ganache.
You can even make these brownies without the final layer of vegan chocolate ganache frosting and instead spread on a layer of almond butter, peanut butter or sunflower seed butter for a nut-free option.
How to Store
Vegan zucchini brownies will keep best when stored in an airtight container in the refrigerator. When kept at room temperature, they become very soft and gooey and don't hold their shape well.
These fudgy brownies can also be frozen for longer storage. If you intend to freeze, I recommend leaving off the chocolate ganache topping and freezing them plain. Chocolate fudgy brownies will freeze well for up to 3 months. When ready to eat, transfer the brownies to the fridge and allow them to thaw completely before digging in!
Recipe FAQs
What makes brownies fudgey vs cakey?
It's all about the flour to fat ratio! Fudgey brownies are made with less flour and more fat. Cakey brownies are made with more flour and less fat. For optimal results, follow the measurements carefully!
Can I make these brownies gluten-free?
I have not tested a gluten-free version of these brownies. You may have luck swapping the all-purpose flour with a gluten-free flour blend, but I can't guarantee it. Instead, i'd recommend making one of these recipes: 6 Ingredient Oil-Free Gluten-Free Brownies or Fudgey Vegan Brownies (+ Gluten-Free option!). You can even try my Vegan Half-Baked Brownie Dip!
Do I need to remove the excess water in the fresh zucchini?
No – simply add the grated zucchini directly into the bowl with the other wet ingredients and fold to combine. This added moisture is key to making the brownies moist and fudgey!
Similar Vegan Brownie Recipes to Try Next
Print
Vegan Zucchini Brownies Recipe
---
Description
These vegan zucchini brownies are inspired by the zucchini brownies at Copper Branch. They're dense, fudgy, decadent, and topped with an amazing dark chocolate ganache. These are one of my new favorite recipes for sure!
---
1

–

1/4

cups flour

1/2 cup

cocoa powder

1 tsp

baking powder
pinch of salt

1

–

1/4

cups granulated sugar

3/4 cup

finely shredded zucchini

1/2 cup

oil

1 tsp

vanilla
Ganache:
1

can (14 oz) full fat coconut milk

2 cups

dairy-free semisweet chocolate chips
---
Instructions
Grease an 8×8 square baking pan or line with parchment paper. Preheat oven to 350 F (180 C).
In a large mixing bowl, combine flour, cocoa, baking powder and salt and whisk to combine.
In a separate mixing bowl, combine sugar, oil, zucchini and vanilla. Stir to combine.
Add zucchini mixture to dry ingredients and stir to form a thick dough. You may want to use your hands!
Press into the prepared baking pan and smooth out the top. Bake 30 minutes, then remove from oven and cool completely.
Meanwhile, in a pot on medium heat, combine the coconut milk and chocolate chips until melted and combined smoothly. Remove from heat and let cool until brownies are completely cooled.
Pour ganache overtop of brownies and smooth into a thin layer. You likely will need a bit more than half. Pu the rest in a container and use as chocolate sauce for ice-cream :).
Place brownies in fridge and let set for about an hour. The ganache will be a sliceable consistency once it has set. Store brownies in fridge or they will become gooey and runny!