These flaky cheddar buttermilk biscuits have been on my radar for quite a while…
There is a delightful biscuit recipe in my cookbook (that I use all the time!) but recently I have been in search of a more southern-style super flaky biscuit that I could use as a base and then add some vegan cheese shreds! These biscuits are super delicious, fairly simple and use very basic ingredients you might already have on hand.
The vegan buttermilk is created by simply mixing your favourite original unsweetened nondairy milk (I like oat) with vinegar and letting it curdle. Sounds gross, but that's how easy it is!
If you have a food processor this recipe will be even faster, but if not, you can either use a very sharp knife to chop the cold butter into super small pieces or you can grate it like cheese! Both methods work well, I've tried them!
So, lets make some biscuits!
Print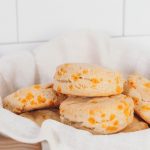 Flaky Cheddar Buttermilk Biscuits
---
Description
Entirely plant-based buttermilk biscuits. They're flaky, dotted with pockets of cheddar, and absolutely addictive with a pat of butter and some jam!
---
1 cup unsweetened original nondairy milk
1 tsp white vinegar
2–1/2 cups all-purpose flour, plus extra for dusting
1 tbsp baking powder
1 tbsp sugar
1 tsp salt
1/2 cup cold vegan butter (1 stick)
1 cup vegan cheddar shreds
---
Instructions
Preheat oven to 425 F.
Mix together the nondairy milk and vinegar and set aside.
In a large mixing bowl or a food processor, add the flour, baking powder, sugar and salt and mix until combined.
If using a food processor: Add butter and pulse until incorporated into a crumbly, dry mixture.
If using a knife or grater: Cut butter into very small pieces. Mix with the flour by hand or with a pastry blender until incorporated into a crumbly, dry mixture.
Stir in the cheddar shreds until combined.
Add the buttermilk, reserving about 1 tbsp of it to brush the tops. Stir with a wooden spoon until just combined.
Lightly dust a clean surface with flour and turn the dough out onto the surface, using your hands to form a rectangle. Cut the rectangle into 4 sections, then stack them on top of each other and press down to squish them together (this is how you get nice flaky layers!)
Use hands to form a rectangle about 1-inch thick, then cup out biscuit shapes with a cookie cutter or glass.
Place on a baking sheet and brush the tops with the reserved buttermilk. Bake 12 minutes,  until golden brown on top.
Remove from oven and let cool slightly before serving. Store in an airtight container at room temperature for up to 2 days, or in the fridge up to 4 days.