You may know by now that I love cinnamon rolls. Eggnog cinnamon rolls, pumpkin cinnamon rolls, 30 minute no-rise salted caramel cinnamon rolls, its a full-blown obsession at this point.
Today, we are making something even more exciting: a bunch of cinnamon rolls smooshed together and baked into a pull-apart or sliceable loaf. When warm, you can pull chunks off to dip in a cream cheeze glaze. When cool, slice and spread with nut butter for a tasty and more filling afternoon snack (don't forget the tea with that one!). This loaf is the real deal. And by real deal, I mean exceptionally delicious.
If you're familiar with my cinnamon roll recipes, you might recognize most of the steps in this one! Except, instead of slicing into rolls, we're slicing into triangle shapes.
Then, you just kind of randomly stack them in the loaf pan. Try to make them sort of evenly spread out, but there isn't a way to mess this up! It's supposed to be swirly and smooshy – that's the fun part!
Print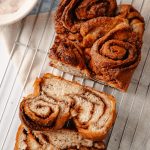 Vegan Cinnamon Roll Loaf
---
Description
Classic cinnamon rolls, smooshed into a loaf tin, risen to golden, cinnamon sugar perfection. Can be eaten warm as a pull-apart bread or cool, sliced with nut butter. Truly a winner no matter how ya slice it!
---
5 x 9 inch loaf tin, greased
Dough:
1 cup

 unsweetened non-dairy milk

3 tbsp

 cane sugar

3 tbsp

 vegan butter or margarine

2 tsp

active dry yeast (approx.

1

packet)

2 1/4 cups

all-purpose flour
Filling:
1/4 cup

softened vegan butter or margarine

3/4 cup

 brown sugar

3 tsp

cinnamon
---
Instructions
Add the nondairy milk and cane sugar to a small pot on medium heat and stir until sugar is dissolved and milk is warm to the touch.
Add to a large mixing bowl and sprinkle yeast on top. Stir gently a few times, then let sit 10 minutes, uncovered until yeast is foamy/bubbly on top.
Meanwhile, add the vegan butter into the small pot and melt on medium heat.
Pour butter into the yeast mixture. Stir gently. Add flour and stir to form a dough. Add a sprinkle of flour to the dough if it is still slightly too sticky. Knead a few times until combined into a smooth dough ball. Cover with a tea towel and place in a draft-free area. Let rise 1 hour. 
Meanwhile, in a small bowl, add the brown sugar and cinnamon and mix until combined.
Preheat oven to 375 F. Tip the dough onto a lightly floured surface and roll it into a long rectangle about 11 x 17 inches with a rolling pin.
Spread the softened vegan butter or margarine evenly over the dough. Sprinkle the cinnamon sugar evenly over the dough.
 Starting with the side closest to you, start rolling the dough from bottom to top.
Slice on an angle into triangle-shaped pieces (see photos above!). Place at random in the prepared loaf tin.
Bake for 43-45 minutes, until browned on top and firm to the touch. Remove from oven and let cool in the pan for at least 15 minutes before attempting to remove. It will continue to cook a few minutes after leaving the oven so don't skip this step!