I'm going to tell you the best reason you should make this Single Serve Cheesy Pasta Bake. Ready? It's all made in one dish. Thats right, the sauce, uncooked pasta, veggies and cheeze go into the dish, then you bake it and eat it… all in the same dish! No boiling a pot of water first, no extra dishes. It really is that simple! They're small (obviously), cheesy, perfectly cooked and have so much creamy tomato flavour. I mean, this isn't just your regular ol pasta bake. This is next level GOOD. And next level EASY! It does take a while to bake, but the good news is this recipe is mostly baking time. Once you throw everything in the dish and put it in the oven, you have about an hour of free time to spend however you need! So even though its not quick, it IS a good weeknight dinner because its so easy and gives you time to unwind after getting home before you sit down to eat.
The Inspiration…
So why did I create this Single Serve Cheesy Pasta Bake recipe? It was actually a random Pinterest post that caught my eye. I watched someone do a pasta bake where everything was done in the casserole dish and I was shocked they didn't have to cook the pasta first! With the right liquid to pasta ratio, you get a perfectly cooked, not mushy or dry pasta bake. It's heaven!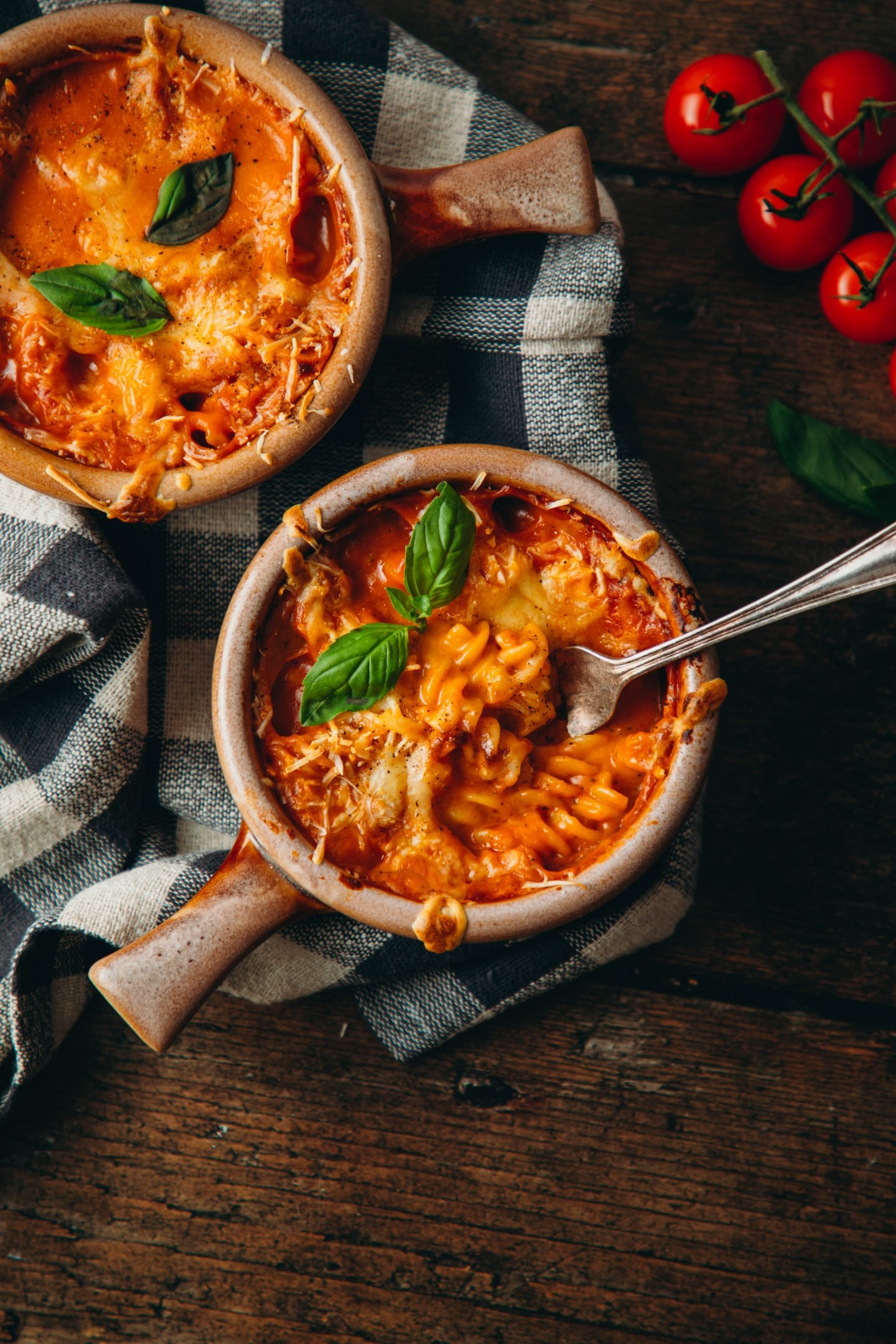 A few things to note about this Single Serve Cheesy Pasta Bake…
First, you can use any type of short pasta for this (examples, rigatoni, penne, macaroni, shells) but just don't try to use spaghetti or something huge!
Second, if you live alone you can make this recipe as-is, but if you have a parter, simply double it. If you're feeding a family, just quadruple it! If you make enough servings you could probably do it in a baking dish instead of individual ramekins. All I'm saying is, this is easy peasy!
Third, the size of this does matter… kind of. You want the volume your dish holds to be around 1-1/4 cups. French onion soup dishes are what we used here. You can find them at thrift stores, online, or maybe even from your parents (that's where we got ours!) You can also use a regular ramekin without the handle. If you make enough servings you could probably do it in a baking dish instead of individual ramekins. I haven't tried that yet, but I'm guessing I'll get messages about that so I thought I would mention it.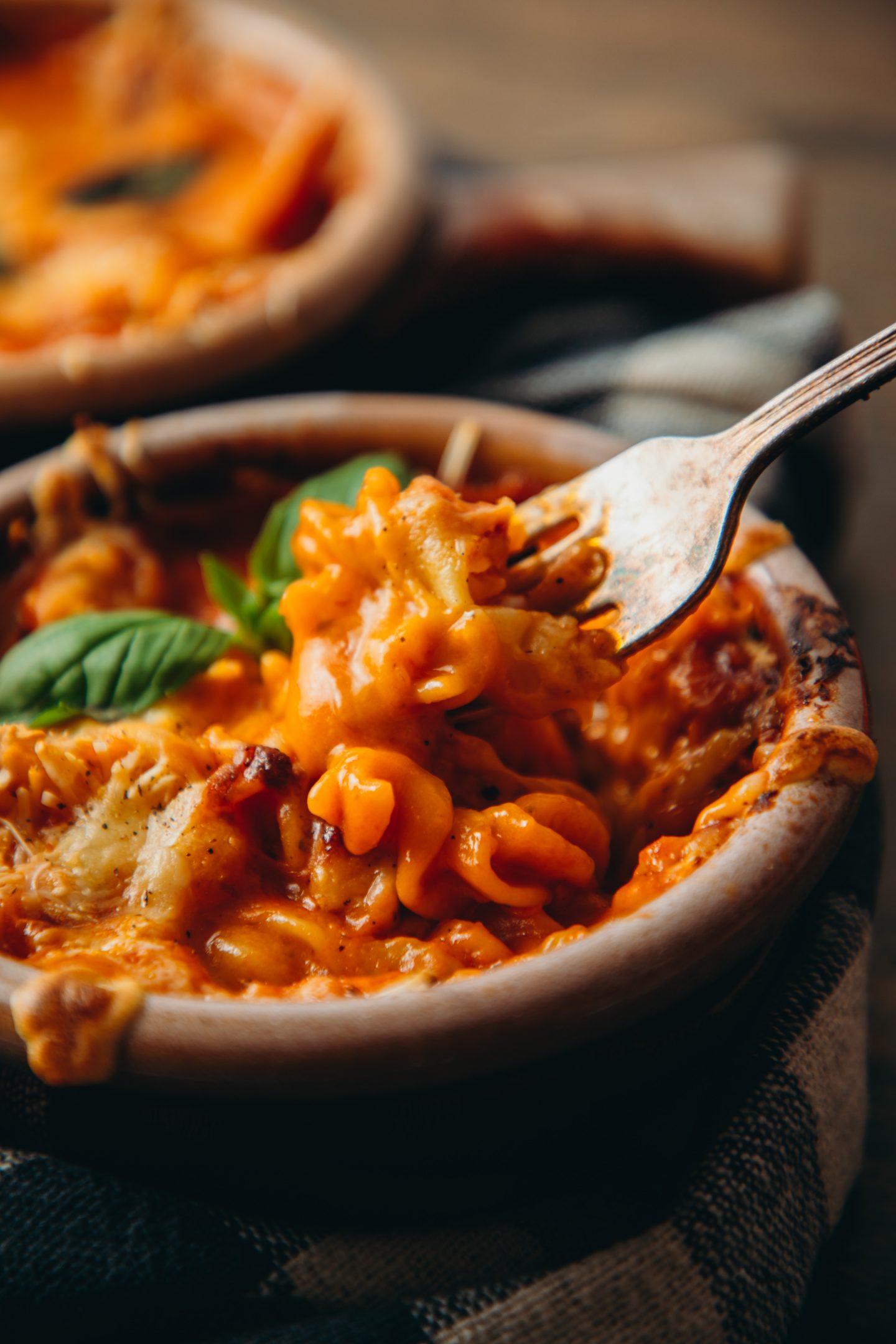 Last but not least…
If you are looking for more cozy dinner ideas, check out:
Extra Creamy Butternut Squash Pasta
And before we get into the good stuff, if you make this Single Serve Cheesy Pasta Bake, be sure to leave a comment and/or give this recipe a star rating! I love to hear when you all are enjoying the recipes! Its my fav! And if you have time to snap a pic, don't forget to tag me on Instagram!
Print
Single Serve Cheesy Pasta Bake
---
Author:

Total Time:

1 hour 10 mins

Yield:

1 serving
Description
This single serve pasta bake is SO easy, so fun and perfect if you live alone or don't want to end up with a massive amount of leftovers.
---
1/2 cup

marinara sauce

1 tbsp

minced onion

1 tsp

minced garlic

1/4 cup

water

1/4 cup

coconut milk, vegan cream OR just more water

1 tsp

nutritional yeast
sprinkle of salt and pepper

2/3 cup

short pasta like penne, rotini, fusilli, macaroni etc

1/2 cup

vegan cheese shreds
---
Instructions
Preheat oven to 375 F.
To your ramekin or single-serve dish, add the marinara, onion, garlic, water, coconut milk, nutritional yeast and salt and pepper. Stir to combine.
Add the pasta and stir gently to combine. Sprinkle the cheese overtop. Cover with foil, then bake in preheated oven for 50 minutes.
Remove from oven, remove foil, then return to oven and bake 10 more minutes, uncovered.
Remove from oven and let cool before eating- it stays hot for a while! Be careful!
Prep Time:

10 mins

Cook Time:

1 hour