I recently decided that I love gnocchi almost as much as I love pasta. Which is really saying something. But this Pan-Fried Cornflake & Herb-Crusted Gnocchi with the creamiest Basil Cream Sauce really takes the cake. I mean, my gnocchi with white wine rose sauce is AMAZING. But it is very similar to regular pasta with rose sauce. But this. This is different.
Each little gnocchi nugget is coated in a delicious crusty coating and pan-fried until golden. And the sauce. The sauce is KEY. It's sort of like a creamy pesto. Lucious, basil-heavy, garlicky and just the perfect balance with the crispy but fluffy gnocchi.
Vegan Pan-Fried Crispy Gnocchi with Cashew Basil Cream Sauce
Gnocchi, the pillowy-soft dumplings made from potatoes, are a beloved staple in Italian cuisine. But have you ever tried pan-frying them until they're crispy on the outside and tender on the inside? This recipe takes the traditional dish to new heights by pairing it with a rich and flavorful cashew basil cream sauce. And the best part? It's entirely vegan.
I used store-bought gnocchi for this potato gnocchi recipe, and its actually fairly simple to find a vegan gnocchi. I found some of the same brands that make the cheese ones also make a basic potato version without any dairy at all. But if you can't find vegan gnocchi in store- don't sweat it! You can use this recipe to super easily make it at home.
Ingredients For Pan Fried Crusted Gnocchi and Basil Cream
here's what you'll need:
Gnocchi (I used gluten free, but grab any vegan gnocchi you like)!
All-purpose flour
Salt and pepper, to taste
Olive oil or frying oil
Cup raw cashews
Cloves of garlic
Fresh basil leaves
herbs (parsley, paprika, basil)
crushed cornflakes or cereal
nutritional yeast
If you have a cashew allergy you can substitute sunflower seeds instead! pine nuts and walnuts can work too. It will taste slightly nuttier, but will still be delicious!
feel free to add your favourite seasonal veggies and fry or sear for the perfect side dish!
Print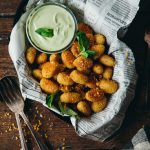 Pan Fried Gnocchi With Basil Cream
---
Author:

Total Time:

30 minutes

Yield:

2 servings
Description
Pan-fried herb & cornflake-crusted golden gnocchi with a creamy basil sauce for dipping.
---
600 g

gnocchi (appor

4 cups

)

2 cups

crushed cornflakes or similar cereal

1/2 cup

all-purpose flour

2 tbsp

nutritional yeast

1 tsp

paprika
pinch of salt and pepper

2 tsp

dried parsley
oil for frying
Basil Cream Sauce:
*see note below if you do not have a high-speed blender that can blend nuts smooth.
1 cup

raw cashews

3/4 cup

water

2 tsp

lemon juice

1

clove garlic

1/3 cup

packed basil leaves
pinch of salt
---
Instructions
Make the basil cream sauce: in a high-speed blender, combine all sauce ingredients and blend until completely smooth. Set aside.
In a mixing bowl, whisk together cornflakes, flour, nutritional yeast, paprika, salt, pepper and parsley.
Boil gnocchi in a pot of water for 2 minutes, or if already boiled, dip in water or nondairy milk, then toss into the bowl of cornflake mixture. Toss to coat gnocchi, then remove from bowl with a slotted spoon and transfer to frying pan.
Fry until crispy and golden on all sides.
Remove from pan and place in a serving bowl. Let cool slightly, then enjoy.
Notes
*If you do not have a high-speed blender that can blend nuts until smooth, you can substitute 3/4 cup raw cashew butter for the raw cashews and water. Simply proceed with the recipe as directed, blending the cashew butter with the other sauce ingredients.
Prep Time:

10 minutes

Cook Time:

15 minutes
How To Prepare the Vegan Crusted Gnocchi
Bring a large pot of salted water to a boil and add the gnocchi. Cook for 2-3 minutes, or until they float to the surface. Drain the gnocchi and toss them in a bowl with the flour, salt, and pepper.
Heat the olive oil in a large pan over medium heat or medium-high heat. Add the floured gnocchi and cook for 3-4 minutes on each side, or until golden brown and crispy.
Serve the crispy gnocchi with the cashew basil cream sauce on top. Garnish with extra basil leaves or vegan parmesan.
How To Prepare Vegan Cashew Basil Cream Sauce
While the gnocchi are cooking, prepare the cashew basil cream sauce. Soak the cashews in hot water for at least 1 hour (or in room temperature water overnight). Drain the cashews and add them to a blender along with the garlic, basil leaves, vegetable broth, lemon juice, salt and pepper. Blend until smooth and creamy.
This pan fried crusted gnocchi with basil cream sauce dish is perfect for a weeknight dinner, a dinner party or as a comforting comforting lunch. The crispy outside of the gnocchi pairs perfectly with the rich and creamy cashew basil cream sauce. Cashews are a great source of healthy fats, protein and fiber, making it a satisfying and healthy meal choice. This recipe is also easy to customize with your favorite vegetables and herbs, so feel free to get creative and make it your own.
We also have a balsamic glaze from Costco that we drizzled overtop- super delicious! Not necessary, but makes it pretty!! 🙂
Frequently Asked Questions
Can I make this Vegan Gnocchi recipe gluten-free?
A: Yes, you can easily make this recipe gluten-free by using gluten-free all-purpose flour and gluten-free gnocchi.
Can I make the cashew basil cream sauce in advance?
A: Yes, the sauce can be made a day in advance and stored in the refrigerator until ready to use. It might thicken up so you could add a bit more broth or lemon juice before serving.
Can I use frozen Vegan Gnocchi for this recipe?
A: Yes, you can use frozen gnocchi for this recipe. Just be sure to cook them according to the package instructions before pan-frying. Prep time is approximately 10 minutes and total time is approximately 35 minutes!
Can I use other nuts for the cashew basil cream sauce?
A: While cashews work best for this recipe, you can use other nuts such as almonds, sunflower seeds or macadamia nuts, but note that the flavor of the sauce may vary.
Is gnocchi healthy? / Are Vegan Gnocchi Healthy?
A: I recommend using MyFitnessPal for all relevant data concerning calories, carbohydrates, cholesterol, fiber, protein, sodium etc in this pan fried crusted gnocchi with basil cream sauce.
Can I serve this dish with something else other than the cashew basil cream sauce?
A: Yes, this dish would also pair well with a variety of different sauces such as marinara sauce,  basil pesto sauce, or even a simple garlic butter sauce. try adding a sprinkle of homemade vegan parmesan cheese or lemon zest for added taste.
Can I make this vegan crusted gnocchi dish ahead of time?
A: You can cook the gnocchi ahead of time and store them in the fridge or freezer, then heat them up in a pan or oven to have the crispy texture again before serving. The sauce can also be made in advance.
This FAQ should help you to make your experience preparing the dish much more smoother and give you an idea of the flexibility of the recipe, so that you can make it according to your personal preferences and dietary restrictions.