Today I asked on Instagram if you wanted a coffee cake muffin recipe or meatball recipe and it was about 60% for Cinnamon Swirl Coffee Cake Muffins, so here we go! Soft vanilla muffins with a cinnamon swirl inside and topped with golden buttery streusel. What dreams are made of, basically.
So a few weeks ago I had the new Copper Branch coffee cake muffins and my life hasn't been the same since. I know it's dramatic, but dreaming of muffins isn't even that weird for me. I knew I had to recreate the muffins at home so I could get on with my life and stop dreaming about them. I love Copper Branch but it is all the way downtown and I would like to have an endless supply of the muffins at my house at all times. Therefore, I needed a recipe!
One of my very popular blog recipes is this cinnamon loaf. Its basically a coffee cake loaf, and it is so, so delicious. I took inspiration from that one (including the cinnamon swirl middle) and these Cinnamon Swirl Coffee Cake Muffins turned out amazing!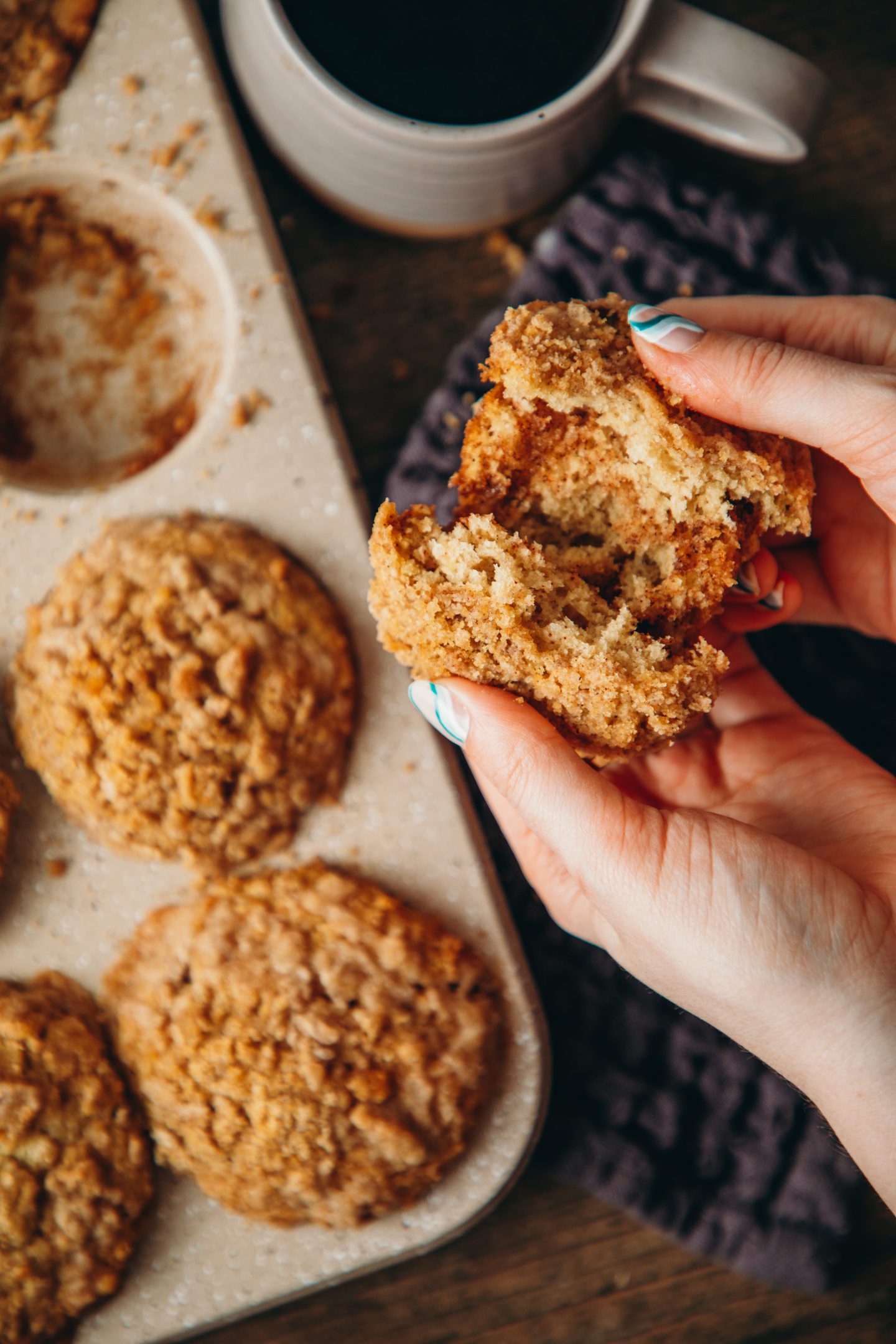 By the way, apparently my fiancé Greg didn't know that coffee cake isn't actually coffee flavoured cake. His mind was blown (and he was a bit annoyed honestly) but I explained that the reason its called coffee cake is because it's the perfect pairing with a cup of coffee or frothy latte – not because it contains coffee! Now that we have it cleared up, lets make Cinnamon Swirl Coffee Cake Muffins!
Print
Cinnamon Swirl Coffee Cake Muffins
---
Author:

Total Time:

1 hour

Yield:

12 muffins
Description
These Cinnamon Swirl Coffee Cake Muffins pair perfectly with a cup of coffee or frothy latte! Buttery cinnamon streusel top, cinnamon swirl in the middle – what more could you need!
---
Muffins:
1/2 cup

vegan butter, melted

1 cup

plain vegan yogurt

1/2 cup

nondairy milk

3/4 cup

sugar

1 tsp

vanilla extract

2 cups

all purpose flour

2 tsp

baking powder

1 tsp

baking soda

1 tsp

ground cinnamon
pinch of salt
Cinnamon Swirl Center:
1/2 cup

white sugar

2 tsp

ground cinnamon
Streusel Topping:
1/3 cup

all-purpose flour

1/2 cup

brown sugar

2 tsp

ground cinnamon

1/4 cup

vegan butter
---
Instructions
Preheat oven to 350 F. Grease a 12 cup muffin tin or line with parchment liners.
Make the muffins: In a large mixing bowl, add the melted butter, yogurt, brown sugar, vanilla extract and nondairy milk. Stir to combine.
Add the flour, baking powder, baking soda, cinnamon and salt and stir until just combined. It will be very thick – mix until there is no more dry ingredients hiding anywhere but do not over-mix.
Add a heaping spoonful of batter into each muffin cup, until about half way full.
Cinnamon swirl center: In a small bowl, combine the sugared cinnamon. Add 2 tsp of the mixture into each muffin cup. Add dollops of the remaining batter overtop each muffin until cups are full. The batter is thick, so I like to use wet hands to gently press down on the batter so it covers the sugar layer completely.
Make the streusel: in a mixing bowl, whisk together the flour, sugar and cinnamon. Grate the butter into the mixture, or use a pastry blender to combine the butter with the mixture until it resembles crumbly wet sand. Sprinkle over each muffin evenly.
Bake for 34-36 minutes, or until a toothpick inserted in the center comes out clean or with a few crumbs clinging to it.
Remove from the oven and let cool about 10 minutes before removing from the muffin tin and transferring to a wire cooling rack. Enjoy!
Prep Time:

15 minutes

Cook Time:

35 minutes