I could not WAIT for Monday to roll around so I could share this new recipe with you all! The Coffee Shop Series is one of my most popular YouTube series and I just love coming up with new coffee & treat pairings for you that are even better than what you would buy at a cafe.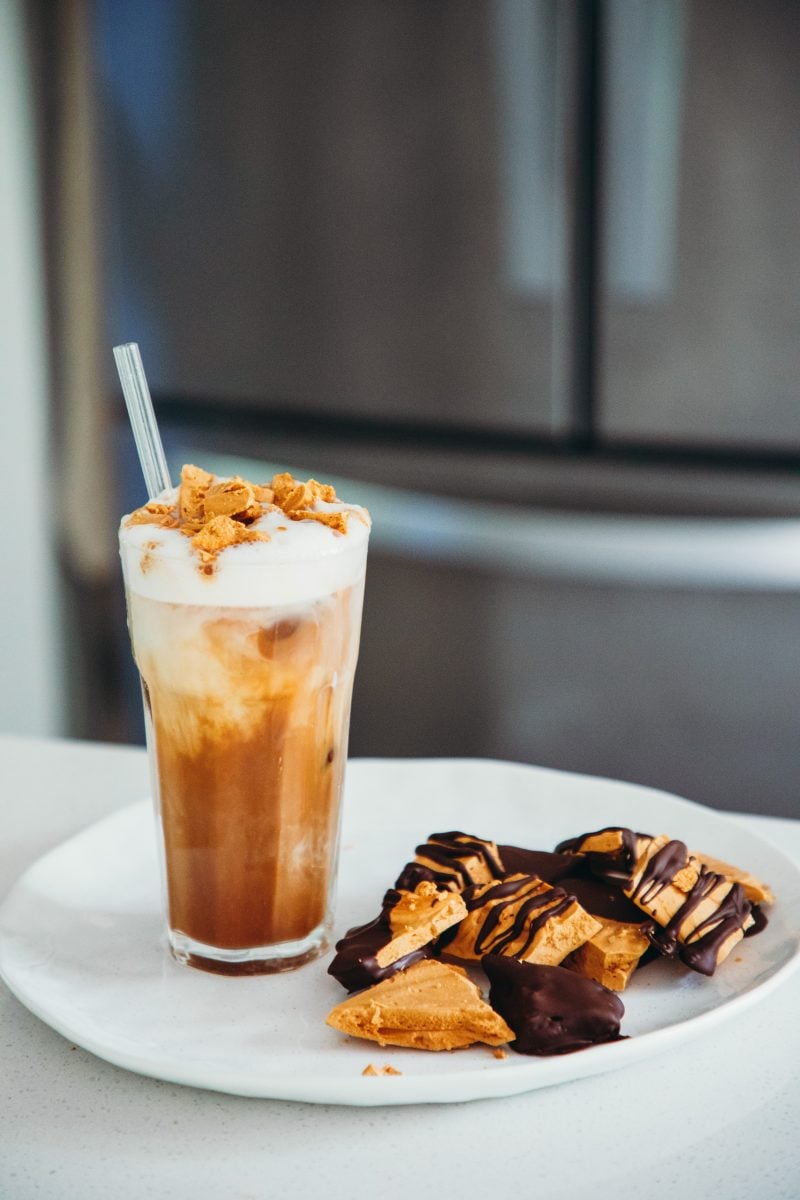 I have had my fair share of interesting coffee drinks, but one I tried recently – a honeycomb latte, really wowed me! It is a regular latte without any sweetener or syrups, and then chunks of honeycomb/sponge toffee are added on top. The honeycomb melts down over time as you sip (quicker if the latte is hot, but also works with iced lattes, my fav) and ends up sweetening the drink and making it taste like liquid honeycomb.
It truly is a genius drink combination and I couldn't wait to try it myself in my own kitchen. Most honeycomb/sponge toffee contains honey, so this is technically "maple comb" as it is made with maple syrup. You can also substitute corn syrup here (and probably also agave) if you don't have maple.
Make sure to read the instructions fully and watch the video as it can be tricky to get the technique right on the first try. I nailed it on my second try after tweaking some things, so I will outline all my best tips and tricks for success!
Also, as it is summer I should mention that if it is warm or humid in your kitchen, you will need to store the sponge toffee in an airtight container or jar in the freezer. That will ensure it doesn't get sticky or start to melt! You can enjoy it and also use it for the latte straight from the freezer as it doesn't really fully freeze anyway. 
Print
Vegan Honeycomb (Sponge Toffee)
---
Author:

Total Time:

35 minutes including cooling

Yield:

~ 2 cups honeycomb chunks
Description
Homemade vegan honeycomb/sponge toffee. Super easy and absolutely delicious!
---
3/4 cup

white sugar

1/4 cup

maple syrup or corn syrup

2 tbsp

water

1

 1/2 tsps baking soda
---
Instructions
Line a sheet pan with parchment paper and set next to the stove. Get a whisk and set it next to the stove as well.
In a medium sized heavy-bottom pot, add the sugar, maple syrup and water and stir to combine.
Place on stove on medium heat and use a spatula or large spoon to stir as it heats to dissolve the sugar completely. You want to stir it to help dissolve the sugar as it heats up (but don't bring it to a boil or simmer yet), and once the sugar is dissolved, stop stirring completely and don't touch it.
Once sugar has dissolved and mixture is a clear brown, increase heat to medium high and bring sugar to a boil/simmer. It will expand and bubble up, but should only bubble up to a certain point and not keep bubbling higher in the pot. If you think it is bubbling too much, decrease heat slightly.
Let it bubble away for about 7-9 minutes (set a timer) until the bubbling mixture has turned from a light colour to an amber colour.
Remove from the heat, add the baking soda and whisk quickly to combine, but only until just combined, then use spatula to pour out onto the prepared baking sheet. You will need to work quickly as it begins to harden immediately.
Let sit about 15 minutes to cool, then break apart with your hands and enjoy! You can leave it plain or dip/drizzle in chocolate for a homemade crunchie bar taste.
*** CLEANING TIP *** soak the pot, whisk and spatula in hot water to dissolve the sugar. It will clean off easily using very hot water!
Prep Time:

5 minutes

Cook Time:

15 minutes
Print
Vegan Honeycomb Latte (with homemade honeycomb/sponge toffee)
---
Author:

Total Time:

5 mins

Yield:

1 latte
Description
An oat-based dairy-free latte sweetened with chunks of homemade vegan honeycomb. A must-try!!
---
double shot of espresso

1/2 cup

oat milk (I used my Instant Brand frother to make cold foam)

1 cup

ice cubes

1/4 cup

homemade honeycomb chunks (see recipe above)
---
Instructions
Add the espresso and oat milk to your serving glass. Add the ice. Top with honeycomb chunks and as you sip your latte it will dissolve down into the drink, sweetening it and making it taste like liquid honeycomb!