Have you ever wondered how to cook soy curls? Soy curls are a vegan meat substitute that are purchased in dehydrated form. When I first picked up some soy curls I realized, I have no idea how to cook these things!
But never fear, they are incredibly easy to cook — and absolutely delicious. Soy curls are more of a whole food type fake meat, and not a super-processed, fake meat product with a long ingredient list. This post will show you how to easily cook this vegan meat substitute and turn them into a very convincing chicken alternative. I am including a recipe for this sweet, spicy and tangy garlic sauce that uses very simple kitchen staple ingredients, and makes these soy curls extra addicting and delicious!
Bonus, you don't even have to turn your oven on! It is all done on the stove top, in 20 minutes total (including soaking time to rehydrate the soy curls!)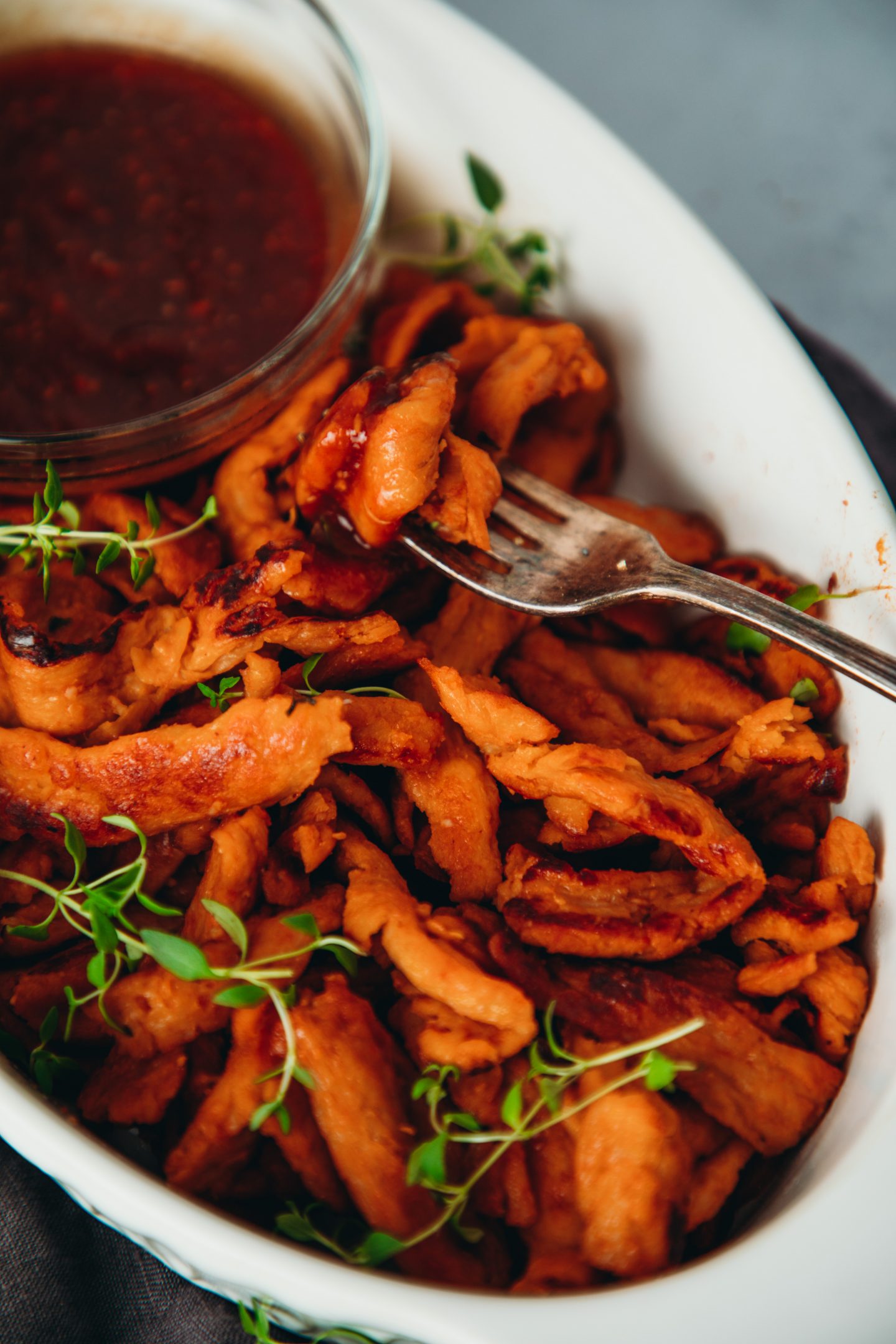 Where to find soy curls
If you're reading this post, you likely already purchased some soy curls and are wondering how the heck to cook them. But, if you stumbled upon this post and are now intrigued, you can actually find soy curls in a lot of health food stores, or online. The most common brand is Butler, and we actually get ours from Luminate Co (a local health food store here) and they're sold in bulk/package-free, which is amazing.
What do they taste like?
These soy curls are rehydrated in a vegan chicken broth (I get mine from Bulk Barn but also easy to find vegan chicken stock cubes online) so they sort of, well, taste like chicken! The texture is chewier and much less mushy/spongey than tofu. They also crisp up really nicely in this recipe, which gives them an amazing chewy texture.
How to Cook This Soy Curls Recipe
This recipe could not be any easier! Unless, of course, you want to skip the homemade sauce (although I recommend trying it!) and use a store-bought sauce instead. If you are short on time or have a favourite store-bought sauce, by all means use that!
Soak the soy curls in broth for 10 minutes.
While they soak, blend the sauce ingredients until combined. If you don't have a blender, simply whisk the sauce ingredients by hand.
Drain the soy curls, then add to a frying pan with some oil and fry for a few minutes until starting to brown.
Add some of the sauce and stir to coat. Fry a couple more minutes.
Serve with extra sauce for dipping, or use the soy curls on burgers, in a stir fry, on top of a salad, etc. Enjoy!
Print
How To Cook Soy Curls
---
Author:

Total Time:

20 minutes

Yield:

~ 2 cups of soy curls
Description
How to cook soy curls! Try this easy cooking method to make the best ever soy curls with a sweet, spicy & tangy garlic sauce.
---
100g

/ about

2 cups

soy curls

2 1/2 cups

vegan chicken broth or vegetable broth

2 tbsp

oil
Sweet & Spicy Tangy Garlic Sauce:
1/2 cup

ketchup

2 tbsp

soy sauce

1 tbsp

apple cider or white vinegar

1 tbsp

sugar

2

cloves garlic

1/4 tsp

cumin

1/4 tsp

onion powder

1/4

broth reserved from soaked soy curls
---
Instructions
Place soy curls in a bowl or container and cover with broth. Set aside for 10 minutes to rehydrate.
Meanwhile, in a blender or food processor, combine all sauce ingredients and blend until combined. Set aside.
Heat a frying pan on medium heat and add oil. Drain the soy curls and add to the frying pan. Cook about 5 minutes, stirring frequently, until starting to brown.
Add 1/3 cup of sauce and stir to coat. Cook a few more minutes until soy curls are browned and starting to crisp.
Add to serving dish and serve with extra sauce for dipping. Enjoy!
Notes
Store leftovers in an airtight container for up to 4 days. Reheat in a frying pan or microwave until hot.
Prep Time:

10 minutes

Cook Time:

10 minutes