HI TODAY IS MY BIRTHDAY! I love birthdays so much. Always have! I just truly think life gets better each and every year I age. I love looking back and reflecting on how much I have grown and how much my life ebbs and flows in a year to become something I feel grateful for every day! Do you like birthdays? I know they are tough for a lot of people, so I feel fortunate to have such a positive outlook and feelings about birthdays. Otherwise it can be kinda stressful!!
Today I am sharing a recipe that works off of Tuesday's post. On Tuesday (Greg's birthday) I shared the cake I made for him! I made a layer cake out of a sheet pan by baking the cake on one pan and then cutting smaller circles out of it. That meant I had lots of cake left over! So what to so with leftover birthday cake?
Well, birthday cake truffles of course!
I didn't come up with these myself. They are actually similar to cake pops, but I like these better. I got the idea months ago when I was watching the episode of The Chef Show and the owner of Milk Bar was on it! Milk Bar is a bakery that does insane menu items, and their most popular thing is cake truffles that they make with their leftover cake scraps! It's genius and they sell thousands of them per week.
With cake pops, typically the cake is crumbled and then bound together with frosting. This makes me extremely rich and sweet, which is partly why I am not a huge fan. However, these are crumbled cake bound together into a paste consistency with a vanilla milk (oat milk plus vanilla extract). Then, I dipped them in a simple glaze and then rolled them in my famous Liv B chocolate chip cookies that I blitzed in my food processor until finely crumbled. I added some sprinkles I had on hand (that were super old actually, I don't even remember buying them haha) to make them more festive. I also rolled a few in cocoa powder for the visual aspect of these photos. But you know what? The cocoa coated ones ended up being my favourite because they were initially bitter and then immediately turn sweet as you chew into the cake. So cool!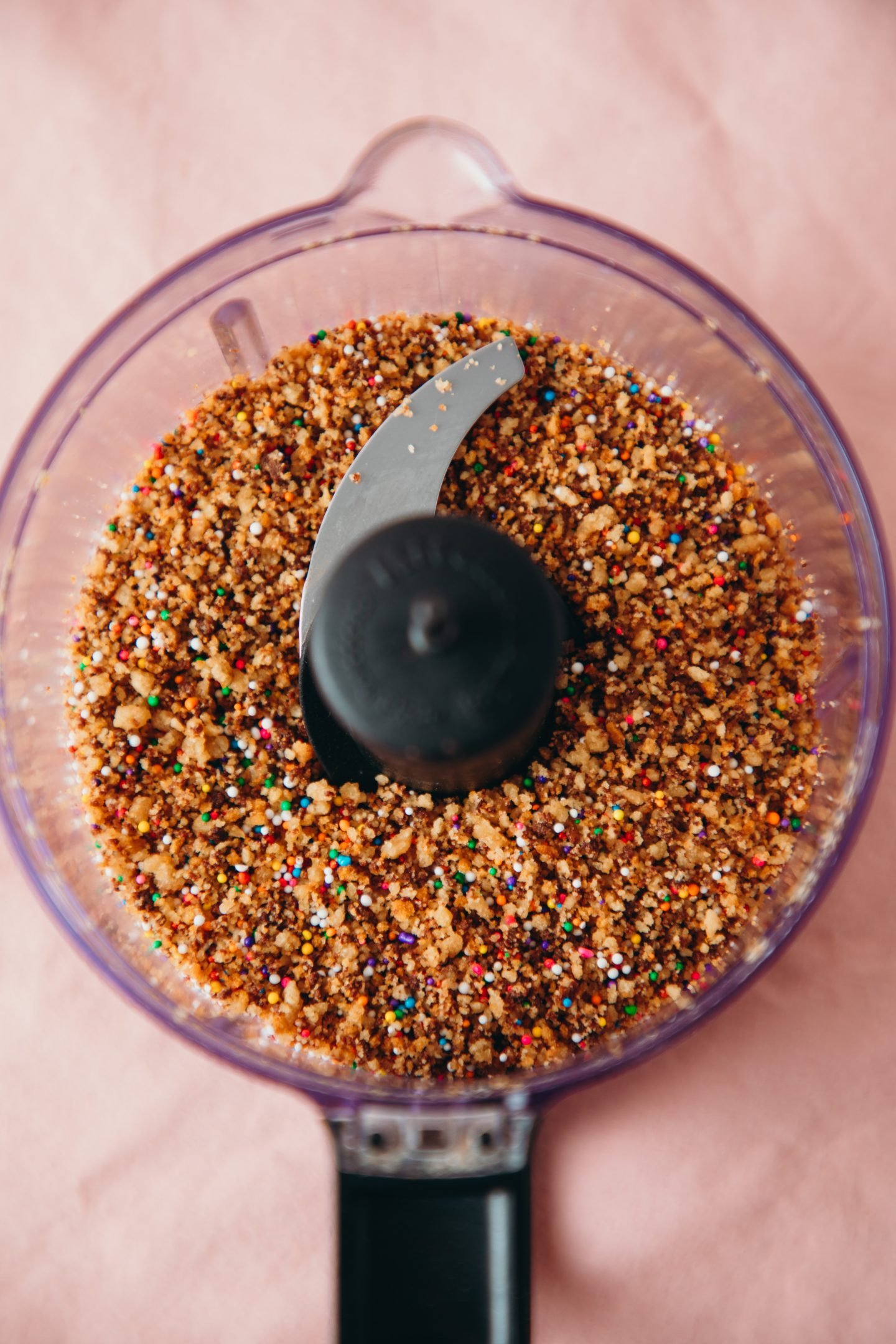 This isn't exactly a recipe…
Because I didn't make the cake for these truffles – I just used leftovers, I don't have exact measurements for this. But I promise you really can go by feel. If you're mixing the cake and milk together, you want it to be like a thick, not too wet paste consistency. You want it to be easy to roll into balls without sticking to your hands. I made about 1/2 cup of the vanilla milk and used maybe half of it total, so you don't need a ton!
This is such a fun recipe I know you will love it! Its a great way to use up cake scraps if you make a sheet cake, and to get your hands messy and have some fun in the kitchen.
Print
Birthday Cake Truffles with Cookie Crumbs
---
Description
Vegan birthday cake truffles made with leftover sheet cake scraps and vanilla milk, rolled in cookie crumbs and sprinkles.
---
a few cups of crumbled cake

1/2 cup

oat milk +

1 tsp

vanilla extract
Glaze:
1 tbsp

nondairy milk

1 cup

powdered sugar
Coating:
---
Instructions
Add cake crumbles to a bowl with a few spoonfuls of vanilla milk. Mix with your hands until moist enough to knead into a ball. If necessary, add a bit more milk. You want the filling to be moist and soft, but not too sticky.
Scoop out even amounts of the mixture, a little smaller than a ping pong ball. I chilled the balls in the fridge before the next step so they were extra firm for coating.
In a mixing bowl, whisk together the nondairy milk and powdered sugar until it is a thin runny glaze. Add more milk if needed.
Dip a cake ball into the glaze, coating all sides, then remove with a fork, letting the excess glaze drip off through the prongs.
Dip into cookie crumb mixture and roll around to coat. Repeat with remaining truffles.
The truffles will keep in an airtight container for up to 1 week in the fridge or up to 1 month in the freezer.