This easy homemade recipe for Starbucks' NEW fall drink, the Iced Apple Crisp Macchiato, is my newest coffee obsession! Its the perfect summer-to-fall transitional drink because its sweet and spiced with fall flavours, but tastes great iced! Its the most perfect iced coffee to cool off with at the end of August, but if hot drinks are more your thing I included a hot version as well! Starbucks has this drink both hot and iced, so I've got you covered if you're one or the other, or just like to switch it up based on your mood! I love that the idea behind the iced version was to mimic apple crisp à la mode (meaning, with ice cream!)
The Starbucks Iced Apple Crisp Macchiato is described as: Layered flavors of apple and brown sugar meld like the filling of a gooey apple pie in harmony with espresso, milk, ice and a caramelized-spiced apple drizzle—a nostalgic autumn pick-me-up. A macchiato translates to "marked", meaning espresso is poured over top of steamed milk and then further "marked" with a spiced apple drizzle in a lattice pattern, to evoke the top of a pie.
I knew when I read that description, I HAD to try an at home version! I actually had a free drink at Starbucks (birthday things, hehe) so I used it to try this drink, for research! I brought it home so I could compare, sip for sip, to see if I truly nailed it.
And guys? I totally did. It was truly identical, except for the fact that mine was the slightest bit less sweet. Just a smidge less sweet, which I actually liked because even though I opted for 2 pumps of syrup in the one I ordered from Starbucks as opposed to 3 which is their norm, it was suuuuuper sweet.
So, what is this drink exactly?
Homemade apple brown sugar syrup with oat milk, espresso, ice (or no ice if you're making it hot) and a homemade spiced apple caramel drizzle.
I like to add the syrup to the hot espresso to make sure it dissolves all the way before pouring over ice. So, add it to the hot espresso and stir. Then, fill your glass with ice, add the creamy dreamy oat milk, followed by the espresso and a criss cross pattern drizzle of the spiced apple caramel drizzle. I love making drinks at home because you can control the sweetness, milkiness and amount of espresso so easily. It truly is the perfect drink for sipping on as we bring summer to a close. Don't worry, its still hot as heck here so I'm not letting go just yet, but with delicious drinks like this I won't be so sad to start getting into fall.
How to make the Apple Brown Sugar Syrup and Spiced Apple Caramel Drizzle:
These two components really are the key to these lattes.
For the syrup, you'll need brown sugar, cinnamon, water and applesauce. I used unsweetened applesauce from the store, but if you can't buy it or want to make your own, here's how. You simmer all of these ingredients on the stove to dissolve the sugar and that's it! Super easy.
The drizzle is similar to a caramel sauce, where you dissolve sugar in water, simmer until amber in colour, add some vegan cream (I used Earth's Own oat cream, but canned coconut milk works too), vegan butter, apple sauce and spices and simmer a bit longer until thickened. This stuff is craaaaazy good. Like, you'll want to eat it with a spoon.
Oh yeah, and your kitchen is going to smell incredible!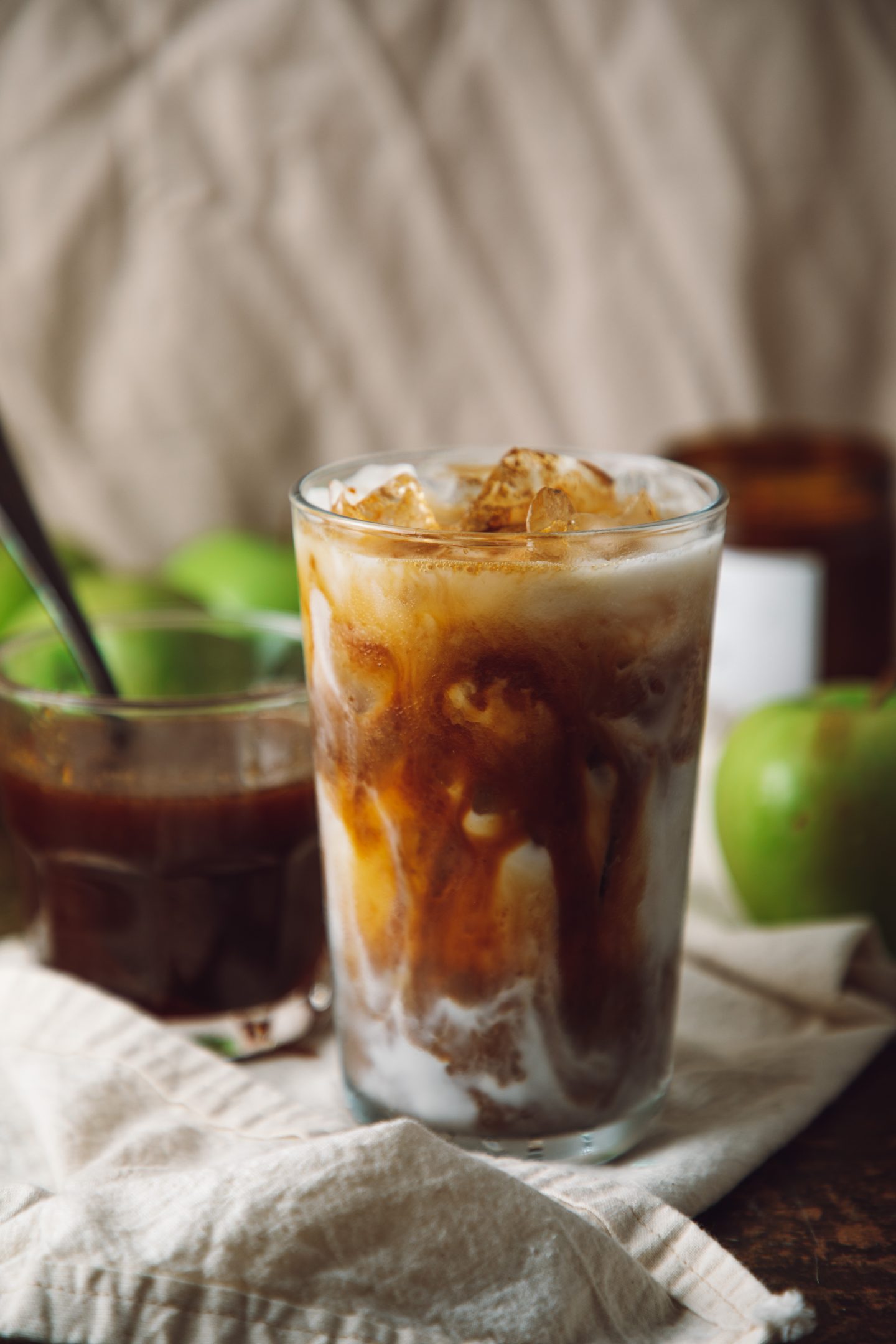 If you try this one out, let me know what you think! Are you a fan of it hot or iced? Do you like the combo of apple and coffee? So curious to know your thoughts!
Print
Iced Apple Crisp Macchiato with Oat Milk (vegan Starbucks copycat!)
---
Author:

Total Time:

30 minutes

Yield:

1 drink (plus extra syrup and drizzle)
Description
A copycat version of Starbucks' new fall drink: oat milk, brewed espresso, apple brown sugar syrup, and spiced apple caramel drizzle. Served hot or iced! Both versions are below.
---
Apple Brown Sugar Syrup:
Spiced Apple Caramel Drizzle:
3/4 cup

cane sugar

1/4 cup

water

1/3 cup

vegan cream (I used Earth's Own oat cream)

2 tbsp

vegan butter, chopped into small chunks

2 tbsp

unsweetened applesauce (or homemade unsweetened apple puree)

1/2 tsp

ground cinnamon

1/4 tsp

ground nutmeg

1/4 tsp

allspice
For the Drinks:
1

double shot of espresso OR 1/4 cup strong brewed coffee

1/2 cup

– 1 cup oat milk (based on personal preference)

1 cup

ice cubes (only for iced version)
---
Instructions
Make the apple brown sugar syrup: in a small pot on medium-high heat, add the brown sugar, water, cinnamon and applesauce and bring to a boil. Simmer 2-3 minutes, until the sugar dissolves. Remove from the heat and set aside. Store in a jar or airtight container in the fridge for 1 week.
Make the spiced apple caramel drizzle: In a medium pot on medium-high heat, add sugar and water, stirring to dissolve the sugar. Bring to a low boil/simmer for about 8 minutes until it becomes a deep amber colour. You can swirl the pot occasionally but don't stir vigourously. Once amber, remove pot from heat. Wait about a minute, then add the vegan cream and butter (stand back! It might sputter at first!). Reduce heat setting to low, add the applesauce and spices and stir until smooth (mixture will likely still bubble). Remove from heat and let cool 10 minutes.
For the iced version:
Brew the espresso shot. Add 2 tbsp of apple brown sugar syrup and stir to combine.
Fill your glass with ice cubes. Add the milk, then pour the espresso overtop. Drizzle on a few tbsp of the spiced apple caramel drizzle in a criss cross pattern. Enjoy!
For the hot version:
Brew a shot of espresso into your mug. Add 2 tbsp apple brown sugar syrup and stir to combine.
Heat or froth your milk with a steam wand, frother, or in a pot on the stove. Add to your mug. Top with a few spoonfuls of spiced apple caramel drizzle in a crisscross pattern. Enjoy!
Notes
This recipe makes enough syrup and drizzle for a few drinks. Store in the fridge for up to a week so you can make this drink quickly every morning!
Prep Time:

10 minutes

Cook Time:

20 minutes