This post is in collaboration with Holly from The Little Blog of Vegan! We decided to partner together to create two cinnamon-themed recipes to kick-start your autumn, and both turned out so amazingly delicious! Keep reading to see Holly's Autumn Swiss Roll Cake, or click here to go to her recipe post right away!
Adding to my collection of coffee shop-worthy drinks you can make in your own kitchen, this is a Cinnamon Roll Latte with Mini Cinnamon Rolls and a Coffee Glaze! A sweet and warming vanilla cinnamon syrup, espresso and frothed milk, topped with the optional (but not really optional) coconut whipped cream, and mini vegan cinnamon rolls with coffee glaze. All of this recipe is 100% vegan and actually incredibly simple to make right at home.
I cannot wait for you all to try out this decadent, cinnamon roll-inspired coffee creation; its my newest obsession! This recipe has a few components:
homemade cinnamon vanilla syrup (making your own coffee syrup is cheap, easy and so much fun!)
mini cinnamon rolls (just bake a half batch of my 30 minute no-rise cinnamon rolls, and make them tiny!)
coffee glaze (for the cinnamon rolls, and on top of the whipped cream… trust me, its essential)
Before we get into this recipe, we have to discuss Holly's creation for a minute. First of all, Holly is truly a gem in the vegan community. Her page and blog are filled with the most decadent, wonderful sweets and every recipe will have you wondering "HOW does she do it?" she truly is like a magical wizard in the kitchen! With so many people giving up dairy or eggs, but also missing baked goods, Holly's blog is essential reading for all of you who want to enjoy sweets without the animal products.
The Little Blog of Vegan is a multi-award winning vegan food and lifestyle blog. Holly has won Food Blogger of the Year 2017, Top 10 must follow blogger 2018, she's been featured in Hello! Magazine and multiple other recipe magazines.
Her Autumn Swiss roll is a warming, spiced sponge, filled with a mouth-watering cream cheese frosting, decorated with crunchy walnuts. Just looking at these photos makes my mouth water!
I can't think of a better pairing than these two recipes for these mid-September days that are just cool enough to make you crazy all the warming fall sweets. I am so excited that I got to collaborate with Holly, and definitely let us know if you re-create these delicious treats!
The Cinnamon Roll Latte
Cinnamon rolls truly take me back to my childhood. Besides the fact that my dad was always picking up freshly baked cinnamon rolls from bakeries and bringing them home to surprise us, we also made cinnamon rolls ourselves a lot with my Grandma! She has this "jiffy cinnamon roll" recipe that doesn't require yeast, and they're sort of a cross between a flaky biscuit and a gooey cinnamon roll. I've shared the recipe a bunch and also put it in my first cookbook because its not only delicious, but super super easy and not too time consuming! Most traditional cinnamon roll recipes take a while due to the yeast and dough having to rise a few times, but these ones are made and done in about 30 minutes, making them the perfect option for this latte! You can whip up a half batch of the cinnamon rolls (make them mini! It's so much fun!) and while they bake you have just enough time to simmer the syrup for this latte and whisk together the coffee glaze.
The cinnamon vanilla syrup is reminiscent of the inside of a cinnamon roll: warm, gooey and packed with sweet cinnamon flavour. But its shockingly easy to make! The base is just a simple syrup (so water and sugar, simmered until the sugar is dissolved) and then we add some vanilla extract and ground cinnamon. Seriously- your kitchen will smell like autumn heaven!
The coffee glaze is something I came up with literally last minute because, well, you can't have cinnamon rolls without icing! Its just powdered sugar and some coffee! I actually just took a few spoonfuls of coffee from the latte I had just made and used that. Stir it together with the powdered sugar and you've got yourself the perfect coffee-infused glaze for the cinnamon rolls and to top off the latte.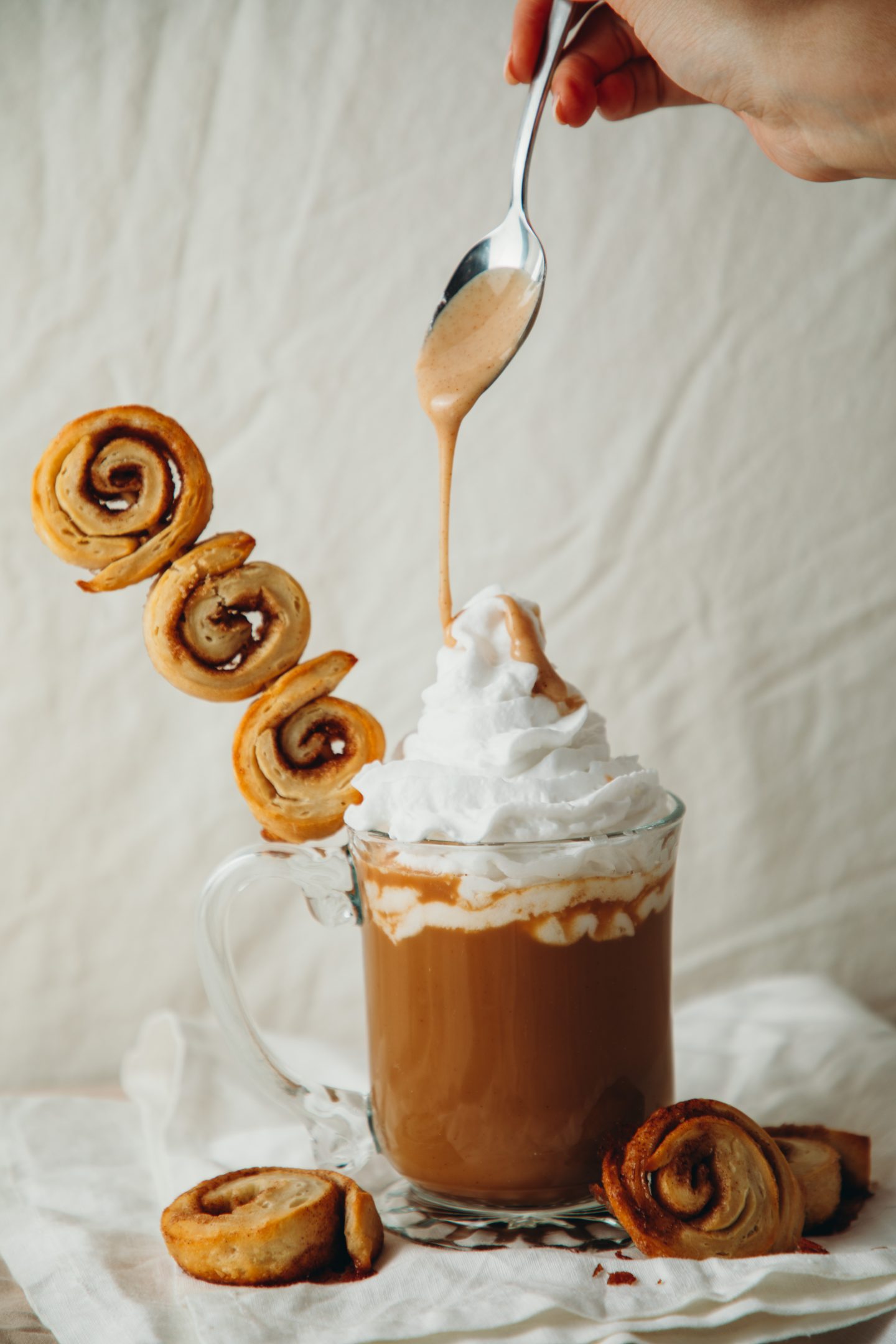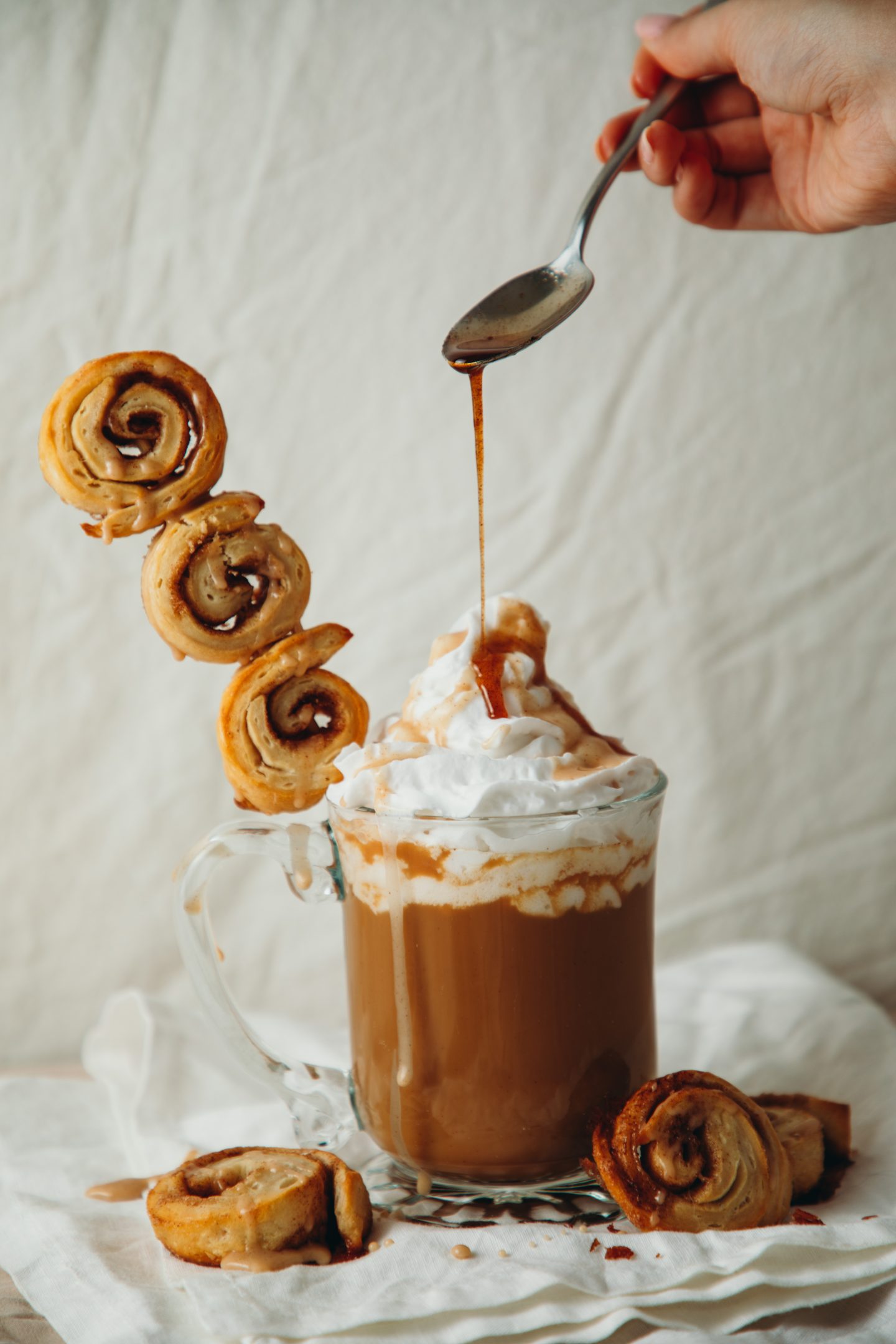 Print
Cinnamon Roll Latte with Mini Rolls and Coffee Glaze
---
Description
A warm cinnamon roll-inspired latte with homemade cinnamon vanilla syrup, mini cinnamon rolls and coffee glaze, topped with coconut whip.
---
Cinnamon Vanilla Syrup:
1/4 cup

cane sugar

1/2 cup

water

1 tsp

ground cinnamon

1 tsp

vanilla extract
Coffee Glaze:
1/2 cup

powdered sugar

1

–

2

tsp brewed coffee (I used a few spoonfuls from the latte!)
The Latte:
1

double shot of espresso or

1/4 cup

strong brewed coffee

1

–

2

tbsp cinnamon vanilla syrup

1 cup

unsweetened oat milk or other nondairy milk
optional: coconut whipped cream
Mini Cinnamon Rolls:
Dough:
1 cup

all-purpose flour

2 tsp

baking powder

1 tbsp

sugar

2 tbsp

vegan butter or coconut oil

1/2 cup

non-dairy milk (add slowly in case you don't need all of it)
Filling:
1/4 cup

brown sugar

1 tsp

cinnamon

2 tbsp

softened vegan butter or margarine to spread on the dough
---
Instructions
Mini Cinnamon Rolls:
Preheat the oven to 400 F. Line a baking sheet with parchment paper.
Whisk together the flour, baking powder and cane sugar in a large mixing bowl. Cut in the vegan butter with a pastry blender or two knives, until the mixture becomes crumbly. Pour in the nondairy milk and stir until it just comes together to form a dough but is not too sticky.
Turn out dough onto a lightly floured surface and knead about 8 times. Divide in half and roll out into a long rectangle (about 6 inches by 3 inches). Arrange it with the long side facing you.
Spread the softened vegan butter in an even layer over the dough, leaving a small border along the long edge farthest from you.
Whisk together the brown sugar and cinnamon in a small bowl and sprinkle over the dough. Begin rolling up the dough, tucking it up and over the sugar. Pinch lightly to seal, then slice into 6 pieces.
Space them out on the baking sheet, then bake for 10-12 minutes, until golden brown.
Cinnamon Vanilla Syrup:
In a small pot on medium-high heat, add the sugar, water, cinnamon and vanilla and bring to a boil. Simmer 2-3 minutes, until the sugar dissolves. Remove from the heat and set aside. Store in a jar or airtight container in the fridge for 1 week.
Coffee Glaze:
In a small mixing bowl, combine the powdered sugar and brewed coffee and whisk until smooth and pourable. Set aside.
Make the Latte:
Froth the nondairy milk using the stovetop method, a frother or steam wand. Add brewed espresso and coffee to a mug. Stir in as much cinnamon vanilla syrup as you would like. Top with coconut whipped cream, if using, and then drizzle extra syrup and the coffee glaze overtop. Serve with mini cinnamon rolls and enjoy!