I am SO excited to be sharing this super quick and yummy dinner idea with you today! It's a creamy, buttery, tomato-based curry sauce with chunks of pan-fried tofu, tossed with penne pasta. How can you go wrong with all of those good things! Sure, its not traditional, but sometimes combining different flavours and dishes is what you need to get out of a cooking rut.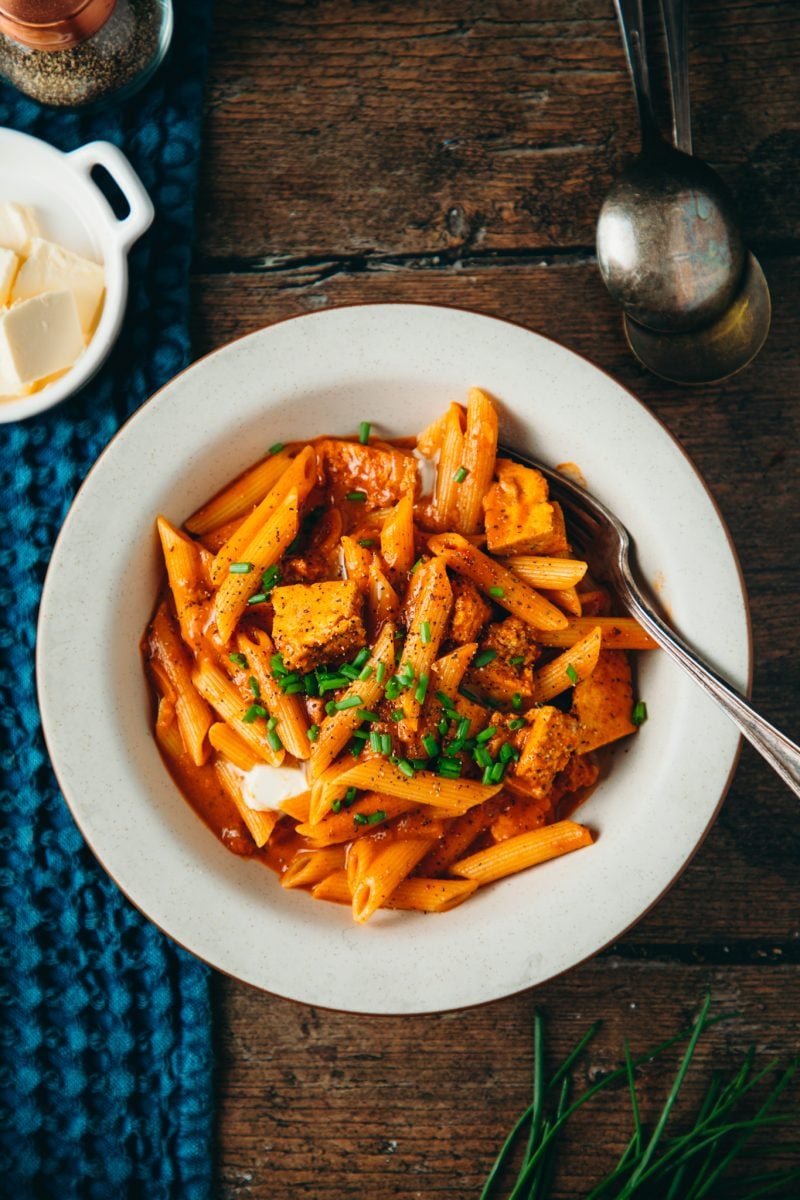 A little update:
So… Greg and I leave for our honeymoon TOMORROW.  It will be our first time travelling in exactly 2 years, and the last place we went was Banff so we didn't even leave Canada. We actually have never left Canada together. Wild! Our wedding feels like another lifetime, even though it was only a few weeks ago. Time is flying! Last weekend we were in our friends' wedding which was so much fun but it totally also got the wedding vibes back into me so this week feels like the perfect time for our honeymoon! We fly to London tomorrow night, spend a few days there and then do a few more days in Dublin. It will be 7 nights total (7 nights away from the dogs!!! I cry.) But I am so excited to do something "normal" again. Even though it is far from normal travelling right now with all the forms, vaccination proof, covid tests etc. Travelling was stressful enough before without all of these added layers, now it feels like jumping through hoops just to even get somewhere!
I'm hoping to actually blog while I'm there because I love doing real-time updates rather than recaps. If I could have live-blogged our wedding I would have because now that it feels so long ago I'm sure I will have forgotten details. I'm just waiting on our photos to come back from the photographer before I do that post!
But I am *hoping* to do a daily post about what we ate in London. Guys, there are SO MANY VEGAN SPOTS. Like…. SO MANY. I'm taking my camera so hopefully I'll be able to get good quality shots of all the food we eat. I always love seeing what people eat when they travel as a vegan so hopefully you will enjoy it too! This means I'm taking a week off of sharing new recipes, but I'll still have lots of foodie content and inspo for you so you won't be totally left hanging. I can't wait to fill you all in on what we get up to! This type of honeymoon isn't at all what I pictured for myself (I always pictured a resort/beach type trip vs. city adventure) so it will be all new and crazy to me too. Hopefully we'll be able to do a relaxing beach vacation this winter… we shall see.
Okay back to today's recipe! I just wanted to let you know what the next week will hold for us here on the blog. Don't forget to follow me and Greg on instagram, because I'll be posting real time stories and posts there first!
The Inspiration
If you remember last winter I shared my FAV recipe for vegan butter chicken. It is easy, super hearty and mega-cozy. It's the kind of meal I come back to again and again when I don't know what to cook because it turns out great every time! Like I mentioned in that post- this is one of those things I hadn't tried prior to going vegan, so I can't tell you if this is similar to traditional butter chicken in flavour. I know the method is definitely not traditional (and there's no dairy butter or real chicken in it!), so this is more of an "inspired by butter chicken" meal. Plus, it is quite speedy. So some steps have to be cut when you're moving fast!
You can substitute the tofu with whatever chicken substitute, bean or veggie you like. I think the tofu works well, but I also love to use my seitan chick'n, and I know lots of you love chickpeas, so there's a few options!
The details…
Start by pressing your tofu to remove excess moisture, then rip the tofu into uneven chunks. I like to pan fry it in some oil to get it browned and crispy. Then, remove it from the pan and set it aside.
Then, saute some garlic and onion in vegan butter. Add the spices, tomato paste, water and coconut milk and simmer until thick. Add in your cooked pasta and the tofu and toss it all together. Serve with some extra butter for topping (trust me, its GOOD), some herbs like cilantro or parsley, and black pepper.
Print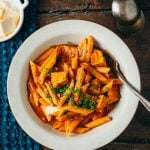 Vegan Buttery No-Chicken Pasta
---
Author:

Total Time:

45 minutes

Yield:

2 servings
Description
A creamy, buttery, tomato-based curry sauce with chunks of pan-fried tofu, tossed with penne pasta.
---
2 cups

chopped vegan chick'n or tofu (or store-bought protein of choice)

1 tbsp

oil for frying

2 tbsp

vegan butter

2

cloves garlic, minced

1/2

onion, diced

1 tbsp

garam masala

1 tsp

curry powder

1 tsp

ginger

1 tsp

ground coriander
pinch of salt

1/3 cup

tomato paste

1/4 cup

water

400

ml can full fat coconut milk

200g

penne pasta
optional: extra vegan butter, fresh herbs and black pepper for garnish
---
Instructions
Boil pasta according to pasta directions. Drain and set aside.
To a large frying pan on medium-high heat, add the tofu and oil and fry about 5 minutes, stirring frequently, until browned. Remove from pan and set aside.
Back into the pan on medium heat, add the vegan butter, garlic and onion and cook 3 minutes, until onion becomes translucent.
Add the spices and salt and stir to combine. Add the tomato paste, water and coconut milk and stir again until combined. Bring to a gentle simmer for about 15 minutes, stirring frequently, until thickened slightly. Taste and add some more salt if necessary.
Add the tofu and pasta to the pan and stir gently to coat.
Serve with a bit of extra vegan butter for topping, fresh herbs and black pepper.
Prep Time:

15 minutes

Cook Time:

30