I never really thought I would become so obsessed with making my own pasta. I've always thought of making pasta from scratch would be super intimidating and out of reach for a self-taught cook like myself.
Why make your own  when you can just buy a box of pasta and boil it? Well, I can truthfully say, I think it tastes better and is WAY more fun! Greg and I have been doing pasta date nights where we throw on some jazz music, make pasta and try out new kinds each time. I can't recommend it enough. Its also a fun activity to do with roommates or kids.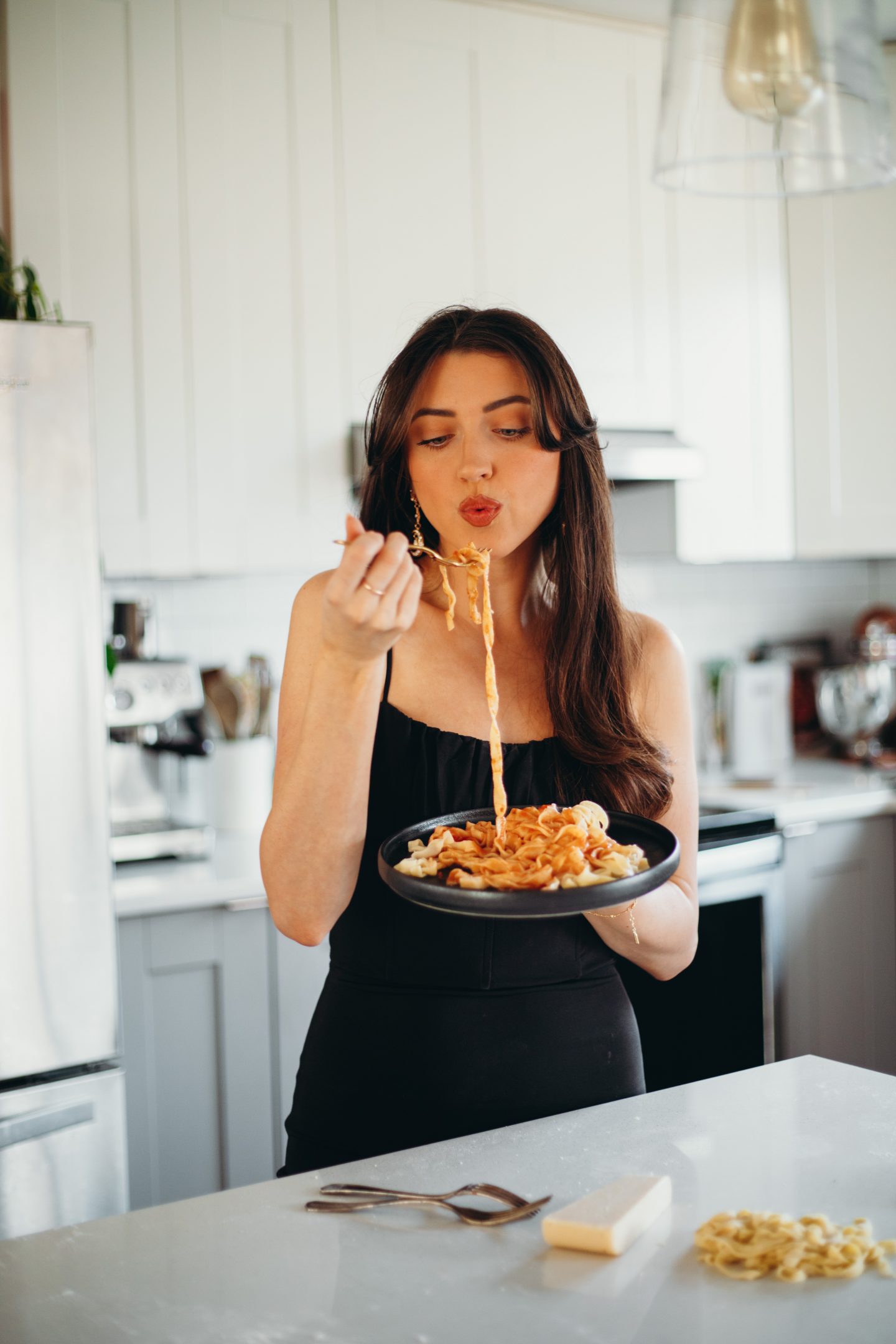 Egg-Free Fresh Pasta
I tried quite a few different recipes using egg replacer to get that authentic egg pasta vibe. But you know what? My favourite recipe ended up being – shocking I know – the simple 2-ingredient one! This recipe uses just 2 types of flour and some water. It really couldn't be easier!
Which Flour Do I Use?
This recipe uses equal parts regular all-purpose flour and semolina flour. Semolina flour is a high-gluten flour made from hard durum wheat. It has a coarser texture, and yellow colour, compared to all-purpose flour. I buy mine at Bulk Barn.
Pasta Machine vs. By Hand
I have a super simple hand-crank pasta machine that runs about $35. It works great! You can find pasta machines pretty much anywhere that sells kitchen tools. However, you can also make pasta by hand! You will just need to spend more time rolling it out with a rolling pin and it might not be perfectly even thickness. However, it wills till taste delicious! This link is not a vegan recipe but I am super in love with their method of rolling and cutting the pasta – seems super doable even for a beginner!
The Method
It really couldn't be easier to make pasta yourself right at home! Just follow a simple method and you'll be enjoying delicious fresh pasta in no time.
Mix together the flours, then add the water. Stir until it comes together in a dough ball.
Knead on a clean surface for 5 minutes until nice and smooth. Wrap with a piece of plastic wrap (or cover with a dap towel) and let sit for 30 minutes. You can use that time to make a pot of pasta sauce, or enjoy a glass of wine with your pasta buddy!
Divide the dough ball into 4 and then roll out each piece until it is thin enough to run through your path machine.
Flour the dough, then run it through the pasta machine on the widest setting (usually a 7). Flour it and run it through again. Repeat, running it through a 6 and then a 5 next time (or the next two smaller settings on your machine). I find stopping at a 5 (or about the middle setting) is perfect for fettuccine. Repeat for all 4 pieces.
Flour each one, then run through the fettuccine cutter. Toss with some flour to avoid sticking and set aside.
Boil pasta for 6-8 minutes, tasting it to ensure it is cooked as you like. Top with sauce. Enjoy!
Looking for pasta inspiration? Here are some of my favourites:
Vegan Scallop Cream Sauce Pasta
Garlic Butter Corn & Basil Pasta
Print
Homemade 2-Ingredient Vegan Pasta
---
Author:

Total Time:

50 minutes (including rest time)

Yield:

serves 2 (approx)
Description
Fresh homemade vegan pasta with only 2 ingredients! Delicious fresh pasta in under an hour, also a great date night idea!
---
1/2 cup

all-purpose flour (plus a bit for dusting)

1/2 cup

semolina flour

1/2 cup

water (plus a bit extra if needed)
---
Instructions
Mix together the flours, then create a well in the center and pour in the water. Mix to form a dough. Turn out onto a clean surface and knead for about 5 minutes, until nice and smooth.
Cover with plastic wrap or a damp dish towel and let sit 30 minutes at room temp.
 Roll out on a floured surface until thin enough to go in the largest size of the pasta maker (usually 7). Roll it through, then dust with flour. Roll through again on a 6, then dust and roll through once more on a 5. I find this is the best thinness for fettuccine but you can do thinner if you like!
Roll through the fettuccine side (or cut with a pizza wheel if you don't have that attachment but I think most come with it).
Boil in salted water for about 6-8 minutes. Taste test a piece to make sure it is cooked how you like.
Top with your favourite sauce (I used @paneecirco) and some vegan parm (@violife_foods).
Prep Time:

10 minutes

Cook Time:

8 minutes