The very best and easiest homemade Vegan Vanilla Cream Chocolates! These little homemade chocolates are smooth and creamy and wrapped in a coating of chocolate that has the perfect *crack* when you bite into them. You would never know they're completely dairy-free!
I promise they are not as hard as you think to make. In fact, this is a recipe that my mom makes every single year at Christmas (except peppermint instead of vanilla!) and they are a hit with everyone. We used to make them growing up but they weren't vegan and I searched the internet far and wide for vegan peppermint patty recipes with no success. However, my mom decided to just use her trusty traditional recipe and vegabnize it, and they turned out great! So today I am sharing the vanilla version with you.
Tip: you can use ANY extract in these to make the flavour you want! We have also done hazelnut, almond, raspberry and lemon. Just make sure to start with a bit less extract and taste the batter as you add more, because some extracts can be overpowering versus vanilla which is extremely forgiving.
What do I need to make these chocolates?
vegan butter (stick butter like Becel, Earth Island and Melt sticks are the best)
sweetened condensed coconut milk (the brand I use is Let's Do Organic, but here is a recipe to make your own at home!)
vanilla extract
powdered sugar
dairy-free chocolate for dipping
Tempering the chocolate
You know when you pick up a chocolate bar from the store and you can hold onto it for quite a while before it starts to melt in your hands? And it has that nice *snap*? And it can sit at room temperature without going soft? That's because it is tempered chocolate.
Guys, don't get intimidated. I avoided teaching myself how to temper chocolate because it seemed soooo confusing with thermometers and double boilers etc. BUT, hear me out.
I found a blog post that has a microwave method for tempering chocolate and it was SO easy. That's what I did and it worked great! Scroll down to the green recipe card (not the pink one) and near the bottom of the directions it has the microwave method directions.
Basically, you melt 2/3 of the chocolate in the microwave on 50% power for a minute at a time, stirring in between until its melted. Then, you slowly add the rest of the chocolate, stirring it to melt it in the heat of the already melted chocolate, and this cools the chocolate to the perfect temperature. Then you just start dipping! I swear it was the easiest thing ever and even easier if you have a thermometer you can use to double check its the perfect temperature. I just used a $6 candy thermometer from Bulk Barn.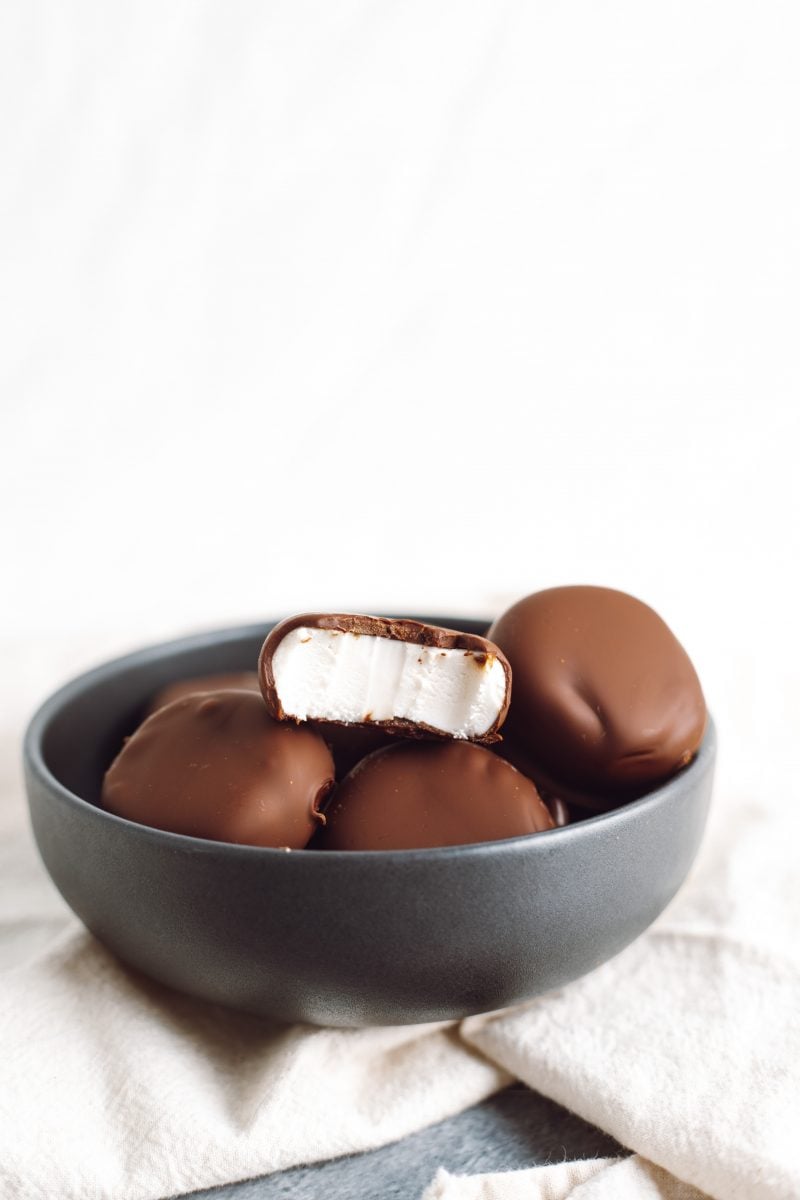 See a video tutorial of how to make these chocolates along with 2 other delicious vegan treats!
Print
Vegan Vanilla Cream Chocolates
---
Author:

Total Time:

approx 2.5 hours (including freezing)

Yield:

approx 35 chocolates
Description
Smooth & velvety vanilla buttercreams dipped in chocolate – completely dairy-free!
---
Vanilla Cream:
1/4 cup

vegan butter, room temp

150

mL sweetened condensed coconut milk

1 tbsp

vanilla extract

3 1/2

–

4

cups powdered sugar (see directions)
Chocolate:
16 ounces

(

454g

) dairy-free chocolate, finely chopped (or if using chocolate chips, no need to chop)
---
Instructions
Line a baking tray with parchment paper. Set aside.
Vanilla Creams: In a mixing bowl or the bowl of a stand mixer, use a hand mixer or paddle of a stand mixer to combine the vegan butter, condensed milk and vanilla. Add the powdered sugar about 1 cup at a time, beating to incorporate. If you have added 3 1/2 cups and it is too soft to roll into balls, add another 1/2 cup of powdered sugar. If it is still to soft to roll, refrigerate a few hours until firm enough. 
Roll 2 tbsp of batter into a ball, then flatten into a disc shape about 1/2 inch thick. Place on the parchment-lined baking tray and repeat with the rest of the dough. You don't need to leave much space in between the discs, so you should be able to fit them all on the one pan.
Freeze for 1 hour, until frozen.
Chocolate: this is a quick version of how to temper chocolate in the microwave from this blog post. Read the post if you want more information on tempering chocolate, or just follow the instructions below for the perfect melted chocolate for dipping:
Put 2/3 of the chocolate in a microwave safe bowl. Melt at 50% power in 1-minute intervals, stirring between each interval, just until melted and smooth.
Add the remaining 1/3 of the chocolate a few tablespoons at a time, while stirring. Make sure that the pieces are completely melted before adding more.
The chocolate will thicken and become cool, shiny, and smooth as you continue stirring and adding small amounts. Once all the chocolate is melted in, you're ready to dip!
Dipping: Remove the pan from the freezer. Drop a vanilla cream into the chocolate, then use a fork to flip it over and ensure it is coated. Bring it up out of the chocolate, letting the excess drip through the fork, then transfer carefully to the baking tray. It will start to harden and become shiny pretty quickly. Keep dipping all of the chocolate.
Transfer the dipped chocolates to the fridge to harden completely, then store in an airtight container for up to 2 weeks in the fridge.