What makes one French toast recipe fancier than the next?
Why, I'm glad you asked! There is a subtle art to levelling up already amazing, decadent and timeless recipes. I for one, grew up having French toast every other weekend rather than pancakes. Don't get me wrong, I love pancakes as much as the next guy! Check my recent Bourbon Banana Pancakes for proof. But back to the French toast. I found out early on a few keys to making a good French toast. Thicker bread that wouldn't get too mushy. Slightly higher heat in the pan for optimal crisp without getting burnt, etc. But these days I find myself with the creative freedom to change things up, and find a newer, better way to enjoy your French toast!
First of all, we need to get the toppings right. In my humble opinion, no French Toast should be without something a little chewy, sticky, or crunchy to offset the flavour profile of the toast itself! That means at LEAST a good helping of maple syrup! But don't worry, I didn't stop there. I knew to truly level up Vegan French Toast, I needed to throw in something I knew both me and my wife Liv would love! So after searching through the deepest, darkest parts of our pantry, I finally pulled out what I was looking for – a big bag of pistachios!
Now that we've got the toppings settled…
Let's talk about how to get the perfect crispy coating. For this recipe, I used Liv's delicious no hassle French Toast Recipe ! This ones super simple and packed with flavour. Alternatively, I've done great tasting French toast using a mixture of Just Egg, cashew milk and cinnamon! Whichever way you choose to soak your Fancy Vegan French Toast, It's going to taste great as long as you fry it to perfection.
Which brings me to my next point. The trick to a consistent and perfectly textured French toast is how you fry it! For me, I need to make sure the bread is thick enough that it doesn't get soggy. My ideal Fancy French Toast is, thick, chewy and perfectly crusted on the outside. That means LOTS of vegan butter, because, well, it tastes good, and the toast is French… need I say more?
Now that I've covered toppings and cooking essentials…
I need to get to what REALLY makes this Fancy Vegan French Toast… well, fancy! You might be thinking to yourself, there's nothing that fancy about a few pistachios, lots of maple syrup, butter and a little cinnamon… BUT, I haven't told you the real secret to levelling up this breakfast/brunch classic!
What if I told you that French Toast didn't have to be in the shape of a slice of bread? Gone are the days of flat soggy piece of golden brown toast. Once you've covered all the essentials, and ingredients to your liking… all there's left to change to make this Fancy Vegan French Toast is the shape of the toast itself! I know, not that thrilling of a reveal. But trust me, when family or friends sit down to enjoy this elevated version of one of their favourite dishes, it will be talked about and commented upon at length! It's super easy to do, and thick rectangles really do make for a better Fancy Vegan French Toast! This is the showstopper of all French Toast recipes, and not only because it looks familiar yet strange and different. But also because it truly does taste better this way!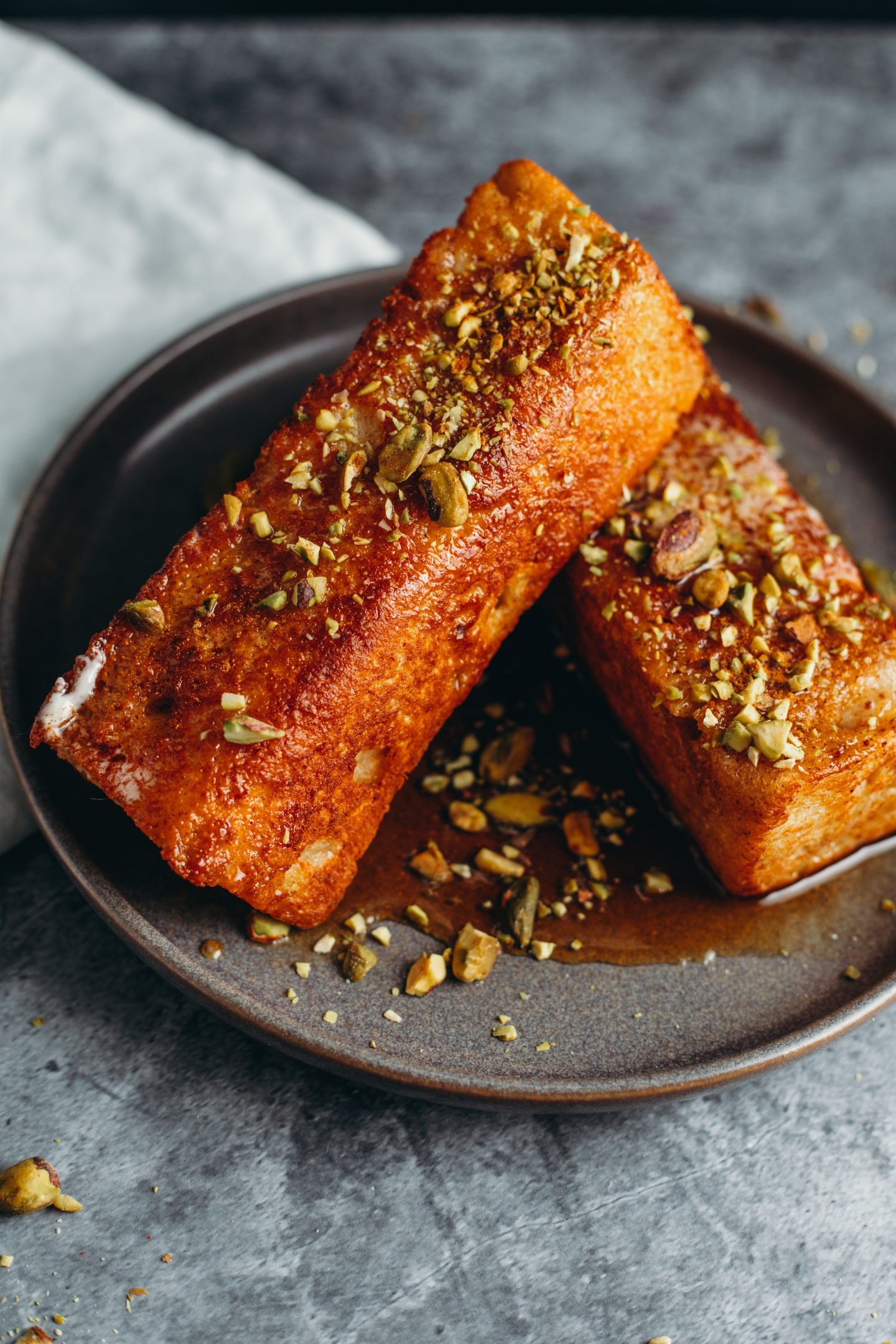 I'm not joking! This Fancy Vegan French Toast really is the best!
It really does taste better! The thickness of the bread is what's key here. The batter only seeps in a centimetre or two on each side that's coated, meaning it gets crunchy and golden on the outside, but stays bouncy and fluffy on the inside, while keeping its shape. That means less soggy Fancy Vegan French Toast (especially if you plan to load it with lots of maple syrup like I do).
So try it out for yourself and let me know what you think of the new shape of your weekend Fancy Vegan French Toast!
Print
Fancy Vegan French Toast
---
Description
The easiest and best way to eat French Toast! This is how you can get restaurant quality French Toast in the comfort of your own home, and make it "fancy"!
---
For the Batter:
1/2

block firm tofu (approx

6 oz

.)

1 cup

plant-based milk

1 tbsp

sugar

1/2

–

1

tbsp vanilla (I like a lot of vanilla)

1 tsp

cinnamon
For the French Toast:
Vegan butter for frying

1

large loaf of your favourite bread
Maple syrup
Powdered sugar (optional)
Pistachios (optional)
---
Instructions
Start by making the batter: add the tofu, plant-based milk, sugar, vanilla and cinnamon to a blender and blend until smooth.
Pour batter into a shallow bowl.
On a cutting board, trim the loaf of bread on all 4 sides, working your way to one large rectangle of bread. Shave down the sides to make angular edges, and cut the rectangle loaf to make thick rectangle slices.
Heat a frying pan to medium heat and add some vegan butter. When it starts to sizzle, dip a slice of bread into the batter, then quickly dip the other sides. Allow any excess to drip off, then place in the pan. Cook a few minutes per side until golden brown. Repeat with the rest of the bread sticks.
Add pistachios, powdered sugar and maple syrup (if desired!).
Prep Time:

10

Cook Time:

10