The Vegan Bang Bang Burger is absolute best way to  do burger night this summer! A juicy plant-based burger, with a pocket of seasoned melty dairy-free cheese, and a creamy, spicy & sweet bang bang sauce. We have just the right amount of sauce-to-bun ratio and this Bang Bang burger will hit all your summer BBQ cravings all at once!
Let's change the way you do burger night with The Vegan Bang Bang Burger!
Picture this – It's the first nice day of spring, you can finally break out the shorts and sandals for a beer or cold drink on the back deck. You get home from work and say to yourself, "I think it's time to light up the BBQ" after months of cold weather and indoor cooking. If you live in a warm climate, just know that I'm jealous and just imagine yourself in this scenario. Now, you open your phone and find this recipe on your Instagram and decide to give it a go! This is the first step to the way you do burgers for the rest of your life. You will look back on this moment and think to yourself: I can't believe I ever used to put vegan cheese ON TOP of my burger!
Don't get me wrong, I'm well aware that this has been done before – and some burger establishments all over the world even have their own name for a cheese-stuffed burger. But I find myself in a position where there isn't always the same options as a vegan that you would get an any restaurant in your neighbourhood. Which leaves me with only one option – and that's to level up every vegan junk food option to be the best it can be!
Let's get into the ingredients:
Some of you might be hearing the term Bang Bang Sauce for the first time in this post. Well, let me put your curiosity to rest! on this Vegan Bang Bang Burger, I took inspiration from one of the first great sauce recipes my wife Liv introduced me to when made Oven Baked Tofu Bites with Bang Bang Sauce. If you haven't tried them before, they're a must-try! Bang Bang Sauce is essentially just a mixture of sweet Thai chilli, sriracha and vegan mayo. It's so perfectly balanced that it brings out all of the flavours of the chilis and spice, all while cutting the heat with the creaminess of the vegan mayo! Creamy, sweet, and flavourful!
The next step in making the perfect Vegan Bang Bang Burger is to make sure all of the burger ingredients are of the best quality. I don't know about you, but I need my burgers to have just the right ratio of sauce, protein, bun and toppings! This means choosing a bun from your local bakery that can get lightly toasted without losing all of its volume like a vegan brioche, pretzel or sesame seed bun!
Here's where your personal preference comes in to play. For the Vegan Bang Bang Burger, I chose to use a mixture of cashew cheese and vegan cheese shreds to get the consistency I wanted. However, a lot of this burger's flavour will come from the vegan cheese you use. Make sure to use your favourite flavours for the ultimate experience and texture that you desire.
Lastly, you want to make sure to use a vegan burger patty that can mold to the way you want it! You want the kind that isn't pre-cooked, and has that imitation "are meat" consistency like Lightlife, Impossible Foods or Beyond Meat. There are only a few burger brands widely available that can do this, and my personal preference is Beyond Meat.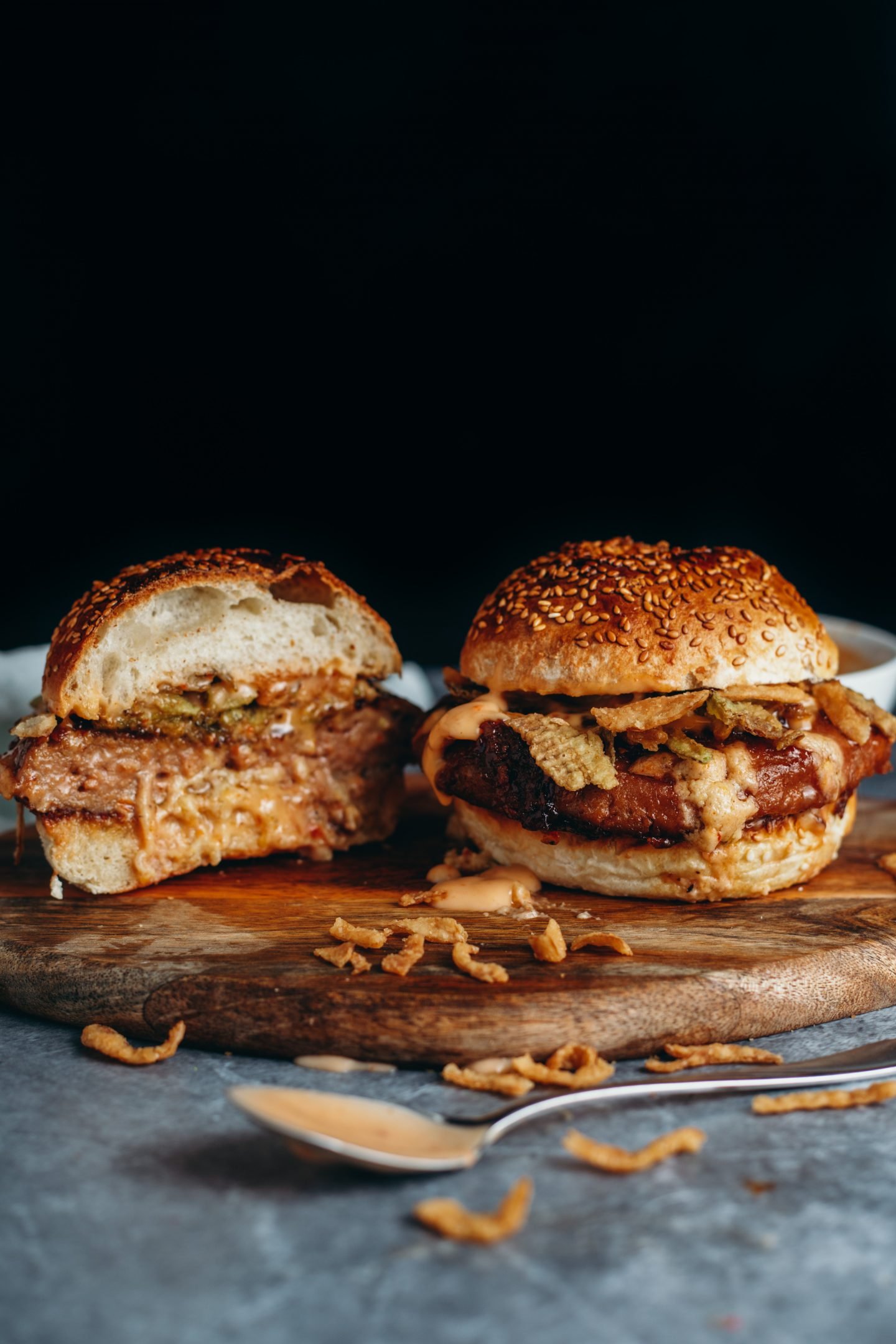 Let's layer it up!
Now to the fun part! When given the choice, I will always add as much sauce that will fit on the burger, and then a little bit more! That goes twice as much for the Bang Bang Sauce recipe. So, when layering this Vegan Bang Bang Burger, make sure to start by adding a dollop of Bang Bang Sauce. Stack on your cheese-filled burger patty, another large dollop of Bang Bang Sauce (mostly so the toppings will stick and not fall out),  then as many crispy store-bought fried jalapeño and onions as you can! Personally, I like to add a third thin layer of Bang Bang sauce on the top bun to keep everything in place! Once it's assembled, it's time to feast! If you enjoyed my first of what is many to come burger building tips, make sure to leave a comments and follow my page for more gourmet vegan junk food!
Print
The Vegan Bang Bang Burger
---
Author:

Total Time:

20

Yield:

1 burger
Description
This is the Vegan Bang Bang Burger – filled with a gooey pocket of vegan cheese and topped with mouth-watering Bang Bang sauce and crispy fried jalapeños, this will change the way you do burger night!
---
For the Burger
2

beyond

meat

patties

1

 fresh burger bun

1/4 cup fried Onions and or Jalapeños
For the Cheese Sauce:
1/2 cup

vegan cheese shreds

1/3 cup

nondairy milk (I use oat)
For the Bang Bang Sauce
1/3 cup

vegan mayo

3 tbsp

Thai Sweet Chili Sauce

2 tsp

Sriracha
---
Instructions
For the Burger 
Gently flatten both burger patties and press a shallow dip into the center of each.
In a small pot, bring the milk to a gentle simmer and add in the vegan cheese shreds. Quickly stir until melted, and remove from heat. Let the cheese mixture cool in the fridge before adding into the shallow indentation on the bottom patty. Place the other patty over top and push on edges to seal in the cheese mixture.
In a non-stick pan over medium heat, add the burger patty. Cook until browned and cooked through on both sides.
Make the bang bang sauce: add all bang bang sauce ingredients into a small dish and stir to combine.
Remove from heat and add burger patty to the bottom bun. Lather both sides in Bang Bang Sauce.
Top with fried onions and jalapenos and enjoy!
Prep Time:

10

Cook Time:

10