Vegan Fuego Chicken Strips with Chick-Fil-A Sauce! Crunchy, spicy and tangy vegan chicken strips dusted with a thick layer of Taki Fuego flavoured crumbs, and dunked in what is potentially the world's most popular fast food chain sauce! I'm about to tell you exactly why you need this Vegan Chick-Fil-A Sauce and Fuego Chicken Strips in your life, like yesterday.  Trust me, this is a lot easier to make than you think, and it will have you asking why you haven't been doing this all your life!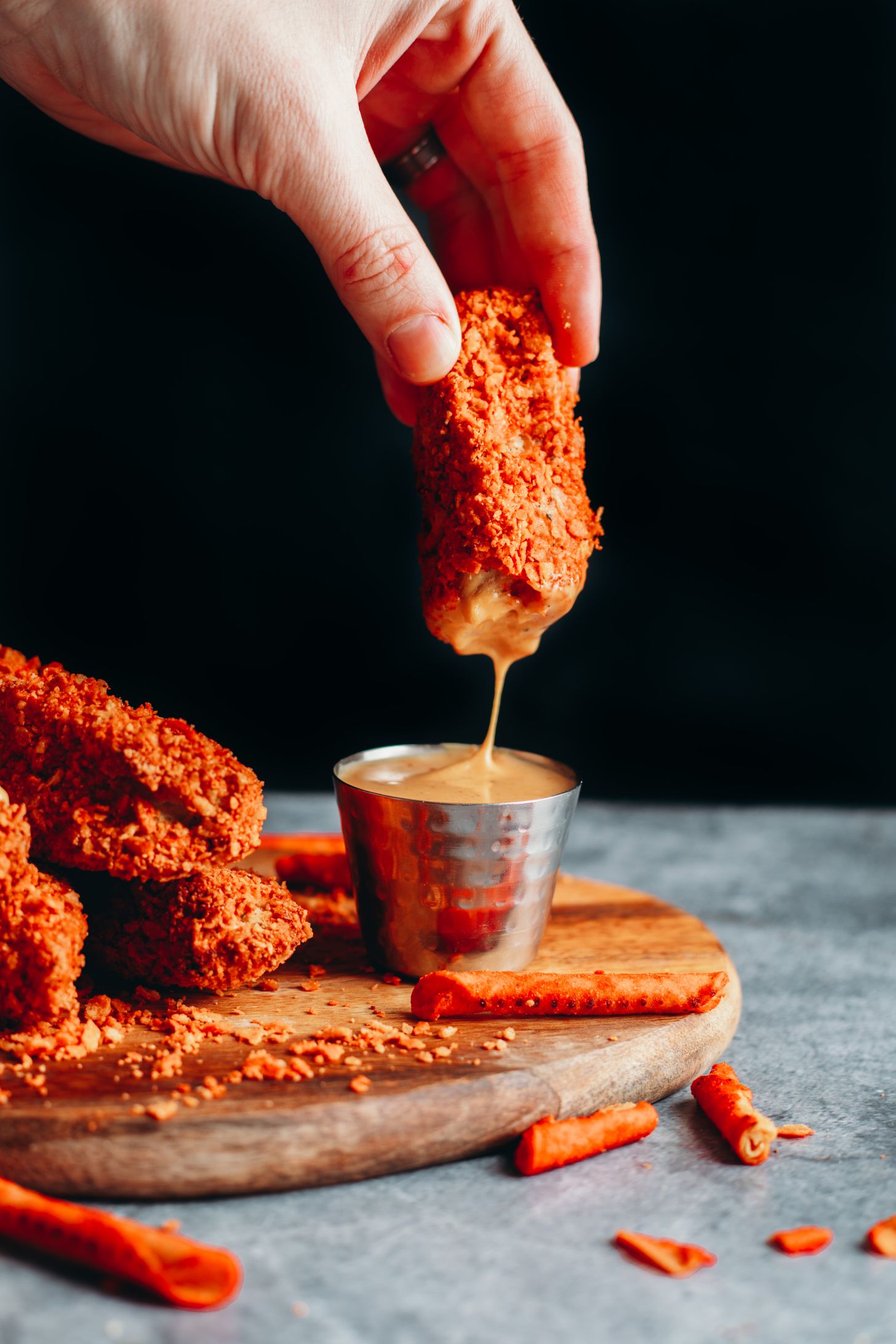 Prepare to have your mind blown!
These Vegan Fuego Chicken Strips with Chick-Fil-A Sauce will be loved by all! Whether you're a kid obsessed with fun, quick and trendy foods, or a kid-at-heart grown adult who loves a bit of spice along with a veganized version of their favourite fast food sauce – this is something the whole family is sure to enjoy. These are so much tastier than your typical chicken fingers, loaded with spicy lime flavour from the Fuego Takis! And what's best of all? They're air fried for quick and easy go-to dinners on the fly!
If you've spent any time at all on the internet over the past year or two, you'll have come across Takis a handful of times at least! They are featured in so many videos, that I just had to try them for myself! These Vegan Fuego Chicken Strips with  Chick-Fil-A Sauce somehow remind me of a more grown-up version of the ones we would eat as kids, spending all day playing video games. There was always sustenance provided by a bag of Doritos and a pack of Red Bull! Whether you have a similar memory or not, it should remind you of a time of eating all the things you love, without a care in the world!
Now for how the Vegan Fuego Chicken Strips with Chick-Fil-A Sauce are made…
Yep you guessed it, I would be no where without my wife Liv's Famous Seitan Chicken Nuggets recipe – so that's exactly what I used for these Fuego Chicken Strips! It's got the perfect chicken taste, and the closest thing I've had to the real thing since going vegan over six years ago! No chicken dish of mine would be complete without this recipe, and turning the nuggets into chicken strips is as easy as can be! You'll have to give it a try for yourself!
Let's not forget the two key ingredients that take this dish to the next level…
I know you've seen my vegan Chick-Fil-A sauce copycat on this page before (and it won't be the last time you do), but trust me when I tell you that the Takis-crusted chicken strips pair perfectly with the world famous sauce!
Lastly, I want to bring your attention to how delicious Takis are. Specifically the Fuego flavour. I decided to try them for the first time a few months back after seeing them repeatedly online. If you've had them before, you'll understand when I say they have a punch of a flavour to them! Not overly spicy, and even less-so after being fried, but loaded with flavour from the hint of lime! If you wanted a match made in heaven, you've got it in these Vegan Chick-Fil-A Sauce and Fuego Chicken Strips!
Let me know If you make these and be sure to leave your opinion on the flavours! ENJOY!
Print
Vegan Chick-Fil-A Sauce and Fuego Chicken Strips
---
Author:

Total Time:

45

Yield:

6 Strips
Description
Crunchy, spicy and tangy vegan Takis-crusted chicken strips, dunked in vegan Chick-Fil-A copycat sauce!
---
Vegan Chicken:
1 cup

vital wheat gluten

1 tbsp

nutritional yeast

1 tbsp

chickpea flour

1 cup

vegan chicken broth or vegetable broth
BREADING:

1/2 cup

all-purpose or whole wheat flour

1 cup

crushed Fuego Takis

1 tbsp

paprika salt & pepper to taste
PLUS:

2

–

1/2

cups broth for simmering
oil for frying
cooking spray
Chick-Fil-A Sauce:
1/2 cup

vegan mayo

1 1/2 tbsp

yellow mustard

2 tbsp

bbq sauce

2 1/2 tbsp

maple syrup

1 1/2 tbsp

pickle brine
---
Instructions
Whisk together vital wheat gluten, chickpea flour and nutritional yeast dry until combined. Add broth and stir until it forms a dough ball.
Knead a few times with your hands until dough has no dry spots.
Add rest of broth to instant pot. Rip off chunks of seitan and roughly form into strips, and add to pot. Cook on "manual" for 15 minutes. Once it is done, quick release steam. See notes for stovetop instructions.
Meanwhile, whisk together breading ingredients. When seitan is done, toss in the breading mixture until coated. Spritz with cooking spray.
In an air fryer, set temperature to 400 degrees F and cook for 10 minutes or until outside breading is crunchy. See notes for oven instructions.
Meanwhile, whisk together sauce ingredients until combined.
Serve with sauce for dipping.
Notes
Stovetop: Add seitan pieces to a large pot with broth. Let seitan simmer/lightly boil for 45 minutes.
Oven: In a pre-heated oven set at 400 degrees F, cook strips for 10 minutes on both sides until crispy. Remove from oven to let cool. Enjoy!
Prep Time:

10

Cook Time:

35