You are going to LOVE this Vegan Garlic Butter Basil Linguine! The silkiest, creamiest, dairy-free homemade garlic butter basil sauce tossed with linguine, chilli flakes and even more fresh basil. Not only is this a lighter and vegan pasta, but it is quick to make and just so delicious for weeknight dinners that you want to be slightly more elevated than boxed Mac & cheese.
Lately, I have been obsessed with making creamy non-tomato-based pasta recipes! My Buffalo Alfredo Penne and Spicy Lemon Dill Rigatoni are two recent favourites of mine, and all of you! I have had such a great response to these simple, yet incredibly creamy and flavourful dairy-free pasta recipes.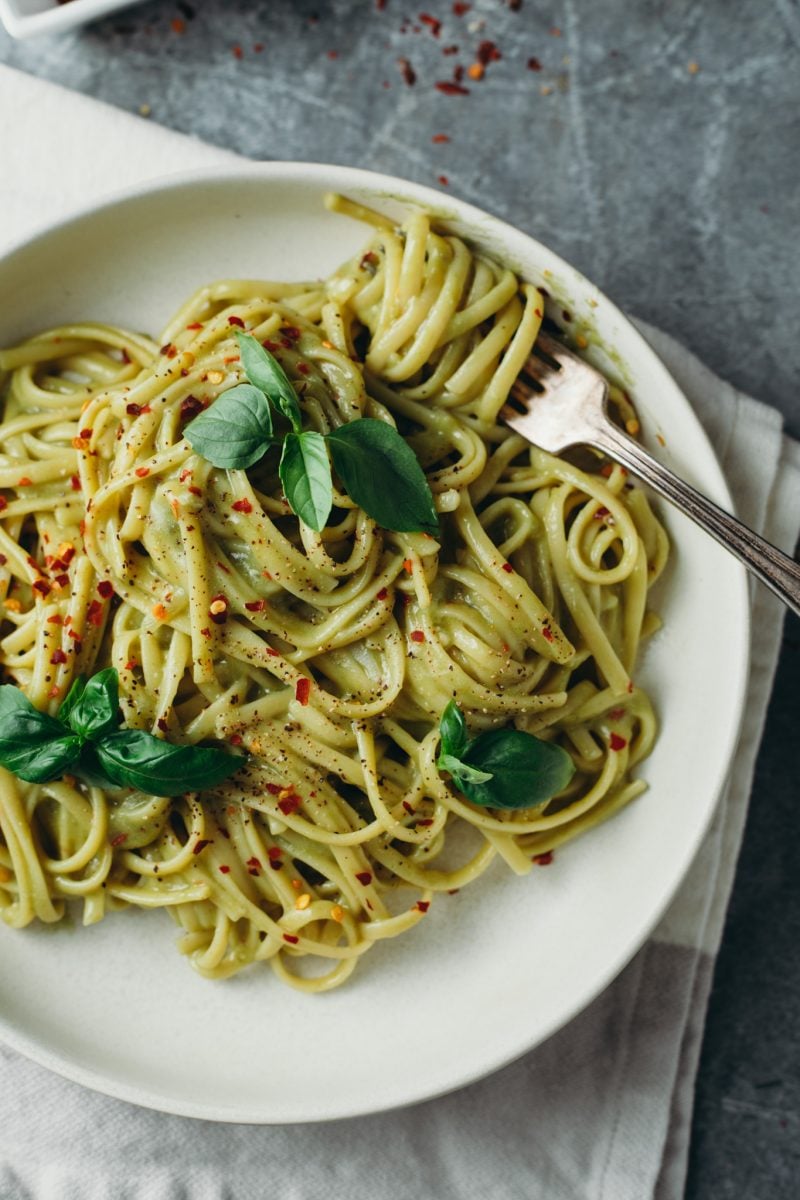 The keys to creamy, silky vegan pasta sauce:
Tapioca starch: my go-to thickener to make a sauce feel cheesy, stretchy and even lusciously creamy! It dissolves easily into the dish at the end once the pasta has been added and thickens the sauce within minutes!
Pasta water: adding some of the salty, starchy pasta water that you collect right before draining the pasta is key! Add it right at the end with the butter and mix vigorously to emulsify it and make a silky sauce.
This pasta is truly a simple and easy recipe to execute, but tastes like you put in a ton of effort! Basil and garlic are truly a match made in heaven, but add in a little vegan butter, lemon and chilli flakes and you've got a real winner! I decided to blend the basil with the milk to make the sauce a gorgeous green colour, but you can also just finely chop the basil and add it in so you can avoid dirtying the blender altogether! But, if you have a little extra time, the green sauce is so pretty and fun!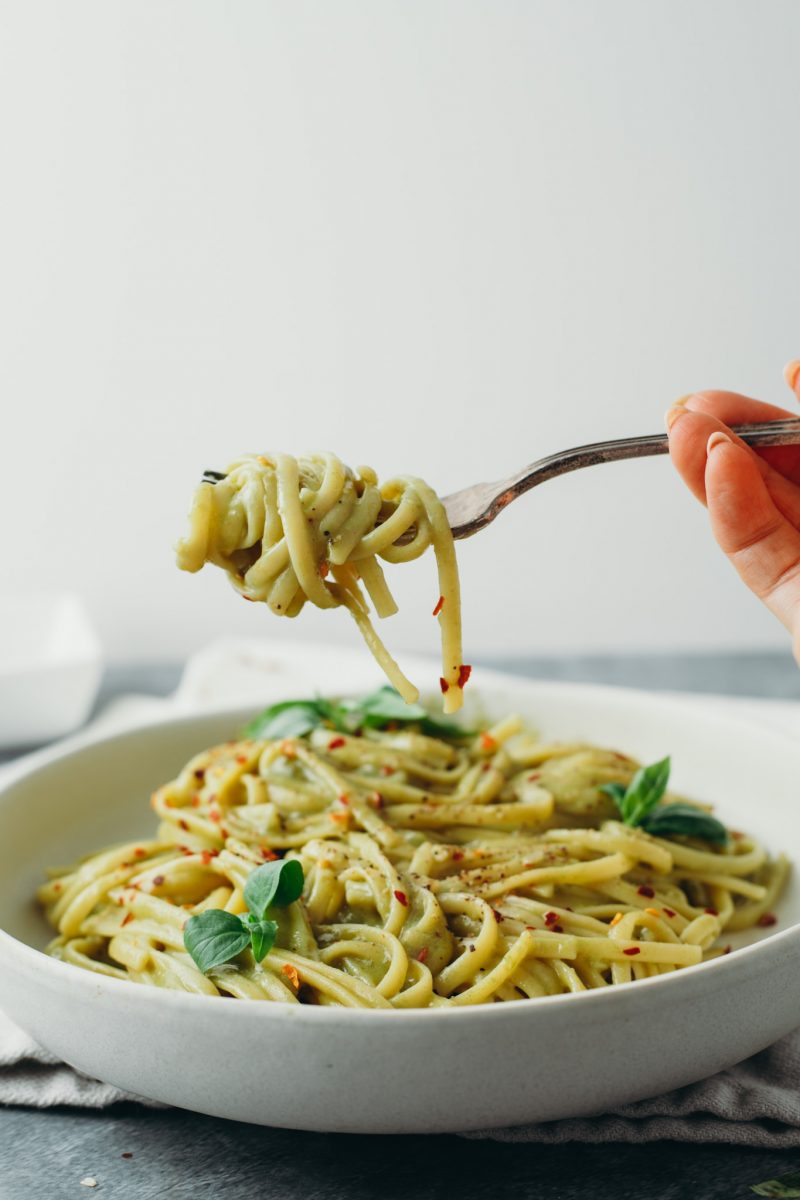 Why you'll love this Vegan Garlic Butter Basil Linguine…
The butter is added in at the end so it doesn't get lost in all the other flavours. Adding it at the end and mixing it around with the pasta water also emulsifies the sauce and makes it so silky! I added 3 large cloves of garlic, but if you are the kind of person who can never have enough garlic, feel free to measure with your heart and add more!
I love that this pasta has a pesto kind of flavour, without actually needing any pesto! Pesto is great, but when I want a silky creamy pasta, the little chunks of pesto kind of ruin that vibe. So this is like the best of both worlds! Extra creamy, with a flavour profile of basil, garlic and tangy lemon, all packed into one recipe.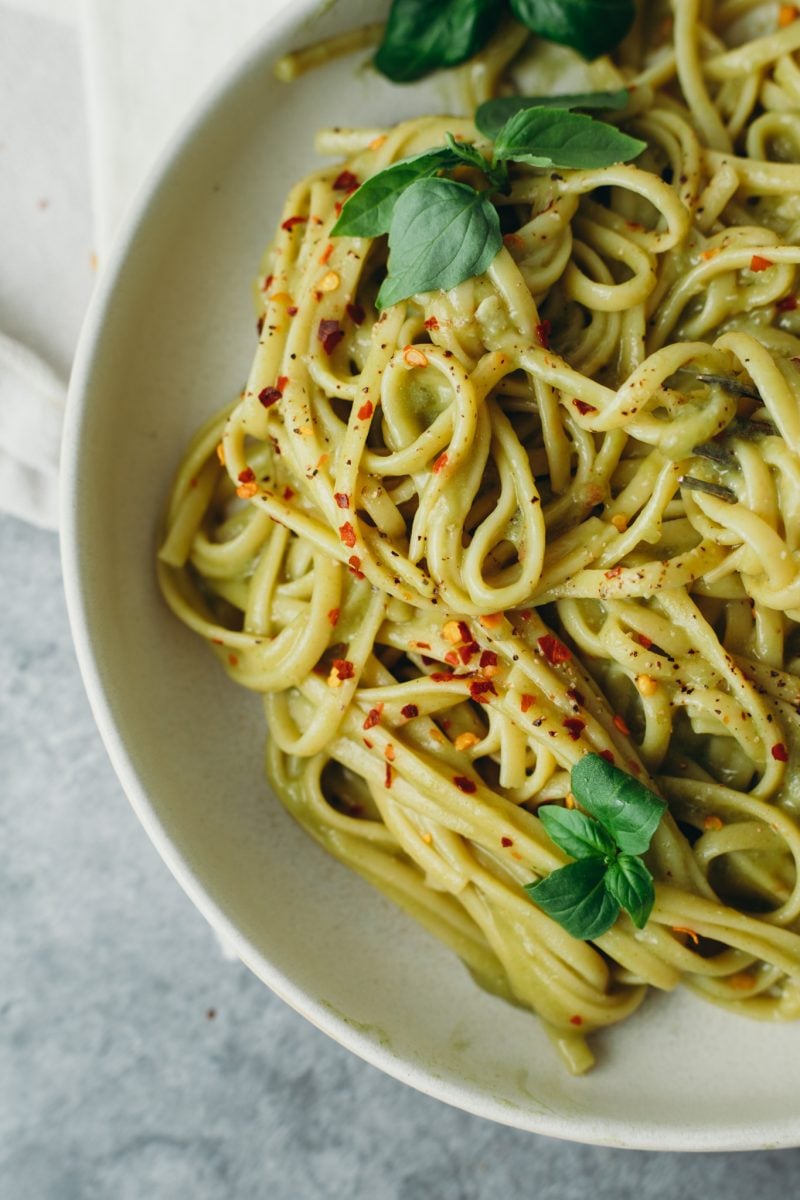 Oh, and the last thing. You don't NEED to use linguine. Use whatever pasta shape you like best!
Looking for more pasta recipes? Try these:
Vegan Buttery No-Chicken Pasta
Vegan Scallop & Cream Sauce Pasta
Print
Vegan Garlic Butter Basil Linguine
---
Author:

Total Time:

30 minutes

Yield:

2-3 servings
Description
The silkiest, creamiest, dairy-free homemade garlic butter basil sauce tossed with linguine, chilli flakes and even more fresh basil
---
200g

 dry linguine

2 tbsp

olive oil or vegan butter

3

–

4

cloves garlic, minced

1

shallot, finely chopped

1 tsp

chilli flakes

1 1/2 cups

nondairy milk or coconut milk
handful of fresh basil (approx 1/4 cup packed)

1/2 tsp

onion powder

1/2 tsp

garlic powder

1/2 tsp

black pepper

1/4

to

1/2

tsp salt (you can always add more at the end once you taste it)

2 tbsp

nutritional yeast
juice of

1/2

lemon

3 tbsp

tapioca starch (I really recommend using tapioca starch for that stretchy, cheesy look and feel, but you can sub corn starch or flour, see notes below)

3 tbsp

vegan butter

1/2 cup

reserved pasta water (see steps)
---
Instructions
Boil pasta in salted water according to package directions. Before draining, set aside 1/2 cup pasta water. Drain and set aside.
Meanwhile, in a deep frying pan on medium heat, add the olive oil, garlic, shallots and chilli flakes. Fry a few minutes, until starting to brown.
Add the nondairy milk and basil to a blender and blend until smooth. Add the basil milk, onion powder, garlic powder, salt, pepper, nutritional yeast and lemon juice to the pan and stir.
Add the drained pasta and stir to combine. Add the tapioca starch 1 tbsp at a time, stirring to dissolve. Bring to a simmer and the sauce will thicken quickly so stir frequently and remove from heat once it has thickened to your liking.
Add the vegan butter and pasta water and mix vigorously being careful not to splash, to emulsify the sauce as the butter melts. This will make it nice and silky!
Serve immediately! I like to garnish with pepper, extra chilli flakes and basil.
Notes
If subbing corn starch: mix 2 tbsp corn starch with 2 tbsp water. Add into the sauce before adding the pasta and let sauce start to thicken before adding in cooked pasta.
If subbing flour: add 2 tbsp flour to the pan just before pouring in the basil milk mixture in step and stir to coat the onion and garlic. Let cook a minute or two, then slowly add the milk a bit at a time, mixing and letting it thicken as you go.
Prep Time:

15 minutes

Cook Time:

10 minutes