Today on this wonderful 5th of May (cinco de mayo!) I'm bringing you this show stopper of a dish that is in high demand! This Vegan Taco Tower is a mountain of spiced beef crumble, fresh pico de Gallo, avocado, vegan cheese between layers of hand-made flour tortillas!
This Vegan Taco Tower is the perfect way to celebrate cinco de mayo or any taco Tuesday from here on out! You will never do taco night the same way again!
Where did the Taco Tower idea come from?
I remember when I was growing up, taco night was my absolute favourite. It was the only homemade meal I actually looked forward to on any given night, and I wouldn't miss it for the world! But times have changed, and I now realize that the kinds of tacos I was eating weren't necessarily the best in quality of ingredients or in preparation. With the help of my amazing wife, she's opened me up to the potential of what tacos can really be! Over the last 6 years since going vegan, I've replaced the cheese with vegan cheese. The sour cream was made better by switching to guacamole, and fresh pico was added to bring out the fresh flavours of the baked hand-made flour tortillas.
How far we've come from the simple ways I used to make tacos as a kid, and I couldn't be happier about it! What's better is that I'm finally in a position to bring one of my new favourite recipes to you all so that you can experience a newer, and dare I say BETTER way to enjoy Taco Tuesday with this Easy (and fun!) Vegan Taco Tower.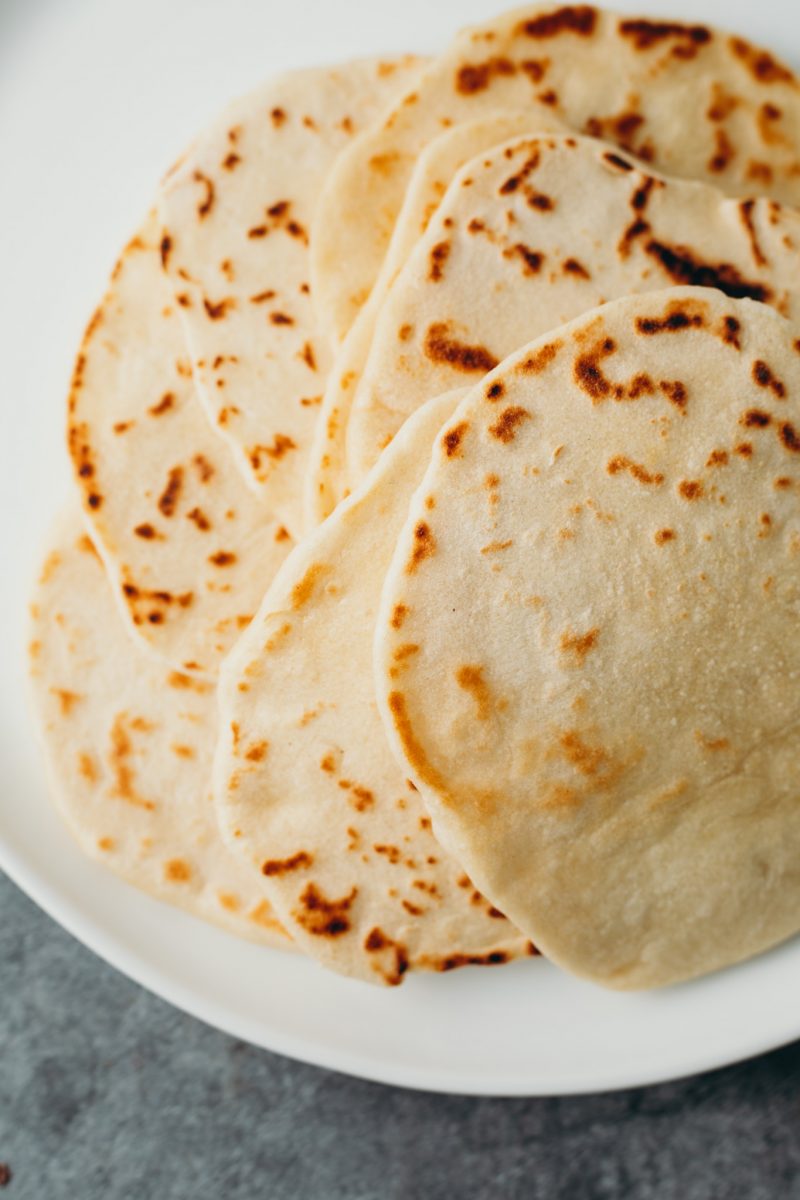 Here's how it's made…
We need to start with what makes the perfect taco. In my opinion, the perfect taco has flavourful taco meat, melty cheese, a perfect blend of crunchy and gooey textures, and most importantly – A HUGE amount of it! There's nothing more disappointing than going back for seconds or thirds (or more, if you're me) and finding out you have run out of tacos! So I found the perfect way around this problem – make enough on one platter that you're sure to be satisfied when you get to the end (if you can!)
To make the perfect meaty centre to each layer of this Vegan Taco Tower, we need a few things! First, the salsa, red onion and spices do a great job of punching up the flavour of the basic vegan beef crumble. The salsa along with the cheese act as a binder so that crumbly bits don't fall off, for the perfect gooey bite every time!
What makes this Easy Vegan Taco Tower so great:
There are only a few things to separate a bad taco from a good taco. I think chief among those factors, are the tortillas/shells you choose! Personally, I prefer to use Liv's brand new Vegan Flour Tortillas! If you ask me, nothing can replace fresh baked from-scratch products. That said, this recipe absolutely works with store bought mini tortillas as well! The beauty of taco night is that is can be as simple or as complicated as you'd like it to be!
Lastly, your creativity comes in when we get into the toppings. I can't get enough of fresh pico or avocado – you just can't have a taco night without either! Luckily, both can be bought at the stores as well for maximum efficiency and taste. But, feel free to add all the toppings you love to this Vegan Taco Tower because the sky is the limit!
Hope you enjoy, and let me know how you liked your very first Vegan Taco Tower!
And if you're in the mood to change things up this taco Tuesday or to celebrate Cinco De Mayo with something just as delicious, try these Vegan Naked Chicken Chalupas!
Print
Vegan Taco Tower
---
Author:

Total Time:

30 mins

Yield:

1 taco tower (approx 2 servings)
Description
This Vegan Taco Tower is a mountain of spiced beef crumble, fresh pico de Gallo, avocado and vegan cheese between layers of hand-made flour tortillas!
---
6

store-bought or homemade vegan flour tortillas

1

package (340g) vegan ground beef (I used Beyond Meat)

1 1/2 cup

vegan cheese shreds

1/2 cup

diced red onion

3/4 cup

store-bought mild salsa

1 tsp

garlic powder

1 tsp

paprika

1 1/2 tsp

red chilli flakes

1 tbsp

parsley

1 tbsp

vegan butter

3/4 cup

pico de gallo

2 tbsp

sliced green onion

1/2

avocado
---
Instructions
Pre-heat oven to 375 degrees F.
In a medium sauce pan over medium heat, add the vegan butter and vegan beef crumble. Cook until crumble is browned and near crispy.
Add the red onion, garlic powder, paprika, red chilli flakes, parsley, vegan cheese and salsa. Cook and mix together until cheese is combined and onions are translucent. Remove from heat.
On a parchment-lined baking pan, add three mini vegan flour tortillas in a triangle overlapping shape.
Layer on 1/2 cup of vegan beef mixture, vegan cheese, pico de gallo and one mini vegan flour tortilla. Repeat 3 times, leaving the top exposed (no tortilla on the very top).
Place the Vegan Taco Tower into the oven, baking for 10 minutes or until cheese is melted and sides of tortillas are crispy.
Remove from oven. Top with avocado and green onion. Let cool and enjoy!
Prep Time:

10 mins

Cook Time:

20 mins