This Vegan Copycat Fried Chicken Big Mac burger is everything delicious about fried chicken, and a Big Mac, rolled into one amazing chicken sandwich. Dairy-free and With the vegan fried chicken subbed in for the beef patties and all the iconic Big Mac toppings, this will be the first thing on your list to make this week. Not to mention, this recipe features the BEST Copycat Vegan Big Mac Sauce you'll ever try!
Why use vegan fried chicken in a copycat Big Mac recipe?
EASY! I am a firm believer that any two things that are good, put together can only be twice as good! Yes I am aware of how easy it is to poke holes into that argument… but in this case, I'm standing by it! I couldn't have been the only one who frequented McDonalds and KFC so often in my youth that I often wondered, why not put chicken on a Big Mac!? Don't get me wrong, I was BIG supporter of the original Big Mac before I went vegan all those years ago. And maybe this is just my continuing need to be creative in the kitchen… But I can't help but imagine how two of some of my favourite fast food items could work together to become something even more spectacular. Introducing the The BEST Vegan Copycat Big Mac Recipe ( Vegan Chicken, Dairy-Free)
I am aware that it is possible to order the McChicken patties subbed in for beef patties on a Big Mac as part of the hidden menu at McDonald's. HOWEVER, I've taken this a step further by making it bigger and VEGAN using my wife Liv's always reliable and delicious Setian Chicken Recipe! It is super easy to make the seitan patties rather than nuggets making this the best copycat vegan burger from a fast-food chain you've ever had.
How do you make a vegan fried chicken copycat Big Mac?
First, we have to establish what makes a homemade Big Mac good. There was nothing more disappointing than getting to the restaurant, ordering your Big Mac and fries, only to sit down and open the box to a flat, lukewarm and lopsided sandwich that looked like it had been sitting out on the counter for four hours. Just me? Well, the image brings me to my first point which is: a good Big Mac starts with the bun. It is traditional to go for the sesame seed bun when re-creating a Big Mac at home. But I urge you to go to your local bakery in search of the best, fluffiest vegan buns you can find! This simple step will take your homemade Vegan Copycat Fried Chicken Big Mac to the next level!
How do you make the best copycat vegan Big Mac sauce?
Now that that's out of the way, there are two other main components to this dish that set it above the rest. For a truly great Big Mac, we first need to make sure we have the best Big Mac Sauce! It's iconic, and really the main reason people go back to McDonald's for it time and time again. I've tried several recipes and one the research in order to find the perfect vegan Big Mac sauce recreation for you all to enjoy! A simple mix of ingredients like vegan mayo, honey mustard or dijon mustard, paprika, pepper, garlic powder, onion powder, apple cider vinegar or white vinegar, bbq sauce and sweet pickles relish is all you really need!
What is the vegan fried chicken made of?
Lastly, we need to get into what makes this Vegan Fried Chicken Big Mac a great change-up from your typical vegan copycat Big Mac recreation. The vegan chicken of course! I highly recommend using this recipe for my wife Liv's famous seitan chicken. Its tried and true formula has never steered us wrong, and to address what you likely care about most… it is so easy to make too!
Instructions for the perfect seitan chicken recipe can be found in the recipe card section using vital wheat gluten. I like to keep a box of Panko bread crumbs on hand to mix with flour, smoked paprika, salt, and oat milk or dairy-free milk for the batter.
What ingredients are used in a Big Mac?
Keep in mind, all the ingredients listed here are plant-based! You can finally start to build the sandwich once you've made the plant-based chicken, vegan copycat big Mac sauce, and the perfect bun. Begin by piling on all the iconic ingredients to your vegan butter bun with the vegan cheese, shredded lettuce, and fresh chopped onion. Get ready to taste one of the best vegan options for a vegan copycat Big Mac burger all vegans or vegetarians will love!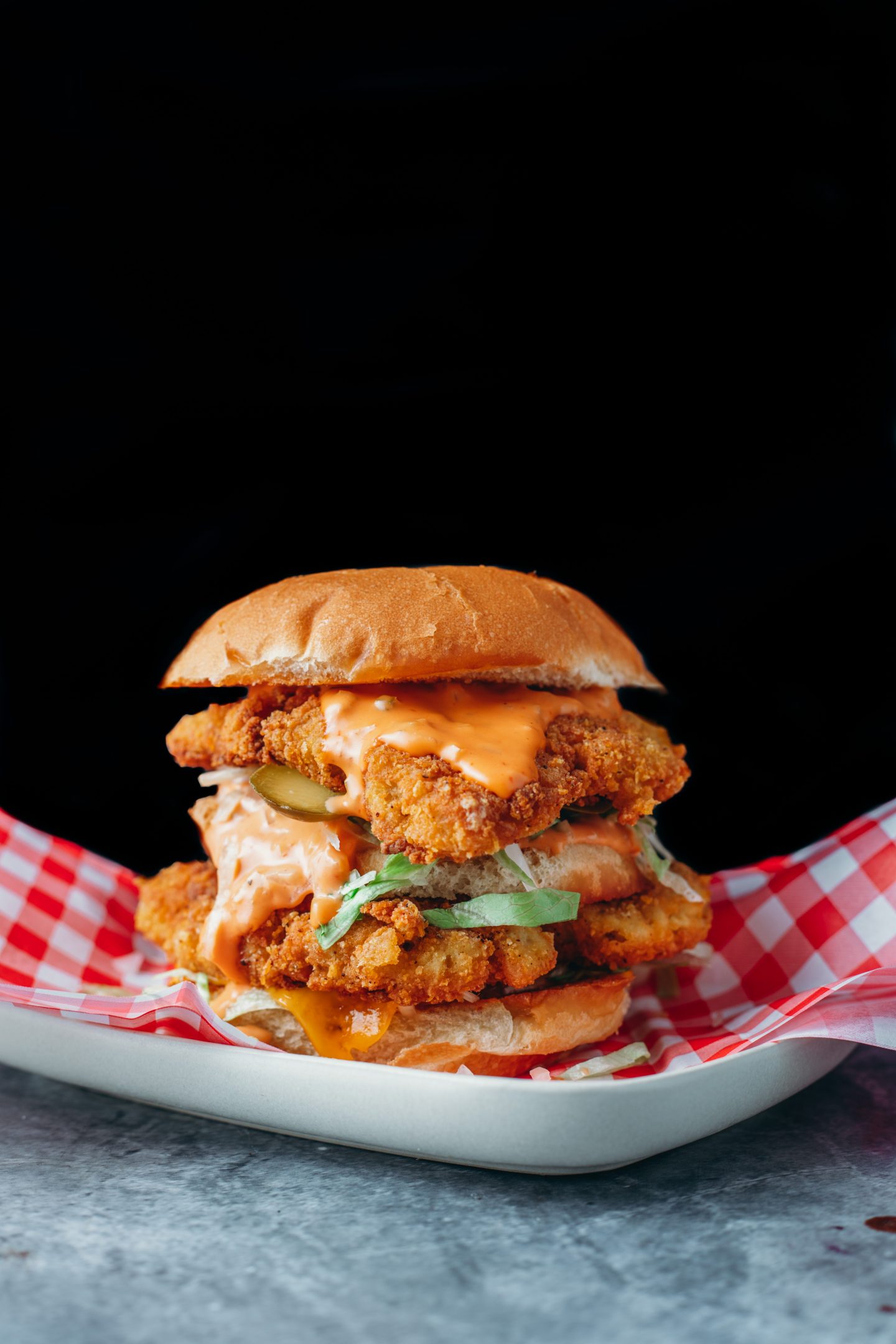 So give this Vegan Fried Chicken Big Mac a try for yourselves and let me know what you think of this iconic mash-up!
Recipes similar to this copycat vegan fried chicken Big Mac
Vegan Fuego Chicken Strips with Chick-Fil-A Sauce
Print
Vegan Fried Chicken Big Mac
---
Author:

Prep Time:

20 minutes

Cook Time:

40 minutes

Total Time:

1 hour

Yield:

2

sandwiches

1

x
Description
This Vegan Fried Chicken Big Mac is everything beautiful and delicious about fried chicken, and a Big Mac, rolled into one! With the vegan fried chicken subbed in for the "beef"and all the iconic Big Mac toppings, this will be the first thing on your list to make this week.
---
Scale
Ingredients
For the sandwich:
3

fresh hamburger buns (

2

bottoms and a top for each)

1 cup

finely chopped lettuce

1/4 cup

diced white onion

4

sweet dill pickle slices

2 tbsp

vegan butter

4

slices vegan American cheddar slices (I used Violife)
For the Chicken:
SEITAN:
1 cup

vital wheat gluten

1 tbsp

nutritional yeast

1 tbsp

chickpea flour

1 cup

vegan chicken broth or vegetable broth
BREADING:
1/2 cup

all-purpose or whole wheat flour

1 cup

breadcrumbs

1 tbsp

paprika salt & pepper to taste
PLUS:

2

–

1/2

cups broth for simmering
oil for frying
For the Sauce:
---
Instructions
Make the Fried Chicken: Whisk together seitan dry ingredients until combined. Add the 1 cup of broth and stir until it forms a dough ball. Knead a few times with your hands until dough has no dry spots.
Add rest of broth to instant pot. Rip into two equal chunks of seitan and flatten into a "chicken breast" shape. Add to pot. Cook on "manual" for 15 minutes. Once it is done, quick release steam.
Meanwhile, whisk together breading ingredients.
Remove seitan from pot and carefully slice length-wise into two halves to create two thin chicken burger patties. Dip in breading mixture until thoroughly coated.
Heat a large frying pan with a good amount of oil. When hot, add seitan and fry a few minutes per side until crispy and golden brown. Remove from pan and plate into a paper towel-lined bowl to remove excess grease. Repeat with remaining pieces.
Make the Big Mac Sauce: Whisk together Big Mac sauce ingredients and set aside.
Make the Sandwich: Spread vegan butter on each bun. In a medium frying pan over medium heat, add the three buttered bun halves. Fry until lightly golden brown and crispy.
Begin to build your vegan fried chicken Big Mac by layering the bottom bun, 2 tbsp Big Mac sauce, onion, shredded lettuce, vegan cheese, and 1 seitan chicken patty. Repeat process for top layer. Top with 2 pickles and an extra tbsp of Big Mac sauce and close the sandwiches.
Serve and enjoy!