This Vegan Pasta Salad is the perfect recipe for all of your spring and summer picnics, BBQs, and weeknight dinners. Toss together with your favourite pasta, fresh summer veggies and the perfect homemade balsamic herb vinaigrette. Nothing is better on warm summer nights!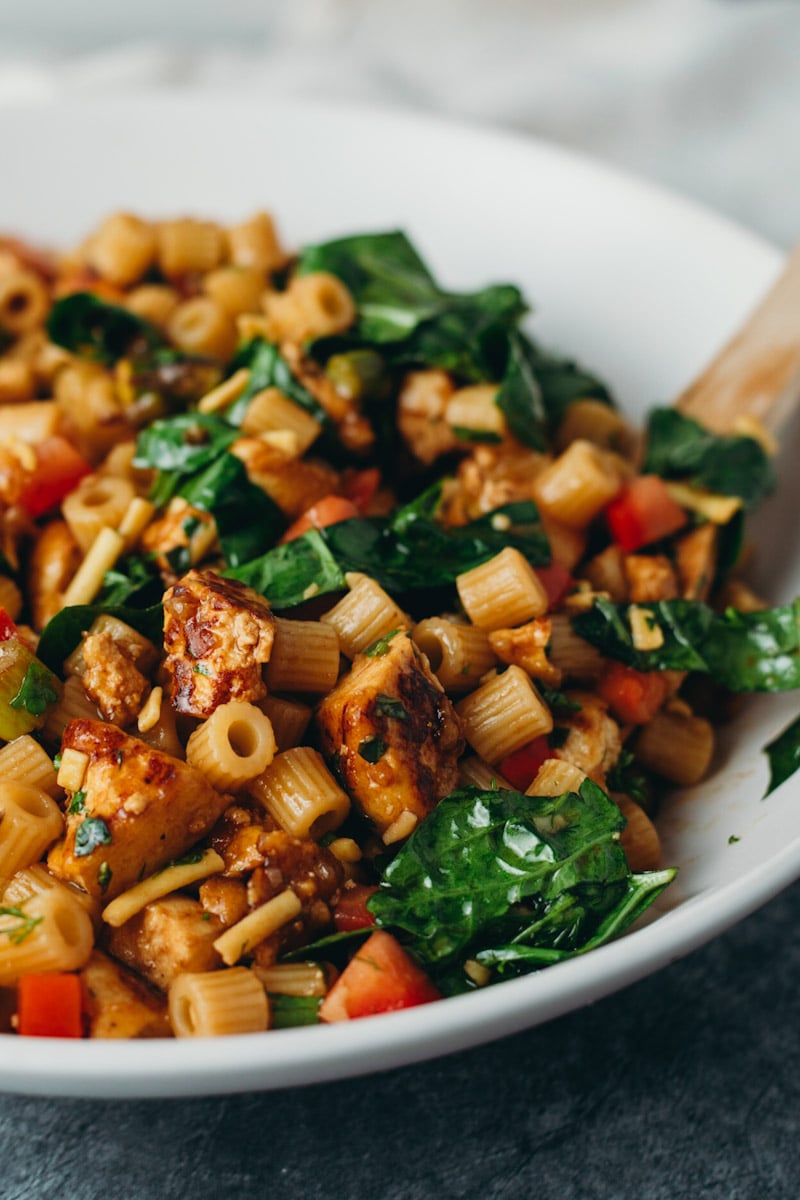 Why You'll Love This Recipe
It's made with a homemade dressing. ​The balsamic herb vinaigrette truly makes this recipe and is a must make. It's so quick and easy, yet so flavourful and fresh tasting.
Perfect for meal prep. If you're looking for a hearty vegan meal prep recipe, vegan pasta salad is a summer staple. It's filling enough to serve as a main dish or easy to serve as a side dish in Lunch Bento Boxes.
No vegan mayonnaise! ​Don't get me wrong, mayo-based pasta salads and Vegan Macaroni Salad is delicious, but I wanted to create a lighter, more refreshing pasta salad, too. This tasty pasta salad is mayo-free and instead is made with an oil-based dressing.
Made with simple ingredients. A classic pasta salad requires just a few fresh veggies, pasta, and a delicious dressing. Have this pasta salad ready in just over 30 minutes with simple, healthy ingredients!
Key Ingredients and Substitutions
Pasta Salad Ingredients
Protein – To make this pasta salad heartier, feel free to add a plant-based protein such as tofu or beans such as cannellini beans, garbanzo beans, or another type of white beans. If you prefer a veggie pasta salad, you can also omit and keep it simple!
Aromatics – I've made this side dish with garlic and shallots as well as garlic and red onion. I don't particularly love the flavour of raw red onion in salads, but the sweet caramelization of red onion is so delicious here!
BBQ sauce – Use your favourite BBQ sauce, either homemade or store-bought. If you're looking for a new vegan-friendly BBQ sauce, check out these 11 Tangy, Savoury Vegan Barbecue Sauces.
Fresh veggies – You can use really any veggies of choice. I like to use a veggies like asparagus, zucchini, red bell pepper, ripe cherry tomatoes, and fresh baby spinach or a combination of all of the above! Other veggies people love in pasta salads include black olives, chopped artichoke hearts, peppery arugula, and chopped green beans. Don't be afraid to use an abundance of veggies!
Dry pasta – I prefer a small shape pasta such as ditalini pasta in my pasta salad because I find it's easier to create a well balanced pasta salad. Other good shapes of pasta include fusili, rotini, bow tie pasta (farfalle), orzo, or even penne pasta.
Vegan cheese – Use your favourite shredded vegan cheese, vegan parmesan cheese, or crumble in some store-bought or homemade vegan feta cheese!
Dressing Ingredients
Oil – Use a quality oil such as olive oil or avocado oil if you prefer a stronger flavour.
Balsamic vinegar – Again, a quality balsamic vinegar will yield the best tasting vinaigrette. A quality vinegar should be thick and syrup-like in consistency.
Maple syrup – ​Adds a slight sweetness to the dressing to balance the tanginess and acidity. If you don't have maple syrup try agave or another liquid sweetener of choice.
Lemon juice – Adds acidity to the vinaigrette. Feel free to use freshly squeezed or pre-bottled – both will work in this recipe. If you love the flavour of lemon, you can even grate in some fresh lemon zest.
Fresh herbs – I like to use a ton of fresh herbs from my herb garden. Use a combination of your favourite herbs. I typically use fresh parsley, thyme, and basil but fresh dill would also be really good. A majority of the herbs go in the dressing and infuse the flavour, but the remaining can be folded into the salad for a fresh, herbaceous touch.
How to Make a Balsamic Herb Vinaigrette
Making your own homemade vinaigrette is incredibly easy! All you need to do is add the balsamic herb vinaigrette ingredients into a small jar then shake vigorously to combine until emulsified and creamy.
That's it! Then set it aside while you prepare the remaining pasta salad ingredients.
How to Make Vegan Pasta Salad
Prep the BBQ Tofu. In a medium or large bowl, toss the tofu with cornstarch until well coated.
Cook the veggies and tofu. Heat a frying pan over medium high heat. Once warm, add the oil, garlic, shallots, asparagus, and coated tofu. Cook, stirring occasionally, until the tofu is golden brown and crisp.
Add BBQ sauce. Once the veggies and tofu is crispy, remove the pan from the heat and pour in the BBQ sauce. Stir well to coat.
Cook the pasta. While the veggies and tofu cook, boil the pasta according to package directions. Once al dente, drain and set aside to cool.
Toss the pasta salad together. To a large mixing bowl, add the spinach, tomato, cooled pasta, BBQ tofu and veggies mixture and cheese. Top with the balsamic herb vinaigrette and mix to combine.
Serve. Serve the vegan pasta salad immediately or cover and chill in the refrigerator until ready to serve.
Make this Recipe with me on Youtube!
Ideas for Serving
Pasta salad is the perfect dish for any summer BBQ. If you're hosting a BBQ this summer, you have to check out these Easy Vegan Summer BBQ Recipes!
I've planned an entire menu for you including foil pouch grilled potatoes, vegetable skewers, kale salad, veggie burgers, and strawberries & cream cake! Get the recipes in my Youtube video below.
It's a great menu for Canada day, 4th of July if you live in the states, or any hot summer night with friends and family and this pasta salad would be the perfect addition to the menu.
How long does pasta salad last?
​This vegan pasta salad recipe will keep in the refrigerator for up to 5 days. When storing, make sure to keep tightly covered with plastic wrap, reusable wrap or transfer leftovers to an airtight container.
Freezing is not recommended.
Recipe FAQs
Is pasta vegan?
Store-bought pasta is almost always vegan. Unlike fresh Italian pasta that is often made with eggs, store-bought pasta is typically egg-free and made simply with semolina, water, and salt. It's always best to check the ingredients, but pasta is almost always a safe choice.
Can I make this pasta salad in advance?
Absolutely. Pasta salad is one of those recipes that's even better the next day because all of the flavours have had a chance to meld together overnight. If you're prepping your pasta salad for a potluck or summer BBQ, I'd recommend prepping it up to 24 hours in advance.
Can I make this vegan pasta salad with gluten-free pasta?
Yes, if you are gluten-free, swap in your favourite gluten-free pasta. If you are looking for a gluten-free pasta that tastes like traditional wheat pasta, use a brown rice pasta or a corn-based pasta. These gluten-free pastas are typically heartier than bean-based pastas and will taste most like a traditional pasta salad.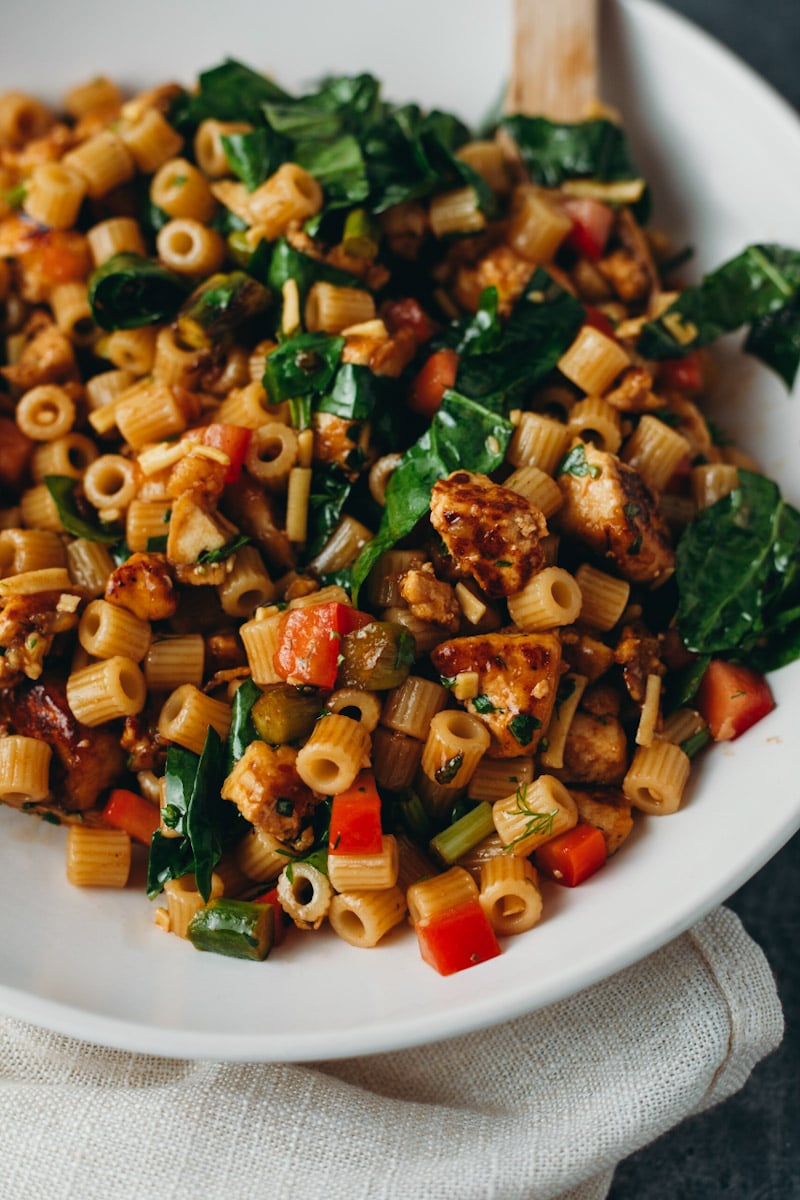 Similar Vegan Summer BBQ Recipes to Try Next
If you make this recipe or any others be sure to leave and rating/review here and also take a photo and tag me on Instagram @itslivb!
Print
Vegan Pasta Salad with Balsamic Herb Vinaigrette Recipe
---
Author:

Total Time:

35 minutes

Yield:

3-4 servings
Description
This Vegan Pasta Salad is the perfect recipe for all of your spring and summer picnics, BBQs, and weeknight dinners. Toss together with your favourite pasta, fresh summer veggies and the perfect homemade balsamic herb vinaigrette. Nothing is better on warm summer nights! 
---
For the Salad:
1

block (350g) firm tofu, pressed and ripped into chunks

2 tbsp

corn starch

2 tbsp

oil

2

cloves of garlic, minced

1

shallot, thinly chopped

2 tbsp

bbq sauce

1/2 cup

chopped asparagus or other veggie of choice like zucchini, bell pepper)

200g

small shape pasta

1

tomato, diced

2 cups

spinach, chopped

1/3 cup

vegan cheese shreds
Balsamic Herb Dressing:
1/4

 

cup olive oil

3 tbsp

balsamic vinegar

1 tbsp

maple syrup

1 tbsp

lemon juice

2 tbsp

finely chopped fresh basil

1 tbsp

finely chopped fresh parsley

1 tbsp

finely chopped fresh dill

1/4 tsp

salt
black pepper
---
Instructions
Toss tofu with cornstarch to coat.
Heat a frying pan on medium high heat and add oil, garlic, shallots, asparagus and tofu. Cook, stirring occasionally, until tofu is golden brown and crisp.
Add the bbq sauce and stir to coat. Set aside.
Meanwhile, boil pasta according to package directions. Drain and set aside.
In a small jar, shake together all dressing ingredients. Set aside.
To a large bowl, add spinach, tomato, pasta, tofu mixture and cheese. Pour dressing overtop and mix to combine. Serve.
*Store leftovers in an airtight container in the fridge up to 5 days.
Prep Time:

20 minutes

Cook Time:

15 minutes