When did eating plant-based become so easy and full of flavourful options!? Well this recipe only further proves that we are officially living in a golden era of vegan food! This Vegan Maple BBQ Fried Halloumi is packed with herb and garlic flavour, crusted with a BBQ chip coating, and drenched in a spicy maple glaze.
Let me show you how you can make your very own Vegan Maple BBQ Fried Halloumi for the first ever opportunity to grill VEGAN halloumi-style cheese.
Wait, the cheese doesn't melt?!
YES! Now, I've never tried halloumi before. In fact, even before I was vegan I'd never even heard of it. Which is surprising, because cheese was always my biggest fascination when it came to home-cooked or restaurant-quality food. At first, I thought to myself, what's the point of a hot, grilled piece of cheese that isn't going to melt like a mozzarella stick, be creamy in a Mac and cheese recipe (like this Instant noodle sriracha Mac) or melt in a puddle over top of my burger (like this Vegan Bang Bang Burger)?! Oh how wrong I was. This Vegan Maple BBQ Fried Halloumi on its own is one of the best tasting dishes I've made yet! Mix that with the crunchy BBQ chip exterior and the drizzle of spicy maple glaze makes this appetizer out of this world good!
This cheese is made by the brand Daiya. It is a mix of chickpeas, oats, herbs and garlic. I love finding new products that surprise me as much as this one did, and there are so many applications for this type of cheese that this surely won't be the last recipe level-up you see from me using it!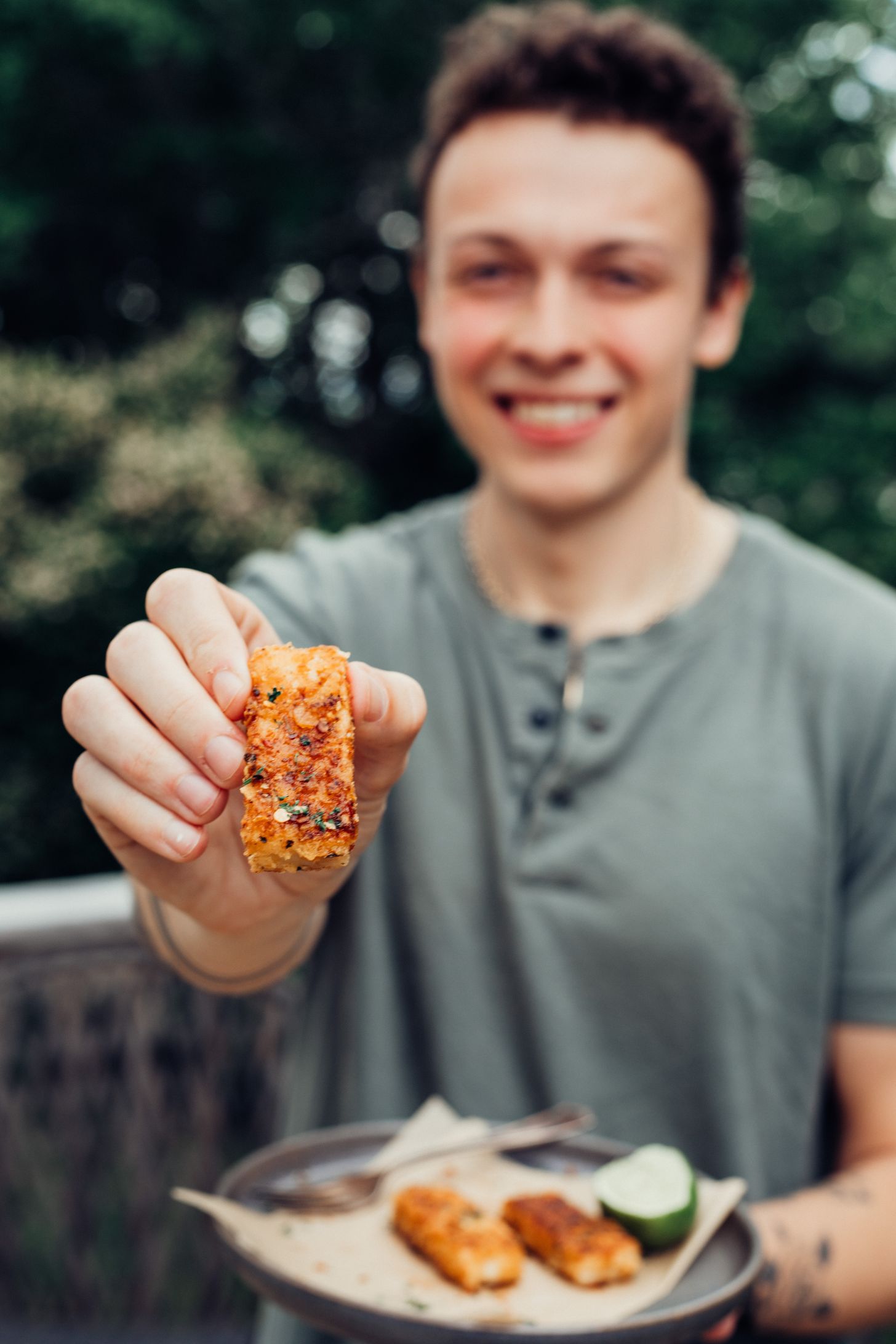 WATCH THE VIDEO
Here's how it's done:
This one won't take long because it is SUPER simple! But before I get into how I did it, I want to let you know that this is a recipe you can have fun with. The nice thing about simple recipes like these is that so many of the ingredients are easily substituted. My recommendation is to use any vegan chip you like for the coating, and even when it comes to sauces, feel free to sub to your favourite condiment! That said, the way these flavours work together is very complimentary and complex so give this a try and tell me what you think.
All you have to do is add a mixture of your favourite chips (BBQ chips for me in the summer months), some herbs and bread crumbs to a food processor for your crispy coating.
While that fries in the pan, get to work on what is now a staple glaze in this household! Don't be deceived by its name, because it's not actually that spicy due to its mixture with the other flavours. But this spicy maple glaze is made using only a handful of household ingredients like maple syrup, sriracha, soya sauce, and lime.
Put all these ingredients together with the help of Daiya's new halloumi-style Grilling Cheese and you've got an appetizer I can guarantee you haven't tried yet!
Try this and be sure to leave a review and comment to let us know how you like it!
Print
Vegan Maple BBQ Fried Halloumi
---
Author:

Total Time:

25

Yield:

1 serving (6 sticks)
Description
This Vegan Maple BBQ Fried Halloumi is packed with herb and garlic flavour, crusted with a BBQ chip coating, and drenched in a spicy maple glaze!
---
1/2 cup

flour

1

package Daiya vegan Halloumi grilling cheese

1/4 cup

bread crumbs

2 cups

BBQ chips

1 tbsp

dried basil

2 cups

vegan milk

4 tbsp

olive oil

1 tsp

chopped fresh parsley
For the Glaze:
1/4 cup

maple syrup

1/2 tbsp

sriracha

1 tsp

red pepper flakes

1/2

lime squeezed

1 tbsp

soya sauce
---
Instructions
In a food processor, add the BBQ chips, basil, and bread crumbs. Mix until all chips are ground finely.
In a shallow bowl, add vegan milk and 2 tbsp of flour for your batter. Whisk until mixed completely.
In separate shallow bowl, add your BBQ chip mixture and the remainder of the flour. Stir until fully mixed.
Slice the package of Daiya Halloumi style grilling cheese into 6 equal strips. Place each strip in the batter mixture, then toss in the coating mixture until each piece is fully coated.
In a medium frying pan over medium heat, add the olive oil and all pieces of grilling cheese. Fry until each side is golden brown and crispy.
Meanwhile, in a small bowl, add all glaze ingredients and whisk until fully combined and set aside.
On a plate, add all pieces of fried halloumi, and top with2-3 tbsp of glaze and fresh parsley.
Serve with the remaining sauce for drizzling or dipping and enjoy!
Prep Time:

10

Cook Time:

15