Attention breakfast lovers! I have your new summer obsession ready to make and it's every bit as good as it looks! This Vegan Hot Maple Butter Smashed Western Sandwich will hit all of your cravings by turning your favourite western omelet vegan, and replacing the bread with crispy, hot maple smashed potatoes!
If you've tried any of my previous breakfast recipes (like this Vegan Inside out Bagel Bread Breakfast sandwich, or these Breakfast Sausage Stuffed Buttermilk Pancakes), then you'll know I LOVE a big breakfast that goes against all the rules you know about making breakfast.
WATCH THE VIDEO
A sandwich made with potatoes?!
You heard that right! Trust me when I say this will change the way you see breakfast forever. I know we're all used to the traditional sandwich with a range of sandwich stuffers from vegetables, deli meats, chicken and all kinds of breakfast, but what if I told you there was a better way with these Vegan Hot Maple Butter Smashed Western Sandwiches??
Well, okay I'll be the first to admit that I LOVE a good fresh sourdough slice or two from time to time, and locally made bun to go with my vegan sausage or burgers. BUT, when it comes to breakfast, this is one sandwich you have to try! We all know potatoes are the perfect compliment to all things breakfast, so why not sandwich your favourite vegan breakfast omelette between two crispy, flavourful smashed potatoes?
How do they taste…?
Let's put it this way. Imagine taking the best potatoes you've ever had, adding your favourite egg replacer, flavourful veggies, and then topping it with a mouth-watering punch of creamy garlic mayo. Now you might come close to understanding how good these Vegan Hot Maple Butter Smashed Western Sandwiches really are! Not only that, they're sure to keep you full well past lunch time. I don't know about you, but finding the right type of breakfast that keeps you full without making you sluggish and sleepy isn't always easy. For that reason alone, these are definitely worth a try!
All you have to to is:
Fry up your western omelet in vegan butter. When I say butter, I mean A LOT of vegan butter! The key to making it not stick to the pan and ruin your entire morning with burnt egg is to load it with vegan butter (it doesn't hurt the taste either).
The next step it to boil and smash the potatoes, then drizzle the hot maple butter glaze overtop to get them full of flavour, while making the outer layer crunchy and slightly caramelized. I don't think the amazing taste needs any further explanation that that!
Lastly, you will want to whip up some garlic mayo by mincing up a few cloves and adding some spices.  Do not skip this step! The garlic mayo does an amazing job of bringing all the flavours and textures together for the perfect bite.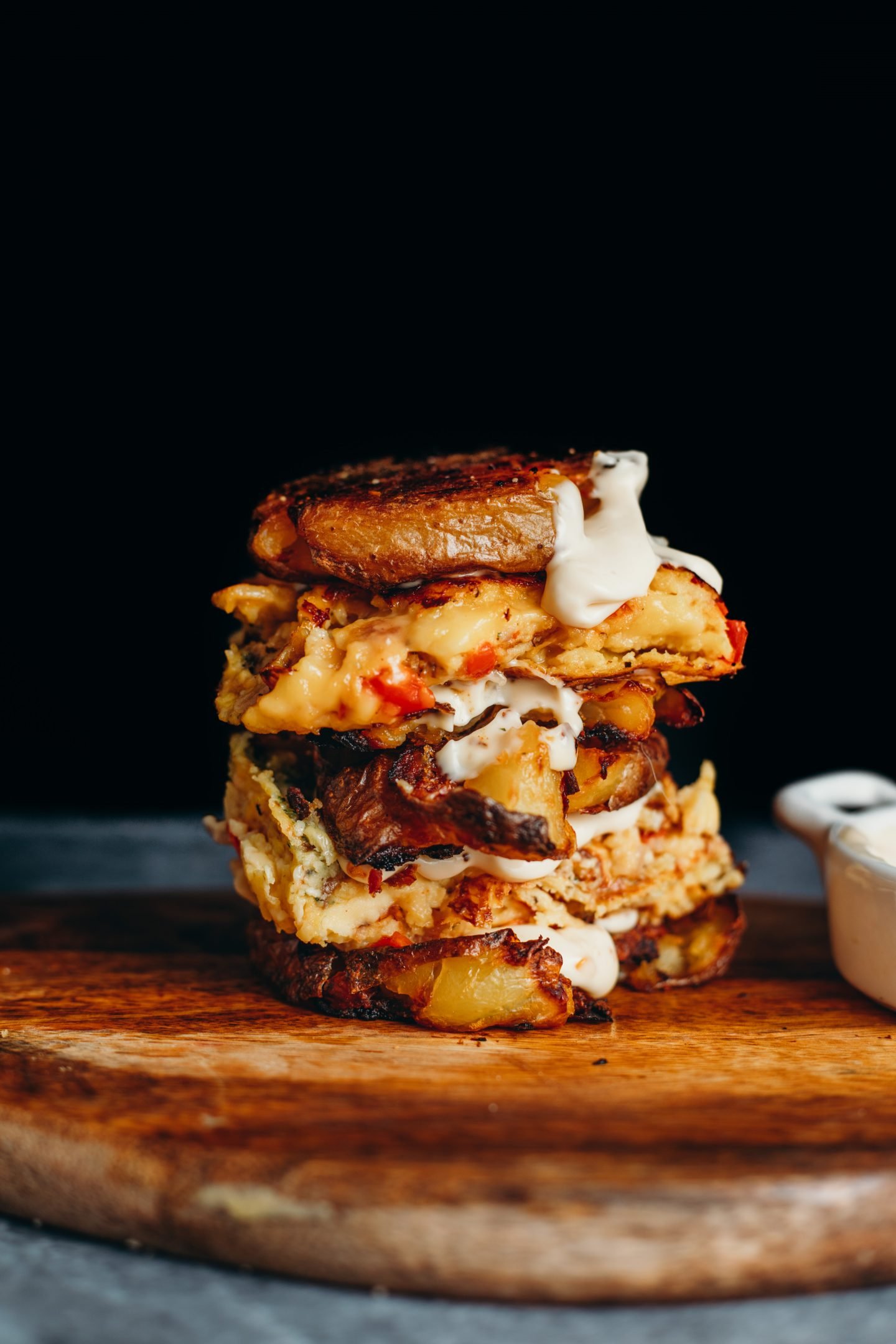 If you enjoyed this Vegan Hot Maple Butter Smashed Western Sandwich recipe, leave a review and don't forget to follow us on instagram to be the first to see what we have cooking up next!
Print
Vegan Hot Maple Butter Smashed Western Sandwich
---
Author:

Prep Time:

15

Cook Time:

25

Total Time:

40

Yield:

6

potato sandwiches

1

x
Description
These Vegan Hot Maple Butter Smashed Western Sandwiches hit all of your cravings by turning your favourite western omelet vegan, and replacing the bread with crispy, hot maple smashed potatoes!
---
Scale
Ingredients
Smashed Potatoes:
12

small potatoes, skin on

3 tbsp

vegan butter, melted

2 tbsp

oil

3 tbsp

maple syrup

1 tbsp

hot sauce such as Frank's

1/4 tsp

chilli flakes
sant and pepper
Garlic mayo:
1/3 cup

vegan mayo

1

clove garlic (or more), minced
Vegan Western Omelet:
120g

Just Egg

or liquid egg substitute of your choice

1/4 cup

diced red onion

1/4 cup

diced red pepper

3

slices vegan cheese

1 tbsp

vegan butter

pinch of salt and pepper
---
Instructions
Add potatoes to a large pot and cover with water until just submerged. Bring to a boil and cook about 20 minutes or until potatoes are fork-tender.
Preheat oven to 425 F. Line a sheet pan with parchment paper.
Drain potatoes and let sit a few minutes so the steam evaporates the water on them.
Add to prepared sheet pan and use a glass to lightly press down on each one, creating a "smashed" potato.
Combine vegan butter, oil, maple syrup, hot sauce and chilli flakes. Drizzle evenly over top of the potatoes.
Bake in preheated oven until golden brown and crispy – about 15-20 minutes.
Meanwhile, stir together vegan mayo and garlic.

In a medium frying pan, melt vegan butter, and add red onion and red pepper. Fry until onions are translucent.

Add the Just Egg and cook for 

4-5 minutes, or until the top starts to firm and bottom is browned. Add vegan cheese slices and fold over into an omelet. Cook for another 2 minutes until cheese is melted.

Remove from heat and slice omelet into 6 pieces approximately the size of the smashed potatoes.
Remove potatoes from oven and season with salt and pepper to taste.
Stack omelet pieces between two smashed potatoes and add 1 tbsp of garlic mayo. Repeat.
Serve hot and enjoy!