Make your own Sonic Ocean Water at home with just a handful of ingredients! It's refreshing, vibrant, and made with a splash of tropical coconut. The entire family will love this easy summer drink.
If you love this fun drink, you have to try my Sonic Copycat Cherry Limeade Recipe next!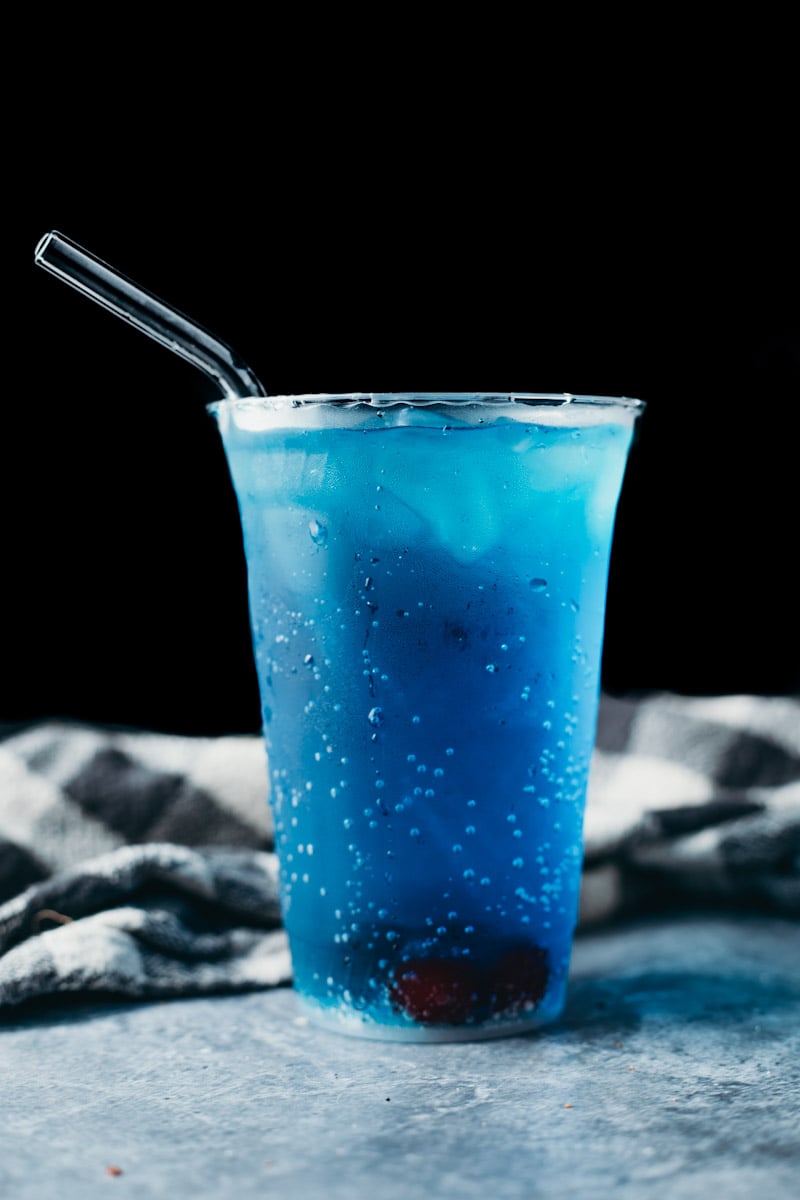 What is Sonic Ocean Water?
Sonic Ocean Water is a signature drink sold by the fast food chain, Sonic Drive-In. It's known for it's vibrant blue color and tropical flavour. It's a non-alcoholic drink, but I'm going to give you an added tip for turning your Sonic Copycat Ocean Water into a spiked drink for your next (adult) get together!
Why You'll Love This Recipe
It's easier to make than you might have guessed. I always think copycat drink recipes are going to be more difficult to make at home than they really are. I wrongly assume that companies put a lot more thought and time into creating a drink that's unique and difficult to recreate. But each time I tackle a copycat recipe, it always turns out to be easier than I expected!
Ready in less than 5 minutes. All you have to do is stir a few simple ingredients together and this drinks ready to enjoy! Once you have all of the ingredients at home, you can whip up this drink in a flash!
Naturally vegan friendly. Not every drive-thru drink is vegan-friendly, but the Sonic Ocean Water is!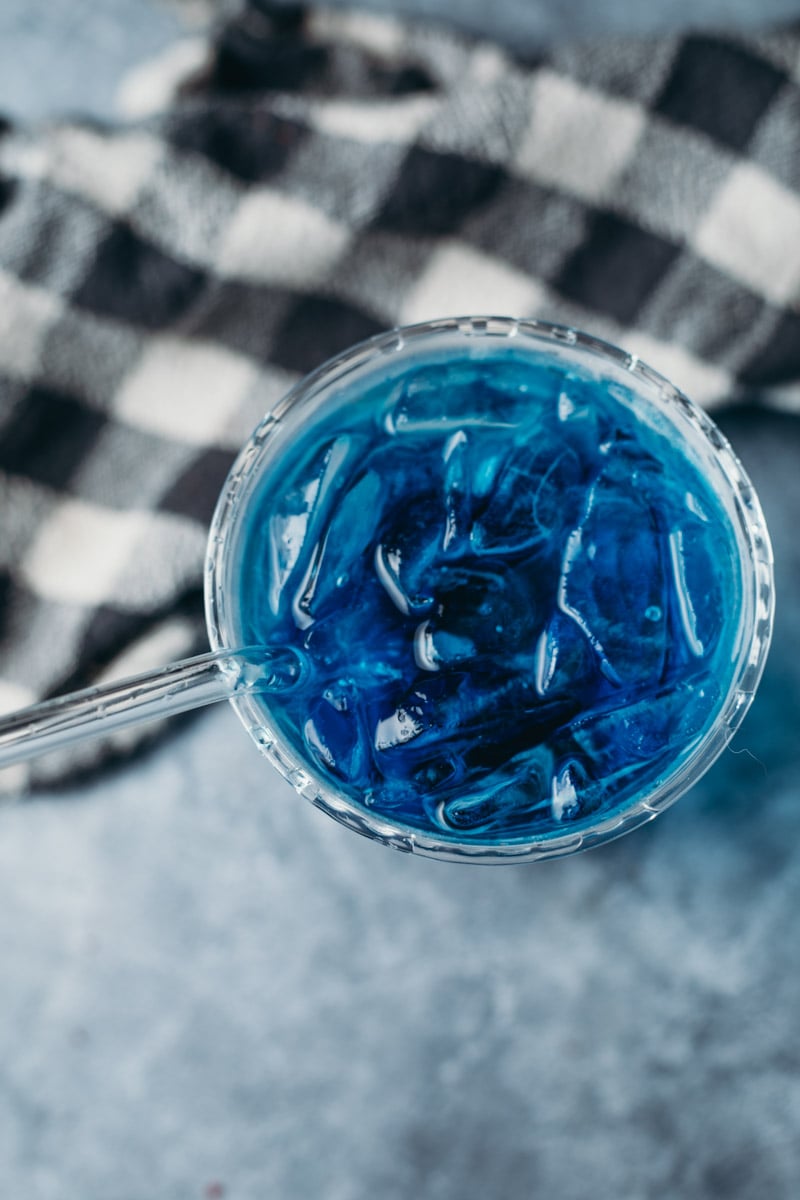 Key Ingredients and Substitutions
Lemon Lime Soda – Sonic Drive-In does not disclose the specific lemon lime soda they sell, but there are several you can buy in stores to replicate the flavour. My go-to choices are either 7UP or Sierra Mist, but Sprite, or Mountain Dew are also good choices.
Cane sugar – Sonic uses a coconut syrup that already contains both coconut and sugar in one. If you have a coconut syrup you can omit the cane sugar. If you use coconut extract like I did, add about 3/4 teaspoon cane sugar to lightly sweeten. You can also use simple syrup if you have it.
Coconut extract – The coconut flavour is what makes this soda "tropical" tasting. A little goes a long way, but feel free to adjust the amount of coconut flavour to taste.
Blue food colouring – The key to the bright blue colour. Adjust the amount of food colouring based on how vibrantly coloured you want your drink!
Maraschino cherries – This isn't a typical ingredient in this signature drink but I love the contrast of colour and it helps enhance the tropical flavour. Not all maraschino cherries are considered vegan, so check the label if using!
How to Make Sonic Ocean Water
It takes no time at all to make this kid-friendly non-alcoholic drink. Make it with me on Instagram.
Add 1 cup of ice to a glass.
Pour in the Lemon lime soda, cane sugar, water, and coconut extract. Stir well to combine.
Optional: Add 2 maraschino cherries to garnish.
Serve immediately while cold.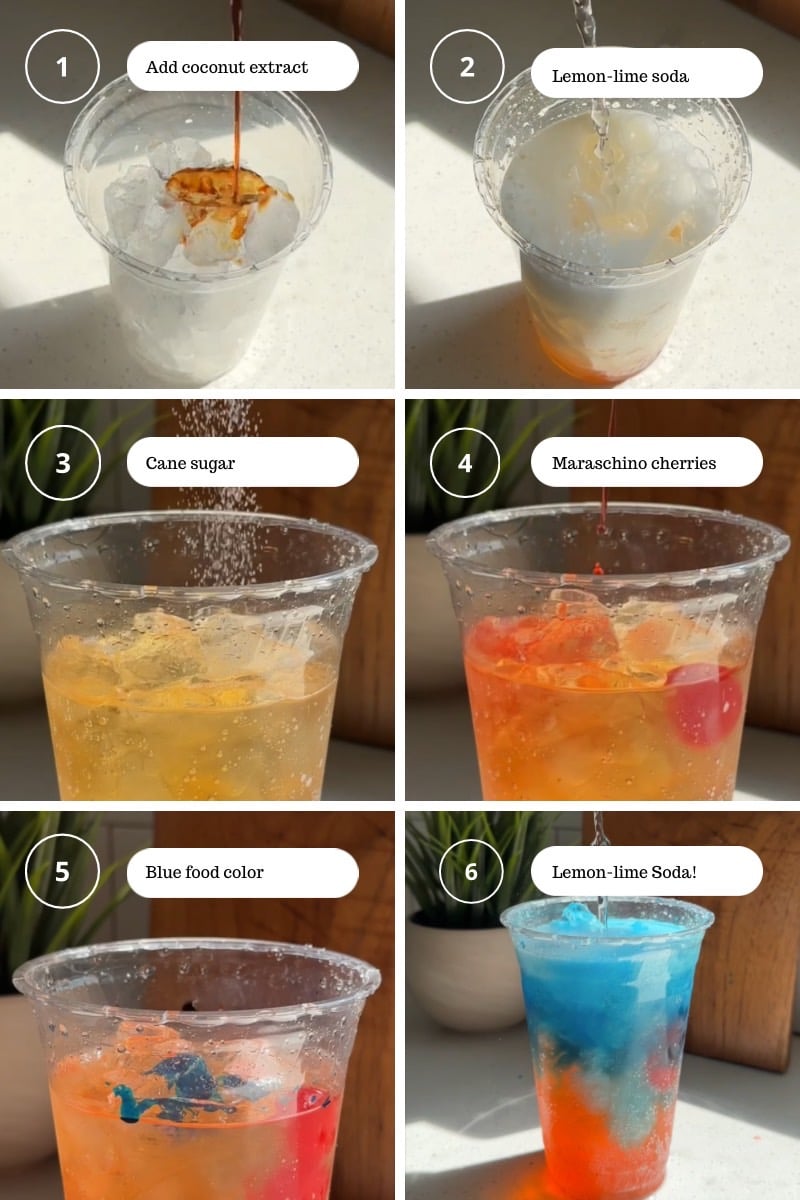 How to Make a Large Batch
If you plan to make this Sonic Ocean Water for a larger crowd, grab your favorite large pitcher or punch bowl and simply multiply the recipe by the amount of guests you have. I made this recipe to create 1 serving, so if you're making enough for 8, multiply every ingredient in the recipe by 8!
If you're sharing with kids, you can likely split 1 serving between 2 kids. Feel free to adjust to suit your particular group.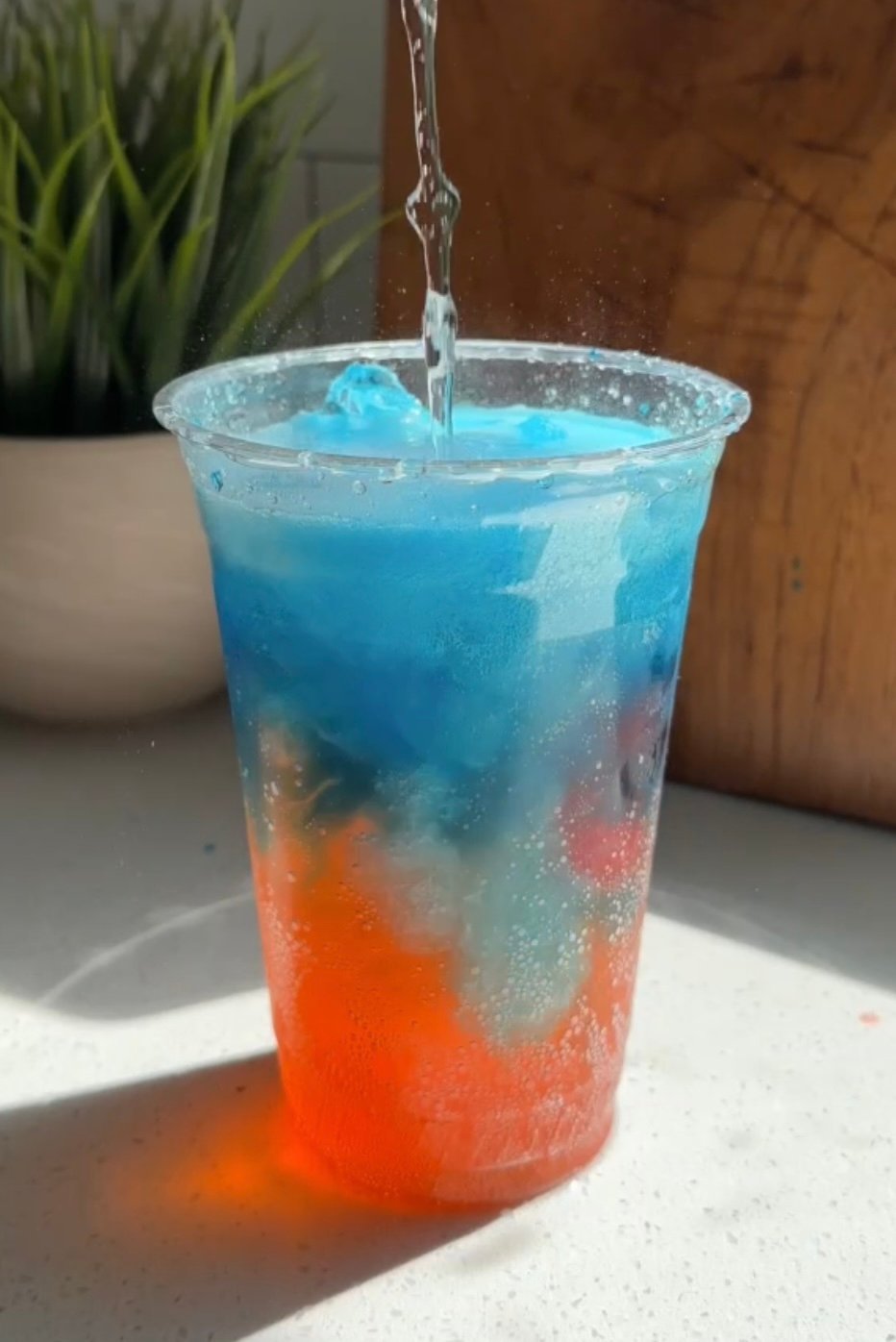 Recipe FAQs
Is this an alcoholic drink?
No. As is, the Sonic drink does not contain any alcohol and is really just a tropical, coconut flavoured soda that's bright blue to represent the colour of the ocean. If you want to turn this into an adult beverage or party punch for happy hour, add a splash of your favourite vodka, white rum, or coconut rum for the perfect spiked drink!
Is Sonic Ocean Water the same as blue coconut?
No, these two drinks are not the same. Blue Coconut is a blended slush drink made with crunchy coconut flakes.
Does Ocean Water have soda in it?
Yes – the base of this drink is lemon lime soda. It's a fizzy drink with a hint of coconut flavour and a few drops of blue food colouring.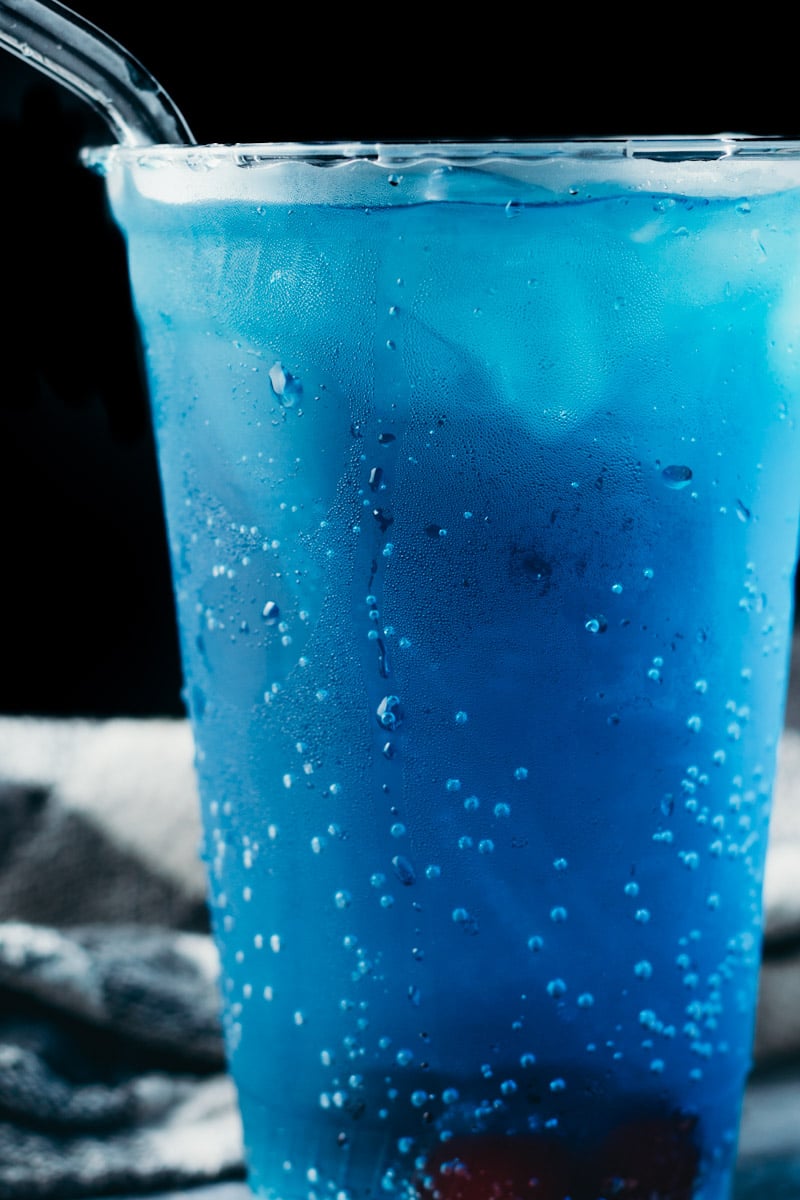 Top Tips
Don't use large ice cubes. If you really want to have a drink experience that rivals Sonic, you need to use Nugget-style ice or crushed ice (Sonic ice). I pick up mine at the grocery store, but if you're lucky enough to have an ice maker, you can make your own Nugget-style ice at home!
Blue food colouring isn't necessary. It is true that the blue colour is the initial main draw of this drink, but it doesn't actually add any flavour to the drink. You can still enjoy the full flavour of a Sonic Drive-in Ocean Water drink without any blue food colouring at all!
More Copycat Drink Recipes to Try Next
Print
Easy Copycat Sonic Ocean Water Recipe
---
Author:

Total Time:

10

Yield:

1
Description
Make your own Sonic Ocean Water at home with just a handful of ingredients! It's refreshing, vibrant, and made with a splash of tropical coconut. The entire family will love this easy summer drink. 
---
1 cup

Ice

1

can (220 ml) Lemon lime soda (7UP)
 1/4 tbsp cane sugar

2 tbsp

water

1 tsp

coconut extract

2

Maraschino cherries (optional)
---
Instructions
Mix all ingredients into a single serving cup until fully combined.
add two maraschino cherries to garnish.
serve cold