You already know you love it, so follow along while I show you why this Vegan Copycat Little Caesar's Crazy Bread is the BEST version of the iconic Little Caesars dish! In any case, I'm not sure you could really consider this a "dish"… But I will say it was by far the most highly requested item on the menu when I first got my start in the food industry. Believe it or not I was that guy who worked the ovens through high school at my local Little Caesars location! Alongside the five dollar "hot-n-ready's" (that were very rarely actually hot and ready), the Crazy Bread which I found to be one of the most simple sides I've come across was highly successful and addictive in it's own right!
Description
This Vegan Copycat Little Caesar's Crazy Bread is a simple dough cut into strips, loaded with vegan garlic butter and a heaping pile of homemade vegan parmesan cheese. But I'm about to show you that simplicity often translates into a delicious treat for your taste buds. And make no mistake – breadsticks better than the ones you've had in the past. Superior ingredients always make for a better quality taste and depth of flavour. So make these and have your mind blown, because it is this Vegan Copycat Little Caesar's Crazy Bread is CRAZY good!!
What makes crazy bread so good?
Little Caesars, though not particularly known for their high quality pizzas and sides are a BIG part of my development as a food creator and sparked a lot of curiosity and creativity in the kitchen.  Many of you I'm sure have a similar story to mine, which begins with an entry level job as a fast food cook or cashier throughout high school or university! I got my first job at a Little Caesars down the street from my high school.  You probably wouldn't think that Little Caesars was much of a space for cultivating creativity. And Maybe it was a twist of fate and my Local Little Caesars was an exception to the rule, but we were given a lot of liberty to make the types of pizzas and creations we ultimately wanted given the limited ingredients we had to use!
Is Little Caesar's Pizza good?
For me, it was all about making the PERFECT pizza. In brief – Pizza was and is still today in my eyes the perfect food. I've always been a fan of savoury over sweet, so building the perfect pizza was a very fun pass-time for me. Sure, I probably ate WAY too much pizza as a kid, but in my pursuits I found a love for creating food and making a typical dish the best it could be. Crazy bread included!
It wasn't until I went vegan though that I was able to develop a recipe that highlights all the good qualities of crazy bread, while using better ingredients that helped bring out the flavours you love most! And here's how I did it!
What else is like Little Caesar's Crazy Bread?
And before I get into it, try making this  Thick Cut 15 Minute Garlic Bread or this Everything Bagel Bread recipe if you're looking for some more sweet and savoury flavours of bread!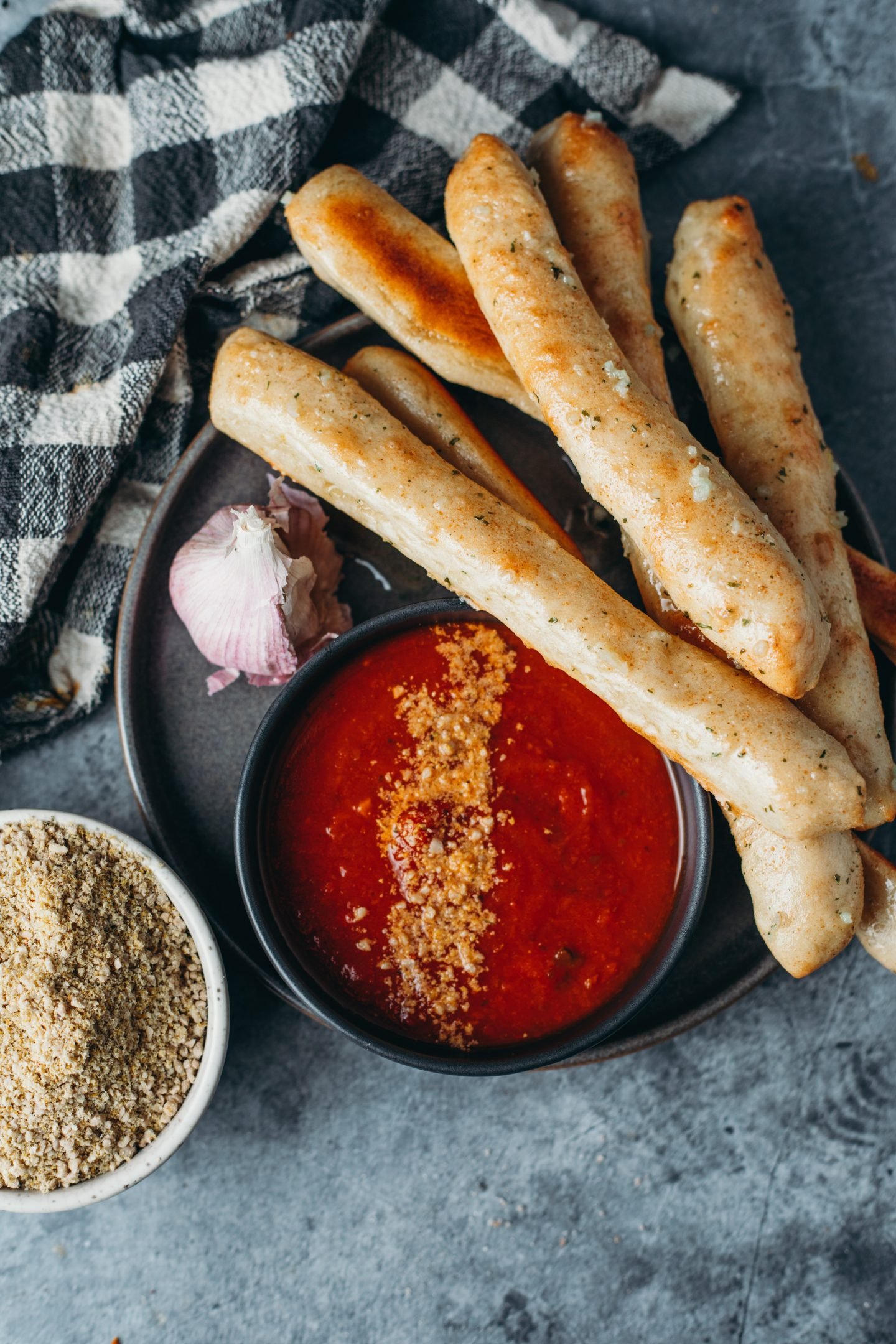 How do you made Little Caesar's Crazy Bread?
Vegan Copycat Little Caesar's Crazy Bread is SUPER simple to make. For that reason I'd like to start with that in case some of you are thinking about scrapping this recipe and simply running off to Little Caesars to buy it instead… And although I give you the option to make the dough yourself… I almost always opt to buy a store bought pizza dough bal. The ingredients are the same and it saves a lot of time and headache in the kitchen. But Unless you're more adventurous like my wife Liv (goals), head to your local shop and save yourself the step!
What are the instructions for Little Caesar's Copycat Crazy Bread?
After rolling out the dough on a clean surface, cut into 8 piece portions lengthwise down the dough to make a long breadstick. Separate slightly on a lightly greased baking sheet.
… All that's left to do is blend up the very few ingredients in a bowl, mince some garlic or garlic powder with some butter to melt.
… Brush the tops of the pizza crust or small breadsticks with the garlic butter mixture and bake it for 6-8 minutes. That's really all there is to it. The total time on this recipe is about 20 minutes including prep time.
Vegan Copycat Little Caesar's Crazy Bread was the easiest thing we ever learned to make at the restaurant, and by far the most popular item. So run don't walk to the kitchen to make this for yourself today!!
Copycat Crazy Bread FAQ
What's stuff on crazy bread?
The white sprinkled product on Little Crazy Bread is Parmesan cheese. Consequently made vegan of course for this copycat little caesars crazy bread recipe.
Is Little Caesar's crazy bread vegan?
Not traditionally, however with a few easy swaps Little Caesar's Crazy Bread can be made vegan.
Who sells crazy bread?
Little Caesar's is the International restaurant chain that coined the dish "Crazy Bread". Traditionally served with dips such as marinara sauce, this is their main side dish featured item on the menu.
What is the nutrition information for Little Caesar's Crazy Bread?
I recommend using the MyFitnessPal for information regarding calories, protein, carbohydrates, cholesterol, sodium, fiber, calcium etc.
What does Little Caesar's Crazy bread taste like?
Little Caesar's Crazy Bread is really just  breadsticks doused in garlic flavored butter and a sprinkle of parmesan. Additionally It is traditionally enjoyed with marinara sauce or donair sauce.
Does crazy bread have butter on it?
Little Caesars Crazy bread does have melted butter on it. Even so, Follow this copycat recipe for the vegan version and plant-based substitutes.
Does Little Caesar's crazy bread re-heat in the microwave?
The small breadsticks are baked into 8 piece portions. If you plan to re-heat the portions the next day, try microwaving on high for 25-30 seconds so as not to dry out the dough in the oven.
And as always, if you enjoyed this recipe – give us a rating and a comment below and follow @gregsvegangourmet and @itslivb on instagram for daily videos!
Print
Vegan Copycat Crazy Bread
---
Author:

Total Time:

30

Yield:

2 servings (16 pc)
Description
This Vegan Copycat Little Caesars Crazy Bread is a simple dough cut into strips, loaded with vegan garlic butter and a heaping pile of homemade vegan parmesan!
---
The Parmesan
1 cup

sunflower seeds

1/4 cup

nutritional yeast

2 tsp

dried Italian seasoning

1 tsp

salt

1/4 tsp

garlic powder
The Bread
1

store bought pizza dough ball (

660g

)

3 tbsp

vegan butter

2

cloves minced garlic

2 tsp

dried parsley
---
Instructions
Preheat oven to 400 degrees F.
Add all the parmesan ingredients to a high speed food processor and blend until fully combined and parmesan consistency.
Divide the defrosted dough ball in two, and stretch both dough balls evenly into a flattened 10″x8″ football shape.
using a pizza cutter, divid each dough lengthwise into 8 equal strips and bake in the oven for 8-10 minutes until golden brown. remove from oven and set aside.
meanwhile, in a small bowl add the vegan butter, garlic and parsley. Heat in the microwave until butter is just melted, and stir.
to the baked strips of dough, spread all of the garlic butter evenly over top and add as much parmesan as you like (there will be some parmesan leftover for later use).
serve warm with optional marinara sauce for dipping.
Prep Time:

10

Cook Time:

20