Making Vegan Hash Browns at home is super easy and the best way to enjoy McDonald's style hash browns from the comfort of your own home. All you need is 20 minutes.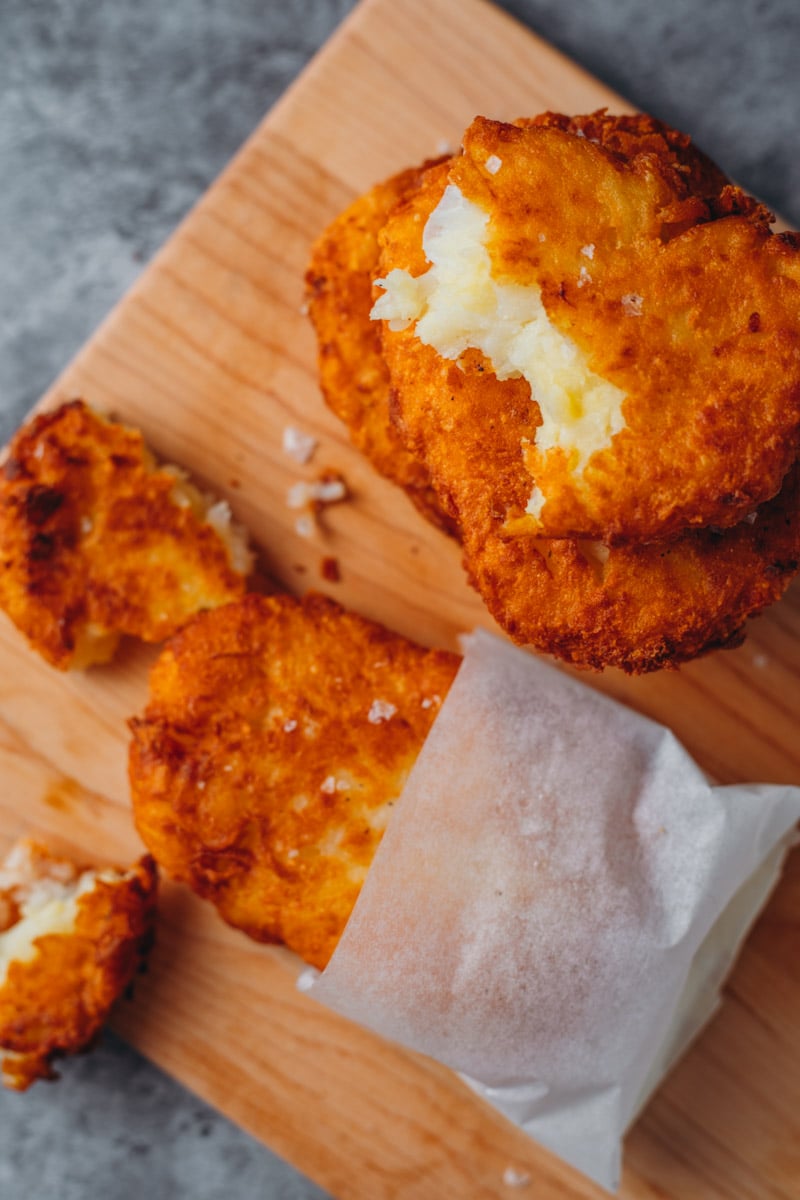 Why You'll Love This Recipe
It's better than McDonald's. If you grew up eating McDonald's hash browns like I did, you may be wondering…why bother trying to mess with a good thing? But truth be told, this recipe is even better than the original. They're extra thick, crunchy on the outside and perfectly soft on the inside. Once you realize how easy they are to make from scratch, you'll never want to go back.
Great addition to breakfast or dinner. Although when we think of hash browns we generally think of breakfast, these gold brown patties can also be paired alongside your favorite dinner like Veggie Burgers or chicken sandwiches, like our Vegan Chicken Big Mac or Vegan McChicken Sandwich.
No hard to find ingredients. We're sticking to the basics here and making our homemade hash browns with just 4 ingredients in a few simple steps! They're the perfect copycat McDonald's hash browns on a budget.
Key Ingredients and Substitutions
Potatoes – For the best hash browns, use peeled and grated russet potatoes. Compared to red potatoes or Yukon gold potatoes, they're lower in water content, making them ideal for frying and the best final product.
Corn starch – A few tablespoons of cornstarch are key to getting the ideal, crispy exterior. We haven't tested this recipe using another starch and can't confirm it will work well.
Just Egg – This vegan egg ingredient is optional, but it really helps mold the grated potatoes together. You can even use our Homemade Just Egg mixture, too!
Oil – McDonald's hash browns are deep fried. For the same, extra crispy exterior, we pan fried our vegan hash browns until golden on both sides. Use a high smoke point oil such as peanut oil, canola oil, hydrogenated soybean oil, or vegetable oil.
How to Make Vegan Hash Browns
Par boil the potatoes. In a medium pot over high heat, par boil the russet potatoes until sightly softened on the exterior.
Place the potatoes directly in cold water. Once softened, immediately transfer the potatoes into a bowl of cold water and allow them to cool to room temperature.
Shred the potatoes. Using a box grater or food processor, shred the potatoes into a large mixing bowl.
Add the cornstarch, salt, black pepper, and Just Egg. To the same bowl with the shredded potatoes, add in the remaining ingredients. Stir well until fully combined and coated.
Form the potatoes into a patty shape. Using your hands, form the potato mixture into individual-sized hash browns and place them on a parchment lined baking sheet.
Refrigerate for one hour. Don't skip this step! This will prevent the patties from falling apart when frying.
Fry the vegan hash browns. Heat the vegetable oil in a medium-sized frying pan or skillet. Once hot, fry the hash browns on each side until golden brown and crispy on both sides.
Enjoy! Transfer the hash browns to a plate lined with a paper towel to absorb the excess moisture and grease. Allow the hash browns to cool slightly, then enjoy with a sprinkle of additional sea salt, or as desired!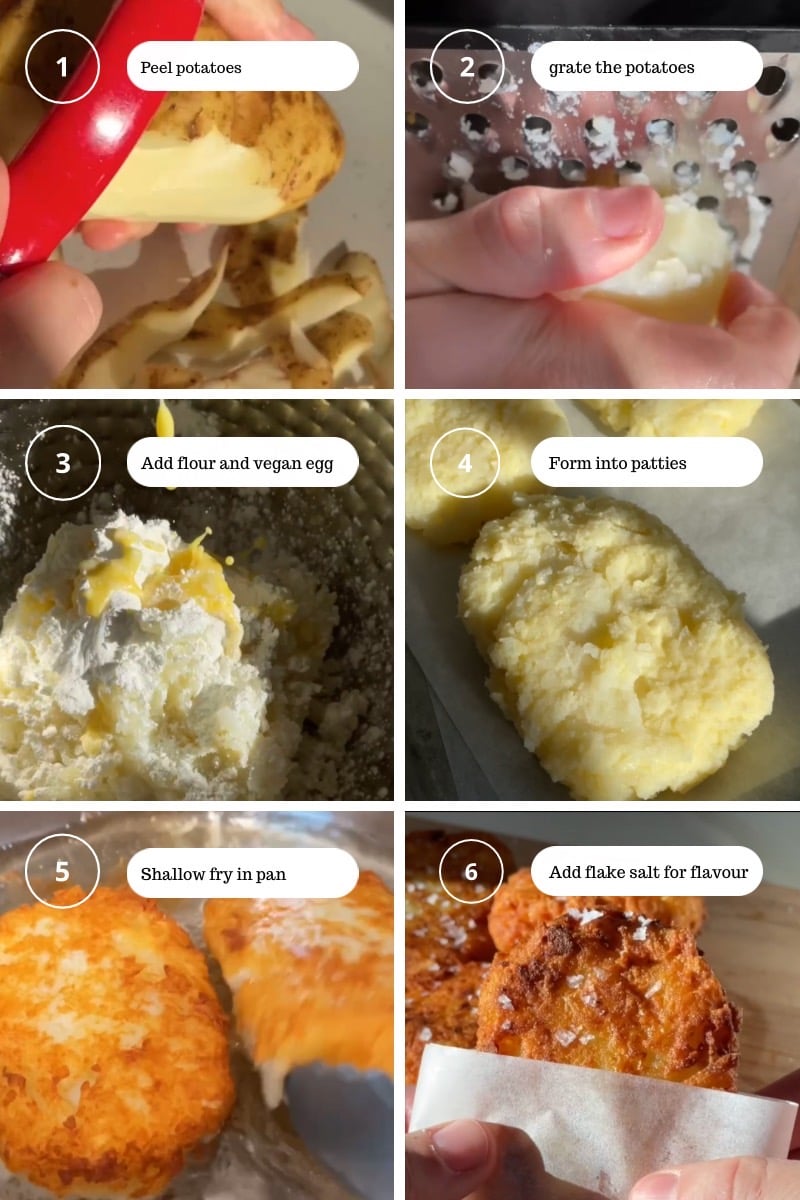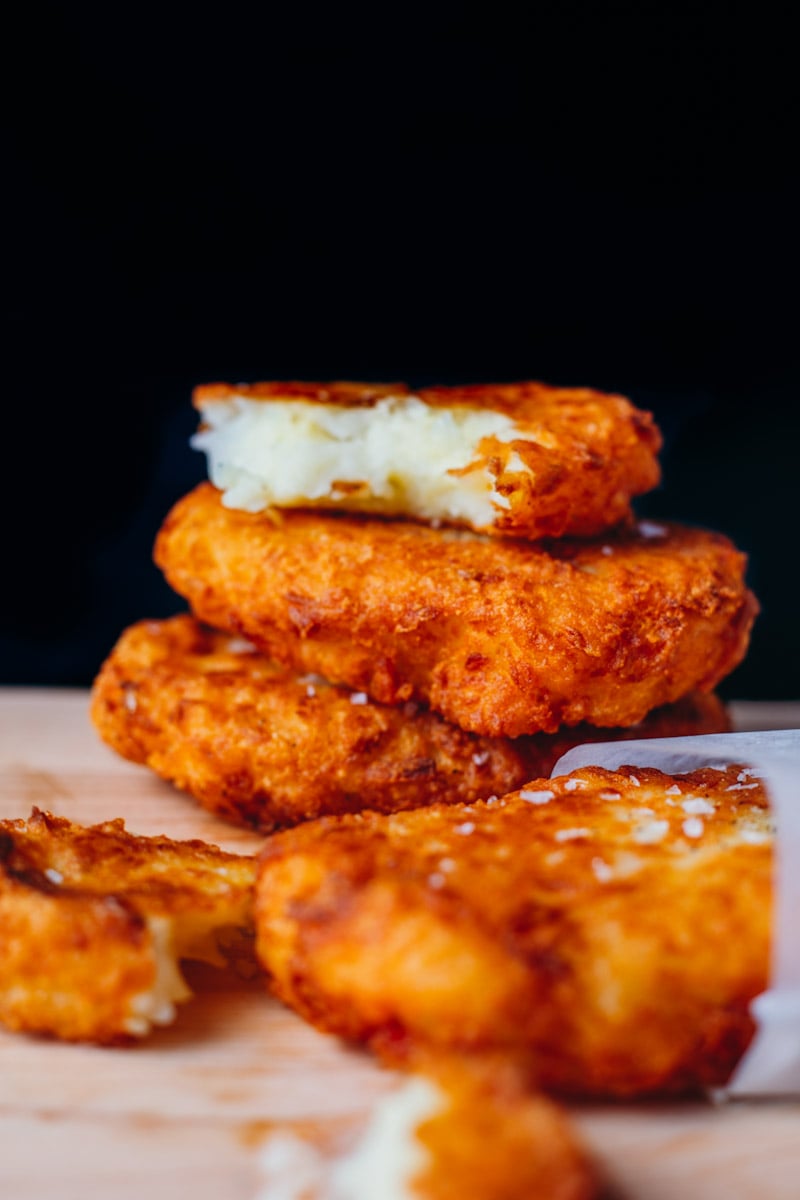 Ideas for Serving
Although you can enjoy these homemade vegan hash browns any time of day, we always crave them for breakfast. These hash browns can be enjoyed with virtually any of our vegan breakfast recipes, but we eat them most alongside recipes like this Ham, Cheese & Thyme Omelette-Stuffed Croissants, Open Faced Tofu Breakfast Sandwiches or staples like this Chickpea Scramble.
You can also take these vegan hash browns next level and turn them into the Ultimate Vegan Breakfast Double Down Sandwich.
How to Store
Crispy hash browns are best enjoyed while fresh, but if desired, they will keep in an airtight container in the fridge for up to 3 days. Reheat any leftovers in the microwave, air fryer, toaster oven, or oven. They won't be as crispy as fresh, but they'll still be delicious!
Recipe FAQs
Are McDonald's hash browns vegan?
The short answer is, it depends! McDonald's recipes are made with different ingredients depending on the country you are in. In Canada and the UK, McDonald's hash browns are vegan as they do not contain any animal ingredients. In the United States, however, the hash browns are neither vegan nor vegetarian because they are made with beef flavoring (this applies to the french fries, too!). If you're dining out, it's always safe to ask before placing your order.
Can I make these into air fryer hash browns?
Absolutely! If you prefer to make these hash browns crispy with a bit less oil, spray the hash browns with cooking spray, then cook them in the air fryer at about 400F/205C for 15 minutes, or until golden and crispy.
Why are my hash browns not crispy?
The most likely reason is the oil was not hot enough. It is important to get the oil extra hot before placing the potatoes in. If it is not hot enough, the hash browns will absorb the oil instead of creating a crispy exterior, leading to soft hash browns!
Can I add seasonings to these hash browns?
Yes. I typically keep it simple and season with salt and black pepper, but if desired, add in your favorite aromatics such as diced yellow onion, onion powder, paprika, smoked paprika, chili powder, dried basil, or garlic powder. Don't be afraid to get creative and make these your own!
Similar Vegan Breakfast Recipes to Try Next
Print
Vegan Hash Browns (McDonald's Copycat)
---
Author:

Total Time:

!:20

Yield:

4 large hash browns
Description
Making vegan hash browns at home is super easy and the best way to enjoy McDonald's style hash browns from the comfort of your own home. All you need is 20 minutes.
---
3

large russet potatoes peeled and chopped into thirds

3 tbsp

corn starch

3 tbsp

vegan JustEgg or homemade JustEgg

1 cup

vegetable oil for shallow frying
salt and pepper to taste
---
Instructions
In a medium pot over high heat, parboil the potatoes until slightly softened on the exterior. Remove from heat and cool in cold water before shredding into a large bowl with a box grater.
Add cornstarch, salt, pepper and vegan egg to the potato mixture. Stir until fully combined.
On a large baking sheet, form the potato mixture into four rectangle hash brown patties. (This calls for making the hash browns larger, but you can form them into 6 equal smaller patties instead).
Refrigerate the patties for an hour.
Bring a medium pan with oil to heat and fry each side of the hash browns evenly until golden brown on both sides.
Remove from heat and set aside to let cool.
Prep Time:

1:10

Cook Time:

10