This is a BIG sandwich! not for the faint of heart – so if you continue to read along, just know that I'm proud of you for sticking around as long as you did. And if you do try making this Vegan Breakfast Double Down Sandwich, be prepared to want it again and again for the rest of your life!
Description
Sandwiched between a bed of two extra thick hash browns sits a cheese stuffed breakfast sausage patty, vegan egg and homemade creamy pesto.
That's right, if it sounds like a lot – it's because it is. From replacing the buns with my McDonald's Copycat Hash browns. To stuffing the breakfast sausage patty with my famous homemade cheese sauce. Not to mention, the homemade pesto is extremely easy to make and flavored perfectly for this monster of a sandwich. Feel free to add whatever other toppings as you like to this Vegan Breakfast Double Down Sandwich like vegan bacon, lettuce, tomato or garlic aioli. Think of this as a far off related, better vegan version of the KFC's fast food Double Down chicken Sandwich.
How to make a Vegan Breakfast Double Down Sandwich:
Ingredients to use:
russet potatoes
cornstarch
vegan egg (JustEgg)
Vegan breakfast sausage ground (I used Light Life)
Vegetable oil for frying
cashews
fresh basil
garlic
olive oil (for the pesto)
nutritional yeast (optional)
salt & black pepper
spices optional like garlic powder, paprika,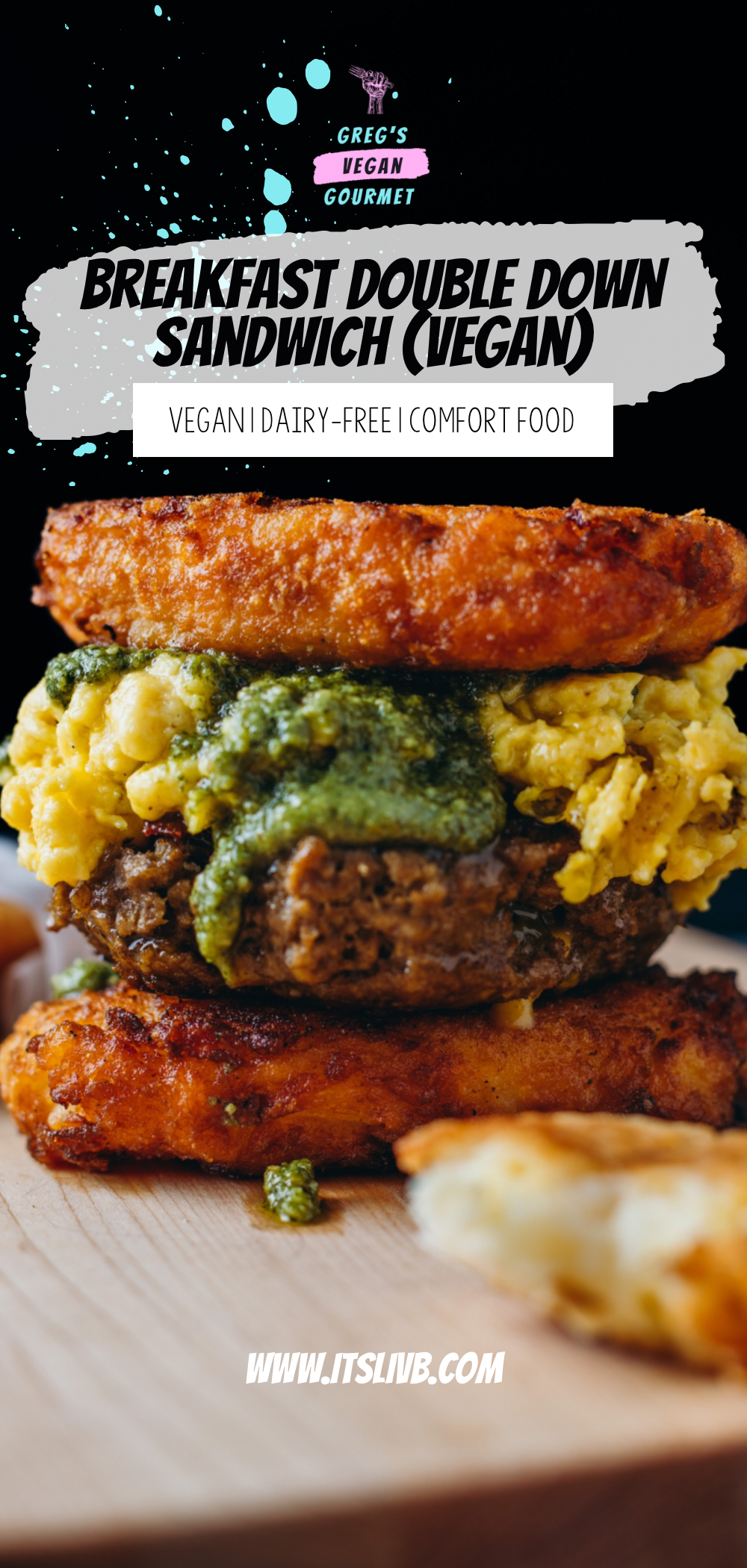 What are the steps to making a Breakfast Double Down Sandwich?
Here's where the fun begins! Once you've gathered all the easy to find ingredients, start by frying up the hash browns. If you've tried my vegan copycat McDonalds hash browns, then you know how goo these bun replacers are already. And if you haven't tried them before, see below for your sign.
… while the hash browns are frying, begin to make the cheese sauce. This step is optional if you want to save some time in the mornings, but it definitely adds a great textural layer to the brunch meal! When you have the cheese sauce out of the blender, it's time to get started on the pesto.
… Remove the hash browns from the heat and set aside to let dry on a cooling rack. The vegan JustEgg and sausage patty can be easily fried up at the same time as the easy pesto recipe blends. So After folding the cheese into the patty, let the egg and sausage simmer in a pan (cast iron or stainless steel are my go-to) for about 10 minutes.
… Meanwhile, the pesto is a simple blend of cashews or almonds, olive oil, fresh basil and garlic. Add salt as much as you like until seasoned to your liking.
… Lastly, all that's left is to build the sandwich. I made each of the ingredients very thick as you can see – so if you prefer to be able to fit your mouth around this sandwich, try flattening each of the parts to this sandwich a bit more than I did. Use the pesto liberally as this is where the aromatic flavor of the sandwich comes in for a mouth watering crunch. Trust me, you're going to like these deep fried hash browns over the traditional fried chicken.
Frequently Asked Questions:
What is a KFC double down?
the limited time KFC menu "KFC Double Down" is a unless sandwich featuring strips of bacon, Canadian slices of Monterey Jack cheese or pepper jack cheese and signature KFC sauce, sandwiched between two fried pieces of chicken cutlets.
How many servings does this Breakfast Double Down Recipe  recipe make?
This recipe serves one sandwich, with leftover hash browns and cheese sauce depending on how many you make.
What can I use for a vegan egg substitute?
Try using a thinly sliced round of seasoned extra firm tofu or tofu scramble to replace the JustEgg vegan egg substitute.
How many calories are in a double down sandwich?
I recommend downloading the MyFitnessPal App for accurate information regarding calorie count, carbohydrates, fat, fiber, protein and vitamins.
What other recipes can I make like this?
Try making this Hot Maple Butter Smashed Western Sandwich or this vegan thick cut buffalo chicken grilled cheese sandwich for more great vegan sandwich ideas!
Print
Breakfast Double Down Sandwich (Vegan)
---
Author:

Total Time:

50

Yield:

1
Description
Sandwiched between a bed of two extra thick hash browns sits a cheese stuffed breakfast sausage patty, vegan egg and homemade creamy pesto.
---
For The Hash browns
3

large russet potatoes peeled and chopped into thirds

3 tbsp

corn starch

3 tbsp

vegan JustEgg (optional but recommended)

2 cups

vegetable oil for shallow frying
salt and pepper to taste
For the Pesto
3/4 cup

cashews

1/4 cup

basil leaves

1/4 cup

kale

1

clove of garlic
Juice of

1/2

lemon

1/4 cup

water
generous pinch of salt
For the Cheese Sauce
3/4 cup

almond milk, coconut milk or oat milk
 1/2 cup raw cashews (boiled for 10 minutes if you don't have a high-powered blender)

1/2 cup

peeled/chopped carrots

1 cup

peeled, chopped white potato

1/4 cup

vegan cheese shreds (I used Daiya)

1/4 cup

nutritional yeast

1 tbsp

lemon juice

1/2 tsp

sea salt

1/2 tsp

onion powder
For the sandwich
1/2 cup

vegan JustEgg or tofu scramble

1 tbsp

olive oil

1/4 cup

vegan ground breakfast sausage
---
Instructions
In a medium pot over high heat, parboil the potatoes until slightly softened on the exterior. Remove from heat and cool in cold water before shredding into a large bowl with a box grater.
add cornstarch, salt, pepper and vegan egg to the potato mixture. Stir until fully combined.
On a large baking sheet, form the potato mixture into four rectangle hash brown patties. (This calls for making the hash browns larger, but you can form them into 6 equal smaller patties instead).
Refrigerate the patties for up to an hour.
Bring a medium pan with oil to heat and fry each side of the hash browns evenly until golden brown on both sides.
Remove from heat and set aside to let cool.
Meanwhile, Add pesto ingredients to a blender or food processor and purée until smooth(ish).
In a medium pot, add carrot and potato and add water until it just covers them. Bring to a boil and cook until fork-tender, about 8 minutes. Drain and rinse until cold water for a minute until vegetables are cool.
In a blender, combine all cheese sauce ingredients and blend until smooth.
Meanwhile, in a pan over medium heat, cook the vegan JustEgg according to package instructions. While that cooks, form the sausage patty to a 3×3 round disk with a small indent in the middle.
Add 2 tbsp cheese sauce to the centre and fold oven the vegan sausage patty until fully enclosed. Heat in the same frying pan for 7-10 minutes until cooked throughout. Remove from heat.
Build the sandwich by layering the hash browns, sausage patty, JustEgg and pesto before closing over the sandwich with a second hash brown.
Prep Time:

30

Cook Time:

20