Save money on skip the dishes and time and the kitchen by trying out these easy Vegan Copycat Taco Bell Nacho Fries. Perfectly flavoured and dipped in the iconic zesty vegan cheese so that you never have to wait in that Taco Bell drive thru to get your spicy fry fix!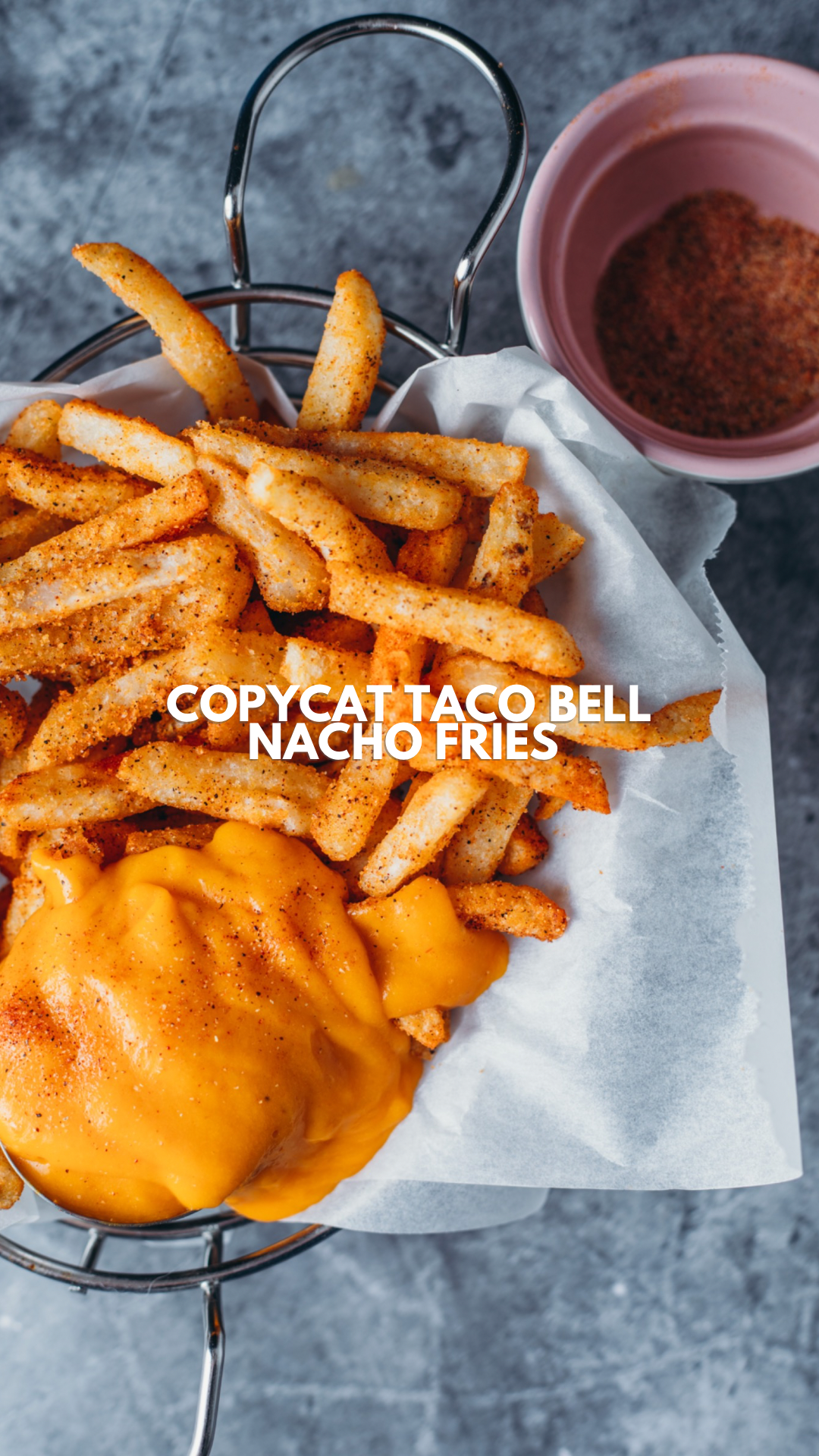 What are Vegan Copycat Taco Bell Nacho Fries?
If you've ever been to your local Taco Bell restaurants during the seasonal menu item launch of their iconic Nacho Fries, then you'll know just how flavourful and addictive these fries can be! Not only that, but dipped in their tangy cheese sauce takes them to a new level that has you returning to the drive-thru more often than you'd like to admit. These Iconic Copycat Taco Bell Nacho Fries are tossed in their quick and easy spice blend, fried to crispy perfection and dipped in a spiced nacho cheese sauce.
How do you make Copycat Taco Bell Nacho Fries?
What ingredients do I use?
Of course, these fan-favourite Copycat Taco Bell Nacho Fries are all vegan, so it might come as no surprise that I've made some modifications. Don't worry though, that same Taco Bell Flavour (maybe even better) is still infused perfectly into this dish! Here are some of they key recipe ingredients used to bring this Taco Bell menus dish to life:
French fries (choose your favourite store bought frozen French fry brand – Cavendish from Costco will forever be the go-to)
Spices including paprika, chili powder, chipotle (if you like extra spice) garlic powder, onion powder, salt and pepper for the perfectly seasoned fries.
Potatoes, carrots, vegan milk or whole milk alternative, nutritional yeast, salsa or fresh tomatoes, tobasco and jalapeno juice for the perfect warm nacho cheese sauce.
I also added a dash of vegan cheese shreds to add a bit of gooey texture to the cheese sauce as a replacement for cheddar cheese, american cheese, or pepper jack cheeses. But this step is optional.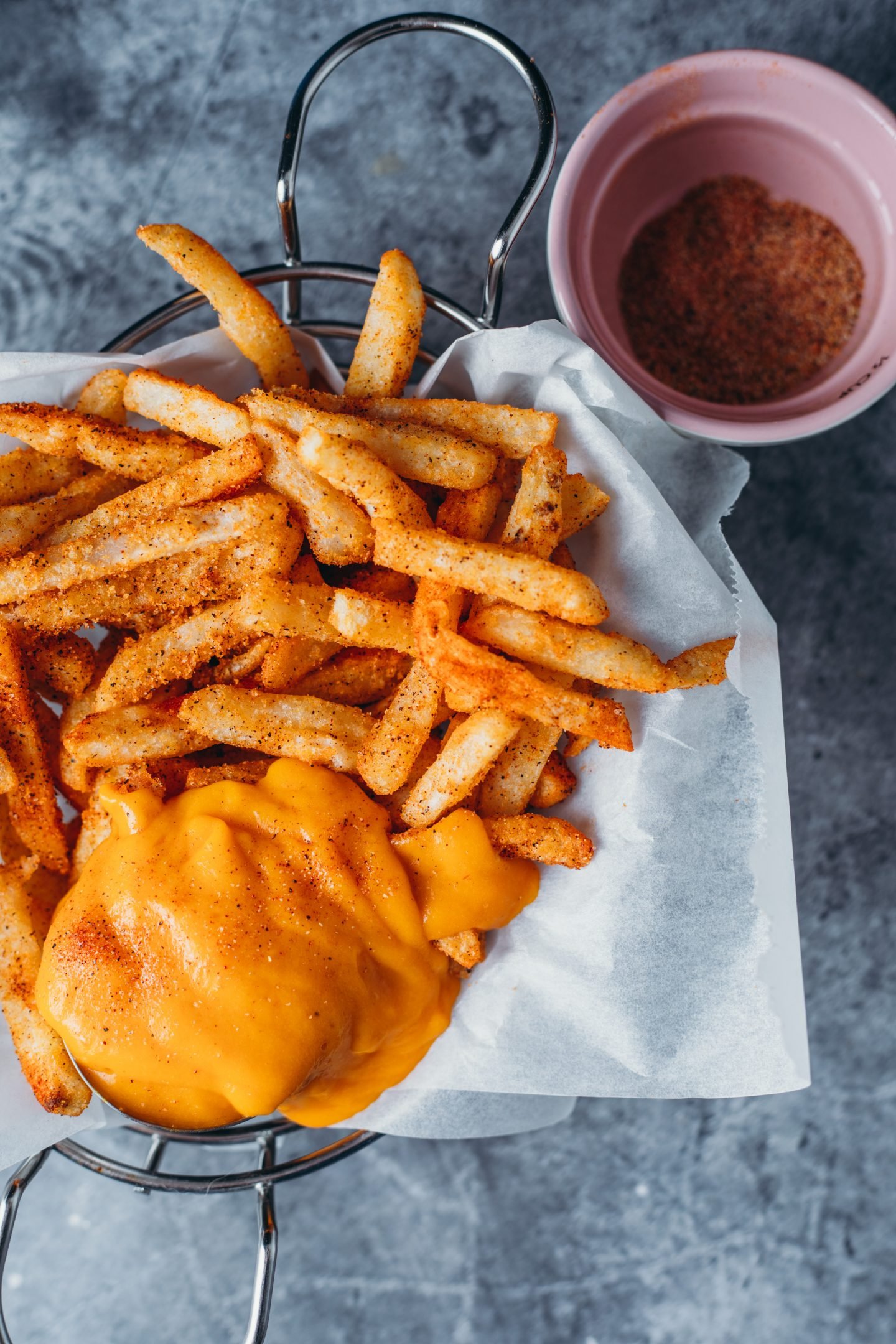 The Steps:
The original nacho fries recipe is fairly simple to create as far as copycat recipes are concerned. Stifle your cravings by giving them exactly what they want from time to time by trying out this fan-favorite with a side of vegan cheese sauce. All you have to do is follow the simple steps below!
… Begin by bringing a pot of water to boil over medium high heat. cooking the potatoes and carrots this way bring some extra moisture into them and makes it easy to blend for the next level cheese sauce. This is the most time consuming step, but while the vegetables are boiling you can begin to either air fry or bake the fries according to your preferences.
… The most important part is getting the Taco Fries Nacho Fries seasoning done correctly. I like to further grind and mix the spices in a small food processor, however this isn't necessary if you don't have one. Simply stir together the spices in a small bowl before sprinkling and coating the cooked fries.
… To finish off the cheese sauce, place the cooked vegetables into a high speed blender. They should still have a remaining amount of low heat – just enough to melt the vegan cheese shreds and stay in a runny consistency when blended. Add the remainder of the sauce ingredients and in no time you the perfect cheese sauce.
… (feel free to refrigerate for an extended period of up to a week in the fridge, and simply re-heat in a saucepan).
Frequently Asked Questions:
How long will nacho fries be at Taco Bell 2022?
Taco Bell Nacho Fries will be back and featured on the limited time menu as of October 13th, 2022. The fall menu item will launch for a two week period but you can get them at your local Taco Bell "for an extended period of time" while supplies last.
Are Taco Bell Nacho Fries vegan?
Traditionally, the seasonal item is NOT vegan. For a vegan version, follow the steps below for the perfect copycat replacement at home!
How does Taco Bell make their nacho fries?
The restaurant chain partners up with a spice company TRUFF for the seasonal spicy fries while supplies last. Follow the recipe below for an idea of what kind of spices are used in their mixture.
How much are nacho fries at Taco Bell?
You can get an order of Nacho Fries for just$1.79. You can also upgrade to the Nacho Fries Box which includes and fountain drink, taco, and a 5 layer beef burrito.
Are Nacho Fries at Taco Bell bad for you?
For accurate information regarding nutrition, I recommend using the MyFitnessPal app for calories, fiber, carbohydrates, vitamins, fat and protein.
Are Taco Bell Nacho Fries dairy free?
The fries themselves are, but the cheesy queso sauce that comes with them is not. For a dairy-free substitute, try following the recipe below.
Are Taco Bell nacho fries spicy?
That depends on your tolerance for spice. Truthfully, they are very mild on the spicy scale. However there is a light mixture of chili powder, tobasco and jalapeño – so if you can handle those, these fries will be perfect for you!
Where can I get more vegan copycat recipes like this?
For more vegan copycat fast food recipes, head over to itslivb.com/gregsvegangourmet or @gregsvegangourmet on instagram for a complete list. You can also try this Copycat Taco Bell Naked Chicken Chalupa or this Copycat Little Caesar's Crazy Bread Recipe for more flavors like these.
Print
Copycat Taco Bell Nacho Fries (Vegan)
---
Author:

Total Time:

30

Yield:

3 servings
Description
These Iconic Copycat Taco Bell Nacho Fries are tossed in their quick and easy spice blend, fried to crispy perfection and dipped in a spiced nacho cheese sauce.
---
For the Nacho Fries
3 cups

frozen French fries ( I used Cavendish brand from Costco)

2 tbsp

paprika

1 1/2 tsp

salt (add more for taste if needed)

1/2 tsp

chili powder

1/2 tsp

chipotle powder

1/2 tsp

garlic powder

1/2 tsp

onion powder

1/2 tsp

black pepper
For The Nacho Cheese Sauce
3/4 cup

almond milk, coconut milk or oat milk

1/2 cup

raw cashews (boiled for

10

minutes if you don't have a high-powered blender)

1/2 cup

peeled/chopped carrots

1 cup

peeled, chopped white potato

1/4 cup

vegan cheese shreds (I used Daiya)

1/4 cup

nutritional yeast

1 tbsp

lemon juice

1/2 tsp

sea salt

1/2 tsp

onion powder

2 tbsp

mild or spicy salsa (Or diced tomato)

3 tsp

tabasco sauce

1 tbsp

pickled jalapeno juice (optional)
---
Instructions
Bake frozen French fries according to package instructions in oven or air fryer.
Meanwhile, In a medium pot add carrot and potato and add water until it just covers them. Bring to a boil and cook until fork-tender, about 8 minutes. Drain and rinse until cold water for 30 seconds until vegetables are slightly cooled.
In a blender, combine all nacho cheese sauce ingredients and blend until smooth.
In a small food processor or small bowl, blend or stir all spices until fully combined.
Remove fries from heat when cooked and add to a bowl. Add approximately 2 tbsp of spice mixture to fries and coat fully. Add more as needed.
serve fries with cheese sauce for dipping while warm.
Prep Time:

15

Cook Time:

15