Panda Express is one of the most popular Chinese fast food chains in the United States, known for its delicious orange chicken. This Vegan Copycat Panda Express Orange Chicken recipe uses seitan for the perfect protein source substitution to highlight the familiar flavours of the popular orange chicken menu item!
While the dish is a fan favorite, it is not suitable for vegans due to the use of chicken. However, with a few modifications, it is possible to make a vegan version of this dish using seitan, a plant-based protein source. In this blog post, we will show you how to make a vegan copycat Panda Express orange chicken that tastes just as good as the original, if not better.
What is Seitan Chicken and Why is it Used in this Recipe
Seitan, also known as wheat gluten, is a versatile protein source that is often used as a meat substitute in vegan and vegetarian dishes. It has a chewy texture that makes it an ideal replacement for chicken in a dish like orange chicken. To make the seitan, you will need wheat gluten flour, which can be found at most health food stores or online. You'll also need a few other ingredients like nutritional yeast, soy sauce, and spices to give it the appropriate flavor.
How to Make Vegan Seitan chicken taste like Panda Express
Follow the below instructions:
First, mix the wheat gluten flour with nutritional yeast, chickpea flour, soy sauce, and spices in a large bowl. Then, add water and knead the dough gently (the more you knead, the denser the seitan becomes), until it becomes elastic. Next, roll the dough into small balls and simmer them in a pot of vegetable broth for about an hour (I use the instant pot on manual pressure com for 15 minutes). After simmering, the seitan should have a chewy texture that is perfect for replicating the texture of chicken in the orange chicken dish. TIP: Keep the chicken warm in the oven on a baking sheet with parchment paper while the orange sauce is prepared.
Preparing the Panda Express Copycat Orange Sauce
Next, you can prepare the orange sauce by frying a tsp of chili flakes and garlic powder in oil. Then combining orange juice, rice vinegar, soy sauce, brown sugar, sriracha, and tablespoon cornstarch mixed with tbsp water in a small saucepan. Bring the mixture to a boil and let it simmer until it thickens. This will be the base for the orange sauce that will coat the seitan.
Cooking the Vegan Copycat Orange Chicken
To cook the dish, heat some oil in a pan or wok over medium-high heat. Once hot, add the seitan and cook it for a few minutes, until it starts to brown. Then add the orange sauce, and stir-fry until the seitan is fully coated and the sauce is heated through. This dish can be served with rice, vegetables or cauliflower rice for a low-carb option.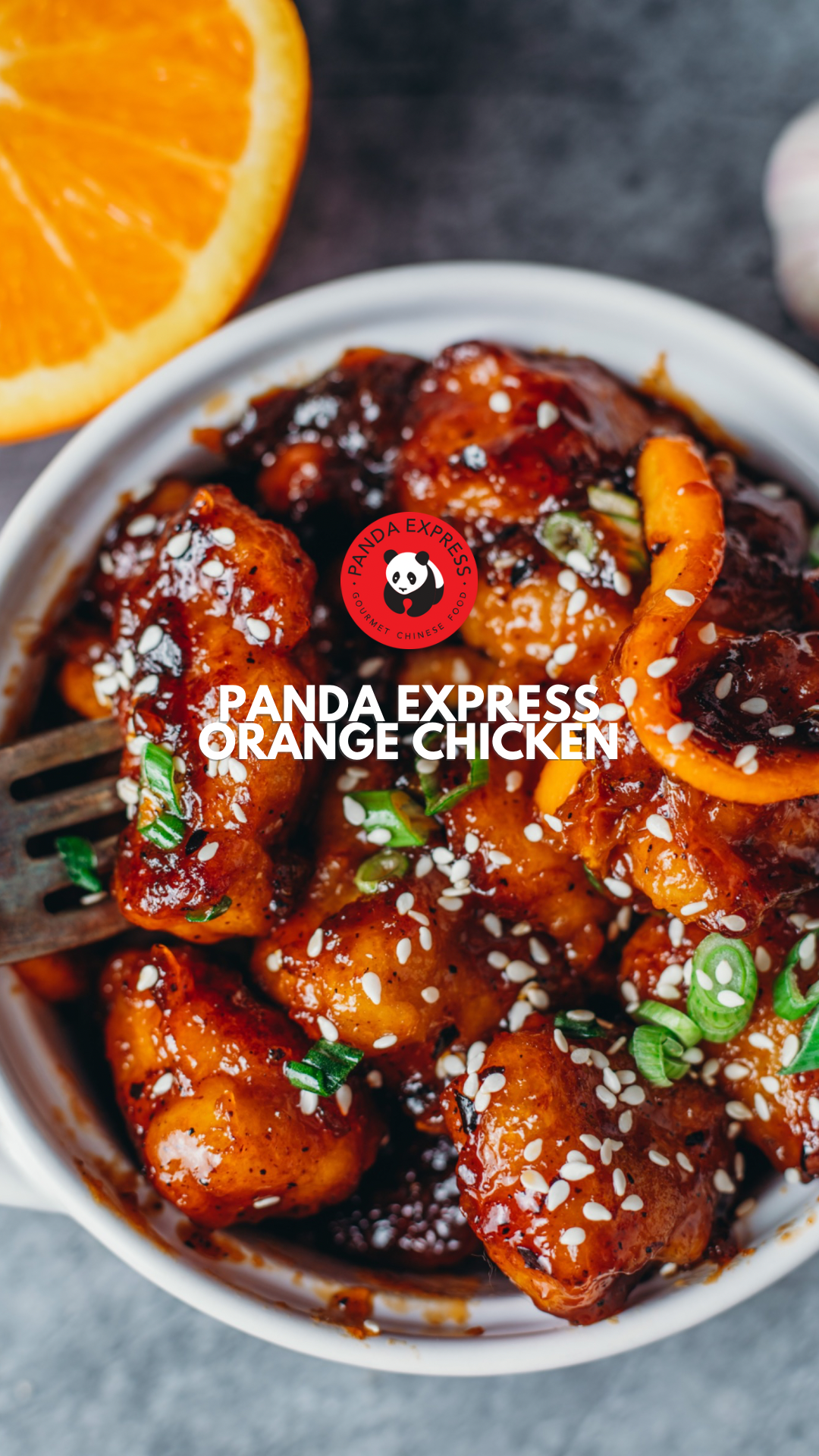 Here are some of the ingredients used in this dish:
vital wheat gluten
orange juice
oranges/orange zest
ginger
garlic powder
chili / red pepper flakes
rice vinegar/white vinegar
brown sugar
sriracha
soy cauce
salt
sesame seeds
corn starch
green onions for garnish
Why you should try Vegan Copycat Orange Chicken today
The end result of this recipe is a vegan version of Panda Express orange chicken that tastes just as good as the original, if not better. The seitan provides the chewy texture that is similar to chicken, and the orange sauce is sweet and tangy, just like the original. Plus, by using seitan, you are getting a high-protein plant-based dish which is a win-win for health conscious people.
It is worth mentioning that this recipe is not an exact replica of Panda Express orange chicken but its a vegan version that mimic the taste and texture to some extent. For those who miss the taste of orange chicken or looking for a vegan alternative, this recipe is a great option. Plus, it is easy to make and can be prepared in advance for a quick and easy weeknight meal.
After all is said and done, if you are a vegan looking for a delicious and satisfying alternative to Panda Express orange chicken, give this recipe a try. With seitan, you can enjoy the same taste and texture as the original without compromising your beliefs. It's a dish that will be enjoyed by vegans and non-vegans alike, and it's a great way to introduce more plant-based options into your diet.
Frequently Asked Questions about Copycat Panda Express Orange Chicken
What is seitan?
Seitan, also known as wheat gluten, is a versatile protein source that is often used as a meat substitute in vegan and vegetarian dishes. It's made from wheat gluten flour, which is the main protein found in wheat. It has a chewy texture that makes it an ideal replacement for chicken in a dish like orange chicken.
Is seitan healthy?
Seitan is high in protein and relatively low in calories, making it a great option for those looking to increase their protein intake on a plant-based diet. However, it is important to note that it is made from wheat gluten, which may not be suitable for those with gluten sensitivities or allergies. Try using MyFitnessPal for all information regarding carbohydrates, fiber, protein, calories etc.
Where can I find wheat gluten flour?
Wheat gluten flour can typically be found in health food stores or online. Some larger grocery stores may also carry it. We got ours in bulk at our local bulk barn for those of you living in Canada.
Can this recipe be made gluten-free?
It's possible to make this recipe gluten-free by using a gluten-free flour mixture instead of wheat gluten flour, However the texture may not be identical to Seitan but still this can be a good option for gluten-sensitive people. Also, try using tofu (soft tofu, medium tofu, firm tofu or extra firm tofu depending on your desired texture for the perfect orange tofu recipe).
How do I store the leftovers?
Any leftovers can be stored in an airtight container in the refrigerator for up to 3 days. It can be reheated in the microwave or on the stovetop before serving.
Where can I find more copycat recipes like this?
Try these Copycat Taco Bell Nacho Fries or these Copycat Little Caesars Crazy Bread Recipes feature on the itslivb.com blog! And don't forget to follow us on Instagram, Facebook, Pinterest, and YouTube @gregsvegangourmet & @itslivb
Print
Copycat Panda Express Orange Chicken (Vegan)
---
Author:

Total Time:

40

Yield:

1 batch
Seitan Chicken:
1 cup

vital wheat gluten

1 tbsp

nutritional yeast

1 tbsp

chickpea flour.

3/4

–

1

cup vegan chicken broth or vegetable broth
Breading:
1/2 cup

all-purpose flour

1 cup

breadcrumbs

1 tbsp

paprika salt & pepper to taste

2

–

1/2

cups broth for simmering
oil for frying
The Orange Sauce
1 cup

orange juice

3

slices of orange

1 1/2 tbsp

white vinegar

1/2 tbsp

sriracha (add more if you like extra spice)

3 tbsp

brown sugar
thickening slurry using 1 tbsp corn starch & 1 tablespoon water

1 tbsp

soy sauce

2 tsp

chili flakes

1 tsp

garlic powder

2 tsp

minced ginger

2 tbsp

oil

1 tsp

white or black sesame seeds

1 tbsp

chopped green onion
---
Instructions
Make the seitan chicken: Whisk together seitan dry ingredients until combined. Add broth and stir until it forms a dough ball.
Knead a few times with your hands until dough has no dry spots.
Add rest of broth to instant pot. Rip off chunks of seitan and add to pot. Cook on "manual" for 15 minutes. Once it is done, quick release steam.
Meanwhile, whisk together breading ingredients. When seitan is done, toss in the breading mixture until coated.
Heat a large frying pan with oil. When hot, add seitan and fry a few minutes per side until crispy and golden brown. Remove from pan and plate into a paper towel-lined bowl to rest. (NOTE: If you don't want to bread the chicken bites, simply toss in cornstarch and cook using the same instructions)
Make the sauce: In a medium sauce pan over medium heat, add the oil, garlic powder and chili flakes. toast for approximately 1 minute before adding in the orange juice, minced ginger, vinegar, sriracha, brown sugar and soy sauce. simmer for 3-4 minutes and fully combine.
Add the orange slices and the cornstarch mixture to thicken. Once fully combined, add the seitan chicken bites, letting them fully coat and simmer until sauce is thickened and sticking to the bites. Remove from heat and serve with green onion and white sesame seeds to garnish.
Prep Time:

10

Cook Time:

30