For those of you who saw my skincare routine video, you'll know I struggle with rosacea. Rosacea is a skin condition that is characterized by frequent flushing or blushing and a generally bright red appearance to the skin on the face. My rosacea is only on my cheeks and chin, and I have had it for as long as I can remember. I struggled with acne as a teenager and it definitely left some scarring, but I have also always had big red patches on my face from the rosacea that get worse with spicy food, sun exposure, exercise and drinking alcohol.
While I have tried different products and creams to calm the redness on my face, it is very persistent. Through my research on rosacea treatments I eventually found IPL which is Intense Pulsed Light photorejuvination- a type of laser therapy. IPL photo rejuvenation can be used to treat sun spots, redness, rosacea, broken capillaries, acne, acne scaring, fine lines and wrinkles.
I found a local clinic here in Halifax called Cresthaven Laser (check out their site here) that does IPL and decided to give it a try. Since I have been open about my struggle with rosacea, I thought I would document my IPL treatment so you can see my experience and see how my skin progresses/if it works for me. So far I have had 2 treatments and have 4 more to go. The treatments are typically 1 to 2 weeks apart so in total mine will run about 6 to 8 weeks total.
Each session only lasts about 15 minutes (with the actual laser part only taking about 5 minutes). Jennalee at Cresthaven Laser does my IPL treatments and she is amazing. I'll give you an idea of what the procedure is like, and then show you before and after photos of my first two treatments.
First, she removes my makeup and puts a towel-headband around my hair to keep it off my face. Then, she applies a gel (that is similar to the gel used in ultrasounds) to the places where the laser will be used. Then, you get to wear some cotton pads and special eye glasses to protect your eyes from the intense light. After that, she uses the laser on the rosacea-affected areas. I know a lot of people will wonder if it hurts, so I'll do my best to explain what it feels like. I have a very low pain tolerance generally. I'm terrible with needles and avoid anything that might cause me physical pain. The feeling of the laser is definitely uncomfortable, but it is tolerable. It is described as "snapping elastic against your skin". The sensation is very quick and localized and only lasts about a second with each pulse.
My face (which gets red even just by putting water on it) always gets really red after the laser. The first time was the worst, with the redness being the brightest and lasting the longest. However, after my second treatment I noticed the redness from the heat and light was significantly reduced and went away faster too. Typically I notice a difference in my skin a few hours after the treatment, after the initial redness from the treatment has subsided.
Here is a before photo of my bare skin before starting IPL photorejuvination. I look a bit funny because I only have makeup around my eyes, but try to ignore that haha.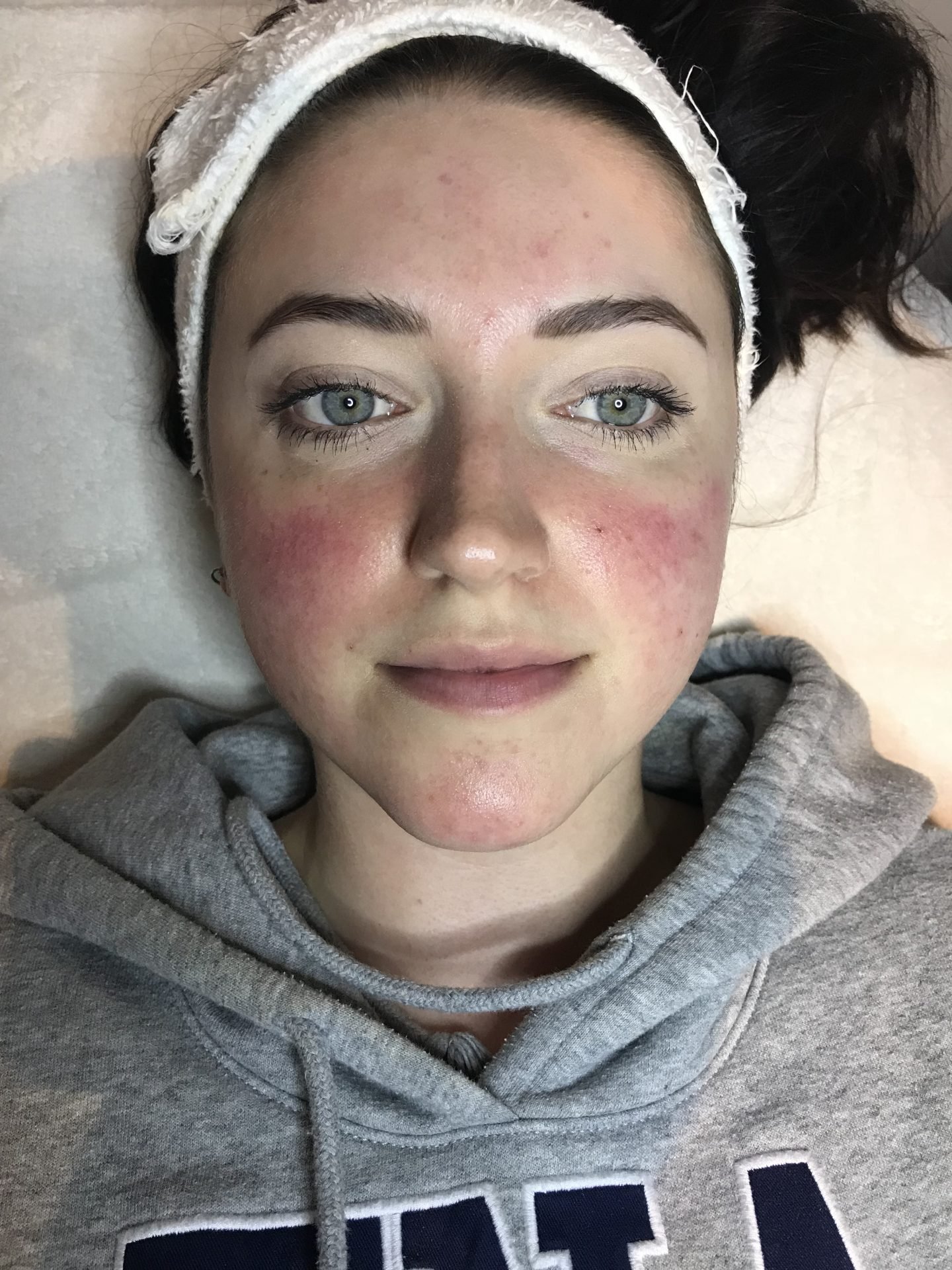 Here are some photos of during the procedure and then the redness directly afterwards. Spot my cool glasses ;).
This photo directly above is how red my face gets right after the procedure. After this she puts on some soothing balms and also does a little massage that gets the blood flowing. Then she applies a serum and sunscreen. Avoiding sun exposure for the duration of the treatments is essential, so if you go outdoors, make sure to wear sunscreen, a hat and stay in the shade as much as possible.
Here is a photo of 1 hour after the treatment. The redness goes down quite a bit even in that first hour.
And here is a photo of a few hours after the treatment. As you can see, the redness subsided A LOT, especially on my chin and the sides of my cheeks.
EDIT: JUNE 6, 2019
It's been a few months since I finished all my treatments so I wanted to do an update! I made a video all about my experience (and included a before and after photo) so I will link that here for your viewing pleasure.
Recently I did a campaign for Rosacea Awareness Month where I shared a no makeup selfie and encouraged other to do the same. It was only a little bit scary, because I still typically don't go bare faced on Instagram. But it was also empowering.
My skin is far from blotchy and dark red like it used to be. It's more of an overall pink flush, with my cheeks sometimes getting red/hot if I have alcohol or spicy food. overall the feeling of my skin is MUCH more even in temperature (instead of my cheeks always feeling SUPER hot). I also notice that when I work out my skin doesn't feel so hot and irritated, which is amazing. Overall I recommend IPL treatments to anyone who is a candidate for it! It made me much more comfortable in my skin (literally) because the hot and flushed feeling is mostly gone, and it also made wearing makeup MUCH more enjoyable. I even switched to a tinted moisturizer instead of foundation and have been loving it. It allows my natural skin to show through a bit, but still provides a bit of coverage and protection, which makes me more confident in public (see next photo).
If you have any questions, feel free to leave them below. I hope this was helpful!