This Iced Brown Sugar Oat Milk Shaken Espresso is the ultimate Starbucks dupe! Homemade brown sugar syrup with hints of cinnamon and vanilla, shaken with espresso and finished with creamy oat milk. This frothy, homemade version absolutely beats the Starbucks version!
What is a Brown Sugar Shaken Espresso?
If this is the first time you've come across this Starbucks inspired iced coffee, don't be intimidated! I first came across this coffee drink on Tiktok in 2021. A girl who works at Starbucks shared a video of herself making their new drink – at the time it was set to launch in two weeks.
I got way too excited and decided I needed to learn how to make a homemade version NOW.
Shaken espresso is simply espresso shaken vigorously with ice and syrup until foamy. In this particular recipe, this shaken espresso is mixed with a dreamy brown sugar syrup until frothy, then finished with creamy oat milk. Trust me, it's love at first sip!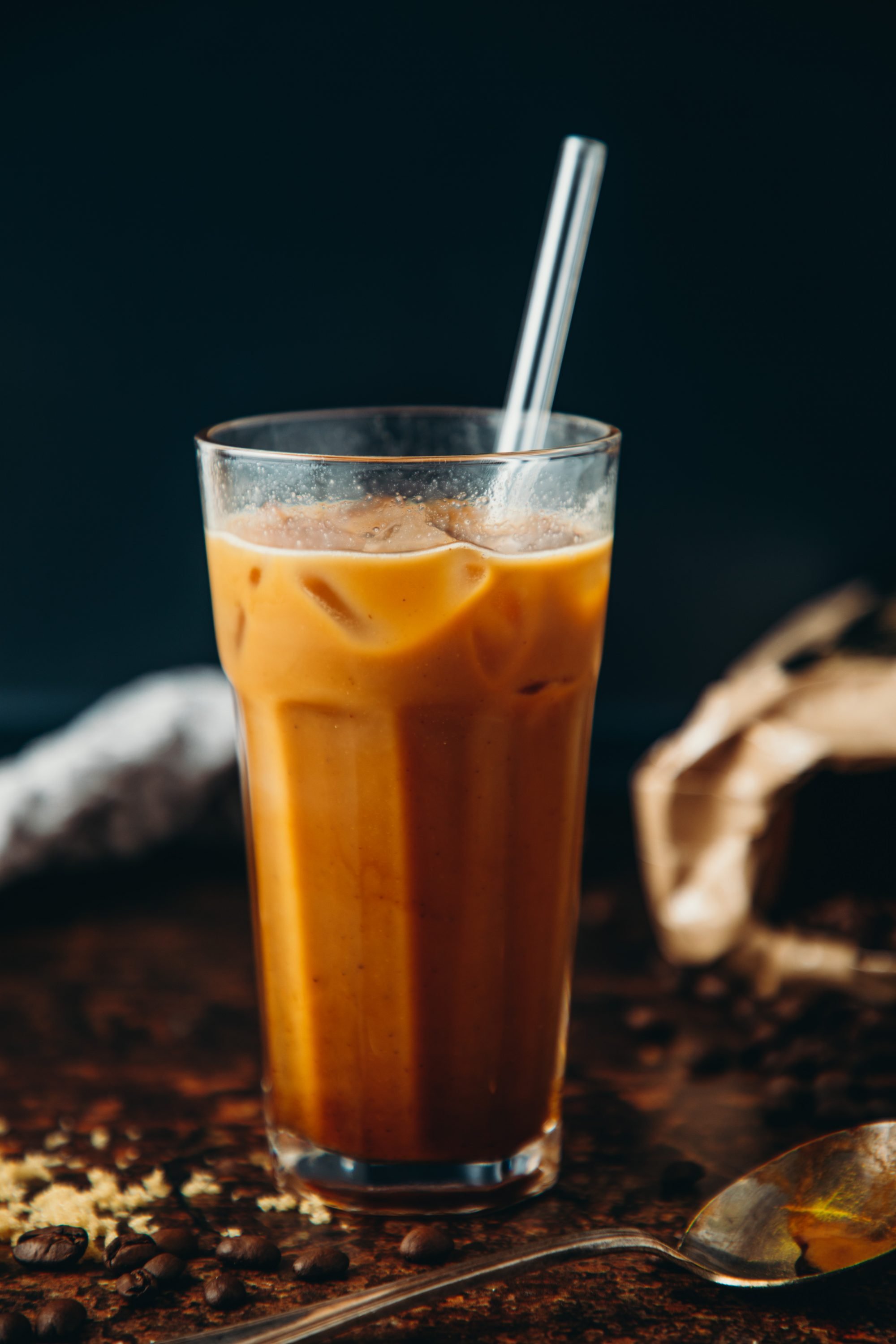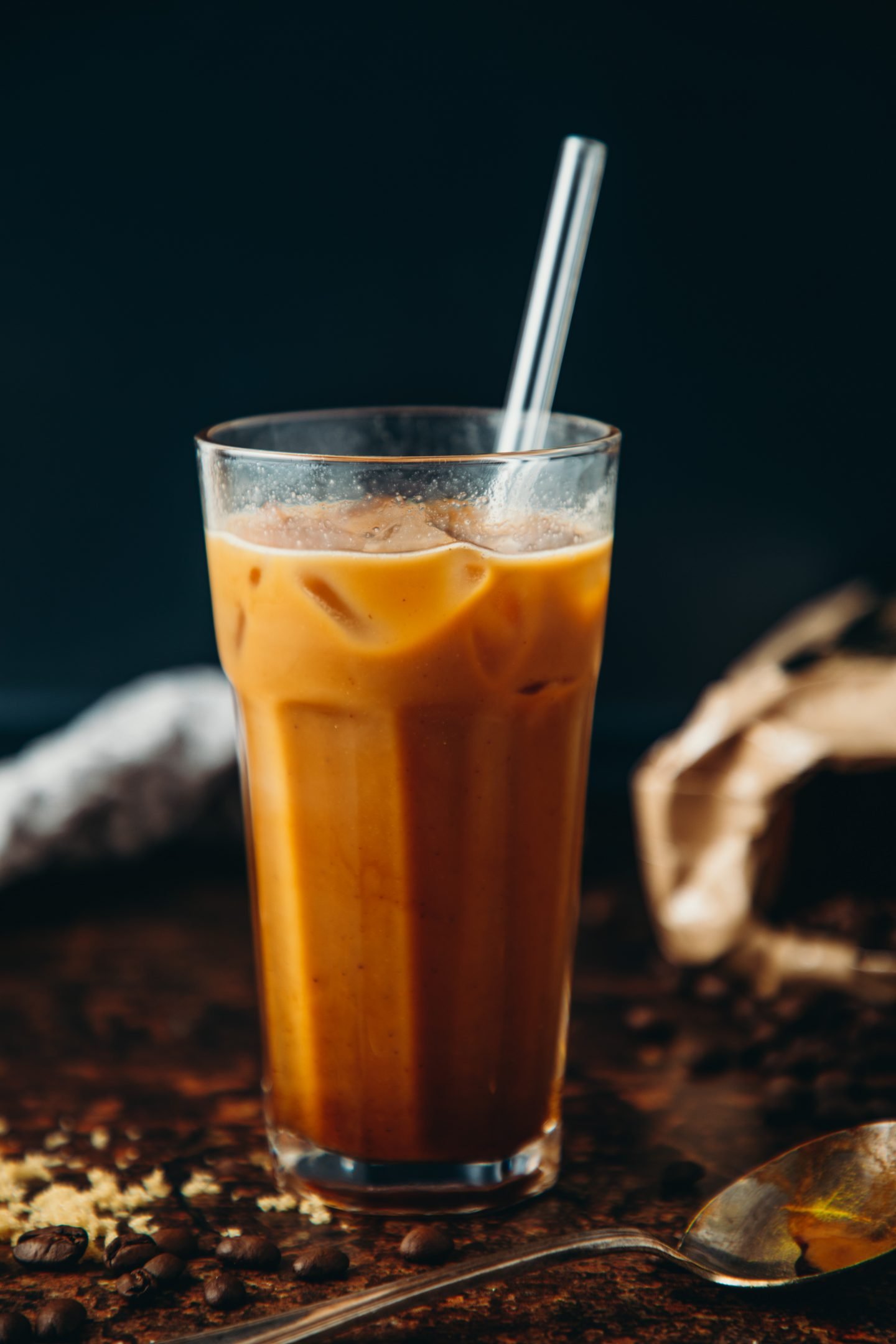 Why You'll Love This Easy Copycat Recipe
It's cheaper.

Going to Starbucks is fun and something I do from time to time, but it's no secret that it's expensive! Make this brown sugar espresso drink from the comfort of your own home for a fraction of the price.

It's easier to customize.

Prefer a sweeter drink? Add more syrup! Need a stronger caffeine boost? Add an additional shot of espresso. You can also use any kind of milk you like.

Simple homemade brown sugar syrup.

Making syrups from scratch is actually quite easy and much better for you than the pre-made ones at coffee shops. Once you try this one, you'll be hooked!
If you love this recipe, you must try my Iced Toasted Vanilla Oat Milk Shaken Espresso and Iced Pumpkin Spice Brown Sugar Oat Milk Shaken Espresso, too!
Key Ingredients and Substitutions 
Brown sugar syrup –

Starbucks of course uses their own pre-bottled brown sugar syrup, but I've cracked the code on the BEST at home syrup. All you need is brown sugar, a dash of cinnamon, water, and vanilla. If you want a bolder flavoured syrup, use dark brown sugar.

Coffee –

To make the most authentic coffee, it is best to use espresso shots using a home espresso maker. If this isn't an option, the next best thing would be about 1/2 a cup of strong coffee or cold brew. The more concentrated the coffee, the better.

Oat milk – Starbucks' coffee shop developed this recipe using unsweetened oat milk and I almost always have it on hand, so that's what I used. You can of course use your favorite oat milk brand or any non-dairy milk of choice. Coconut milk, almond milk or soy milk would be great, creamy alternatives.
How to Make an Iced Brown Sugar Oatmilk Shaken Espresso
Start by making the brown sugar syrup.

In a small frying pan or small saucepan over medium-high heat, add the brown sugar, ground cinnamon, water, and vanilla extract. Whisk to combine. Once simmering, lower the heat and simmer the brown sugar mixture for an additional 3-5 minutes, or until the sugar has completely dissolved and the syrup has slightly thickened. Set aside while you prep the rest of the drink.

Next, brew the espresso.

Place the shots of espresso in a glass mason jar along with 3 tablespoons of the brown sugar syrup and a few ice cubes. Shake vigorously for about 1-2 minutes, or until frothy.

Serve.

Divide the espresso mixture between two glasses filled with ice, then top with oat milk. Stir and enjoy immediately!
Storage Tips
As with any iced coffee, these iced shaken espressos are best enjoyed fresh. However, the brown sugar syrup recipe can be stored for up to 2 weeks in the fridge. For optimal freshness, store in an airtight container, such as a glass mason jar.
You can make a double batch or even quadruple batch of the simple syrup recipe, if desired. That way you can make these all week and it will be faster than driving to your local Starbucks!
Recipe FAQs 
Is the brown sugar oatmilk shaken espresso sweet?
Yes, this iced coffee is sweetened. The best part about making it at home is you can adjust the sweetness to taste according to your personal preferences. If you typically enjoy your coffee without sugar or very lightly sweetened, start with just 1 1/2 tablespoons of syrup, then adjust as needed. Remember that it is always easier to add sweetener and difficult to adjust once it's too sweet.
Can I make this Starbucks copycat recipe decaf?
Absolutely! Swap the caffeinated espresso with decaf and follow the recipe as usual. It will taste just as good as the caffeinated, real thing.
Do I need a cocktail shaker to make this recipe?
A cocktail shaker is a good option to vigorously shake iced drinks but not necessary. A simple mason jar with a tight fitting lid works just as well.
More Starbucks' Copycat Recipes to Try Next
Print
Iced Brown Sugar Oat Milk Shaken Espresso Latte Recipe
---
Author:

Total Time:

15 mins

Yield:

2 lattes
Description
Homemade brown sugar syrup with cinnamon and vanilla, espresso shaken with ice and its all topped with creamy oat milk.
---
Brown Sugar Syrup:
4 tbsp

lightly packed brown sugar

1/2 tsp

ground cinnamon

6 tbsp

water

1 tsp

vanilla extract
Lattes:
2

double shots of espresso
a mason jar or cocktail shaker with a few ice cubes

2

glasses filled half way with ice
oat milk (as much as you need to top up the cup)
---
Instructions
In a small frying pan or pot on the stove, add the syrup ingredients and heat on medium-high, whisking to combine. Once it starts simmering, lower the heat to medium-low and simmer about 3-5 minutes, stirring frequently, until sugar has completely dissolved and syrup has thickened just slightly. Remove from the heat and set aside.
Brew two shots of espresso or about 1/2 cup of very strong coffee. Add to the mason jar with 3 tbsp of syrup and a few ice cubes and shake vigorously for about 1-2 minutes.
Add some more ice to each glass. Divide the espresso mixture between the glasses. Add oat milk to top it up. Stir and enjoy!