This cost effective homemade Just Egg mix is made with just 9 easy ingredients with very little hands on prep. Use it for homemade omelets, western sandwiches, or vegan breakfast burritos, desserts, and more.
Why You'll Love This Recipe 
Cheaper than Just Egg.

The

store-bought Just Egg product

is delicious and incredibly convenient, but it is on the pricier side, especially in Canada! Learn how easy it is to make it at home and enjoy it for a fraction of the price. If you're looking for even more budget friendly vegan recipes, don't forget to check out my cookbook,

Liv B's Vegan on a Budget

.

Simple ingredients.

All you need is split mung beans plus 8 ingredients (including salt and pepper!).

Made without tofu or chickpeas.

Tofu scramble and chickpea eggs are some of the more popular vegan egg substitutes, but these versions won't work for everyone. This vegan egg is soy-free, high-protein, and another delicious plant-based alternative to switch things up.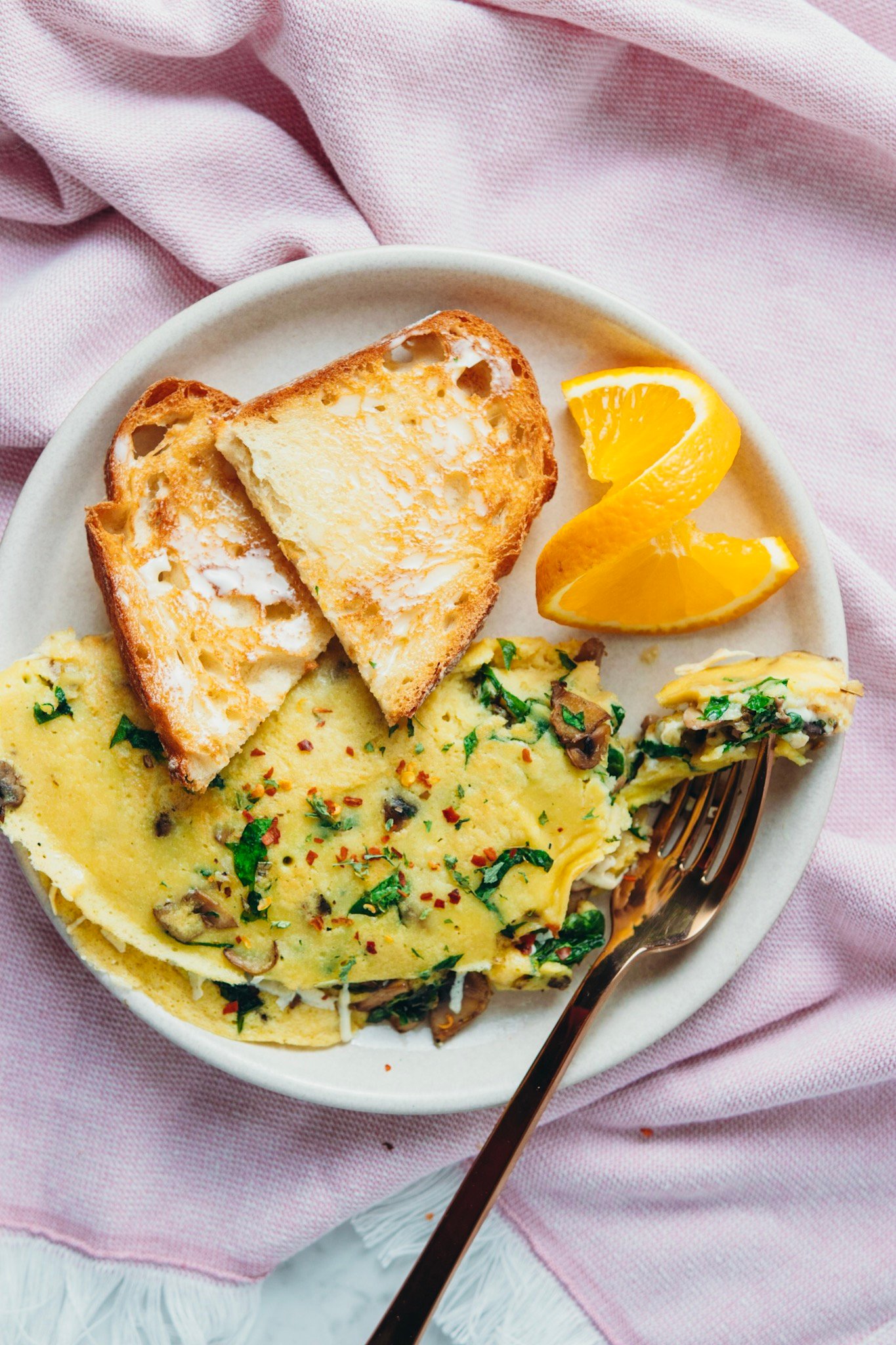 Key Ingredients and Substitutions 
Yellow split mung beans –

If you've ever purchased Just Egg and looked at the ingredients, you'll know the most prominent ingredient is mung beans. For the best copycat version, purchase and use yellow split mung beans. This legume is often found in the Asian section of your supermarket. They can also sometimes be called Moong dal. Order it online if needed!

Non-dairy milk –

Any plant milk will do. I like to use creamy unsweetened oat milk.

Oil –

Any neutral cooking oil is best. I like to use canola oil, but vegetable oil, sunflower oil, or light olive oil will work well.

Baking powder –

Makes the vegan eggs light and fluffy!

Nutritional yeast –

Adds a cheesiness and a yellow colouring without dairy. If you want your eggs to be an even darker yellow colour, add up to 1/4 teaspoon turmeric.

Kala namak (black salt) –

Optional, but helps add a very realistic eggy flavour to the egg mix.
How to Make Homemade Just Egg
Soak the mung beans overnight.

The first step is to add dry mung beans to a bowl and cover with water. The mung beans will absorb a good amount of water, so make sure the beans are covered by about an inch of water.

Drain and blend smooth.

The next day, drain the mung beans and place them in a high-powered blender with the remaining homemade egg ingredients. Blend until completely smooth.

Store for up to 1 week.

Transfer the liquid to a glass jar or an airtight container and store in the fridge for up to one week.
How to Make a Vegan Egg Omelette
Heat and grease a nonstick pan.

Place your frying pan over medium/high heat. Once warm, spray or lightly grease the pan with your favorite cooking oil or vegan butter.

Add in optional veggies and vegan sausage!

If you want to make this a veggie packed egg breakfast, add your veggies and other add-ins to the pan here before pouring the egg mix in. This will cook the veggies into the egg, similar to an egg scramble. Or, if you prefer a more traditional egg omelet, wait until the egg is cooked, add in the cooked veggies and vegan cheese and fold together.

Pour in 1/2 cup of homemade just egg.

Lift and tilt the pan until it forms a thin, large circle in the bottom of the pan.

Cook until golden brown.

Once the edges are cooked and small bubbles form all over the surface (similar to making pancakes!), flip the vegan egg and cook on the other side until golden brown.
For a visual, watch my Youtube channel and cooking demo where I show exactly how I like to cook my vegan Just egg substitute!
More Ideas for Using
This homemade liquid egg can be used for more than just scrambled eggs! You can use it for both sweet and savory recipes. If using in sweet recipes, such as french toast, omit the garlic powder and onion powder. Essentially any recipe that calls for Just Egg or a vegan egg can be substituted with this homemade just egg!
Here are a few use ideas to help inspire you:
Savory Breakfast Ideas
Vegan breakfast casserole

Breakfast burrito

Vegan eggs benedict
Sweet Homemade Just Egg Ideas
Vegan french toast or french toast casserole

Pancakes and waffles

Crepes

Crème brûlée

Baked goods like vegan lemon curd, cakes and cookies
Recipe FAQs 
How much Just Egg equals 1 egg?
About 3 tablespoons of just egg is equivalent to about 1 large chicken egg. If you are making a recipe that calls for 2 eggs, try replacing it with 6 tablespoons of this homemade just egg mix.
Can I freeze this homemade Just egg mix?
I have personally not tested it, but if you'd like to feel free! It may freeze better after being cooked as opposed to before.
Is this homemade just egg vegan?
Yes! This homemade Just egg mix is completely vegan and safe and healthy to consume on a vegan diet.
Can I replace the mung beans with another legume?
Since sharing this recipe, I've had several readers ask if they can use another legume such as red lentils, split peas, or whole mung beans. Unfortunately I have only tested this using split mung beans and do not know how another legume will compare.
Tips for Success
Use a non-stick pan.

This is essential to prevent the egg mix from sticking to the pan. If you use a stainless steel pan, cast iron, or any other pan that does not have a great nonstick coating on it, you are very likely to have difficulty flipping this without sticking.

Watch the heat.

Each stove top is different, and if your pan gets too hot, it can also cause the egg mix to stick to the pan. Gas ranges tend to heat faster and hotter than electric stoves. If you find your pan appears too hot, don't be afraid to lower the heat and cook lower and slower.

Use a high speed blender.

Some readers have had trouble getting this egg mix to the right smooth consistency. Make sure to use a high-powered blender, such as a Vitamix or Blendtec. Low-powered blenders are going to have difficulty getting this mix to the right consistency and it will be on the thick side.
More Vegan Breakfast Recipes to Try Next
Print
Homemade Just Egg Recipe
---
Author:

Total Time:

0 hours

Yield:

~ 2 cups
Description
Today I am showing you how to make a vegan egg mix that can be used for omelets, western sandwiches and breakfast burritos! This is similar to "JUST Egg" but this is a much more cost effective version. Make sure to add black salt (Kala namak) is you like a real eggy flavour.
---
¾ cup

dry yellow split mung beans (moong dal), soaked

1 cup

nondairy milk

1

–

½

tsp salt

Lots of cracked black pepper

2 tbsp

neutral oil such as canola

1 tsp

baking powder

2 tbsp

nutritional yeast

¼ tsp

garlic powder

1/4 tsp

onion powder

Optional: ½ tsp black salt (kala namak) if you like a real eggy flavour
---
Instructions
Add dry mung beans to a bowl and cover with water (should be about an inch of water on top once soaking). Soak overnight.

Drain mung beans and add to a blender with all other ingredients. Blend until smooth.

Add to a glass jar or airtight container and store in the fridge up to one week.
Omelet:
Heat a nonstick frying pan on medium/high heat. Spray or lightly grease the pan with oil.

Once hot, pour ½ cup of omelet mixture into the pan and lift + tilt the pan until it forms a thin, large circle in the bottom of the pan.

Cook until edges are cooked and small bubbles form all over the surface. Flip and cook on other side until golden brown. 

I like to add veggies into the pan before pouring in the egg mix so they are cooked into the egg. You can also just add them onto the cooked omelet with some vegan cheese and then flip it in half to hold it all together. (See video below for demo & more ideas on how to use it!)
Prep Time:

10 mins + soak overnight