These Vegan Buttermilk Pancakes are the best, thick and fluffy vegan pancakes. Whip up a stack this weekend in 20 minutes or less with simple ingredients you can find anywhere.
Thank you Almond Breeze for sponsoring this post!
I have been experimenting with this pancake recipe for a while, and am finally ready to share the perfect pancake recipe. I LOVE pancakes that are light and fluffy and thick, but still simple enough to whip up in the morning and these check every box.
Why You'll Love This Recipe 
No complicated ingredients.

Many vegan pancake recipes contain a long ingredient list, but I wanted to keep this fluffy vegan pancake recipe as simple as possible. No flax egg, funky flour substitutes, or expensive sugar alternatives.

Tastes just like classic pancakes.

No one would ever guess that these pancakes are vegan – they taste just like the real thing and are approved by hundreds of pancake lovers.

Easy to customize.

Below I've shared several substitutions you can make to suit your pantry and use what you have on hand, including a gluten-free option.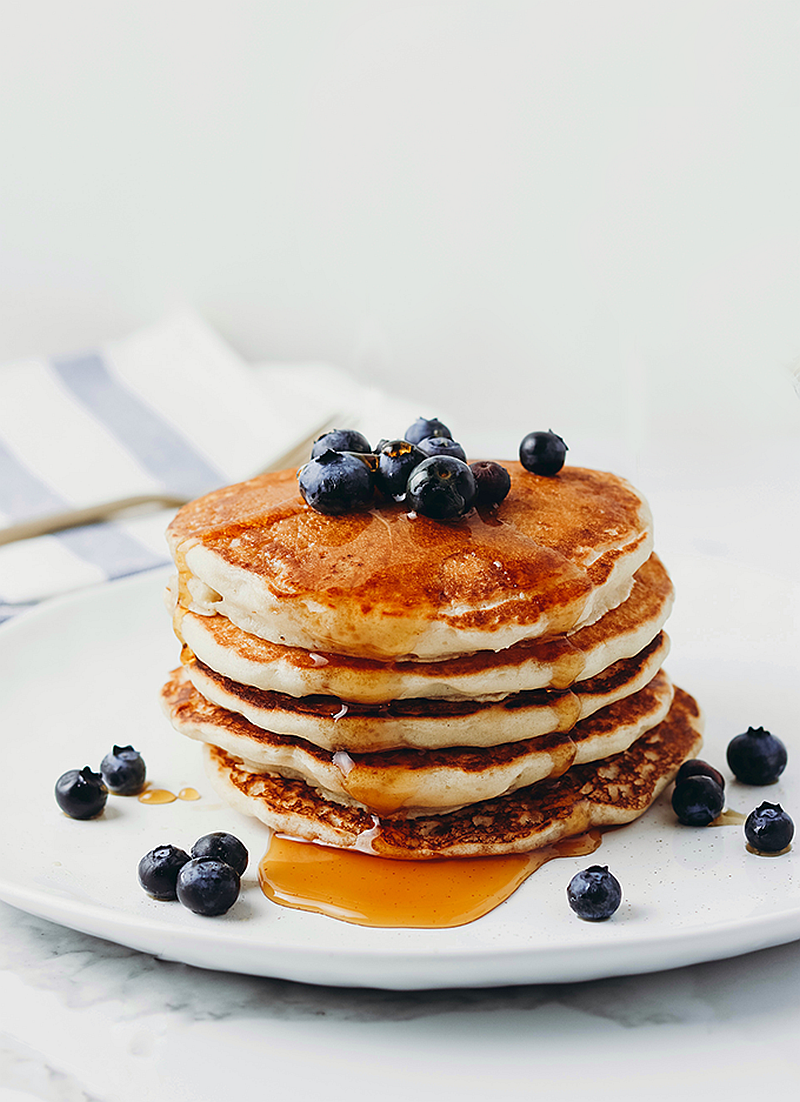 Key Ingredients and Substitutions 
Almond milk –

I love using lightly sweetened, original Almond Breeze, but really any plant milk will do. Coconut milk, soy milk, or oat milk are great choices.

Apple cider vinegar –

This acid helps the almond milk curdle and creates your own vegan buttermilk. White vinegar is another option, if you are out of apple cider vinegar.

Flour –

For the fluffiest vegan pancakes, I'd recommend using the classic all-purpose flour. or a combination of regular flour and whole wheat flour. If you are gluten-free, a gluten-free flour blend such as Bob's Red Mill will work.

Baking powder –

The key to making the pancakes tall and thick.

Sugar –

A couple tablespoons of granulated sugar adds a light sweetness. I used granulated cane sugar, but another sugar such as light brown sugar or coconut sugar are alternative options.

Oil –

Helps keep the pancake batter soft, fluffy, and adds a nice, cozy flavour. Any light tasting oil will do – try olive oil, avocado oil, vegetable oil or even melted coconut oil.
How to Make these Vegan Buttermilk Pancakes
Start by making the vegan buttermilk.

Combine the cup of non-dairy milk and apple cider vinegar, give it a stir, then set aside while you prepare the rest of the pancake mix.

Mix the dry ingredients.

In a large mixing bowl, add the flour, sugar, pinch of salt and baking powder. Whisk it really well to make sure it is all combined.

Pour in the buttermilk mixture.

Add the buttermilk mixture along with the oil to the dry ingredients. Using a wooden spatula, mix until just combined. There should be no dry flour left, but it will still be pretty lumpy.

Heat your frying pan.

Once hot, spray with cooking spray of choice, then add 1/3 cup of batter, pouring it into a round circle.

Cook the pancakes.

When the edges begin to lift and bubbles form on top of the pancakes, take a peak underneath. If it is golden brown, flip to the other side. Cook for an additional 30 seconds to 1 minute on the other side (the second side takes much less time to cook).

Serve.

Enjoy these vegan buttermilk pancakes immediately while hot.
Ideas for Serving
Buttermilk pancakes are a breakfast classic, but make a delicious meal any time of day. Readers have shared enjoying these pancakes with additions like ground cinnamon, chocolate chips, sliced banana with peanut butter, or coconut shreds. However you like them, serve alongside some of my other morning favorites such as tofu scramble, vegan tofu bacon or sausage, and breakfast potatoes, like these Everything Bagel Air Fryer Potatoes.
Or, keep it simple and enjoy with a pat of vegan butter, maple syrup, and your favorite fresh fruit!
How to Store
If you don't eat the entire stack in one sitting, these vegan buttermilk pancakes can be refrigerated or frozen in an airtight container or freezer bag and eaten at a later date. Before storing, allow the leftover pancakes to cool to room temperature. Enjoy within 5 days if refrigerated or within 2-3 months if frozen. Pancakes can be reheated in the microwave or on the stovetop in a skillet until warmed through.
Recipe Troubleshooting
Why did my pancakes come out chewy?
Chewy or gummy pancakes are usually a result of over mixing the pancake batter. Over mixing whips air into the batter and over-activates the gluten. In turn, this causes the batter to become tough and stringy and will result in tough pancakes. For the lightest, fluffiest pancakes, use a light hand and mix just until combined. If needed, watch me make these pancakes on my Youtube Channel to help you see how gently I mix.
Why are my pancakes uncooked in the middle?
It sounds like the pan may have been too hot. If the heat is turned too high and the skillet is too hot, the outside of the pancakes will brown very quickly while leaving the inside gooey and uncooked. For best results, lower the heat and be patient! It will take a few minutes for the surface of the pancakes to begin to form air bubbles and be ready to flip.
How can I prevent my vegan buttermilk pancakes from sticking to the pan?
If you are using a nonstick pan or well seasoned cast iron skillet, the pancakes should not stick when lightly greased with oil or vegan butter. If your pancakes are sticking to the pan, it may be too hot or not have a good non-stick coating on it.
Similar Vegan Pancake Recipes to Try Next
Print
Vegan Buttermilk Pancakes Recipe
---
Author:

Total Time:

20 minutes

Yield:

4 large pancakes
Description
These pancakes use minimal ingredients that you can find at any store, and with a little practice it is easy to get the hang of nailing the perfect pancakes every time.
---
1 tsp

apple cider vinegar

1 cup

all-purpose flour

2 tsp

baking powder

2 tbsp

sugar
pinch of salt

1 tbsp

oil
---
Instructions
Combine the Almond Breeze Original Almondmilk and apple cider vinegar, stirring well. Set aside.
In a mixing bowl, whisk together flour, baking powder, sugar and salt.
Add the oil to the almondmilk mixture and stir. Then pour into dry mixture.
Mix until JUST combined. Lumps are okay! Do not over-mix. See video for what the batter should look like.
Heat a frying pan to medium heat. Spray oil lightly onto pan.
Using scoop batter into round pancake shapes, leaving some room for spreading. I usually do 2 at a time. BE PATIENT! Let it cook until bubbles rise to the surface then burst, and the edges start to look cooked. Take a peak underneath and if it is golden, flip to the other side. Cook about 30 seconds-1 minute on the other side (the second side takes much less time to cook).
Serve with butter and maple syrup!
Prep Time:

10 minutes

Cook Time:

10 minutes