These Chewy Vegan Chocolate Chip Cookies are one of my most popular recipes for a reason! They're slightly underbaked in the center, browned to perfection and so easy to make. You'd never guess they were egg-free, dairy-free, and made with basic pantry staples.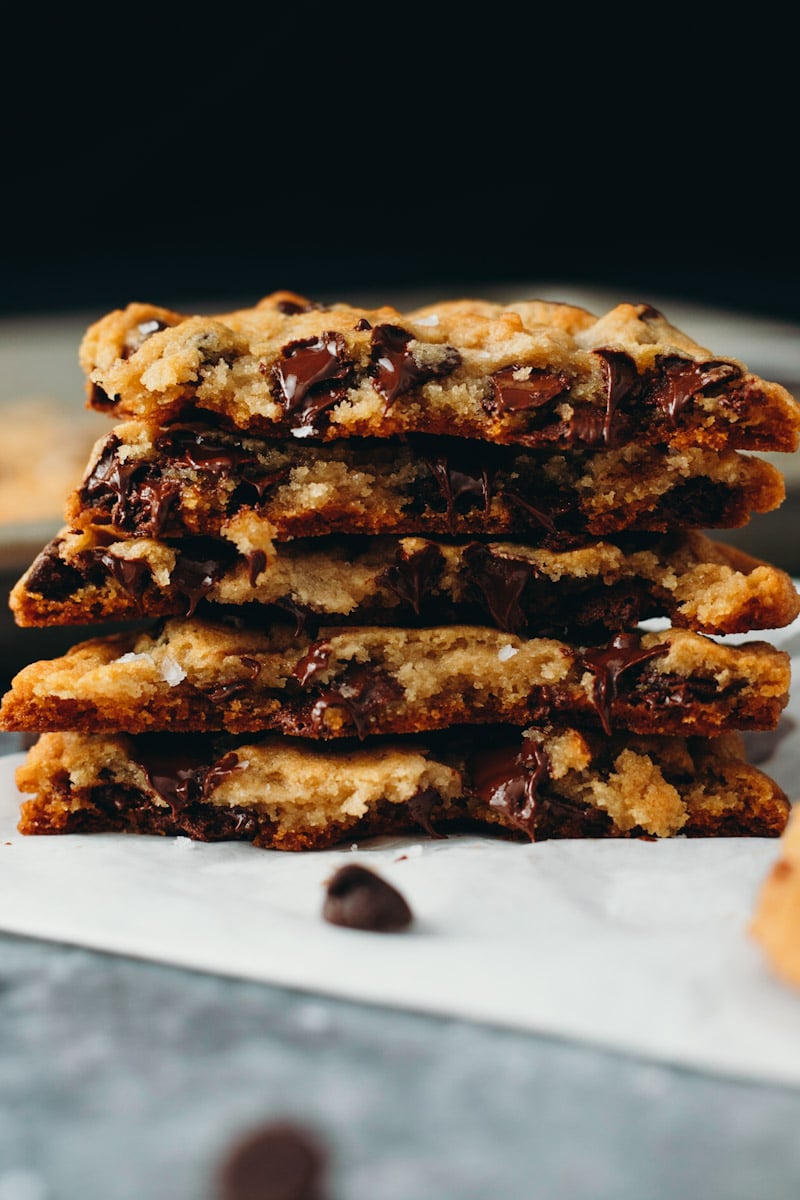 Why You'll Love These Cookies
No chilling the dough.

Nothing is worse than when a cookie recipe calls for chilling the dough for 30 minutes to 1 hour before baking. If you want quick, chewy cookies with no unnecessary steps, this recipe is for you!

No egg replacer needed.

If you grew up making regular chocolate chip cookies, the recipe likely contained eggs. Eggs are typically used in cookie dough to help keep the dough moist and add flavour. This vegan chocolate chip cookie recipe requires no vegan egg replacer at all. They're very moist and delicious without one!

Freezer friendly

. If you love baking cookies, but only want 1 or 2 at a time, freeze this cookie dough before baking and bake just a few cookies at a time when a craving strikes! Full instructions for freezing down below.
Key Ingredients and Substitutions 
Vegan margarine –

I prefer to bake these vegan chocolate chip cookies with vegan margarine by the brand Becel. It's a soft tub margarine and is lighter and fluffier than classic vegan buttery sticks. If you use vegan butter from brands like Earth Balance or softened coconut oil, I recommend adding 1-2 extra tablespoons of plant-based milk because these butters have less moisture than soft margarine.

Brown sugar –

My favorite brand to use is Redpath, but any brown sugar will work. For best results, lightly pack it into your measuring cup before creaming with the butter.

Flour –

I have only made these cookies using classic all-purpose flour. Some readers had success using gluten-free flour blends but I have personally not tested it myself and cannot say how similar the results will be. If you'd like to experiment, feel free to, but know that it can drastically change the end cookies.

Chocolate chips –

I used to use Costco's chocolate chip cookies, but they have since changed the formula to include dairy. Instead, use any dark chocolate chips or dairy-free milk chocolate chips you can find. A popular vegan brand is Enjoy Life. If needed, you can also substitute a chopped chocolate bar or your favorite chocolate chunks.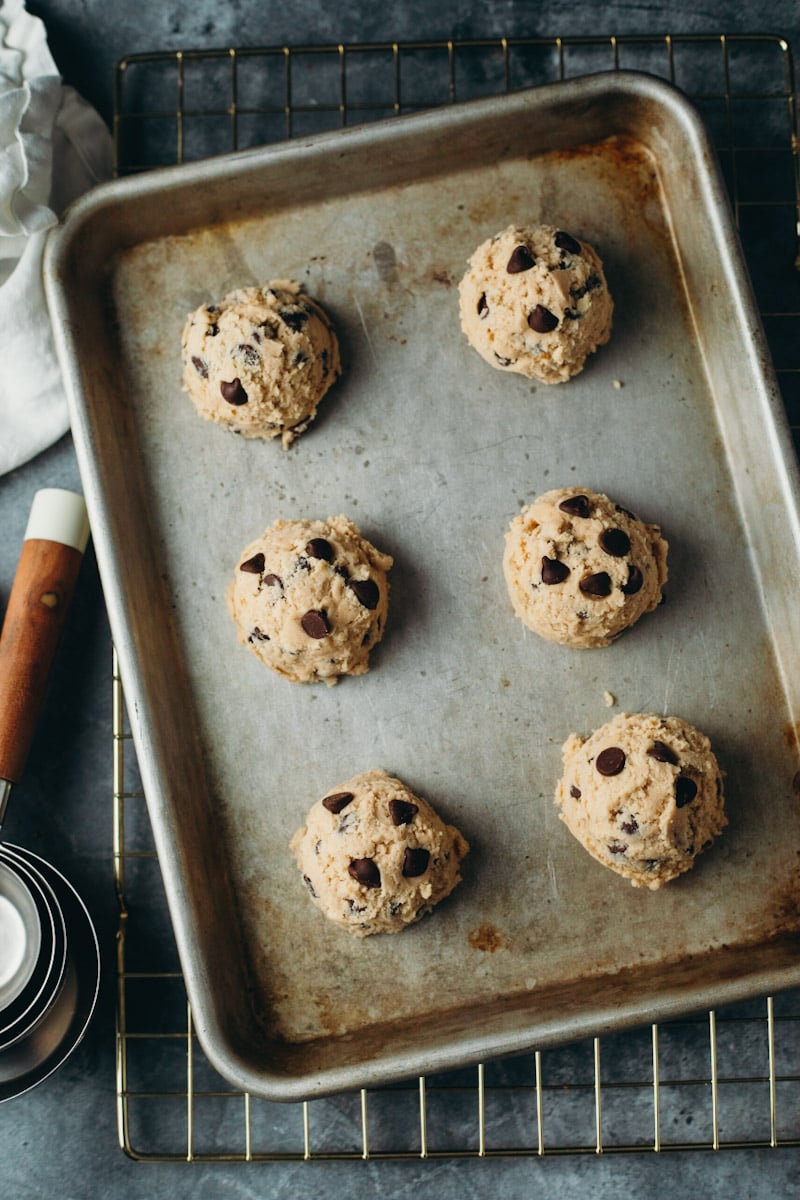 How to Make Vegan Chocolate Chip Cookies
Start off by creaming the vegan margarine and brown sugar together.

You can do this using a wooden spoon, but an electric hand mixer will make this process fast and easy. Mix in a large bowl until the butter and sugar mixture is light and fluffy.

Add non-dairy milk and vanilla extract.

Mix again to combine using an electric hand mixer or wooden spoon.

Combine the dry ingredients.

In a separate medium bowl, whisk the flour, baking soda, baking powder and flaky sea salt together. Make sure to do this well to evenly disperse the baking soda and baking powder. This will help the cookies rise evenly.

Add the dry ingredients into the wet ingredients.

I like to do this in two sections. First, add half of the flour mixture in and mix until it is well combined. Then add the other half and repeat the process until a cookie dough forms.

Mix in chocolate chips.

I typically use 1/3 cup, but you can use up to 1/2 cup if you love your cookies with extra chocolate.

Roll the cookie dough into individual balls.

I recommend making them about 2 tablespoons in size. You can scoop the dough using a regular spoon or cookie scoop. It does not have to be perfect, but try to make them roughly the same in size.

Bake.

Place the cookie dough balls on a non-stick baking sheet and transfer to the oven to bake for 9-11 minutes, or until puffy. No parchment paper is needed – the cookies will come off of the baking sheet easily!

Cool slightly then enjoy.

Allow the baked cookies to cool slightly on the baking sheet, then transfer them to a wire rack to complete cooling. You'll notice when they first come out of the oven, they are quite puffy but as they cool they deflate and become the perfect chewy consistency. I highly recommend enjoying a few vegan chocolate chip cookies while warm with a glass of your favorite almond milk or oat milk.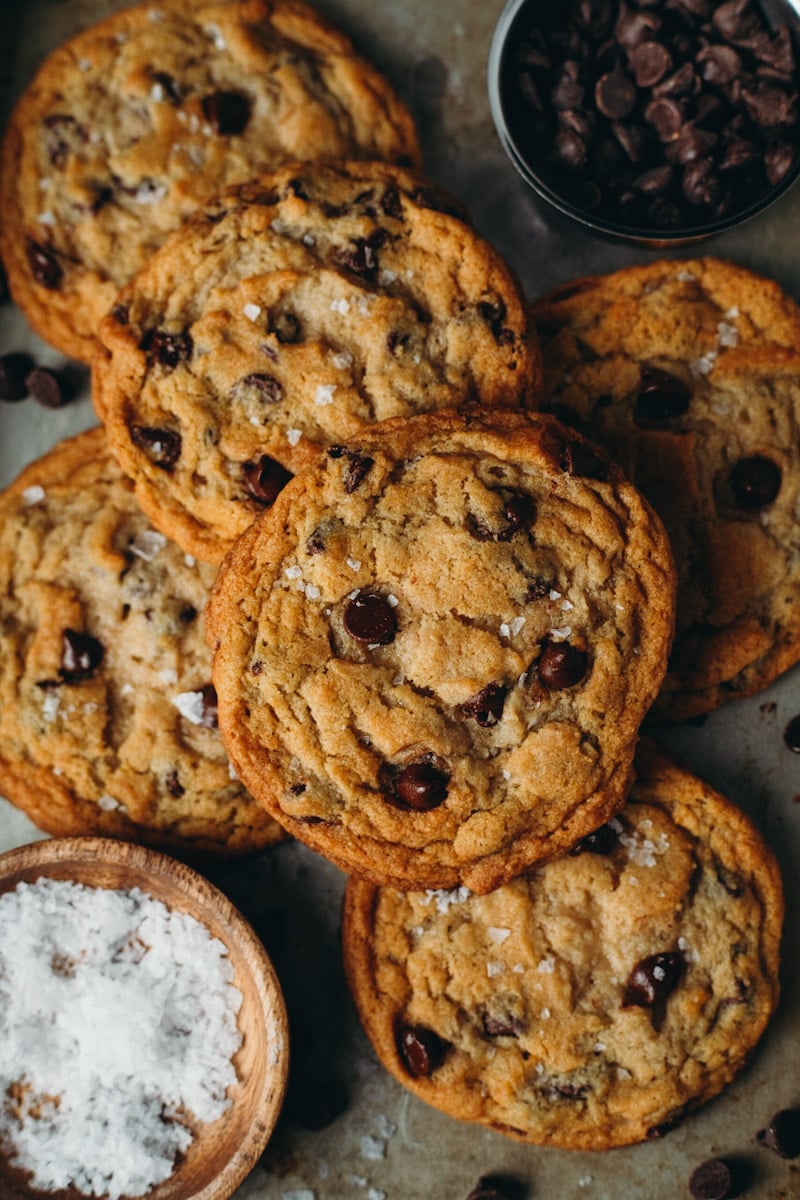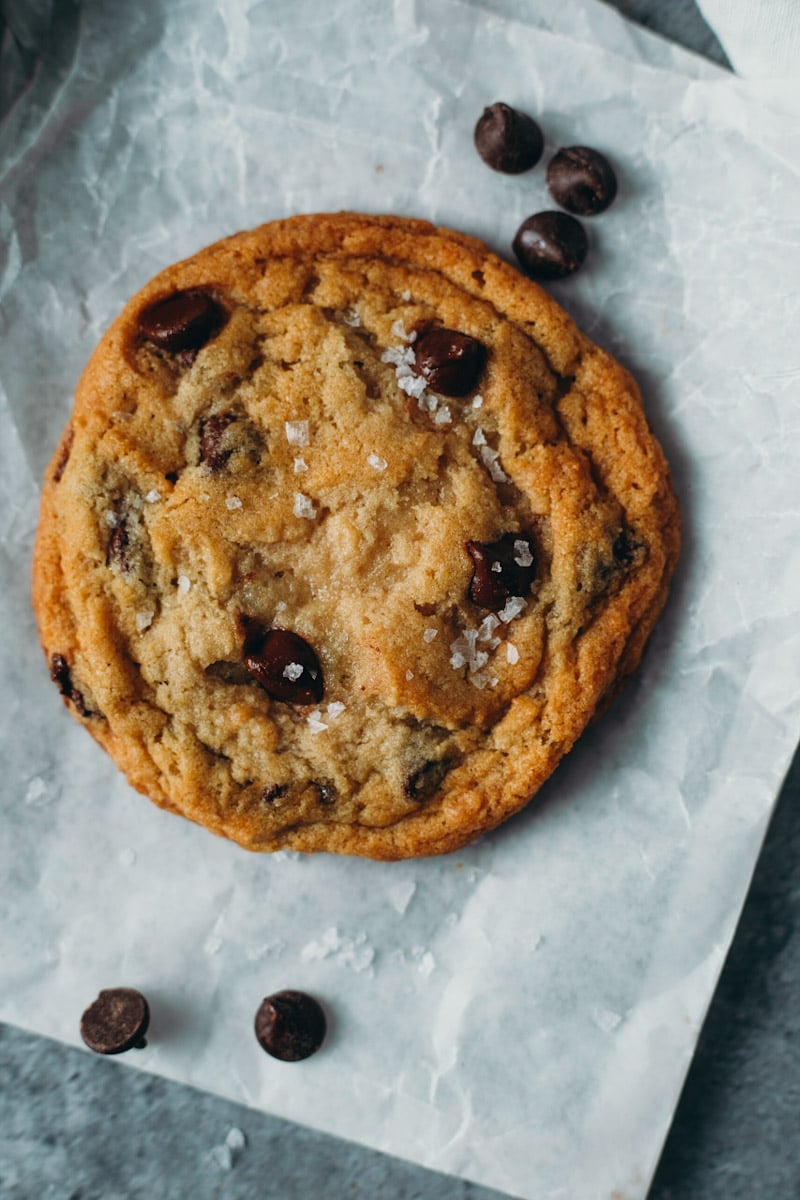 Storing and Freezing Instructions
How to store –

Leftover chocolate chip cookies will keep in an airtight container at room temperature for up to 3 days. You can also refrigerate the cookies if you prefer them more dense and chewy for up to 1 week.

How to freeze before baking –

If you'd like to freeze this cookie dough, follow the recipe completely and scoop the dough balls onto a baking sheet as if you were going to bake them. Once all the cookie dough is formed into balls, place the baking sheet in the freezer and freeze for 1-2 hours, or until the cookie dough balls are frozen solid. Transfer them into a freezer bag or container and freeze for up to 2 month. Then when ready to bake, bake for 1-2 minutes longer directly from frozen until baked to your desired crispiness!

How to freeze after baking –

Follow the recipe as written, then allow the cookies to cool completely to room temperature on your cooling rack. Once cooled, transfer the cookies back to the baking sheet and stick the sheet in the freezer and freeze until solid. Then transfer the vegan chocolate chip cookies to a freezer bag or container. To thaw, allow the cookies to set at room temperature until softened again and enjoy!
Recipe FAQs 
Why did my cookies turn out cake-like in texture?
If your cookies turned out more cakey in texture as opposed to soft and chewy, it is most like a result of too much flour in the batter. When measuring flour, it is important to avoid packing the flour into the measuring cup. Instead, it is best to spoon the flour in and scrape off any excess flour using the back of a knife.
Is this cookie dough safe to eat raw?
If you'd like to eat raw cookie dough, I'd recommend using heat treated flour. The flour typically for sale at the grocery store is considered raw flour and can contain unsafe bacteria. To make it safe to eat raw, either purchase heat treated flour, or heat treat your flour at home before starting.
Can I bake these cookies into 1 large cookie pie?
If you would rather make a homemade pizookie, press the cookie dough into a 9-inch cake pan or similar sized baking dish and bake for about 20 minutes, or until the cookie dough has crisp edges and is golden brown on top. Serve warm with scoops of your favorite vegan ice cream on top and dig in!
Can I use oil instead of vegan butter?
Some readers have asked if they can replace the vegan margarine with oils such as vegetable oil, canola oil, or olive oil. I have not tested and cannot say for sure it will work well. From my experience cooking, it is more likely the cookies will spread and be less puffy. If you give it a try and have good results, please share in the comments! This article may also be helpful: How to Substitute Oil for Butter in Almost Any Recipe.
Can I double the recipe?
Yes! Some baking recipes do not perform well when doubled, but this vegan chocolate chip cookie recipe can be doubled or tripled depending on how many cookies you need! Just make sure to space them out appropriately on baking sheets to prevent them from sticking together.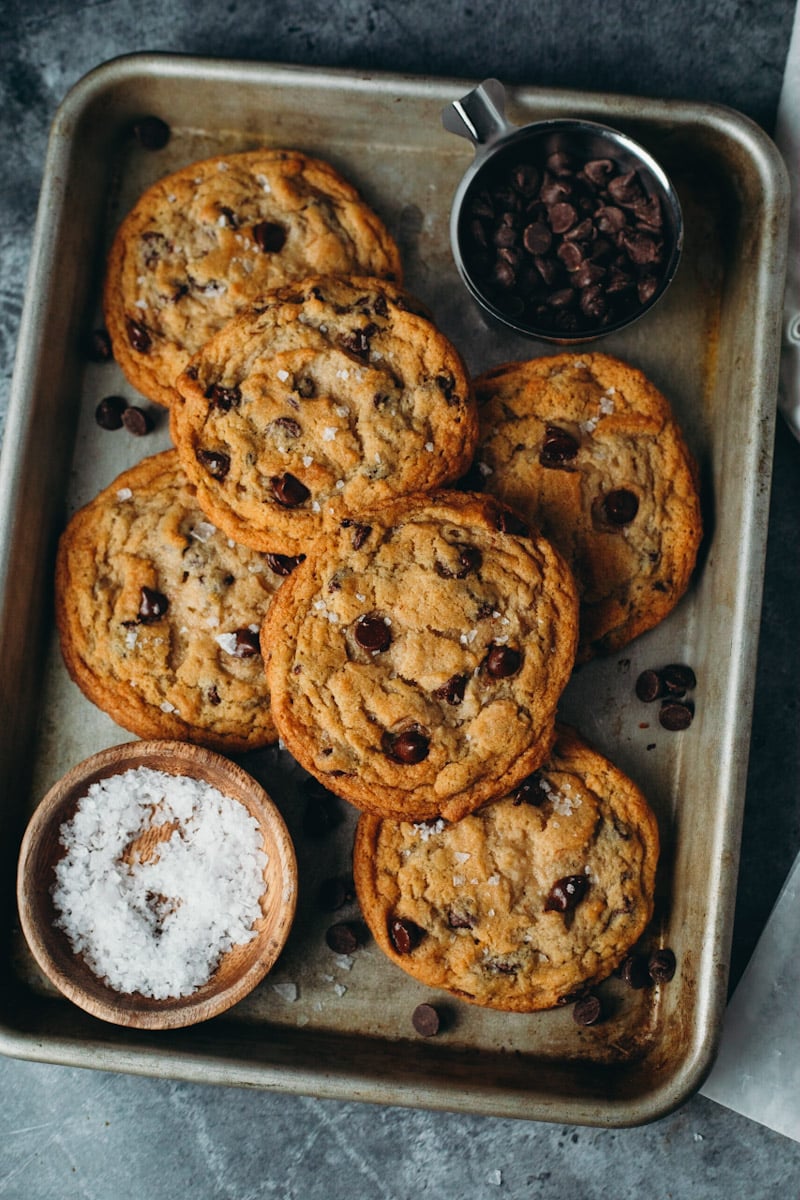 Helpful Tips
The baking sheet you use will affect the bake time.

When testing this recipe, I baked this cookie recipe on several different baking sheets. If you are using a lighter coloured baking sheet like I did in my Youtube video, I'd recommend baking the cookies for 10-11 minutes. If you are baking your cookies on a dark metal baking sheet, bake them for closer to 9 minutes. Darker baking sheets absorb heat, meaning they brown the cookies faster. Lighter baking sheets reflect heat and take longer to heat up.

Adjust the flour measurement based as needed.

Baking is a science and depending on where you live in the world or the type of vegan margarine or butter you use, you may need more or less flour. I typically recommend starting with 1 1/2 cups of flour and adding an additional 1/4 cup as needed.

How to make crispier vegan chocolate chip cookies.

If you prefer your cookies to have crispy edges with a chewy center, bake them at 375 F instead of 350 F.
Similar Vegan Cookies Recipes to Try Next
Print
Chewy Chocolate Chip Cookies Recipe
---
Author:

Total Time:

20 minutes

Yield:

approx. 15 cookies
Description
Classic chocolate chip cookies made without the dairy butter, milk or eggs! Everyone loves these cookies and can never guess that they're vegan!
---
1/2 cup

vegan margarine, vegan butter or coconut oil (SEE NOTE*)

1 cup

brown sugar

1/4 cup

non-dairy milk (like almond or soy)

1 tsp

vanilla

1 1/2 cups

all-purpose flour

1 tsp

baking soda

1 tsp

baking powder
pinch of salt (about 1/4 tsp)

1/3

to

1/2

cup dairy-free chocolate chips
---
Instructions
Preheat oven to 350 F (SEE NOTE**)
In a mixing bowl, cream together vegan margarine and brown sugar. Add almond milk and vanilla and stir to combine.
In a separate bowl, whisk together flour, baking soda, baking powder and salt.
Add dry mixture to wet in two parts, stirring to form a dough. Add chocolate chips and stir to combine.
Use scoop 1-2 tbsp of dough and roll into balls and place on a cookie sheet. Bake 9-11 minutes or until golden. Let cool a few minutes before devouring!
Notes
* I use soft tub margarine for my cookies (Becel brand- the vegan one). If you are using vegan butter or coconut oil I suggest adding an extra tbsp or two of the plant-based milk because they will have less moisture than a soft tub margarine. I notice that my cookies always flatten out nicely, but some of you have had trouble with the cooking not spreading and I think it is just due to your fat having less moisture! I hope this helps. 🙂
** I started baking them at 375 F and this helps them get more golden brown and slightly crispy on the outside. Baking at 350 F results in chewier cookies that are lighter in colour and take a little longer to cook).
Prep Time:

10 minutes

Cook Time:

10 minutes