Today we are making my all-time favourite dessert: blueberry pie! Nope, as much as I make and enjoy my famous chocolate chip cookies, blueberry pie has always had my heart. It's been my favourite since the beginning and has never even come close to being replaced.
But I'm going to let you in on a secret, this is my first time making a blueberry pie myself. WHAT?! Yeah, I know. For someone who claims to love it as much as I do, I have always been skeptical of trying to make it myself because I feared it wouldn't live up to the incredible blueberry pie my Aunt Cathy makes, or the almost as incredible ones my dad finds at small rural bakeries. Pie that is baked with love just tastes better.
So yeah, this is a monumental post. My first blueberry pie. And since I have spent so many years figuring out what I like in a blueberry pie, I was able to nail it on my first try! I'm so proud of myself haha!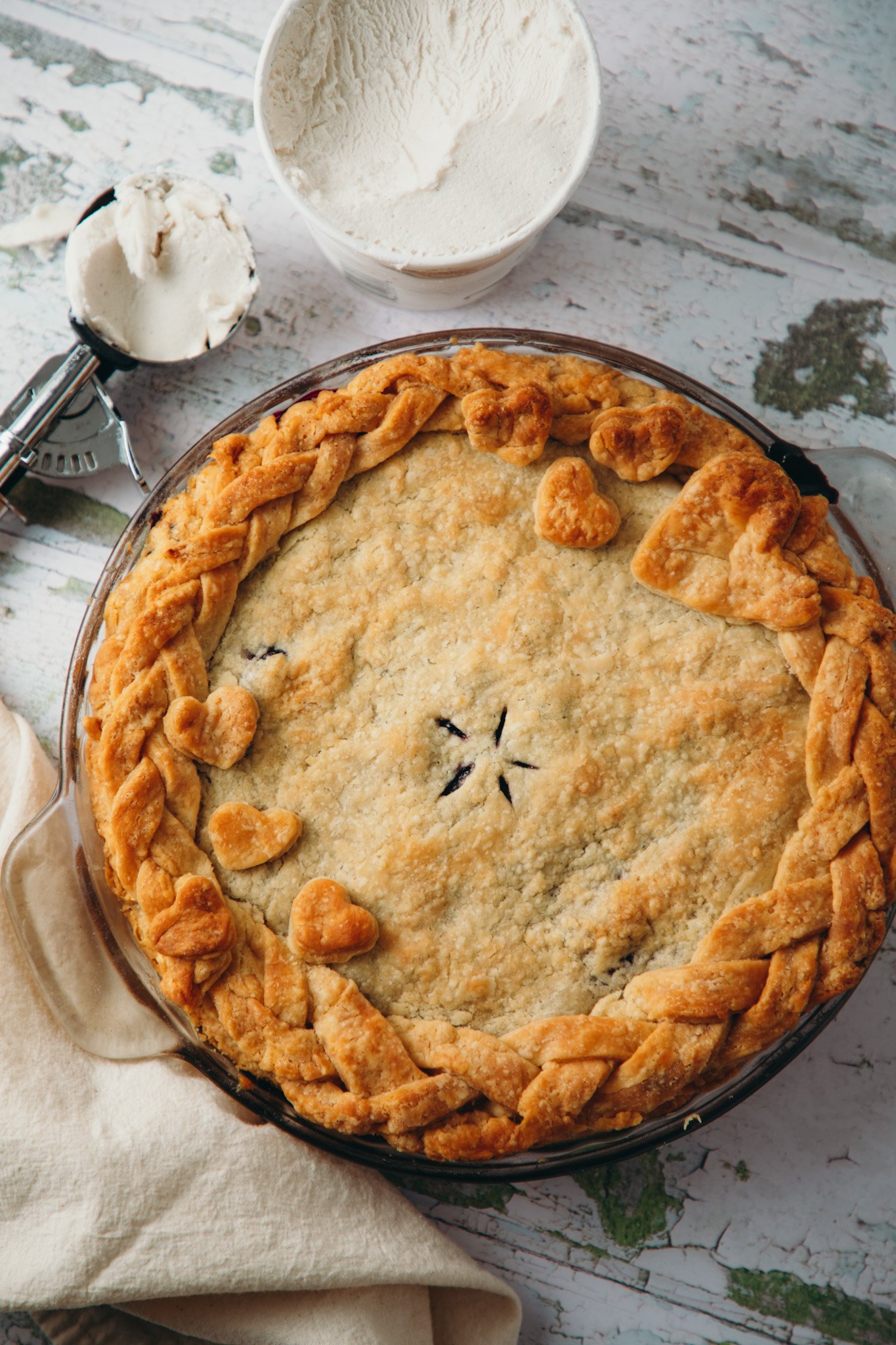 What makes a good blueberry pie…
Okay okay don't get mad, but I kinda hate flaky pie crust. I know! I just really don't think its as good as a thicker, more doughy crust. Flakiness for pastries is fine. But not for my pie crust! So this crust is a little flaky, since it is crust, but its not anywhere near being a super flaky pie crust.
Also, the blueberries. Wild blueberries (the tiny ones) are best, but I actually couldn't find any at the store, which is suuuuper weird for August. I'm thinking they were just sold out because it is right in the middle of peak blueberry season right now! I love a sweet filling, but not too sweet. A scoop of vanilla ice cream is essential with blueberry pie, so I like the pie filling just a tad on the tart side.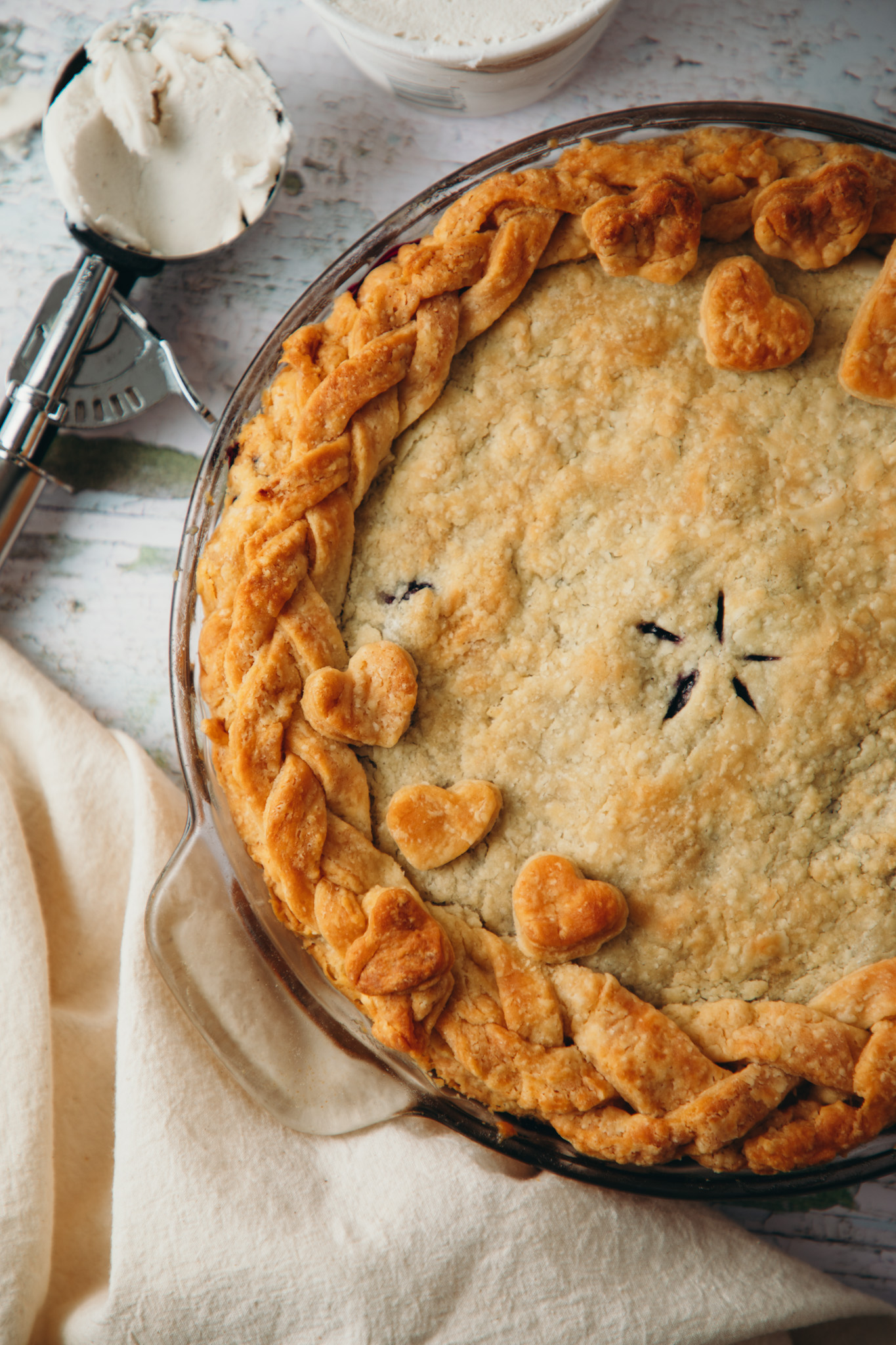 The braided edges and hearts are totally optional, but quite easy to do. I tell you how to do it below, or you can watch some YouTube videos on it, and the hearts were just cut out of leftover dough with a cookie cutter!
If you love summer fruit desserts:
Then you MUST try these too!
Vanilla Bourbon Double Topped Peach Cobbler
Print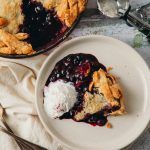 Bubbling Cinnamon Blueberry Pie
---
Author:

Total Time:

3 hours including cooling

Yield:

1 pie (8-10 slices)
Description
This pie is made with vegan pie crust, a bubbling blueberry cinnamon filling and is perfect with a scoop of ice cream.
---
Pie Crust:
2 1/4 cups

flour (plus extra for dusting)

2 tbsp

brown sugar

1/2 tsp

baking powder

1/2 tsp

salt

226g

vegetable shortening (

1/2

lb, about

1/2

a box)

6 tbsp

cold water

1/2 tbsp

vinegar (apple cider or white)
Filling:
6 cups

blueberries (ideally use wild but regular work too. If using frozen see note below)

1/2 cup

sugar

2 tsp

ground cinnamon

3 tbsp

corn starch
---
Instructions
Preheat oven to 400 F.
In a large mixing bowl, add the flour, brown sugar, baking powder and salt and whisk to combine.
Using a pastry blender, cut in the vegetable shortening to the dry mixture until it is crumbly and resembles wet sand with small lumps.
In a small mixing bowl, stir together the water and vinegar. Add to the mixture and mix well to form a dough.
Transfer the dough to a clean, floured work surface. Divide dough in half.
Work with one half of the dough at a time. Using a floured rolling pin and well-floured surface (or put the dough on a piece of parchment paper to void sticking at all, roll the dough into a large circle: start from the center of the and work your way out in all directions. Aim for it to be about 2 inches larger than your pie plate so it drapes over the edges. Form the dough to the pie plate, pressing down gently.
Sprinkle 1 tbsp of flour in the bottom of the crust and smooth out with your hands.
In a mixing bowl, add blueberries, sugar, cinnamon and corn starch and stir gently to coat. Add filling to pie crust.
Roll out the second piece of dough the same way as the first (if you want to add braided edges, set aside a small chunk of dough before rolling out the top layer for the pie). Lay it over the pie. Crimp the edges to seal the crusts (OR see note below for braided crust). Make slits with a knife in the top crust to allow steam to escape while it bakes.
Bake pie in preheated oven for 25 minutes. Then, reduce heat to 350 F and bake another 45 minutes, until golden brown on top. Remove from oven and let cool before slicing and serving. The filling will thicken as it cools. It will be very runny when hot.
Notes
If using frozen blueberries, rinse berries in a mesh strainer under cold water until water runs clear. This takes out of some the juice so your pie filling isn't too watery.
Braided crust:
 Roll out reserved pastry into a long rectangle about 1 foot long. Cut the pastry into 6 thin strips no thicker than 1/2 inch wide. Pinch/meld the tops of 3 strips together. Begin braiding and then pinch the end when done. Add to one half of pie. Repeat with remaining strips.
Prep Time:

30 minutes

Cook Time:

1.5 hours