There's almost nothing better than an Old-Fashioned Strawberry Rhubarb Crisp! It's sweet, tart, and the perfect mix between a gooey fruit filling and a crisp, golden topping with a hint of cinnamon. Once rhubarb season hits, I promise you're going to be craving this sweet crisp made with delicious seasonal fruit!
Why You'll Love This Recipe
It tastes like summer! Growing up, we used to eat crisp almost every week in the summer and this recipe brings me right back to my younger days. There's nothing better than a gooey fruit filling and crispy golden oat topping combined with a cold scoop of vanilla ice cream!
No fancy baking equipment required. ​All you need is a simple mixing bowl, baking dish, a whisk, and a spoon for stirring! Just about everyone can easily make this strawberry rhubarb crisp at home.
It's easy to make vegan and gluten-free. ​The fruit crisp recipes I enjoyed when I was younger were made with regular dairy butter and ice cream, but this rhubarb crisp is so easy to make vegan and gluten-free, no one will notice a difference in flavour.
Made with affordable ingredients. Baking up a delicious summer dessert doesn't have to require expensive, hard to find ingredients. You can whip up delicious rhubarb desserts with minimal ingredients. This crisp only requires 9 simple ingredients!

Key Ingredients and Substitutions
The Strawberry Rhubarb Filling
Fruit – I like to do a combination of sweet strawberries and tart, fresh rhubarb stalks. I wouldn't recommend substituting frozen fruit as it has excess moisture that can cause the fruit filling to be too watery, but you can replace the fresh fruit with what you have. Any berries, stone fruit, or even fresh apple will work! Simply substitute in the same volume of fruit.
Sugar – White granulated sugar is best because it's neutral in flavour and won't overpower the flavours in the fresh fruit.
Corn starch – This ingredient is used as a thickening agent to help thicken up the fruit juices that are released and make a delicious, thick and sweet fruit filling.
The Crisp Topping
Oats – Rolled oats, old fashioned oats, or quick oats will work best. If you are gluten-free, make sure to use certified gluten-free oats to confirm there's been no gluten cross contamination.
Flour – I typically use all-purpose flour, but any gluten-free flour blend will work well, too.
Light brown sugar – I find light brown sugar to help make the perfect, caramelized crisp topping. If you only have white sugar on hand it can be substituted, or Make Your Own Light Brown Sugar at Home!
Butter – Both softened vegan butter or margarine can work. I typically like to use margarine because I find it easier to mix into the topping.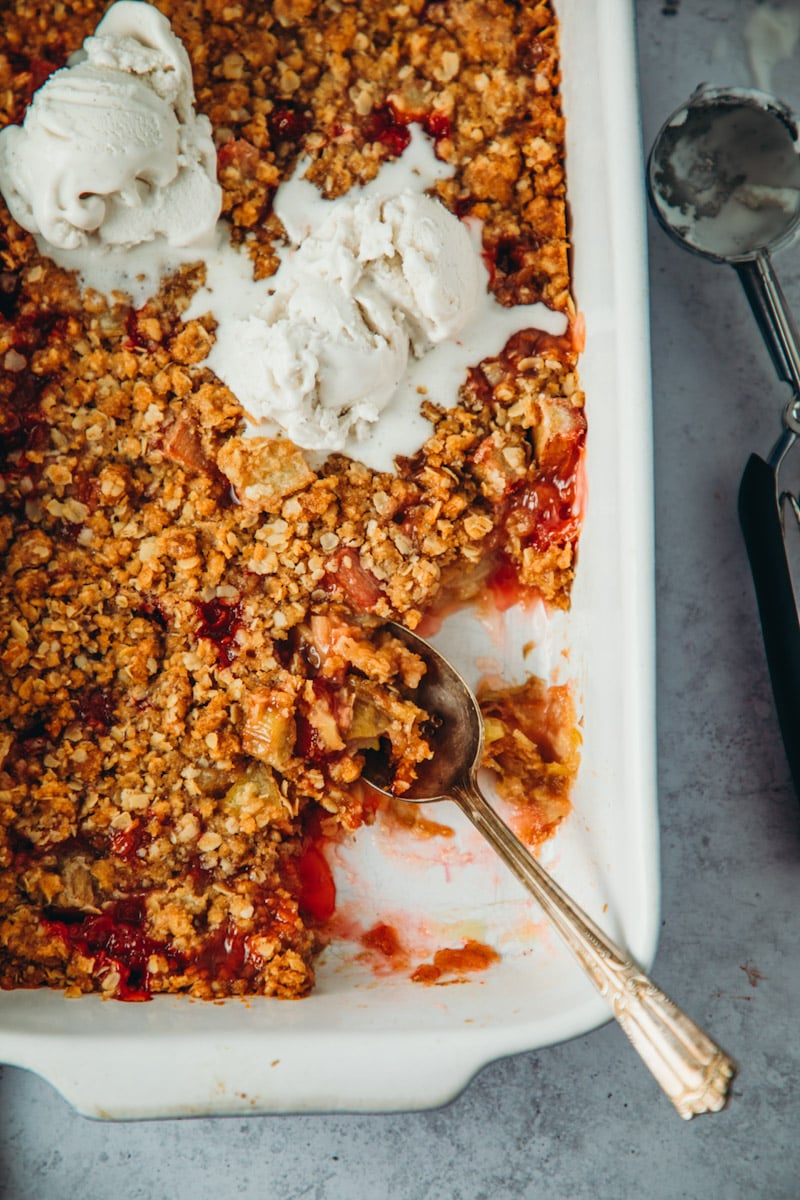 How to Make Strawberry Rhubarb Crisp
Prepare the filling. In a large mixing bowl, combined the chopped rhubarb, strawberries, sugar, and corn starch. Toss gently to coat, then pour the filling into the prepared baking dish.
Make the crisp topping. Using the same mixing bowl, add the oats, flour, cinnamon and brown sugar. Mix until well combined. Add in the vegan butter, then using a pastry blender, whisk, or two knives, incorporate the vegan butter until a coarse crumbs form. Pour the crumble topping over the fruit in the baking dish until evenly covered.
Bake. Place the strawberry rhubarb crisp in the oven and bake for about 35 minutes, or until crisp and golden on the top.
Serve. Let the crisp cool slightly before serving with a scoop of your favourite vanilla ice cream!
Make this Dessert with me on Youtube
How to Store
This delicious strawberry rhubarb crisp will keep for up to 3 days when stored in an airtight container in the refrigerator. Before storing, allow the dessert to cool to room temperature then tightly cover with plastic wrap, reusable wrap or a tight fitting lid. This will help prevent the crisp from drying out.
​When ready to reheat, scoop your desired serving into a microwave-safe bowl and microwave until warm again. Or, place the baking dish, uncovered, back in the oven at 350 for 10-15 minutes, or until warmed through again.
Leftover crisp can also be frozen. To freeze, allow the crisp to cool completely then transfer to a freezer safe container. Tightly cover and freeze for up to 2 months. Defrost overnight in the refrigerator, then reheat as usual.
Recipe FAQs
Why is my strawberry rhubarb crisp runny?
If your crisp filling is runny, it's likely one of two things: excess moisture or not enough corn starch. Both strawberries and rhubarb release a significant amount of moisture once baked. To thicken this excess moisture, it is important to use the cornstarch to thicken it as it bakes.
When is rhubarb in season?
Fresh rhubarb is typically in season during the spring and early summer months. You'll have the best luck finding it in grocery stores or at the local farmer's market during April, May, and June.
What part of rhubarb can you not eat?
When baking with rhubarb, do not eat the leaves as they contain high levels of oxalic acid and are not considered edible. Peel off any of the leaves and add only the stalks to your desserts like this Strawberry Rhubarb Crisp!
Baking Tips
Adjust the cook time based on your baking dish size. ​I've made this rhubarb strawberry crisp in a few different baking dishes. You can use any size really, but an 8×8 square baking dish will require a longer bake compared to a 9×13 baking dish.
Soften the butter in advance. In order to cut the butter into the crumb topping, it's important that the butter is softened to room temperature. If you're using margarine, set it on the counter for about 30 minutes before starting. If you're using butter sticks, set them at room temperature for about 1 hour.
Similar Easy Summer Dessert Recipes to Try Next
Print
Easy Strawberry Rhubarb Crisp Recipe (Vegan & Gluten-Free)
---
Author:

Total Time:

1 hour (including cooling)

Yield:

4-6 servings
Description
There's almost nothing better than an Old-Fashioned Strawberry Rhubarb Crisp! It's sweet, tart, and the perfect mix between a gooey fruit filling and a crisp, golden topping with a hint of cinnamon. Once rhubarb season hits, I promise you're going to be craving this sweet crisp made with delicious seasonal fruit!
---
5

stalks rhubarb (NO LEAVES)/ about 3 cups chopped

1 cup

fresh strawberries, hulled and chopped

1/2 cup

white sugar

1 tbsp

corn starch

1 1/4 cups

oats (use gluten-free certified if gluten-free)

1/4 cup

all-purpose flour (use a GF baking blend if gluten-free)

3/4 cup

lightly packed brown sugar

1 tsp

ground cinnamon

6 tbsp

vegan butter or margarine
---
Instructions
Preheat oven to 375 F. You will need an oven-safe baking dish such as an 8 x 8 inch square baking pan, a small casserole dish, or even a few ramekins (for single servings).
In a large mixing bowl, add the fruit, white sugar and corn starch and toss gently to coat. Pour into baking dish.
In that same mixing bowl, whisk together the oats, flour, cinnamon and brown sugar until combined. Add the vegan butter and use a pastry blender, side of a spoon, or two knives to incorporate the butter into a crumbly mixture with the dry ingredients. It will be uneven and lumpy, but that's okay. You can also use your hands to break apart any large lumps. Some variation is okay though.
Pour the crisp topping over the fruit in an even layer.
Bake in preheated oven for about 35 minutes, or until crisp and golden on top. Remove from oven and let cool slightly before serving.
Serve with vegan whip or vanilla coconut milk ice cream. Store leftovers in a container in the fridge up to 4 days, and reheat in the microwave (or oven, if you want to re-crisp the topping).
Prep Time:

10 minutes

Cook Time:

35 minutes