I thought this recipe was appropriate as we head into the weekend: 5-Minute Vegan Biscuit Waffles! Because everyone needs a weekend breakfast hack handy for last-minute brunch plans, lazy mornings, or a quick way to feed a lot of hungry mouths. These waffles are special, because they're actually biscuits! Whaaaat? Yup, they're made of pre-made biscuit dough! I didn't even know you could do this until Greg decided to do a "will it waffle?" segment on his Instagram page. And you know what? It waffles!
This recipe is such a fun hack. All you need is pre-made, canned biscuit dough (here is a list of accidentally vegan canned biscuits). You could also make biscuit dough from scratch, but I mean, if you're going to do that, you might as well just make waffle batter! This recipe is meant to be convenient and easy, for those days when making something from scratch isn't the vibe, but you still want something that feels homemade. Seems like an oxymoron, but this recipe works so well! Barely any prep work required, or cooking time, and then voila! Hot, fresh, golden brown waffles ready for some coconut whip and maple syrup!
Wedding Waffles?
For those of you who follow me on Instagram, you'll know my wedding is coming up very soon. VERY! Like, next weekend. I'm trying my best not to look at the weather forecast because its making me nervous. BUT I do live in Nova Scotia and the saying here is "if you don't like the weather, wait 5 minutes and it will be different". So yeah, it will likely change hourly until the actual wedding day. EEeep!
My original plan for my wedding was to have a morning ceremony followed by a brunch. We aren't doing that anymore because logistically we couldn't quite make it work, but if we were doing it, I would definitely serve  biscuit waffles! So fun! And so yummy.
The details…
Honestly, this recipe is pretty straight forward! Take the biscuits out of the can and separate them. Pre-heat your waffle iron. Rub a layer of oil on both sides of each biscuit or spritz with cooking spray. Then, place on the waffle iron and squish em down. Cook until golden brown. Thats it! It couldn't be easier and I love how they're slightly saltier than my own waffle batter recipe. It goes sooo well with the sweet maple syrup and would also be perfect for savoury waffle meals like chick'n and waffles or waffle BLTs. Mmmm.
Print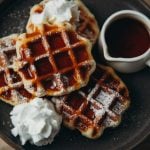 5-Minute Vegan Biscuit Waffles
---
Author:

Total Time:

20 minutes

Yield:

8 mini waffles
Description
Vegan mini waffles made from store-bought canned biscuit dough (many of which are accidentally vegan!) topped with coconut whip and maple syrup.
---
1

can store-bought biscuits
oil for greasing waffle iron
maple syrup for serving
coconut whip cream for serving
optional: powdered sugar for dusting
---
Instructions
Open the can of biscuits and separate them. Rub some oil on each side of the biscuits, or spritz with cooking spray.
Preheat your waffle iron. When hot, add a few biscuits, leaving room to spread. Press down to close and cook a few minutes, until golden brown. Repeat with remaining dough.
Serve with coconut whip, maple syrup and a dusting of powdered sugar, if desired.
Prep Time:

5 minutes

Cook Time:

10 minutes