Sweet and savoury buttermilk pancakes stuffed with a breakfast sausage patty…a match made in heaven! We are all looking for that perfect breakfast combo, and here it is! These pancakes are made from Liv's hugely popular buttermilk pancake recipe (because why mess with a good thing?), and levelled up with a typical Greg's Vegan Gourmet serving size of maple syrup, vegan butter, and of course, a savoury sausage patty at the centre.  They're fluffy, light, and perfectly balanced between salty and sweet. A perfect way to start your Sunday morning, weekend family brunch or to freeze for a week's worth of breakfast meal prep!
Sure, pancakes stuffed with sausage seems like a lot to wrap your head around at first. And did I have to do it? Well, yes. I made these as a test to see if I could level up something that was already so delicious. Liv has created the absolute most amazing recipes over the years, so coming into the food blog game this late means I have some giant shoes to fill! But hey, I'm up for the challenge!
You know how sometimes your mind wanders and comes up with some absolutely absurd, unnatural and, frankly, unnecessary things? Well this was one of them… and I'm so happy it was! All joking aside, this recipe was super simple to make and totally replicable with any type of vegan sausage patty of your choosing! There's something oddly satisfying about dunking something in batter and frying it until it's golden brown. And even more so when there's pancakes involved!
When I was looking through all of my previous posts one morning, two things were clear. One, I only had a few breakfast recipes, which is really not on brand for living in this household. And two, there were no pancakes in sight! What's a food blog page without a healthy servings of pancakes?! Upon noticing that, I ran to the fridge and thought to myself, what better way to serve a pancake than to stuff it with my second favourite breakfast food! Thus, the sausage-stuffed pancake was born. The only thing missing is a pile of air fryer spiced potatoes and vegan eggs! (Don't worry, that won't be a long wait).
If you're like us, then there's no better feeling than warming up on a cold autumn day with a giant mug of coffee, and a hearty breakfast or brunch! This fall, be sure to treat yourself to a little something extra, or blow your family's minds at Sunday get-togethers when you present them with the sausage-stuffed pancakes they didn't know they needed in their lives.
Lastly, if you do end up making these sausage stuffed buttermilk pancakes doused in maple syrup and vegan butter, give this post a rating and review so I can see how much you guys love them! One of our favourite things as food bloggers is to see you making the recipes we're so passionate about. Also, if you do make this levelled up recipe creation, don't forget to tag me on instagram! Sharing your versions or recreations always makes me happy and we love to connect! Have a great weekend everyone!
Print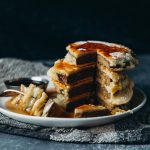 Vegan Breakfast Sausage Stuffed Buttermilk Pancakes
---
Description
Sweet and savoury buttermilk pancakes stuffed with a breakfast sausage patty…a match made in heaven! The fluffiest and easiest pancakes you'll ever make using Liv B's very own famous recipe!
---
1

batch of Liv's Famous Buttermilk Pancakes

4

vegan breakfast sausage patties (I used Field Roast)

2 tbsp

vegan butter

1/4 cup

maple syrup
---
Instructions
Follow recipe instructions for Liv's Famous Buttermilk Pancake Recipe and set batter aside.
Heat a large pan over medium heat and add vegan butter.
Add packaged vegan breakfast sausages and cook according to package or until warm throughout.
Remove sausages from heat and let cool for 3-5 minutes.
Dip the sausages into batter until fully coated and place into the same pan over medium to low heat. Cook on une side until bottom is golden brown and sides of pancake start to firm.
Flip the pancakes and remove from heat when both sides are desirably golden brown.
Add desired amount of vegan butter and maple syrup and serve.