Simple, sweet and delicious vegan bourbon banana buttermilk pancakes. Using the vegan buttermilk pancake recipe originally made by Liv B herself! Here's my take on her classic Fluffy Vegan Buttermilk Pancakes recipe, by levelling up the toppings to make the PERFECT Sunday brunch pancakes! Topped with a healthy serving of maple & bourbon-glazed bananas and pecans, these pancakes are exactly what you're looking for to impress family and friends! Everyone needs to spice up their pancake game every so often, and I've found the perfect solution! They've got everything you're looking for in a pancake – light, fluffy, sweet, and sticky… and of course most importantly, DELICIOUS!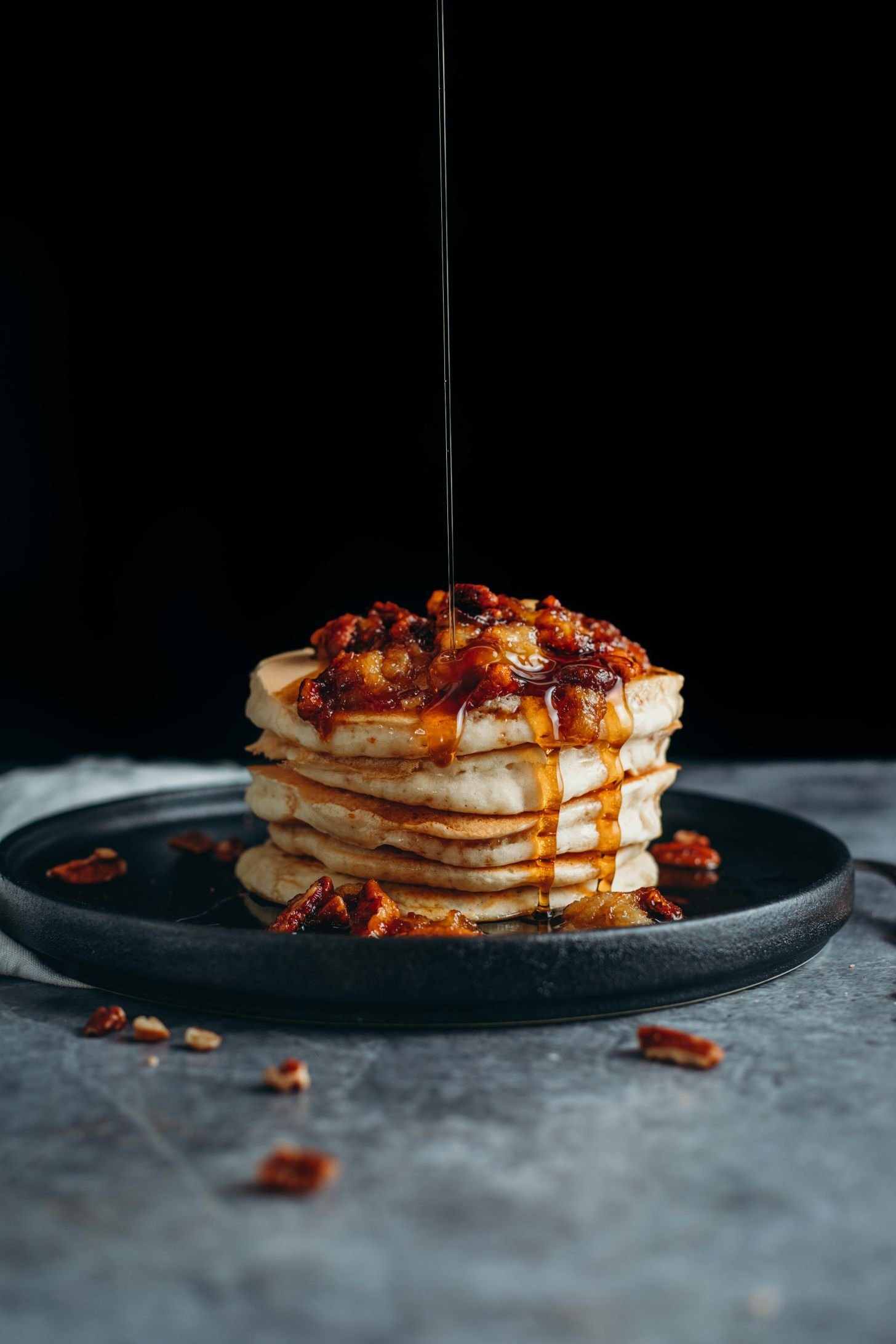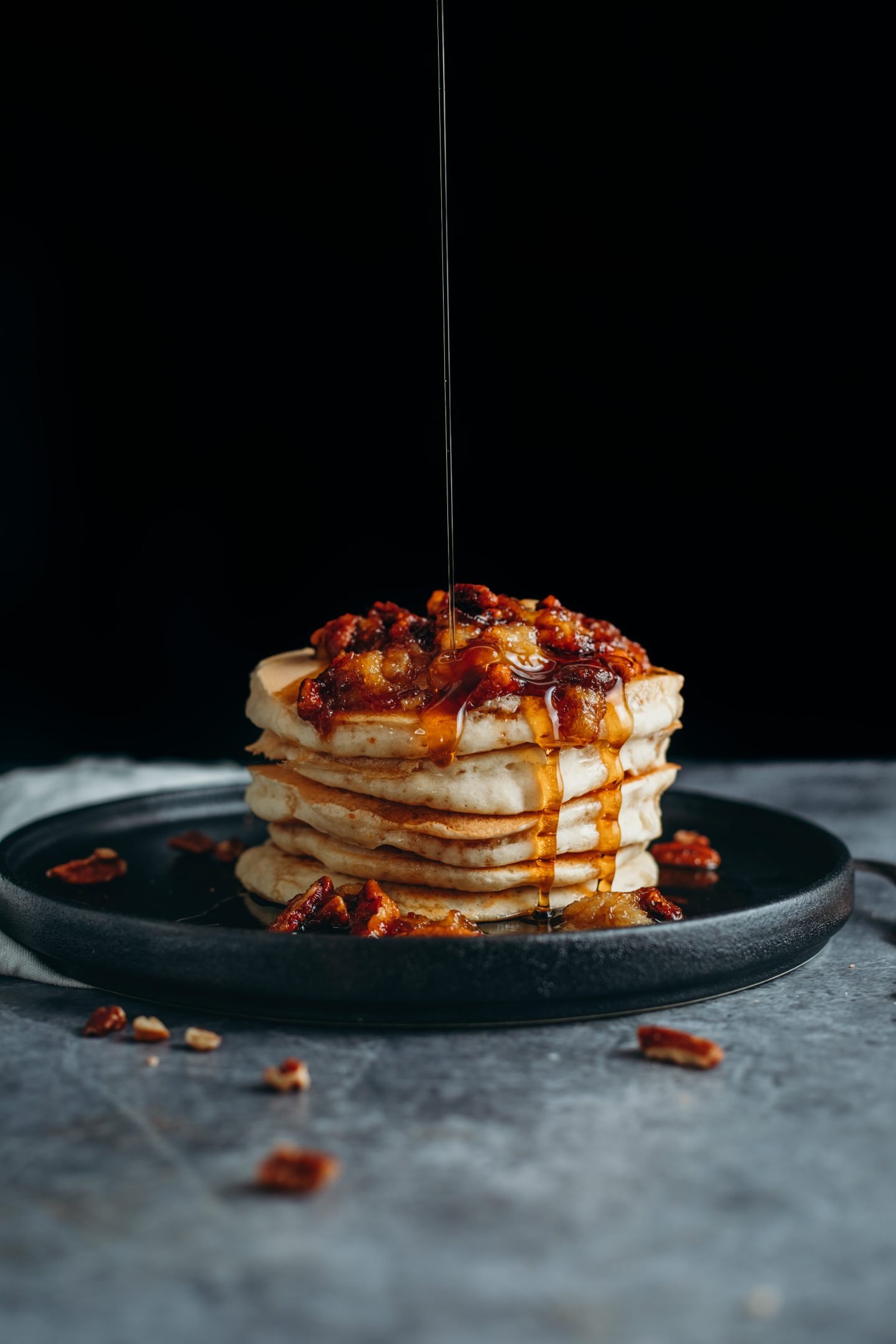 Comfort food for breakfast… vegan bourbon banana pancakes!
I don't know about you, but in this house we've relied on really hearty, delicious home cooking to get us through these winter months… and now that spring is just around the corner, I can't wait to whip myself up another batch of these pancakes because guess what; there's never a bad time for pancakes!
I made these a few weeks ago on a particularly gloomy day because I had a craving for Liv's famous pancakes. I went searching the pantry for anything I could find that would make for a slight deviation to our regular blueberry or chocolate chip toppings just to change things up! With a little help from Liv, we came up with this great mixture of ingredients and let me tell you… it's now on my list of favourite foods from this entire year!
The Inspiration
Anyone who knows me, knows that my sweet tooth is somewhat lacking. I wouldn't say I was born without one…I enjoy a scoop of ice cream as much as the next guy. But ever since marrying into a family that prides themselves on their baking capabilities, and raises the standards for desserts at every occasion, I have to say that my sweet tooth is coming around! I still wouldn't choose to have pancakes most mornings, and I never think to look at the dessert menu. But I have to say I'm proud of myself for coming up with this one! And even more impressed that I find myself thinking of it so often.
I think a lot of it has to do with the idea of adding bourbon into a dessert recipe for me… I couldn't shake the idea of a sizzling hot pan and seared caramelized sugar from my head after watching one too many cooking shows. There is something so romantic about adding a splash of alcohol into the food you're about to eat that I couldn't help but hop into the kitchen and whip up a batch of these bourbon banana pancakes on the fly!
Anyways… enough about my indulgences, and back into how these bourbon banana pancakes are made!
I won't go into details on how the pancakes themselves are made as you can find the full recipe linked HERE.
The details:
make sure you start off with your favourite bourbon. That's key! Any will do of course, and you're not likely to taste a real difference… but it's all about the romanticism and feeling you put into these bourbon banana pancakes that makes this recipe so fun!
next, roughly chop some pecans and slice a banana. Get ready to remove them from the heat quickly because the pan gets quite hot and its easy to either burn them or turn them to mush!
once you have those ingredients into a non-stick pan with a large helping of vegan butter, you'll want to add in a proper serving of maple syrup. You can't have pancakes, especially on gloomy Canadian winter days, without A LOT of maple syrup!
all that's left to do is add In a splash of bourbon, and watch them sizzle and brown into perfect golden perfection!
… Top those pancakes with as much or as little as you want, and enjoy your delicious, homemade bourbon banana pancakes!
Print
Bourbon Banana Pancakes
---
Author:

Total Time:

30 minutes

Yield:

2 servings
Description
A twist on Liv's Famous Buttermilk Pancake Recipe – introducing a perfectly balanced mix of chewy carmelized bananas, and sweet delicious pecans!
---
Pancakes:
1 cup

nondairy milk

1 tsp

apple cider vinegar

1 cup

all-purpose flour

2 tsp

baking powder

2 tbsp

sugar
pinch of salt

1 tbsp

oil
Maple Bourbon Bananas & Pecans:
2 tbsp

vegan butter

1

banana sliced

1 tbsp

bourbon

1/3 cup

maple syrup

1/3 cup

walnuts
---
Instructions
Combine the milk and apple cider vinegar, stirring well. Set aside.
In a mixing bowl, whisk together flour, baking powder, sugar and salt.
Add the oil to the almondmilk mixture and stir. Then pour into dry mixture.
Mix until JUST combined. Lumps are okay! Do not over-mix. See video for what the batter should look like.
Heat a frying pan to medium heat. Spray oil lightly onto pan.
Using scoop batter into round pancake shapes, leaving some room for spreading. I usually do 2 at a time. BE PATIENT! Let it cook until bubbles rise to the surface then burst, and the edges start to look cooked. Take a peak underneath and if it is golden, flip to the other side. Cook about 30 seconds-1 minute on the other side (the second side takes much less time to cook).
Meanwhile, in a separate pan over medium-high heat, add the vegan butter. Once sizzling, add the bananas and pecans, followed by the maple syrup and bourbon. Let simmer for a few minutes until it starts to caramelize and thicken, then immediately add to pancakes.
Notes
The bourbon bananas and pecans is best made and eaten immediately as they will get very sticky as they cool.
Prep Time:

10 minutes

Cook Time:

20 minutes