This Vegan Queso Mac n' Cheese is exactly the recipe you've been waiting for this week! Creamy vegan one pot Mac & cheese, combined with cheesy queso dip with salsa. Combining two of some of my favourite all-time foods (Queso dip and Mac n' Cheese) – this creamy, flavour packed weeknight dinner dish is going to be your new, quick and easy go-to meal!
Mac n' Cheese – the best food made in a pot?
This Vegan Queso Mac n' Cheese is of course cheesy, creamy and one of the EASIEST things to make! Yep, I would say its definitely in the running for the best foods to be made in a pot… maybe even one of the best foods ever! But let's take a look at other great foods made in a pot. Stew? Don't even try… Chilli? I can see the appeal, but still a no. Pot Pie? Okay I'll admit, ot pie is one of my all-time favourite home cooking comfort foods… BUT it's not even made in a pot. And does it stand up to the forever great, Mac n' Cheese? Definitely not.
And let's not stop there. This isn't your every day boxed Mac n' Cheese with powdered cheese and dairy milk! This Vegan Queso Mac n' Cheese will knock your socks off with the amount of flavour smashed into it. Perfectly seasoned and combined with my wife Liv's AMAZING cheese sauce from her second cook book, and this Cheesy Chunky Queso Dip. Not to mention, it is taken to new heights with the chunky, zesty flavour of salsa – this is definitely my favourite Mac n' Cheese recipe!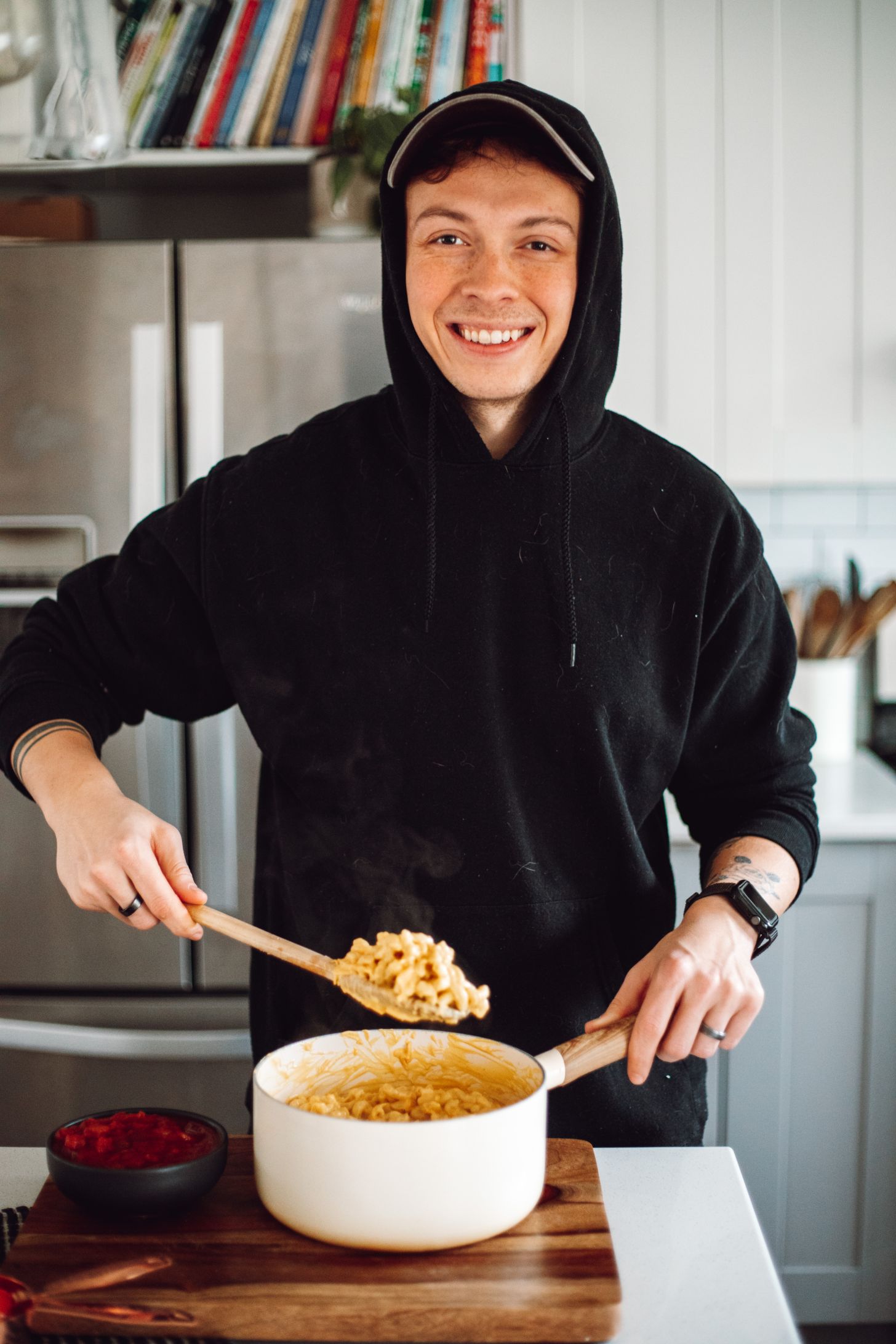 Why is this vegan cheese sauce better than others?
Glad you asked. Let me put it this way – We can all agree that store bought items are generally flavourless when compared to home-cooked meals, right? Obviously there are exceptions to this rule. But I grew up in a time where we we were rushed around from school, to soccer practice, to friends houses and somehow had to fit homework in there at the same time. I know a lot of you can relate. With so much going on, we didn't often have the luxury of made-from-scratch home cooked meals that didn't at least mostly come from a jar or a box!
Fast forward 15 years and I start dating my wife who you all know so well at this point. I mean, this is technically her blog (but she lets me put all my junky recipes on here because we know there is always room for fun food here!) You wouldn't be surprised to find out that all the fresh home cooking I was lacking my entire life up until this point found its way back to me ten-fold when Liv introduced me to the wonders of what home cooking could truly be! Don't get me wrong, I always loved to cook, but there were many dishes, like this one, that I was apprehensive to tackle because I knew it had to be perfect! For these reasons, you can rest assured that this Vegan Queso Mac n' Cheese  is the best Mac n' cheese recipe I've yet to come across!
Print
Vegan Queso Mac n' Cheese
---
Author:

Total Time:

30

Yield:

2-3 servings
Description
This Vegan Queso Mac n' Cheese is packed with flavour! Creamy, cheesy and the perfect hint of spice to add to your weeknight dinner routine! Add in the fresh salsa and you've got the perfect vegan Mac n' Cheese to share with the family!
---
Cheese Sauce:
3/4 cup

almond milk, coconut milk or oat milk
 1/2 cup raw cashews (boiled for 10 minutes if you don't have a high-powered blender)

1/2 cup

peeled/chopped carrots

1 cup

peeled, chopped white potato

1/4 cup

nutritional yeast

1 tbsp

lemon juice

1/2 tsp

sea salt

1/2 tsp

onion powder
For the Mac N' Cheese
1 cup

chunky salsa

2 cups

dry macaroni

1 cup

vegan cheddar cheese shreds
pinch of salt to taste
---
Instructions
In a medium pot, add carrot and potato and add water until it just covers them. Bring to a boil and cook until fork-tender, about 8 minutes. Drain and rinse until cold water for a minute until vegetables are cool.
In a medium size pot, boil the macaroni according to box instructions. When cooked, strain and set aside in pot.
In a blender, combine all cheese sauce ingredients and blend until smooth.
In the pot back on medium heat, combine macaroni, cheese sauce, cheese shreds and salsa. Stir to combine until cheese shreds are fully melted.
Allow to cool slightly before serving. Enjoy!
Prep Time:

10

Cook Time:

20