This Vegan Chicken Pretzel Crunch Taco Salad is made using baked pretzel and corn chips, jalapeño cream sauce, and crunchy chopped lettuce.
So… this is awkward. I know you're probably asking yourself, "why am I looking at a salad… I thought this was supposed to be Greg's Vegan Gourmet, a page dedicated to vegan junk food!" Well, you're right. And don't worry, I won't be making a habit of it! This salad is not just any salad. Add this to your list of summer favourites for a lunch that tastes great but doesn't leave you regretting your choice to eat healthier food.
WHY did you make a salad?!
Honestly, I'm like a lot of you. Sick of all the salads that vegans get served that are never quite satisfying enough, and always leave you hungry afterwards. That said, when I got the inspiration to do this salad, I wasn't quite as put off as I usually am by the green dish. I know, I know, a lot of you out there might actually like salad, and that's great! This Vegan Chicken Pretzel Crunch Taco Salad is sure to be something you'll love as well. But this recipe goes out to all the people, like me, who have an open hatred towards salads. Or at least, firmly believe that a salad should be served with a mountain of fries accompanying it, or stacked on top of a thick juicy vegan burger.
Now that I have that out of the way, I have to admit that my thoughts on the matter may not be entirely accurate all of the time…
Loading a salad with all the things you love can actually make for a really tasty summer lunch (don't tell my wife I said that). What sets this salad apart for me is that it isn't loaded with a sweet vinaigrette, or a medley of fruits and nuts. This Vegan Chicken Pretzel Crunch Taco Salad features perfectly creamy jalapeño-garlic cashew cream sauce, crunchy iceberg lettuce, baked spiced pretzels and corn chips for even MORE crunch, AND spicy fried soy curls to act as the perfect vegan chicken substitute!
How's it made?
Like any salad you've ever made, or in my case, watched someone else make… you start by chopping the lettuce.
No brainer, right? Well, if you know me at all by now, even the most minute details matter when it comes to texture in my food. For that reason, I highly suggest a finely chopped salad! Not those big chunks of greenish white butts of the lettuce that always leave you disappointed, and definitely not the soggy limp top pieces either! Make sure you get those crunchy good middle pieces, and be sure to chop it very finely so that every bite can have a variety of ingredients and you don't just get a mouthful of leafy greens only.
Next, and probably most importantly when it comes to the flavour in this salad, is to make the cashew cream sauce. This is not too spicy for all of you sensitive to spice, however the flavour of the jalapeño mixed with the garlic is key to the flavour profile in this salad!
For a bit of fun, I decided to bake some pretzels and corn chips and crush them up on top of the salad. No taco dish is complete without some version of corn chips or tortillas, so don't skip this step! This addition makes for the perfect crunch in every bite.
That's all there is to it! Feel free to add some of your favourite flavour toppings (I added some guacamole) and let me know in a comment if you made any great additions!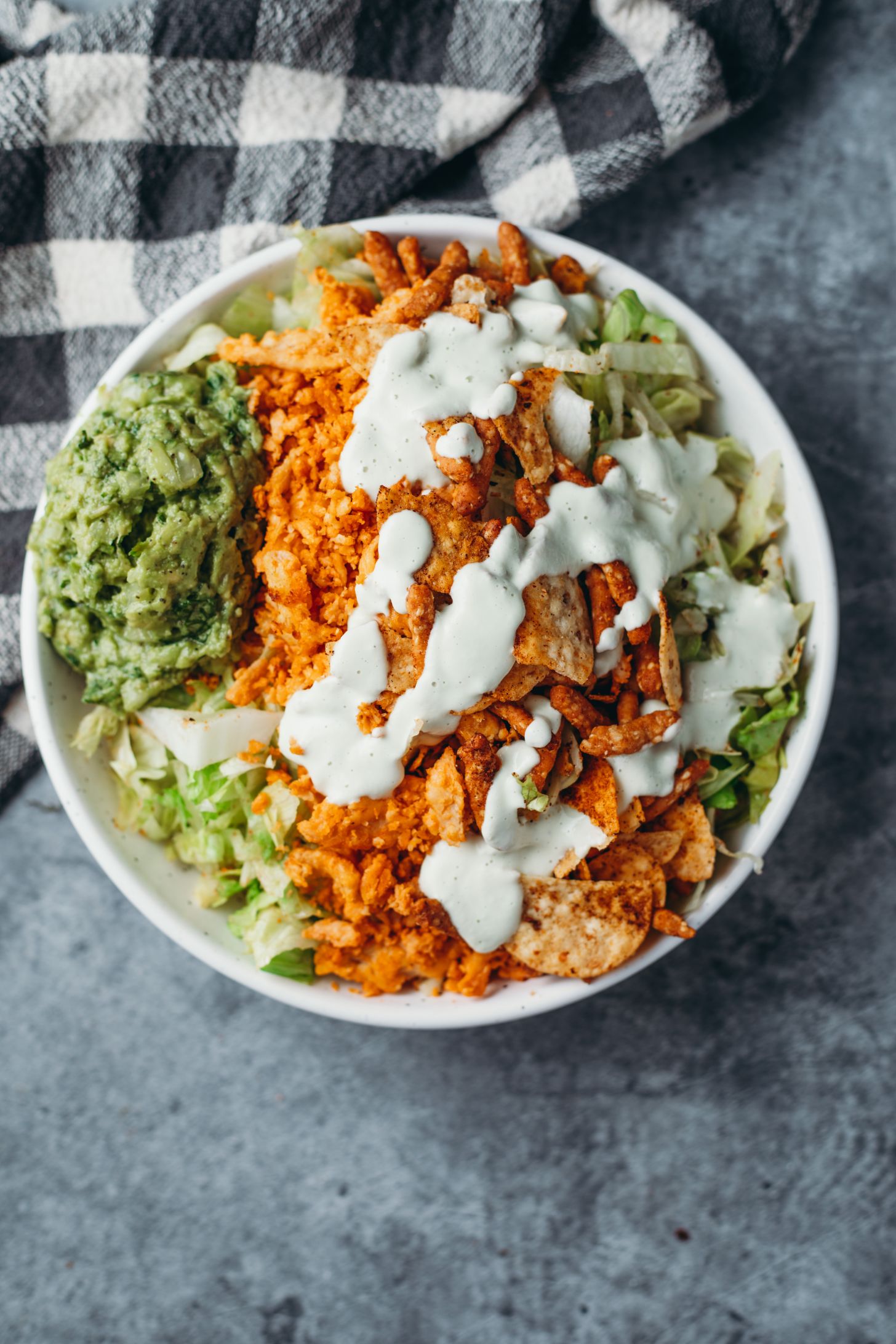 As always, let us know how much you loved this recipe by leaving a review and comment below, and be sure to follow us on instagram @gregsvegangourmet and @itslivb!
Print
Vegan Chicken Pretzel Crunch Taco Salad
---
Author:

Total Time:

30 mins

Yield:

2 servings
Description
This Vegan Chicken Pretzel Crunch Taco Salad is made using baked pretzel and corn chips, jalapeño cream sauce, and crunchy chopped lettuce.
---
1

head of finely chopped iceberg lettuce

1/2 cup

crushed pretzels

1/2 cup

crushed corn chips

2 tbsp

taco seasoning

1 tbsp

olive oil

1 1/2 cup

dry soy curls

3 tbsp

vegan butter

1 tbsp

franks red hot sauce
Cream Sauce:
1/2 cup

fresh basil leaves

2

cloves garlic

1 cup

raw unsalted cashews

1 cup

water

1

jalapeno

1 tbsp

nutritional yeast (optional)
---
Instructions
Preheat oven to 350 degrees F.
In a bowl of water, leave soy curls to soak for 5-8 minutes before straining.
In a medium frying pan over medium heat, add the soaked and drained soy curls, 1 tbsp vegan butter and 1 tbsp taco seasoning. Fry about 8 minutes, stirring frequently, until soy curl edges are slightly browned and warmed throughout.
Meanwhile, add cream sauce ingredients to a high speed blended. Blend until fully combined and smooth.
Melt the remainder of the vegan butter, and add to a bowl with crushed pretzels, crushed corn chips, and taco seasoning. Toss to coat and add to a baking sheet. Bake for 8 minutes or until slightly browned on edges. Remove and set aside to cool.
In a salad bowl, toss the lettuce with olive oil and the remainder of the taco seasoning. Add the soy curls, pretzel mixture, and cream sauce. Serve and enjoy!
Prep Time:

10

Cook Time:

20 mins