Every wondered what could be better than a chocolate chip cookie? Well, it turns out there isn't much. Based on it's popularity, it may very well be the most crown pleasing dessert ever created. Sure, there are plenty of truly cherished and loved desserts. But there are very few people in the world that will ever turn down the opportunity for a fresh baked, warm chocolate chip cookie. Well, I'm here today to tell you that maybe you can't necessarily improve upon something so perfect like the chocolate chip cookie… but maybe it can be changed for a comparable experience from time to time. Introducing the Vegan Oreo Chocolate Chip Cookie!
Description
These easy chocolate chip cookies are filled with Oreo crumbles to make a super soft, Oreo cream filled chewy weeknight dessert. Melty chocolate chips and our famous cookie dough recipe make for an amazing egg-free, soy-free and dairy-free cookie recipe.
Using Liv B's famous chocolate chip cookie recipe, combined with extra chocolate chunks and crushed chunks of Oreo cookies, this is the gooiest and tastiest cookie recipe you'll have this holiday!
These Oreo chocolate chip cookies seem too easy…
That's because they absolutely are… Listen, in this household one thing is for sure. Wherever there is a Liv B, there will be a freezer, cooling rack or stand mixer full of cookies. Ever since the two of us met, my wife Liv has been greeting me and anyone I know at the door with cookies. Even before we dated, I knew her famous chocolate chip cookie dough and cookies recipe like the back of my hand! But those aren't the only cookies she's good at making… give these Chewy Oatmeal Chocolate Chunk Cookies or these Cinnamon White Chocolate Butte Pecan Cookies.
Now that you've seen the potential of what a cookie can be, and you know a bit of the backstory of what kind of cookie standards are kept in this house. You might be a bit underwhelmed at the ingenuity of this Vegan Oreo Chocolate Chip Cookies. BUT, when it comes to cookies it's pretty hard to mess up the flavor . When you have a quick and easy powerhouse chocolate chip cookie recipe like this to start you off – adding a crushed Oreo mixture can only make for an even better texture! So, if you're a lifelong fan of Oreos like I am, and appreciate the fact that they are one of the truly great junk foods that are accidentally vegan – give these Vegan Oreo Chocolate Chip Cookies a try this fall or for your upcoming halloween party! Trust me, they'll be the first things gone!
How do you make chocolate chip cookies?
Well, by now I'm sure a huge amount of you have been making Liv's famous chocolate chip cookies from her First Cookbook for some time. This has all the same steps that give you the chewy-on-the-inside, crunchy-on-the-outside cookie you know and love. Of course you know I love to level up even some of the greatest recipes! For these Vegan Oreo Chocolate Chip Cookies, the only difference I made was to add crushed Oreos into the hand mixer at the end. If you know me, you know I'm all about efficiency, flavor and taste in the kitchen, and this hits both of those targets right on the money! Let me show you how it's done!
What ingredients do you use in Oreo chocolate chip cookies?
The first thing to do is mix and combine all the dry ingredients. use all your favourite brands and quality of ingredients when It comes to this part – but as there are more and more vegan baking brands popping up all the time, for consistency I always recommend what I use. Becel vegan butter sticks are some of my favourite. Robin Hood all purpose flour has never let me dow. And the presidents choice brand semi sweet chocolate chips being accidentally vegan are always my go-to.
… next you only need to mix the wet ingredients and pour it into the dry powder ingredients. Into a large mixing bowl of a stand mixer, add the ingredients listed below. They key flavor ingredients in this cookie dough recipe are the brown sugar, almond milk or oat milk, oil like coconut oil, dark chocolate chips, and a couple of teaspoons vanilla extract. Once combined into a dough, add the crushed Oreos.
… Lastly all that's left is to form them into cookie dough balls for baking with a large cookie scoop! Now, here's where you can have some fun with them. In the past, I've actually made these into a giant form of this cookie for my Hawaiian Black Salt Caramel Cookies. So if you prefer a giant cookie, roll 5 Tbsp of the dough into a ball before baking. If not, the standard 2 Tbsp is perfect for that chewy interior you know you love.
You can either store these edible cookie dough balls in an airtight container to freeze, or fold parchment paper onto  baking sheets or trays before setting into the oven to bake to golden brown perfection. However you enjoy your cookies – baked or raw, this is the perfect easy cookie dough recipe for you!
As always, give these Vegan Oreo Chocolate Chip Cookies a try and let us know what you think by leaving a comment below or tagging us on @gregsvegangourmet or @itslivb.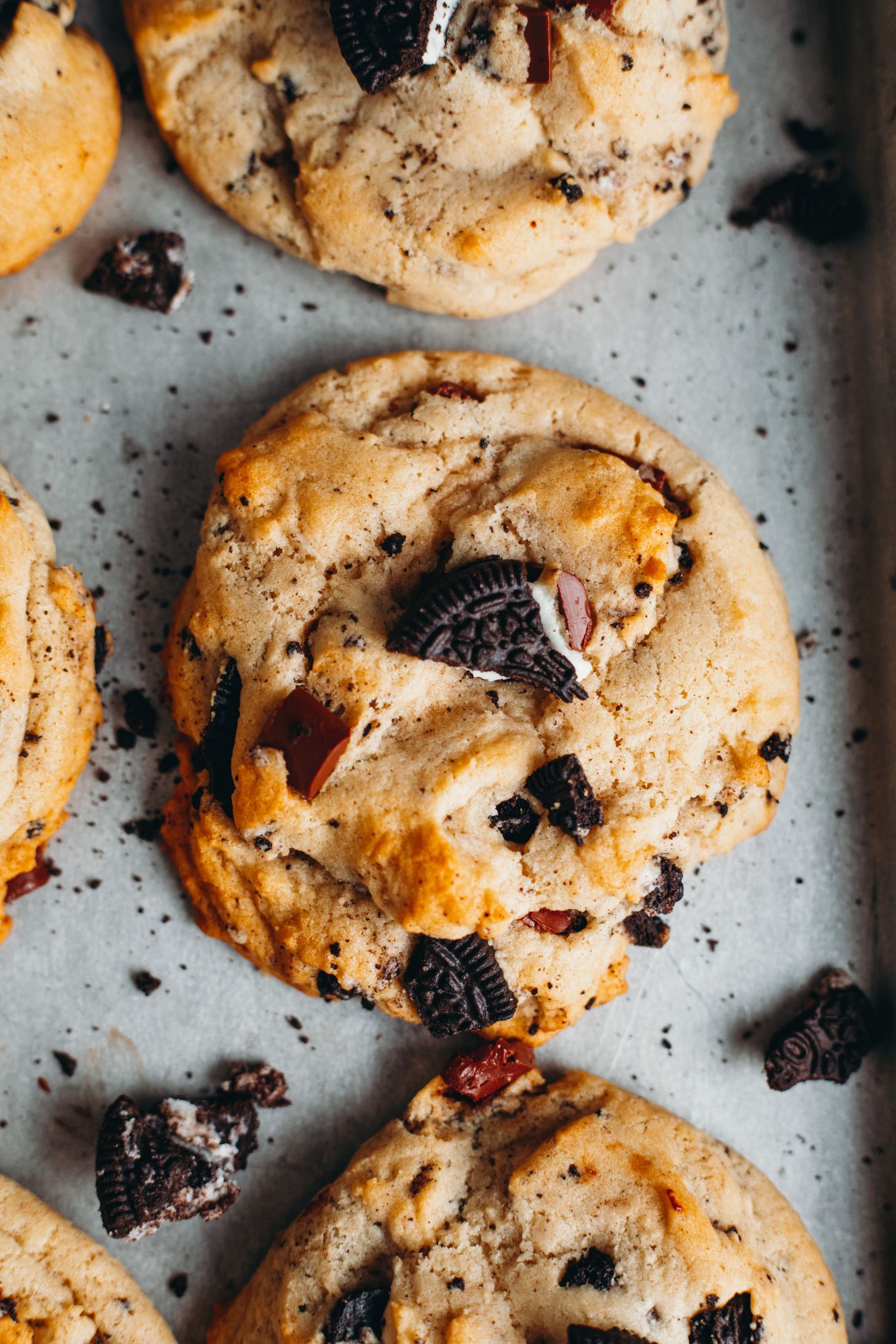 Q&A for vegan oreo stuffed chocolate chip cookies
Are regular Oreo cookies vegan?
Yes! They are accidentally vegan and contain no milk, egg or animal ingredients.
How many servings does this recipe make?
This recipe makes for a total of 12 medium sized cookies.
Do I need a stand mixer to make this recipe?
No! In fact I didn't make it using a stand mixer myself, although it is an option and will save you a bit of work. I mixed this cookie dough by hand and simply crushed the Oreos into it after the dough was formed.
Is there milk ingredients in Oreos?
No! Oreos do not contain milk ingredients. They are also egg-free!
How long can I store the cookie dough?
We often chill the cookie dough for an afternoon before cooking on a baking tray, but are easily made at room temperature. You can store the cookie dough in an airtight container in the freezer up to 3 months. And in the fridge for up to 5 days.
Print
Vegan Oreo Chocolate Chip Cookies
---
Author:

Total Time:

30

Yield:

12
Description
Using Liv B's famous chocolate chip cookie recipe, combined with extra chocolate chunks and crushed chunks of Oreo cookies, this is the gooiest and tastiest cookie recipe you'll have this fall!
---
1/2 cup

vegan margarine, or softened vegan butter

1 cup

brown sugar

1/4 cup

non-dairy milk (like almond or soy)

1 tsp

vanilla

1 1/2 cups

all-purpose flour

1 tsp

baking soda

1 tsp

baking powder
pinch of salt

8

crushed Oreos

1/2 cup

vegan semi sweet chocolate chips
---
Instructions
1. Preheat oven to 375 F.
2. In a mixing bowl, cream together vegan butter and brown sugar for about 3 minutes until light and fluffy. Add almond milk and vanilla and stir to combine.
In a separate bowl, whisk together flour, baking soda, baking powder and salt.
3. Add dry mixture to wet in two parts, stirring to form a dough. Add chocolate chips and Oreo pieces, and stir to combine.
4. Use approx 2 tbsp of dough per cookie and form into round balls.
5. Bake on prepared baking sheet for 12-14 minutes, until lightly golden brown on top.
6. Let cool on the baking sheet about 10 minutes before removing and transferring to a cooling rack. Enjoy!
Prep Time:

15

Cook Time:

15