Vegan Everything Bagel Herb & Garlic Pizza Bombs. Easy to make  at home in less than 20 minutes! Store bought biscuit dough, levelled up with the perfect mixture of pizza sauce, minced cloves of garlic, fresh basil, and vegan cheese!
In this recipe I use a special ingredient featured in my latest series "Grocery Store Challenge" – where I have my wife pick out a unique ingredient I would normally never think to use! This time, she chose to keep things very on brand for me and my favourite foods by picking something Italian – so of course I had to make these Everything Bagel Herb & Garlic Pizza Bombs. Using the store bought product called "Bomb Italiana"  these are quick and easy to make, packed full of flavour, and might be your new pizza night go-to!
As someone who borders on obsession over pizza (I even worked in a pizza shop for my first job growing up, for over 3 years!), I'm always looking to spice things up and add more flavours. Bonus, this recipe takes even less time than regular oven-baked pizza from home, it's packed with just as much flavour, AND they are  easy to customize to your own liking! Mix in as many things as you want for the filling, but for this recipe, I'm using this special ingredient and I'm telling you it did not disappoint!
Here's why you'll choose these over regular pizza…
If you have followed along my journey in the food space since the beginning, you would have picked up on the fact that pizza will forever be my favourite food. But if that's true, you might be wondering why I've never actually posted one to this blog! Well, the answer is pretty simple actually. I simply haven't found quite the right recipe to share with you all. I don't know if you can relate, but do you ever feel like you love something so much that in order to share anything about it, it has to be the BEST version of it? If you're looking for another quick pizza night fix, try this Chick'n & Spinach Alfredo pizza made by Liv that never fails, or my creamy delicious Air Fryer Loaded Vegan Pizza Fries!
But for me, I'm always improving on pizza recipes and finding something bigger and better than before! Don't worry too much, soon I will be sure to just bite the bullet and drop my first pizza recipe here for you all to enjoy. But for now, I've found a happy medium since it's not technically "pizza" – these Everything Bagel Herb & Garlic Pizza Bombs are sure to cure your pizza craving!
How to Make Vegan Everything Bagel Herb and Garlic Pizza Bombs:
Now that you know all of that about me, you won't be surprised if one day you wake up to an instagram update that my wife Liv and I made a last minute trip to Sicily, Italy to taste test any and all vegan pizza the entire country has to offer. But in the meantime, let's have a look at what makes these Vegan Everything Bagel Herb & Garlic Pizza Bombs so great!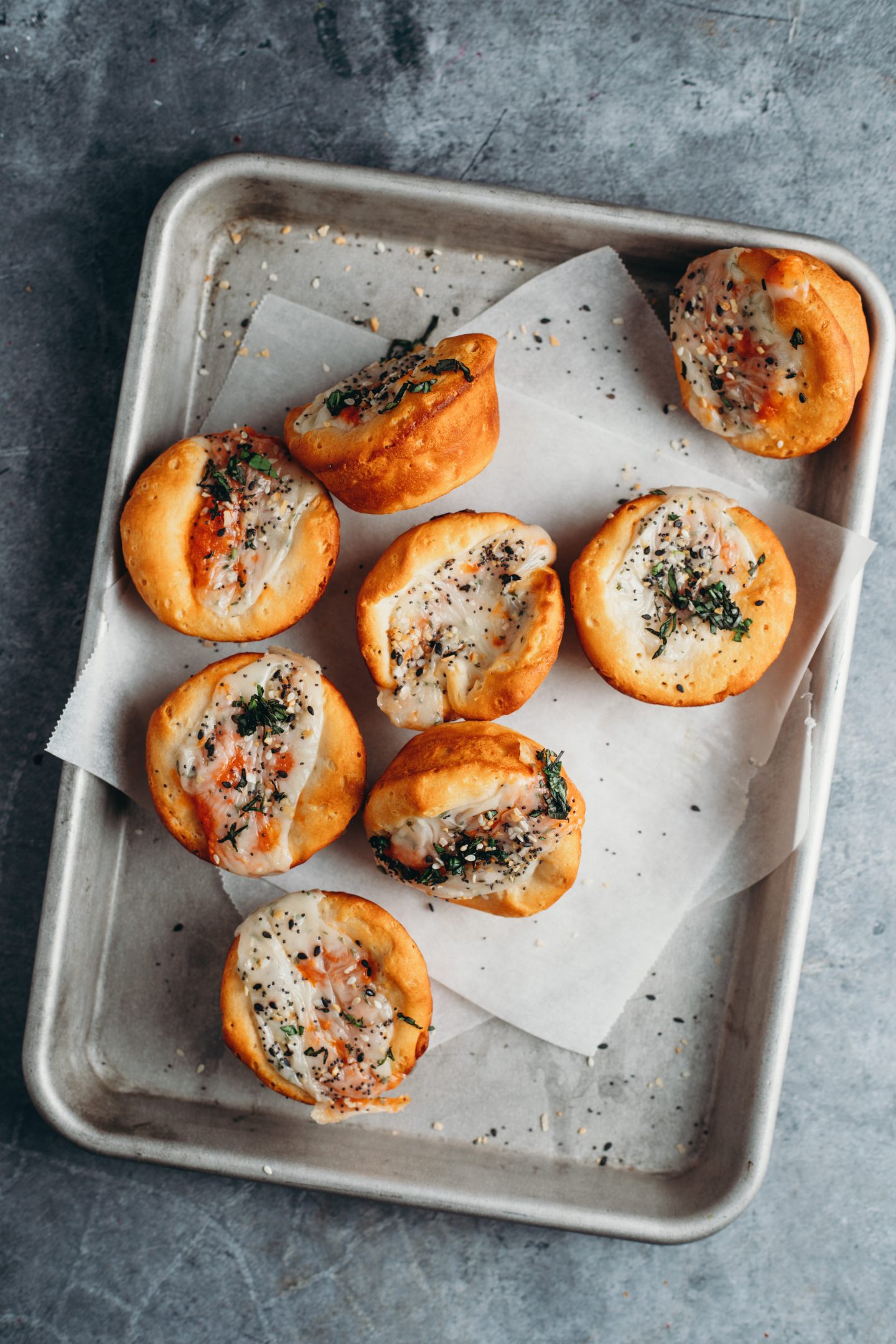 It all starts with the crispy, doughy base! That's right, for this one we went really quick and simple with store bought Pillsbury biscuits. There's nothing wrong with store-bought and they can be used in all kinds of fun and creative ways! They can save you a lot of time an effort in the kitchen, all while keeping that fluffy, doughy taste and texture! Not to mention, the make for the butteriest (if that's a word), and crispiest texture that I will always choose when I'm in a pinch for time! And bonus, they're accidentally vegan!
Next is the sauce. We don't mess around when it comes to sauce. I love making my own a lot of the time with fresh ingredients. BUT, since were on the theme of using quick and easy store-bought products, we went with a store bought pizza sauce as well. Don't worry, that's just the base. There's a lot more flavour about to added in to take it up a notch!
The "Secret" Ingredient:
From here, all it takes is a little imagination, and something the give it some flavour and texture! Blending the sauce with a perfect balance of creamy vegan cheese, fresh basil, minced garlic, everything bagel seasoning and the flavours of our store-bought "Bomb Italiana" – this dish is well on it's way to being levelled up beyond your ordinary pizza roll!
Lastly, we have to put on the finishing touches. In order to truly display a proper recipe "level up",  not only do the flavours have to be taken up a notch, but so does the presentation! Which is why I've melted down and spiced up some vegan cheese to make for the perfect mouth watering cheese pour! Don't lie, everyone loves the look of cheese being poured, and pulled apart! So I made sure there was no shortage in this dish!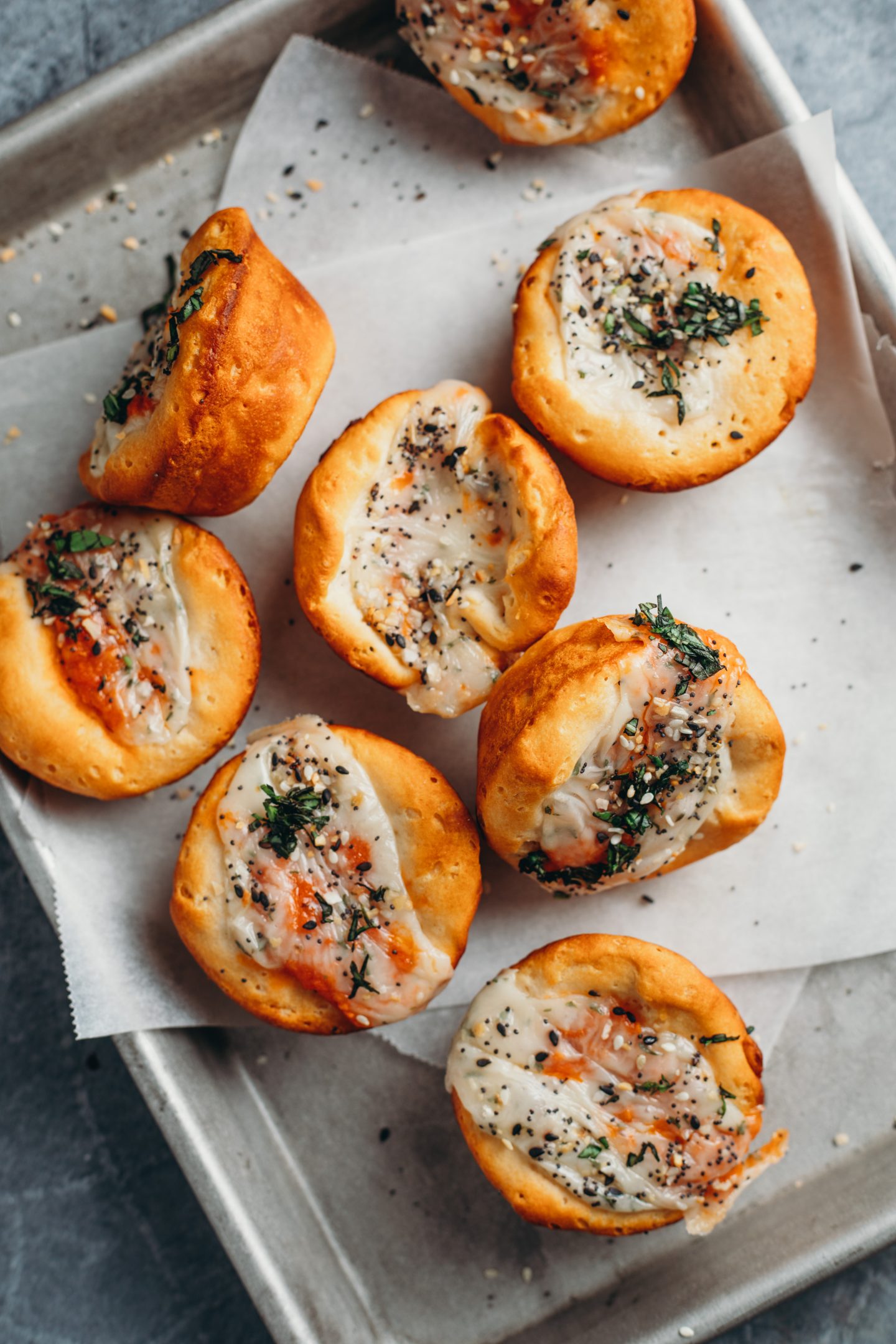 Now serve it up!
Now that I've taken you through the process, you can see how truly quick and easy these Vegan Everything Bagel Herb & Garlic Pizza Bombs are to make! Don't forget to load it with lots of melty cheese, and even more importantly – have fun with it! Get creative and share your perfect pizza bomb creations so I can see for myself! Enjoy 🙂
Print
Vegan Everything Bagel Herb & Garlic Pizza Bombs
---
Author:

Prep Time:

10

Cook Time:

10

Total Time:

20

Yield:

10

1

x
Description
Crunchy on the outside, flavourful and cheesy on the inside! These Vegan Everything Bagel Herb & Garlic Pizza Bombs are the perfect mouth-watering appetizer for pizza lovers and anyone that enjoys quick and easy vegan dishes!
---
Scale
Ingredients
For the spread
1 cup

store bought pizza sauce

2 tbsp

"Bomb Italiana"

2 tbsp

chopped basil leaves

1/2 cup

vegan cheese shreds

1

clove garlic

1/2 tsp

fennel

1/2

shallot
For the Pizza Bombs
1

package store bought Pillsbury biscuit dough

1 1/2 cups

vegan shredded cheese

1 cup

plant-based milk

1 tbsp

parsley
pinch of salt to taste
---
Instructions
Preheat oven to 400 degrees F.
In a food processor, add your spread ingredients. Mince until mostly smooth with a small chunks.
To a small pot over medium heat, add the plant-based milk, vegan cheese and parsley. Continue to stir rapidly until cheese is fully melted and no chunks remain. Stir periodically to keep from setting.
With your store-bought biscuits, flatten into 1 1/2″ circles and set aside.
In a greased muffin pan, add 1 biscuit round, 1 tbsp pizza spread, 1tbsp vegan cheese sauce, and 1/4 tsp everything bagel seasoning to each muffin cup.
Bake the pizza bombs for 10-12 minutes, or until biscuits are browned/golden on the tops.
Remove from oven and let cool slightly. Serve and enjoy!