This Vegan Jalapeño Popper Toast is the perfect balance of crispy sourdough, fluffy hummus, gooey cheese and Jalapeños for a punch of flavour and heat! Sometimes the simplest things really can be the best. It is crispy, spicy and best of all, SUPER easy to make!
Why do you keep putting stuff on toast?
If you've followed along my vegan cooking journey for a while now, you'll probably know my obsession with toast runs deep…
That feeling only intensified after I created this Vegan Jalapeño Popper Toast! It is the perfect weekday lunch idea. The best part about it? This concept gives you all sorts of flexibility for ingredients as well! If you like one particular type of vegan cheese over another, you can feel free to use it. If you have a preference when it comes to hummus like I do (PC brand can't be beat, change my mind), then you can always switch it up. The key to this Vegan Jalapeño Popper Toast is that it is only 5 ingredients, and takes no more than ten minutes to make!
So, why toast? Well, it's no surprise to anyone that toast is easy to make. And at the end of the day, "easy to make" is one of my absolute favourite things about most of my food creations! As much as I love the art form of some of the amazing food out there, when I'm home in the middle of doing some work, or surfing the internet for inspiration – all I'm interested in making are the easy things to make! There's something about being able to immediately picture yourself making something from start to finish and not worrying about whether or not you have the ingredients, skills or patience for a recipe to turn out. So, believe me, this Vegan Jalapeño Popper Toast is the king of easy.
So… how is it made?
One of my absolute favourite things to do is turn iconic well-known food dishes into toast toppings. For whatever reason, people have a very easy time picturing something topped on their favourite slice of toast! I think that perfectly sums up just how great toast is and its versatility. See my highly popular Big Mac Toast or my Cheesy Vegan Chicken Pesto Toast for proof.
Here's exactly how you can have this zesty  Vegan Jalapeño Popper Toast, for a satisfying lunch in 5 minutes for yourself!
Make sure you get the best toast possible. Sure, you can head to the supermarket and get a boring bag of Wonderbread. But in my experience, spending the extra dollar(s) to get a homemade loaf of your favourite sourdough from a local bakery will change the entire meal complexly and take it up five notches! Of course, make sure the loaf is vegan if you require that, but these days there are a huge amount to choose from that are naturally free of dairy or eggs.
This is a little cheesy…
Next, you want to make sure you use your favourite cheeses. As we all know, vegan cheese has its pros and cons. But like non-vegan cheeses, some brands and qualities are used best for different things! I myself am partial to cashew-based cheeses for charcuterie boards or for spreading on crackers as they carry more bold flavours and the texture is super creamy. Where as for dishes such as this this Vegan Jalapeño Popper Toast, I like to use a blend of some of my favourite oil-based shredded cheeses! For this I went with mozzarella-style shreds to make for the perfect melt.
Speaking of melting, a key for the perfect looking toast is to bake for about 5 minutes, but finish the cooking process with a minute or two of broiling at a high heat so that the cheese (yes, even vegan cheese) gets a little browned on top!
If you enjoy these vegan toast recipes, then stick around or bookmark this blog because I've got a lot more coming!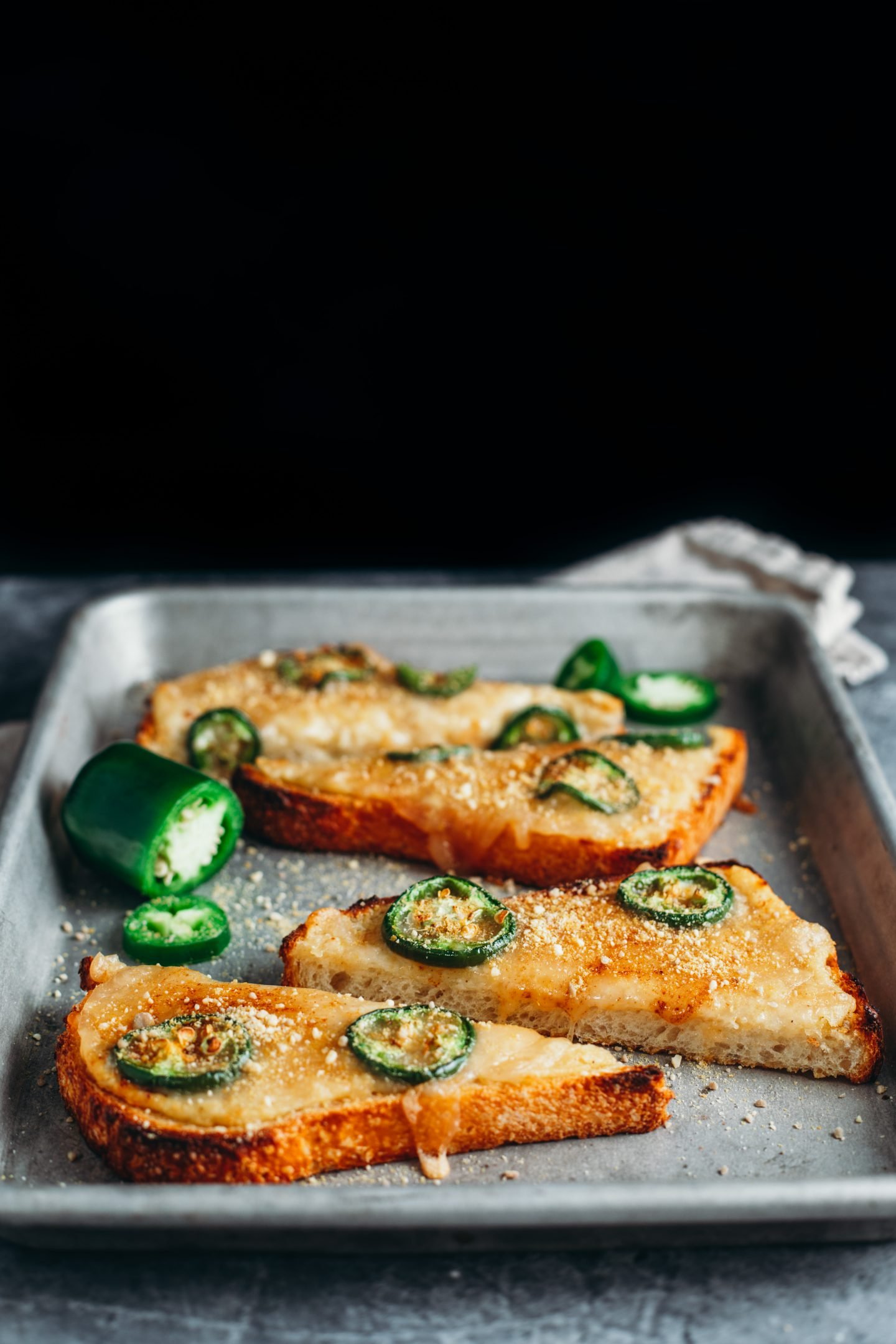 Print
Vegan Jalapeno Popper Toast
---
Author:

Total Time:

15 minutes

Yield:

2 slices of toast (4 halves)
Description
This Vegan Jalapeño Popper Toast is the perfect balance of crispy sourdough, fluffy hummus, gooey cheese and sliced Jalapeños for a punch of flavour.
---
2

slices fresh sourdough bread

4 tbsp

hummus

1 cup

vegan mozzarella cheese shreds

1/4 tsp

chili powder

1

small jalapeño, sliced

1 tbsp

vegan parm (optional)
---
Instructions
Preheat the oven to 400 degrees F.
On a baking sheet, add the slices of toast.
On each slice, spread 2 tbsp hummus, 1/2 cup vegan cheese shreds, pinch of chilli powder, and sliced jalapeño.
Bake for 5-8 minutes, or until cheese is melted and bread is crispy. (optional: Broil for 1-2 minutes for cheese to brown)
Remove from oven and sprinkle 1/2 tbsp vegan parm on each piece.
Slice in half and serve!
Prep Time:

5 minutes

Cook Time:

10 minutes