It's baking season! I am taking inspiration from my classic pumpkin snickerdoodle recipe and levelling it up to make these sweet, cozy, Vegan Pumpkin Spice White Chocolate Snickerdoodles.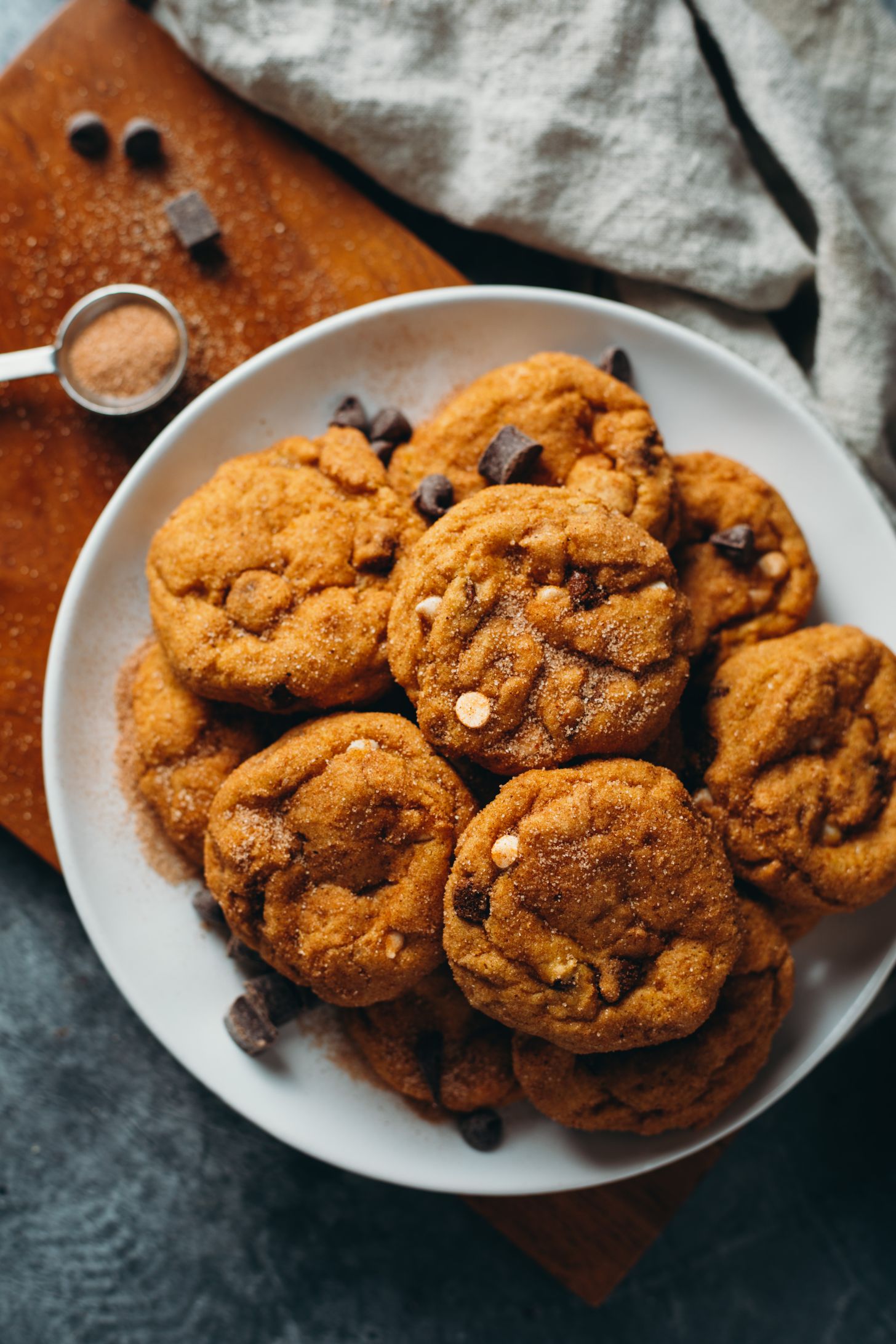 They are the dreamiest treat to serve with hot coffee or tea and the most fun weekend baking project. Not to mention, they're pretty easy and super fun to make with friends or your little ones!
These are homemade snickerdoodle cookies, with a pumpkin spice base, dotted with white and dark chocolate chips, then rolled in pumpkin spice sugar and baked until crackly and golden. Each bite of these delicious cookies is crispy on the outside, gooey chewy on the inside and packed with pumpkin spice sweet flavour.
Know what's exciting? There is a new episode of The Coffee Shop Series on my YouTube channel! Featuring these cookies, and the PERFECT flavor accompanying drink to go with. Watch it here!
How to make Vegan Pumpkin Spice White Chocolate Snickerdoodles:
As with most of my cookie recipes, the instructions could not be more simple! To start, cream together the vegan butter and brown sugar, and we also add in the pumpkin puree at this time. Next, add in the milk and vanilla extract. Did you know? If you run out of vanilla extract (my worst fear, and it has happened to me at the cottage!) you can substitute 1 tsp maple syrup. Stir together the dry ingredients, all-purpose flour, baking powder, baking soda, salt and pumpkin pie spice, then combine with the wet. Stir in the chocolate chips and chill.
Stir together the cane sugar and pumpkin pie spice in a small bowl. Use a cookie scoop to form balls or roll 1 1/2 tbsp of dough into cookie dough balls by hand. Roll the cookie dough balls in the pumpkin spice cinnamon sugar mixture (my fav!) and bake on you prepared baking sheet pan (you can line with parchment paper if your pan is not non-stick) in preheated oven for about 11 minutes until crackly and golden brown. Transfer to a cooling rack for a few minutes, then enjoy! I promise it does not get better than these, they are incredible!
Frequently asked questions:
Can I substitute coconut sugar for brown sugar?
Yes, you can substitute it for the brown sugar and the white sugar that the cookies are rolled in.
What dairy-free substitute can I use instead of vegan butter?
You can use the same amount of room temperature coconut oil. If you use refined coconut oil, it won't have a coconut flavor but regular coconut oil will give your cookies a hint of coconut flavor.
Are you supposed to flatten the cookies before baking?
You do not need to flatten the cookies before baking. They swill spread slightly while baking in the oven and continue to flatten and cracked on top as they cool.
Does pumpkin cookie dough freeze well?
Yes, I like to scoop the cookie dough into balls and roll in the sugar mixture, then place in an airtight container to freeze. The dough can be frozen for up to 3 months and baked from frozen. Simply bake an extra minute or so if you are baking from frozen.
Can I use gluten-free flour?
You can substitute a gluten-free baking blend for the all-purpose flour. Choose one that is intended for baking, as it will contain a correct combination of gluten-free flours (instead of just one type of flour like almond flour) that will give your vegan pumpkin snickerdoodle cookies the best results and texture.
What is pumpkin pie spice/pumpkin spice?
Pumpkin pie spice is a blend of cinnamon, ginger, nutmeg, and allspice. It doesn't actual contain pumpkin- it is a spice mix that got its name because it is traditionally used to flavor pumpkin recipes.
I hope you love these cookies as much as I do!
Perfectly sweet with a hint of spice
Quick & easy
Fun to make with friends or your little ones
Make a great hostess gift or potluck dessert recipe
& they are PERFECT for fall!
Looking for more fall treats? Try these:
Cinnamon White Chocolate Butter Pecan Cookies
Vegan Pumpkin Loaf with Streusel Topping
Print
Vegan Pumpkin Spice White Chocolate Snickerdoodles
---
Author:

Total Time:

40 minutes

Yield:

~ 2 dozen
Description
Pumpkin spice cookies dotted with white and dark chocolate chips, rolled in pumpkin spice sugar and baked until crackly and golden.
---
1/3 cup

vegan butter, softened

1/3 cup

pumpkin puree

1

 

1/2

cups brown sugar

1/3 cup

non-dairy milk

1 tsp

vanilla extract

2

 

1/4

cups all-purpose flour

1

 

1/2

tsp baking powder

1

 

1/2

tsp baking soda

1 tsp

pumpkin pie spice

1/3 cup

dairy-free white chocolate chips

1/3 cup

dark dairy-free chocolate chips

3 tbsp

cane sugar

1 tsp

pumpkin spice
---
Instructions
Preheat oven to 350 F.
Cream together vegan butter, pumpkin puree and brown sugar until combined and fluffy. Add non-dairy milk and vanilla extract and stir until combined.
In a separate bowl, whisk together flour, baking powder, baking soda and pumpkin spice.
Add dry mixture to wet mixture, stirring to form a dough. Fold in the chocolate chips.
Optional: if the dough is feeling a bit too soft to work with, chill for 30 minutes.
Stir together cane sugar and cinnamon in a small dish.
Use a cookie scoop or form cookie dough balls 1 1/2 tbsps each, and roll in the sugar mixture to coat.
Place on a non-stick cookie sheet or a parchment-lined cookie sheet and bake in preheated oven for 11 minutes (give or take a minute) until golden. Allow to cool a few minutes before removing from pan and transferring to a cooling rack.
Notes
Uncooked dough can be frozen in balls so you can make fresh cookies whenever you like! Simply bake 1-2 minutes longer if cooking from frozen.
Cookies can be stored in an airtight container at room temp for up to 5 days or frozen up to 3 months.
Prep Time:

15 minutes

Cook Time:

25 minutes