Could this title be any longer? No but seriously, these are Campfire S'mores Snowflake Shortbread Cookies. Shortbread base, cut into snowflakes for festive flair, decorated with gooey marshmallows, chocolate drizzle and pretzel crumbs (but you can sub graham cracker crumbles for an even more authentic flavour!).
These cookies are the best ever for holiday baking because they're easy to make and SO fun to decorate. Not to mention, fun to eat too. So much fun to eat!
Today is the eve of Christmas Eve and what better time to do some holiday baking than the night before Santa comes?! I hope his reindeer (and our dogs Willa and Hazel) don't snatch them up before Santa can get one!
Let's talk about the dough…
If you have made my other shortbread cookies, you'll be happy to discover this dough is the same! Except we also add some chocolate shavings into this dough to make them speckled and hinted with chocolate flavour. I used dark chocolate shavings and the slight bitterness balanced so well with the sweet cookies!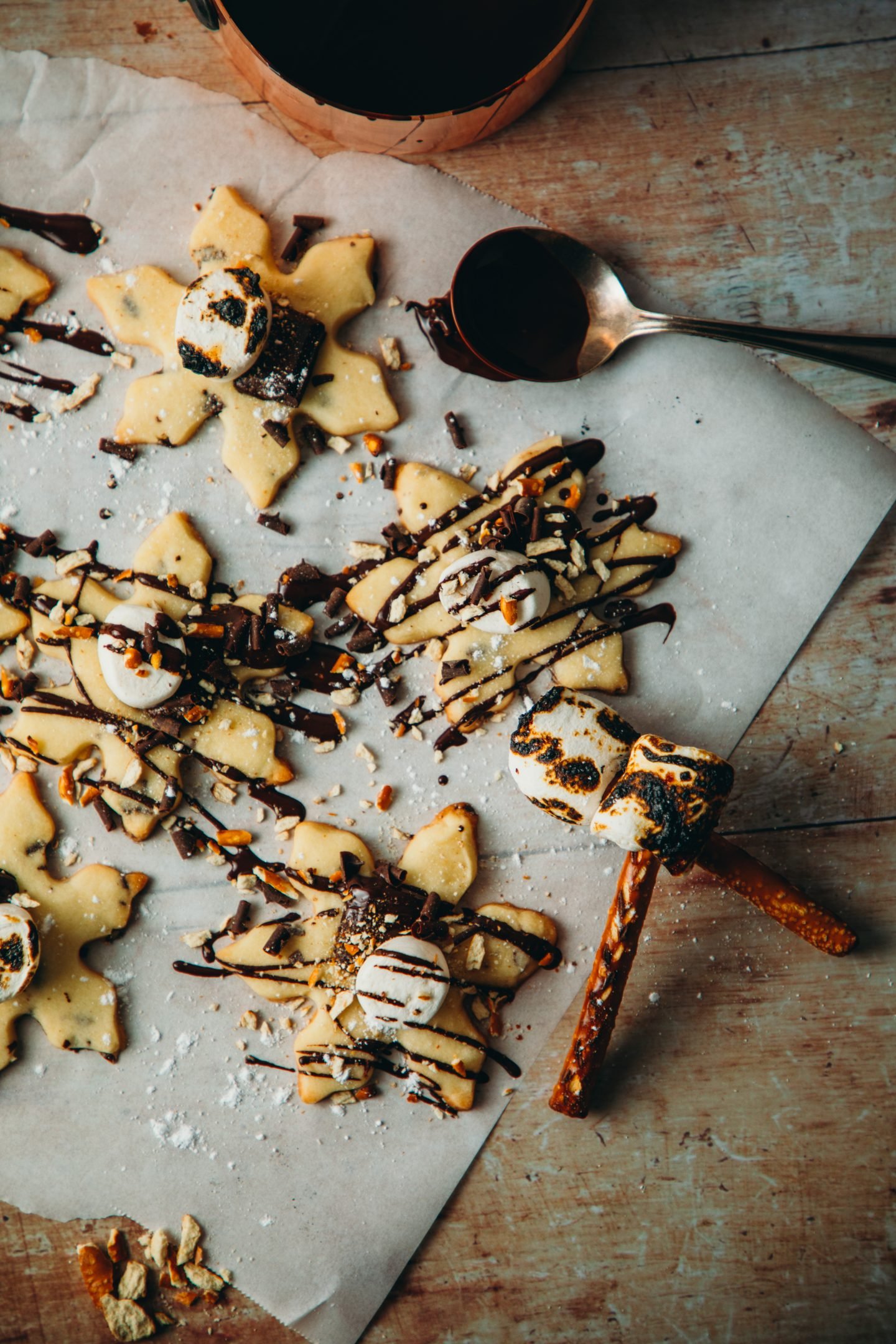 Then, just roll it out, cut with your favourite cookie cutter (doesn't have to be snowflake shape, use what you have!) then bake. When they come out of the oven, press a square of dark chocolate in the center of each, and immediately add a marshmallow (I used large size Dandies marshmallows, cut in half) and the heat will melt it slightly and help them stick. Then drizzle on some melted chocolate and sprinkle some crushed pretzels or graham crackers!
Looking for more holiday baking ideas?
Double Chocolate Candy Cane Cookies
Print
Campfire S'mores Snowflake Shortbread Cookies
---
Description
Shortbread cookies, speckled with chocolate, cut into snowflakes. With more chocolate and marshmallows, sprinkled with crushed pretzels.
---
1 cup

vegan butter

3/4 cup

powdered sugar

1 tsp

vanilla extract

2 cups

all-purpose flour

1/4 cup

chocolate shavings (or chopped chocolate chips)

1

bar dairy-free chocolate, approx 16 squares

8

large vegan marshmallows or 16 regular/mini size (I used large size Dandies, cut in half to make

16

pieces)
crushed pretzels or graham crackers

1 cup

chocolate chips (optional, for drizzling)
---
Instructions
Preheat oven to 350 F.
In the bowl of a stand mixer or mixing bowl, beat together butter and sugar until combined. Add vanilla extract and flour and mix until a firm dough forms. Stir in chocolate shavings until combined.
Roll out the dough between two pieces of parchment paper to a bit under 1/2 inch thick. Use your snowflake cookie cutter or shape of your choice to cut out approximately 16 cookies. Carefully peel away the excess dough, then transfer the parchment with the cookies on it to a baking sheet.
Bake for 12-14 minutes, until bottoms start to turn golden.
Remove from oven and press gently 1 square of chocolate into the center of each cookie. Gently press a marshmallow on top.
To melt the chocolate for the chocolate drizzle, I added the chocolate chips to a small pot on the stove with about 1/2 tsp coconut oil and melted over medium heat. Then just drizzled over the cooled cookies and sprinkled on the pretzels. There isn't any sort of strict method you need to follow with these. Get creative and have fun!